13 Spectacular Places to Paddleboard in Ontario This Summer
From urban to wild, you'll love exploring this beautiful province by board.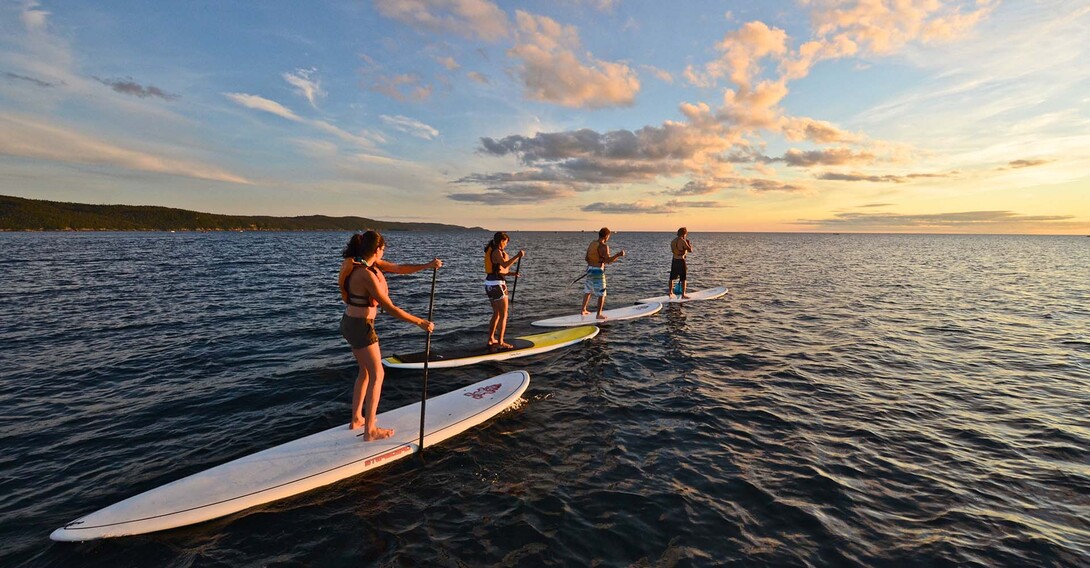 With more than 250,000 lakes, 100,000 km of rivers and countless access points to the Great Lakes, choosing the 13 best places to go standup paddleboarding in Ontario was not easy. Luckily, adventure standup paddleboarder and outdoor enthusiast, Diana Lee, was up to the task.
She shares 13 of her favourite beginner-friendly places to paddleboard in Ontario with us below.
Before paddleboarding in Ontario…
Prior to venturing out, remember to check the weather, water levels and wind conditions. It's best to always paddle with a buddy, and always wear a SUP leash and life jacket. Review Transport Canada's rules for operating paddlecraft safely and check the local municipality for the most up-to-date info on safety guidelines. Always travel responsibly.
Paddleboard the Toronto Islands & Cherry Beach
Why You Should Paddle Here: This urban paddling spot offers the best view of the Toronto skyline and the best way to escape from the downtown crowds and immerse yourself in nature without leaving the city. Take a 15-minute ferry ride over to Ward's Island and rent your board from Toronto Island SUP. Enjoy a snack at The Riviera Ward's Island Kitchen after your paddle—there's two patios surrounded by trees to choose from.
Paddling Options: If you're an intermediate paddleboarder, you can launch from Cherry Beach, a Blue Flag beach, and paddle over to the Island. Note that the water can be choppy in the harbour, with lots of boat traffic in the Eastern Gap, which is why we recommend this option for experienced paddlers only.
Rockwood Conservation Area
Why You Should Paddle Here: Just an hour outside of Toronto, Rockwood  Conservation Area gives paddleboarders a great preview to what paddling in Northern Ontario will be like—peaceful but sprinkled with towering cliffs, rocky overhangs, narrow channels and small islands to paddle around. This park also contains several caves and geological potholes—some of which you can paddle by.
Paddling Options: Launch from the sandy beach or at the Harris Mill Ruins.
Upper Thames River and Fanshawe Lake, London
Why You Should Paddle Here: Paddle the calm and protected waters of Fanshawe Lake and learn about the history of Antler River (Deshkan Ziibi to the Anishinaabe or Askunesippi to the Neutral Nation people who lived in the area). The Thames River is part of the Canadian Heritage Rivers System. Launch from Fanshawe Conservation Area and combine SUP with camping, biking and more, right in the city of London. The National High Performance Rowing Centre training course is also here.
Paddling Options: SUP rentals available from Wildwood Conservation Area located farther up the Thames River. There are numerous places to paddle along the Thames River, but there are many sections with challenging rapids. Do some research before venturing out. The water levels and flow rate fluctuates, so check the Upper Thames River Conservation Authority for Paddling Flow updates.
Bon Echo Provincial Park / Mazinaw Rock, Cloyne
Why You Should Paddle Here: Not only are the 100-metre-high cliffs geologically stunning, Mazinaw Rock has over 260 Indigenous pictographs, some of which you can see from the water. The Mazinaw Pictographs is the largest rock art site in Southern Ontario. I'm always on the lookout for cool geological features to check out from the water and Mazinaw Rock is one of my favourite spots.
Paddling Options: Located within Bon Echo Provincial Park, it is a short and easy paddle over to the cliffs. You can launch from the boat launches or swimming beaches. Always keep a safe distance from the cliffs in case of falling rocks or debris. SUP rentals are available from Bon Echo Outfitters located in the park. If you like paddling alongside cliffs like I do, intermediate paddlers will enjoy exploring the Scarborough Bluffs in east Toronto and Devil's Rock in Temiskaming Shores.
Kagawong Village Beach, Manitoulin Island
Why You Should Paddle Here: This cute beach is situated on the northern part of Manitoulin Island in the historic and picturesque village of Kagawong, which means "where the mists rise from the falling waters" in Ojibwe. The "falling waters" refer to Bridal Veil Falls located nearby, where you can hike before your paddle session or take a dip post-paddle. Then, treat yourself to something sweet from Manitoulin Chocolate Works.
Paddling Options: If you're looking for a bigger beach, visit Providence Bay Beach, located on the shores of Lake Huron on the south side of Manitoulin Island. Contact Island Home Outfitters to rent paddleboards with delivery across the Island.
Marathon Beach, North Bay
Why You Should Paddle Here: SUP on Lake Nipissing by launching from Marathon Beach, an open sandy beach in downtown North Bay. This beginner-friendly spot features a long stretch of shallow water, usually with lifeguard supervision, with SUP and kayak rentals nearby. There is also ample parking available and a fry truck for a post-paddle snack.
Kebsquasheshing River (AKA Chapleau River), Chapleau
Why You Should Paddle Here: Located between the Atlantic and Arctic watersheds, paddle through Chapleau, 'the friendliest town' in the North. Access the Kebsquasheshing River from the public boat launch in town or the Nebskwashi River from Peace Park. Don't forget to bring your fishing rod if you fish off your SUP as this small community was once declared the ultimate fishing town of Canada. While you're here, check out Potholes Provincial Park.
Paddling Options: Option to do the Mulligan Run, an 8-km paddle from Peace Park to the boat launch. With an infinite number of backcountry canoe routes that trace back to the traditional fur trade routes in this area, experienced paddleboarders interested in expeditions (we're talking multi-week journeys here!) can consult with local paddling expertise such as MHO Adventures for self-guided SUP adventure planning assistance.
Mississagi Provincial ParK, Elliot Lake 
Why You Should Paddle Here: Located north of Elliot Lake, Mississagi Provincial Park offers quiet, remote lakes and private campsites, with several sites offering direct water access. Wake up to the sound of loons and look forward to those foggy morning postcard-worthy paddles.
Paddling Options: A 500-metre portage from Semiwite Lake grants you access to Helenbar Lake, the crash-landing site back in 1946 of a Gloster Meteor, Britain's first jet fighter to fly in World War II.
Wawa Lake, Algoma
Why You Should Paddle Here: Launch from Dr. Rose's Beach and enjoy a relaxing paddle on this Northeastern Ontario lake. Don't forget to visit the iconic, giant Canadian Goose while you're in Wawa.
Paddle Options: Looking for paddleboard rentals, lessons, or maybe a wetsuit for a paddle on cooler days? Visit Naturally Superior Adventures, located at the mouth of the Michipicoten River, which can also make for a great day paddle for paddlers with more experience. Ask about their multi-day adventure packages.
Agawa Bay, Lake Superior Provincial Park
Why You Should Paddle Here: Paddle the clear blue waters of Lake Superior from this popular campground within Lake Superior Provincial Park. Nestled within a forest of mature pine trees, it will be hard not to combine SUP with camping as most campsites here have a view of Lake Superior. You can step out of your tent or RV and easily head out for a paddle at sunset or sunrise.
Paddle Options: If you're looking for a more remote paddling spot, consider Mijinemungshing Lake, the largest inland lake in Lake Superior Provincial Park.
Pukaskwa National Park
Why You Should Paddle Here: Paddling in the vast and wild Pukaskwa National Park will give you a taste of the world's largest freshwater lake that lives up to its name.
Paddling Options: Use the boat launch to access Hattie Cove or take a short walk via the Boardwalk Beach Trail to paddle (or SUP surf) in Horseshoe Bay. Beginner paddlers should stay close to shore and within the cove and bay. Lake Superior water and the weather along the Superior coast is known to be cold and unpredictable year-round.
Rossport
Why You Should Paddle Here: Designated as an access point for the Lake Superior Water Trail as part of The Great Trail, the Rossport beach in the town of Rossport offers access to one of the most protected harbours on Lake Superior. Be inspired to build your skills to SUP tour one day as you'll see some of the Rossport Islands. This large archipelago is part of the Lake Superior National Marine Conservation Area. Stay in the cozy comfort of Willow Inn B&B, with beautiful views over Rossport Harbour.
Paddling Options: If you're interested in checking out the Lake Superior Water Trail, use this interactive map. The route includes several provincial parks, including Rainbow Falls Provincial Park's Rossport Campground. Rent sea kayaks or canoes from Superior Outfitters in Rossport.
Marie Louise Lake, Sleeping Giant Provincial Park
Why You Should Paddle Here: Launch your board from the sandy beach of this lake located in the heart of Sleeping Giant Provincial Park, considered to be one of the top seven wonders of Canada. Camp at this campground or book yourself in the Eagle's Nest, a treehouse-like cabin overlooking Lake Superior with Beyond The Giant Nature Retreats.
PLAN YOUR TRIP NOW
With so many lakes, rivers, and countless access points to the Great Lakes, there are unlimited places to go standup paddleboarding in Ontario. Start planning your SUP adventure now.