Paddling Quetico: Everything You Need to Know
Imagine a park where there are over 2,200 backcountry campsites, but you may never see another soul during your whole canoe trip! That's Quetico.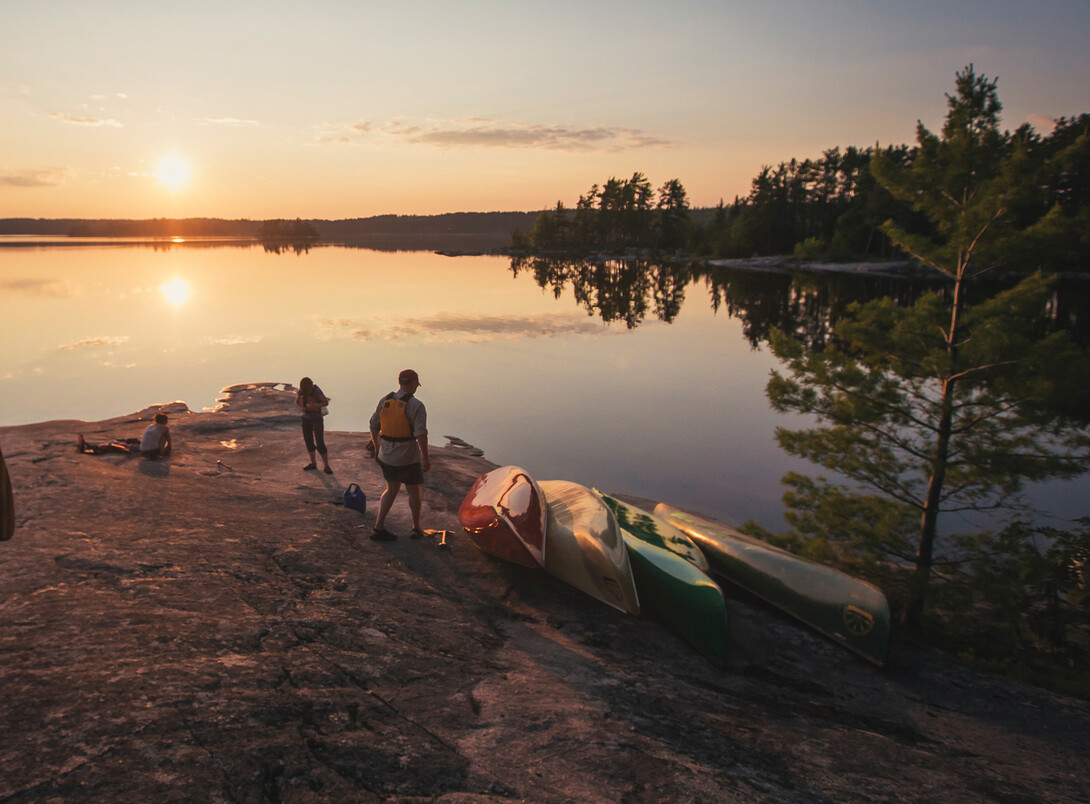 Quetico Park is a protected park just above Minnesota's Boundary Waters Canoe Area and south of the Town of Atikokan. It stretches 40 miles north and 60 miles east-west from the boundary waters of the Canada-US border. The hundreds of lakes create an unlimited choice of canoe trip routes for paddlers seeking peace and quiet in the Canadian wilderness. 
Quetico has been a Provincial Park for over 100 years. Since its origin as a park in 1913, people have been lobbying for its protection. Prospecting and mining were banned in 1956. In 1977, the goal was "to preserve Quetico Provincial Park, which contains a natural environment of recreational and historical significance, in perpetuity for the people of Ontario as an area of wilderness that is not adversely affected by human activities." In 1979, all motors operated by visitors were banned in Quetico. The relentless efforts by wilderness lovers have ensured that the wilderness will remain just that – wilderness in all its glory for many years to come. 
Planning a Canoe Trip Into Quetico Park
With so many lakes and portages in such a rugged wilderness park, it's wise to hire a canoe outfitter to help you plan your trip into Quetico. There are several based in Atikokan and Crane Lake. They have years of experience and have the knowledge to help you plan a route into Quetico. There are some Quetico canoe routes listed on the Ontario Parks website, however, with over 600 lakes, there are many many more canoe route options. You can also call the Park Ranger at 807-597-2734 for more information. 
Quetico Campsite Reservations
Reservations can be made as early as five months in advance of your arrival date. You can make your reservation online or by calling the Ontario Parks Reservation Service at 888-668-7275 or 519-826-5290 outside North America. Visit the Quetico Park website for more detailed information on backcountry camping in Quetico. Quetico backcountry camping fees vary depending on your age, country of residence and which part of the park you enter. 
Quetico Permits
In addition to making a backcountry campsite reservation, you need a permit for all overnight trips. Permits are available at the four Ranger Stations, the Quetico Headquarters in Atikokan as well as at the Dawson Trail Campground. Permits for entry points controlled by Beaverhouse, Atikokan, and Dawson Trail Ranger Stations can be purchased at any one of these stations. For Lac La Croix, Prairie Portage and Cache Bay Ranger Stations, you must purchase your permit at the ranger station that controls your entry point.
Entering Quetico From Outside Canada
If entering Quetico from the Boundary Waters and the United States you must clear Canada Customs. If traveling by water or aircraft to Lac La Croix a seasonal customs station is located at Sand Point Lake (north of Crane Lake, MN) and 47 km from the Lac La Croix Ranger Station. When entering Canada where a Customs/Immigration service is not provided, (Cache Bay and Prairie Portage) pre-clearance to Canada must be arranged by applying for a Remote Area Border Crossing Permit. Please do this at least 3-4 weeks before your trip. For additional information please call the Canada Border Services Agency at 1-877-854-RABC or 807-624-2162.
Quetico Rules & Regulations
Some of the rules to abide by while in Quetico.
Can and Bottle Ban: Non-burnable, disposable food and beverage containers are not allowed. Fuel, insect repellent, medicine, personal toiletry containers are permitted only.  Please carry out all fuel cans
Mechanized Use: You can't have a motorized boat, power saw, gasoline generator or power ice auger and can't use an ATV, snowmobile.
Party Size: Nine people is the maximum party size allowed on a campsite. 
Fishing: Artificial bait and barbless hooks must be used in Quetico. A valid Ontario fishing licence is required for fishing and must be in your possession. Licences should be purchased prior to your arrival.
Firearms: Possession of a firearm, including a rifle, shotgun, handgun, air gun, pellet gun, paintball gun, slingshot, bow or crossbow is prohibited. 
Canoe/Kayaks: You must follow Canadian Boating Safety regulations.
Litter: Pack out all non-burnable garbage, including tinfoil. You may not leave any litter in the park, except in a place designated for that purpose. Likewise, you must keep your interior campsite clean and sanitary at all times. 
Quota System: You must enter Quetico during business hours through the ranger station, on the entry date and entry point designated on your permit. 
Vegetation: It is unlawful to remove, cut or damage any vegetation. For fuel wood, use only fallen dead wood collected from the shoreline and far from your campsite.
Historical Sites: Quetico has a number of important archaeological sites within its boundaries.  You may not remove, damage or deface any relic, artifact or natural object or any site of archaeological or historical interest. 
Pictographs: Leave archaeological, historical and pictograph sites untouched. The Pictographs in Quetico are spiritually sacred for Anishinabe People.  Approach all pictographs quietly and respectfully. It is illegal to deface these sites or remove objects such as bones, arrowheads, and other artifacts. 
Campfires: Use existing fire rings. Fire pits must be built on bare rock or bare mineral soil and kept 1.5-3m from vegetation including overhanging trees. Make sure your fire is out.
Go to the Ontario Parks website for a complete list of rules and regulations in Quetico Park.
Quetico Canoe Outfitters
These canoe outfitters will be glad to help you plan your canoe trip into Quetico Park. 
Canoe Canada Outfitters offer both partial canoe outfitting or complete canoe trip outfitting into Quetico. They also offer fly-in paddle out options. If you do not feel like roughing it, you can stay at their Batchewaung Cabin which sleeps 2-8 people and in on a private island in Quetico.
Call 877-597-6418, visit their website or follow Canoe Canada on Facebook or Twitter.
Branch's Seine River Lodge Outfitters can outfit you for your canoe trip into Quetico Park or the White Otter Wilderness Area. Their menu selection is a combination of fresh & dehydrated / freeze dried food that is both delicious and easy to prepare. Shuttles are available from all wilderness access points as well as airport shuttles from International Falls, MN, Thunder Bay, Fort Frances or Atikokan. You can find a map of Quetico on their website. Read about one couple's experience in Quetico Park.
Call 807-947-2391, visit their website or follow them on Facebook or Twitter. 
QuetiQuest is the eco tour division of Camp Quetico and Indiaonta Resort. They are one of the closest outfitters to both Pickerel Lake (Stanton Bay) and Beaverhouse (Quetico Lake) entry points. Full and partial outfitting for custom-designed canoeing and kayaking expeditions are available.
Call Camp Quetico at 807-929-2266 or Indiaonta Resort at 807-947-2581 (summer) and 204-345-0405 (winter) or go to their website. Follow Camp Quetico on Facebook.
Fly from Crane Lake to Campbell's Cabins. Spend the night and leave in the morning. Choose between a 3 to 7 day trip. Package includes airfare round trip, lodging, breakfast, aluminum canoe for every 2 people, round trip boat tow.
Call 800-238-4224 or visit Campbell Cabins' website.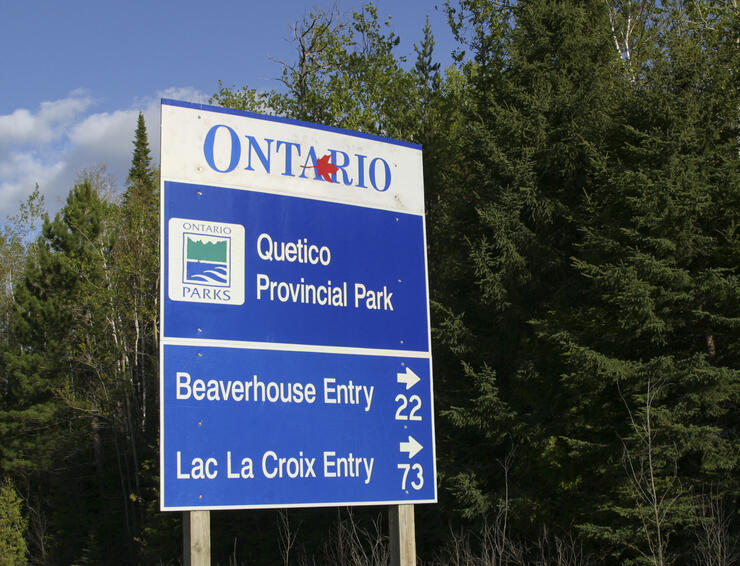 Dawson Trail Campground
If you are not into paddling Quetico and just want to go camping, you can stay at the easily accessible Dawson Trail Campground. There are beautiful campsites located at the Chippewa or Ojibwa campgrounds located at the Dawson Trail Campground. There are comfort stations with flush toilets, showers and laundry facilities. Swim at the beautiful beach or play on the playground. You can also rent kayaks or SUPs and head out onto the lake.
The Dawson Trail Heritage Pavillion contains exhibits highlighting the diverse and storied past of Quetico. You can explore the John B. Ridley Research Library, which is open to everyone and provides resources for the study of biology, geology, history, culture, archaeology, and wilderness management of Quetico.
The Dawson Trail Campground is open starting the May Long Weekend and runs until about the second week into October.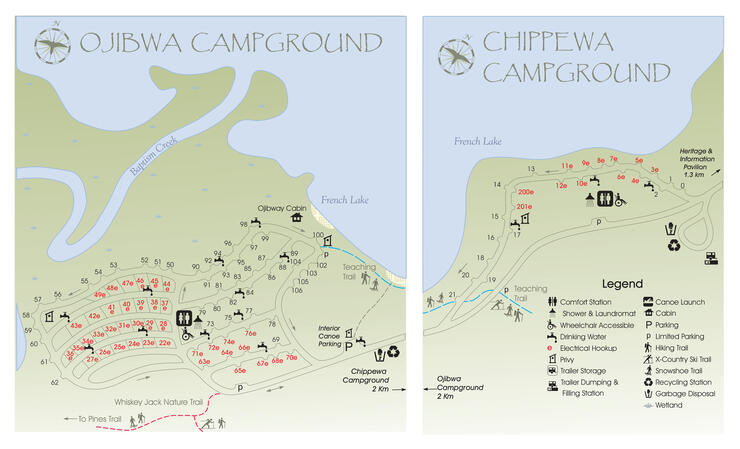 Other resources on Quetico Park:
Start planning your canoe vacation to Quetico now – you won't regret it.