The Gateway to Canada's North Is Calling This Summer
Discover North Bay's blend of intriguing Canadian history and family-friendly natural wonders.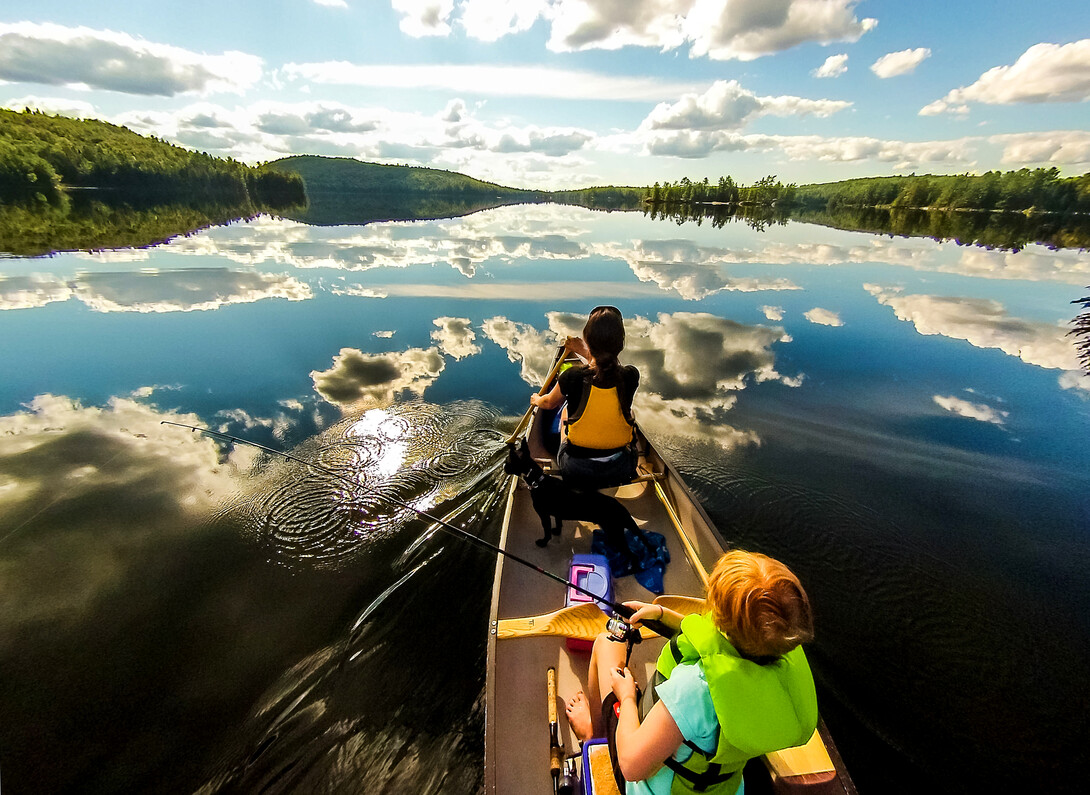 Named for its noteworthy location, the city of North Bay hugs the northeast shoreline of Lake Nipissing, a large, picturesque lake that is traditionally considered the boundary between Northern and Southern Ontario, Canada.
Dubbed the "gateway of the north," and memorialized by its iconic Gateway Arch, this urban center boasts a rich Indigenous heritage and a living history of transportation in Canada. From the creation of the Canadian Pacific Railway to historic cruising vessels and the Cold War air defense base, North Bay has served as a key stop for movers and shakers, adventurers, service people, and vacationers for centuries. Today, the city is equally famed for its easy-going beaches, family-friendly parks, waterways, and wilderness.
This summer, North Bay invites your family to experience its history, culture, natural beauty, and the charm of its locals. 
An Event-Filled Summer
Wrap your trip around some of North Bay's top summer events. Dancing With Our Ancestors is an Indigenous Pow Wow that celebrates the local Maamwi Kindasswin people. July rocks with the annual Canada Day Celebrations as well as Ribfest, the city's largest food festival. The friendly reveling continues into August with the Bay Block Party, a downtown Main Street extravaganza featuring something for everyone, from live music and installation art to a showcase of local food and craft breweries/cideries/distilleries. 
This city also loves its theatre. The heritage Capitol Centre has been bringing top shelf family arts and entertainment to North Bay since 1929. This summer's playbill offers everything from Broadway-style musicals to classic rock to improv comedy.
Planes, Trains & Cruise Ships
Located at 22 Wing/Canadian Forces Base North Bay, the Canadian Forces Museum of Aerospace Defence is a unique museum offering insights into Canada's historical and current contributions to air defence. Through the collection, exhibits, and activities, the museum shares stories from as far back as WWI.
Built on a mission to "inspire the discovery of the people and places of North Bay's past and present," the North Bay Museum invites visitors to take a hands-on approach to appreciating the city through interactive exhibits and guided tours. Located in the historic Canadian Pacific Railway station that dates back to 1903, the venue itself is part of the experience. 
The waterfront is just a short walk via the underpass. On your way, stop for a ride on one of two historic carousels, or take a nostalgic tour on a miniature train along the lake and the abundance of beautiful gardens manicured by the North Bay Heritage Gardeners. Tickets are available at the Museum.
Spectacular sunsets are a Northern Ontario norm, arguably none more so than Lake Nipissing's. Climb aboard the Chief Commanda II for a sunset dinner cruise to Callander Bay. This 320-passenger twin-hull cruising vessel also voyages the historic local waterways to the Manitou Islands for a unique perspective on the area's Indigenous culture, and along the Canadian Heritage-designated French River southwest from Lake Nipissing for unforgettable wilderness views.
Kayaks, Bikes & Waterfall Hikes
Active families will totally dig Boathouse Rental Co's four-seater bicycles, a great way to travel the 7.5-mile Kate Pace Way Trail along the waterfront. Boathouse Rental Co. also has kayaks and stand-up paddle boards available for rent.
If you're looking for a fully-outfitted day on the water, Shockwaves Paddle Adventures specializes in small-group, flat water kayak trips that run from two to six hours on several of the area's waterways, including the French River, Mattawa River, Trout Lake, and Lake Nipissing.
Duchesnay Falls Trail is an amazing, not-to-miss natural hiking adventure that lures adventurers to North Bay every year. The trailhead is located just west of the city, along Highway 17, and runs just under two miles alongside the Duchesnay Falls. The falls start as a series of rapids and cascades that follow the two main channels of the river, each tumbling over several different cliffs. The largest waterfall is the lower falls on the west branch. The hike is doable for families with older kids. 
The Best Bites & Brews
From farm-to-table to craft brews on tap, there's no shortage of ways to satisfy your crew of hungry and thirsty adventurers. 
North Star Diner is a quirky little plant-based spot that's full of personality and a touch of kitsch.
Average Joes Eatery & Patio Bar is North Bay's only year round lakefront restaurant. On the shores of beautiful Trout Lake, the have been serving delicious food & stunning views for over two decades. North Bay's only restaurants accessible by land and water. 
The original Chief Commanda retired in style. She is now nestled in the marina on Lake Nipissing and has reinvented herself as North Bay's favorite lakeside bar and grill: The Boat.
For a great local ale or lager, head to Gateway City Brewery, New Ontario Brewery or Cecil's Kitchen & Brewhouse, all homegrown breweries producing crafts that reflect the unique, clean, refreshing flavor of their hometown.
Family-Friendly Accommodations
Homewood Suites by Hilton keeps families comfy with limitless Wi-Fi, free hot breakfast, lots of parking, an onsite swimming pool, and roomy suites with kitchenettes. Plus, it's just walking distance from the waterfront. Just off Highway 11 as you enter the city, the Holiday Inn Express & Suites North Bay is another family favorite, recently renovated and chock-full of creature comforts.
Know Before You Go
For detailed information on border crossings, customs, currency conversion, and much more, here are the tools and tips to help you get the most out of your trip to Ontario, Canada. 
The Jack Garland Airport serves as a gateway to several Northeastern Ontario communities. Multiple daily flights between Toronto and North Bay are offered by Air Canada and will get you to your destination in approximately an hour.
If heading north on an epic family road trip, entering Canada through any of the four border crossings that connect Western New York State to the Niagara Region, a straightforward and scenic route awaits that will take you through the heart of Southern Ontario, north along Highway 400 and Highway 11, through some of the most picturesque landscapes in North America, and straight into North Bay.
However you choose to journey, the destination will not disappoint. Start planning your Canadian summer family adventure, and be sure to include an unforgettable stay in North Bay.