Going to the Northeast to find the SNOW!
Thrill-seekers Jessi Combs and Cynthia Gauthier ride, live local, and form a bond. Oh yeah, and hang out with wild animals. It's all part of the journey on the rugged trails of Northeastern Ontario.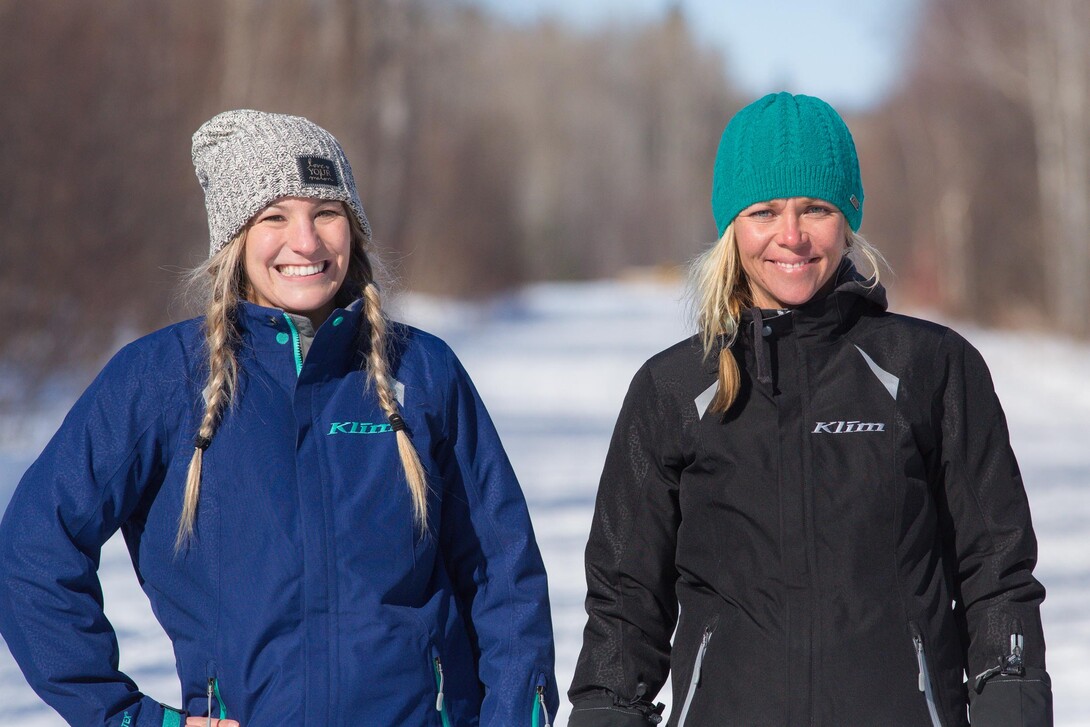 It all started when Cynthia Gauthier tagged Jessi Combs in an Instagram photo. Gauthier was using a piece of Combs' welding gear; they followed each other and kept in touch. But until recently, they'd never actually met in person.
It was on the snowmobile trails of Northeastern Ontario that they finally formed a real-world friendship, bonded over powersports, and got to know the locals–and local wildlife.
Combs, a well-known race car driver, TV personality (The List: 1001 Car Things to do Before you Die, Overhaulin', Mythbusters, All Girls Garage), metal worker, and off-roading expert, doesn't come by friends with such similar interests every day. "Cynthia and I are cut from the same cloth," she said of Gauthier.
Best known as the first Canadian woman to join Monster Jam—also a former motocross racer, welder, and self-described adrenaline junkie—Cynthia shared the sentiment. "It was great to talk to someone who understands and shares my lifestyle. And discovering a little piece of paradise in my own country with Jessi, that was pretty special."
Their three day trip to Northeastern Ontario took them from the city of North Bay through Cochrane, Timmins, Temiskaming Shores, and finally Elk Lake.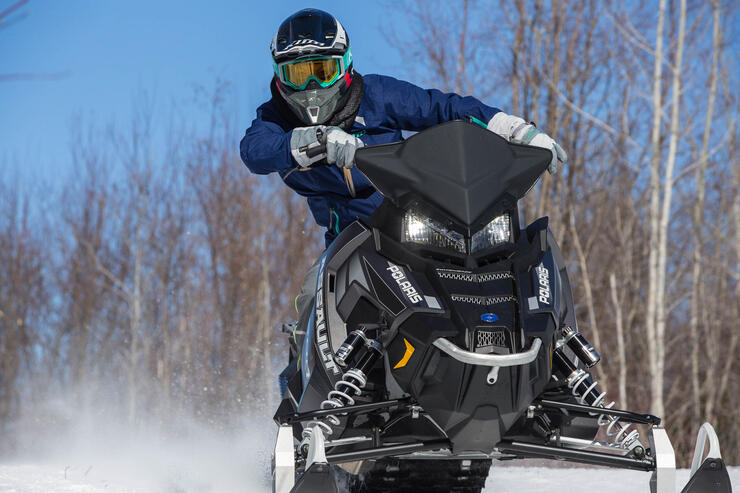 Up Close with the Wilderness
Arriving mid-afternoon in Toronto, Jessi and Cynthia headed up to North Bay (a 3.5-hour drive from the airport) and spent their first night at the Holiday Inn Express & Suites North Bay, the most comfortable way to get started in Northeastern Ontario. After a super rest, they took a four-hour drive North to Cochrane.
Both Jessi and Cynthia were thrilled to meet with the locals—polar bears in particular. "It's not every day that you get to see a polar bear," Cynthia told us.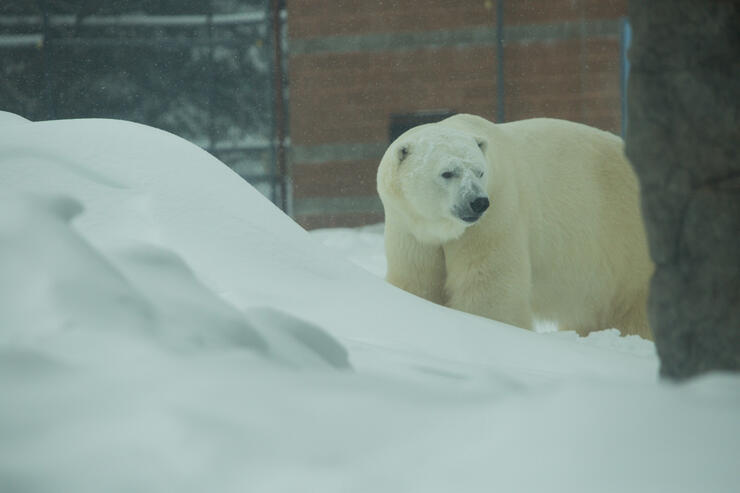 Connected to the Polar Bear Habitat is the Cochrane Classic Vintage Riders Snowmobile Museum, home to nearly 100 vintage sleds and related artifacts. Checking out the 1950s snowmobiles compared to the high-tech, high-speed machines they'd be riding the following day was pretty stunning.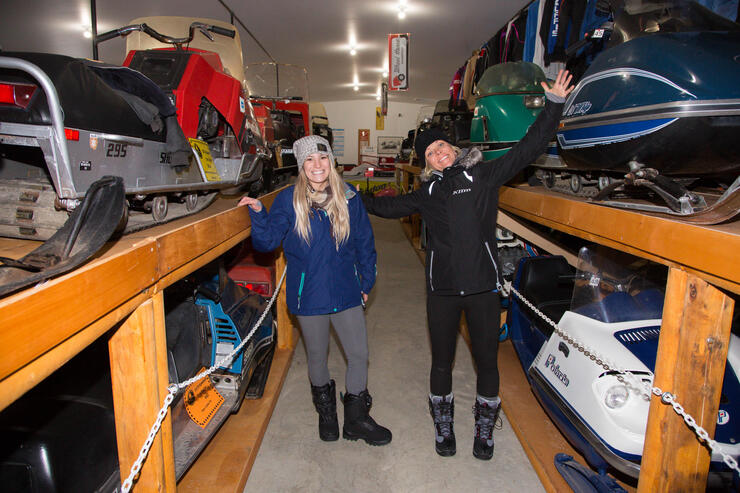 But before hitting the trails, the two had to check off one more encounter with wildlife at the Cedar Meadows Wildlife Park with its moose, elk, deer, and bison. 
Dinner and overnight were spent at the Cedar Meadows Resort & Spa. At the end of a long day, the on-site restaurant with delicious food was much appreciated (not to mention rooms with whirlpool bathtubs and fireplaces.) Jessi was surprised to find these cozy comforts in the rugged snowmobile scene—"it's not what people would expect."
fire on ice
After breakfast at Cedar Meadows, they hit the trails. "We got to try five different snowmobiles from Polaris and Arctic Cat," Cynthia recalls; "the temperatures were different wherever we went, we got to experience different styles of riding - some on trails and some powder riding." Ontario has both kinds of riding, but for those interested in checking out the powder riding, it's important to ride only in prescribed areas, as freeriding on private land is illegal. 
The Arctic Cat was a favorite for Cynthia, best for her size and providing the most features for her to play with. The Polaris was a close second, fun to take through the woods and an amazing ride all around. "Everywhere we went was clean, the trails were well maintained, and we made so many memories. Some trails were almost private, there were times we didn't see anyone."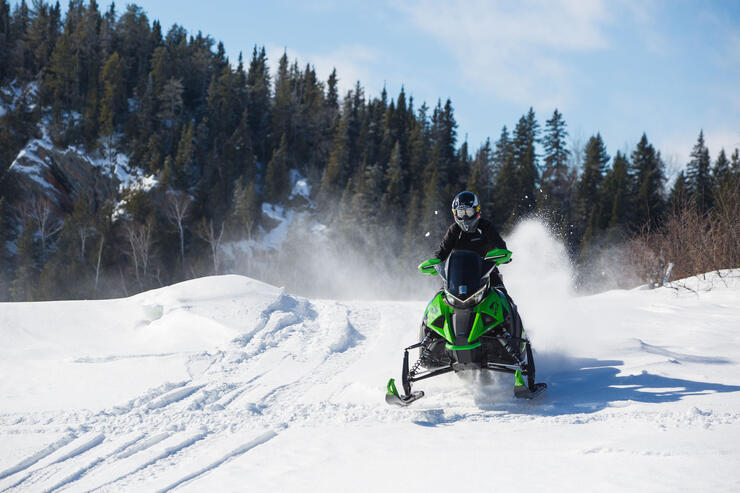 Lunch and dinner were served home-made at Horwood Lake Lodge. Lunch was served on-site in one of their teepees. Indoor dining at the lodge overlooks Lake Horwood, with a view is as incredible as the food.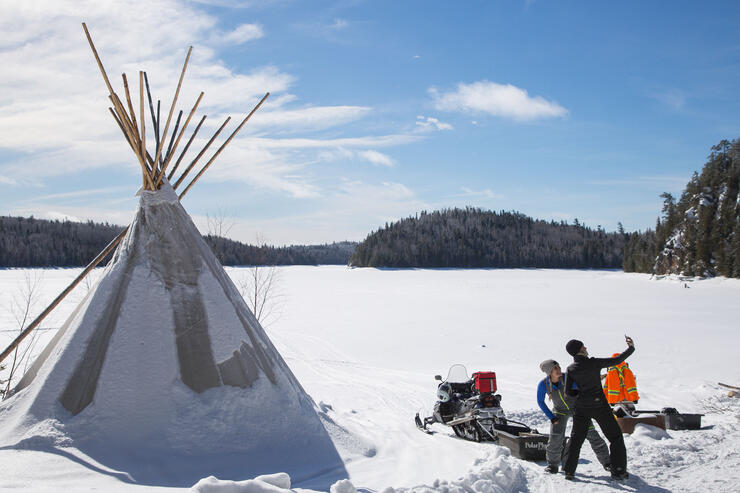 Jessi is no newcomer to the world of snowmobiling, having grown up in the Black Hills of South Dakota, but snowmobiling on a frozen lake was unique to the Northeastern Ontario snowmobiling experience. "I've set landspeed records and raced KOH on lake beds and rock trails, but it was pretty cool to be on top of a frozen lake—and the area around the lodge was just gorgeous," she said. "The trails near the lodge were pretty cool, rad off-trail riding, powder snow with lots of play areas," she adds. "The trail system is amazing too—you can go anywhere and everywhere on a snowmobile in Ontario."
The busy day ended with a stay at the Waterfront Inn, New Liskeard, offering a relaxing wintery view of Lake Temiskaming.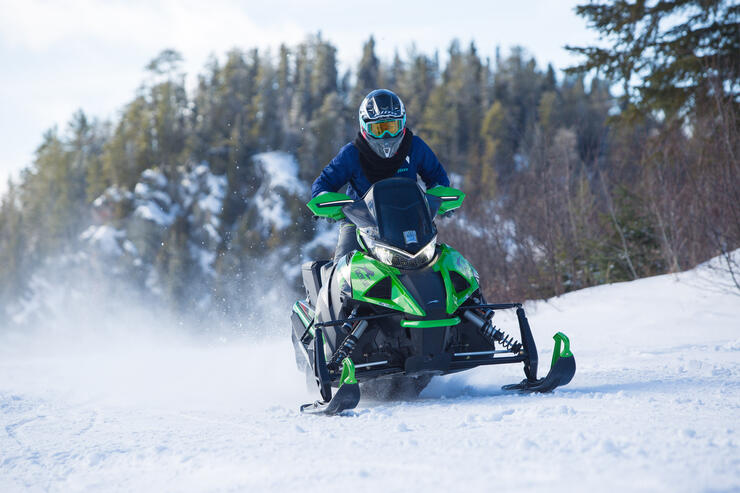 Living la vida local
The final day of the trip was dedicated to the great outdoors. After enjoying breakfast at Gilli's in New Liskeard, the group rode part of the Gold Rush tour to Elk Lake.
"We'd see the same people out riding in different places," Jessi tells us. "Locals use snowmobiles to go ice fishing, grocery shopping, and to go out to lunch or dinner. Tourists are out here for an adventure, all on the same trails. So you wind up meeting everyone."
Biggest surprises about the area? "People were speaking French!" Cynthia, a Francophone Montrealer, says. "And they were amazing—everyone we met was welcoming and super nice."
By the last day on the trails, Jessi and Cynthia were pros at the sport and getting along like old friends. "Hanging out with Cynthia was a highlight for sure," Jessi shared. "She's out there testing her limits, taking chances, reinventing herself."
For women in extreme powersports, this is the sort of thing that makes for kindred connections—and there's no better place to get wild and bond with new friends than the snowy trails of Northeastern Ontario.