Northeastern Ontario Snowmobiling: Timmins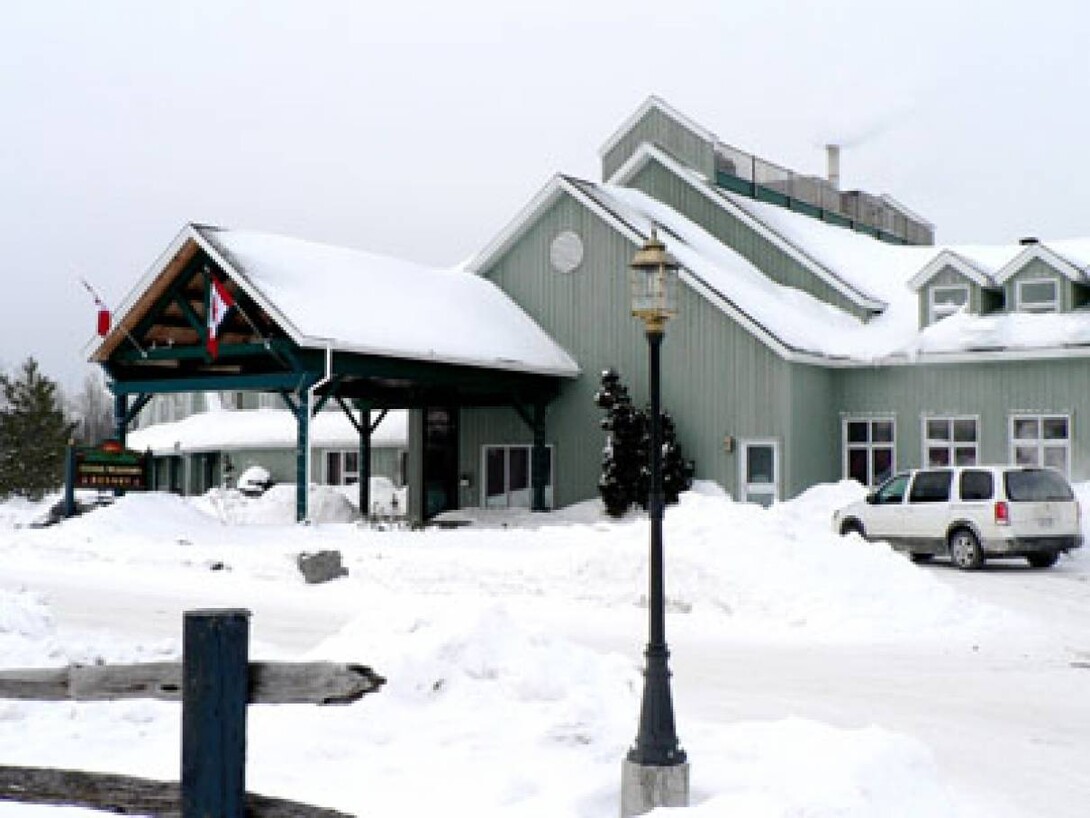 Timmins is one of Ontario's most snowmobile-friendly cities. With a population of about 45,00, this northeastern Ontario community is located on TOP Trail C in Ontario's Wilderness Region and OFSC District 14. It's is big enough to offer all the urban amenities, such as restaurants, movie theatres and shopping, while small enough to allow exceptional access by snowmobile trail, a great benefit to couples and families who want multiple choices from a destination. And if you're looking for a break from snowmobiling, some of the many options include the Shania Twain Centre (Timmins is her hometown), the underground Gold Mine Tour, Kamiskotia Snow Resort or a horse-drawn sleigh tour of the wild life reserve at Cedar Meadows Resort & Spa.
Cedar Meadows is also a favourite lodging for snowmobilers. Located just off TOP C on the west side of town, this modern facility welcomes snowmobilers with their own groomed trail, plenty of parking and a secure sled compound. Their on-site restaurant offers exceptional cuisine and the nearest fuel in just south on TOP C. What's really neat about Cedar Meadows is that although located only in the heart of Timmins, its park-like setting gives the ambience of being secluded in the middle of nowhere.
This makes Cedar Meadows the perfect secure, protected place for staging your saddlebag tour of Ontario's Wilderness Region, or for staying over for several nights while riding day trips through the area. Most of the trails in the region are old logging roads or utility corridors, so the riding is brisk, easy and smooth. For a 250-kilometre day, follow TOP C south to Gogama or Mattagami, then loop back north on TOP C106A and club trail L143 to Timmins. Another 250 kilometre or so day is the ride north on TOP C to Smooth Rock Falls (lunch and gas at Smoothy's), then east on TOP A to Cochrane in OFSC District 15 (alternate lunch stop: North Adventure Inn) and then south on TOP A108C back to TOP C and Timmins. For shorter riding days, try the circle tour around town on trails maintained by the Timmins Snowmobile Club or head east for lunch at Iroquois Falls before retracing your route on TOP A111C.
Whatever your pleasure, Timmins will deliver a memorable snowmobiling experience that's second to none!
Snowmobiling Tourism Contacts:
Contributing partners for this Ontario snowmobiling site include: Intrepid Snowmobiler, Murphy Insurance, Ontario Federation of Snowmobile Clubs, Ontario Tourism, Snow Goer Media, Supertrax Media.