A Beginner's Guide to Snowmobile Touring
Who better to ask what you need to know for your first snowmobile trip than a newbie who's just racked up thousands of kilometres in his first season?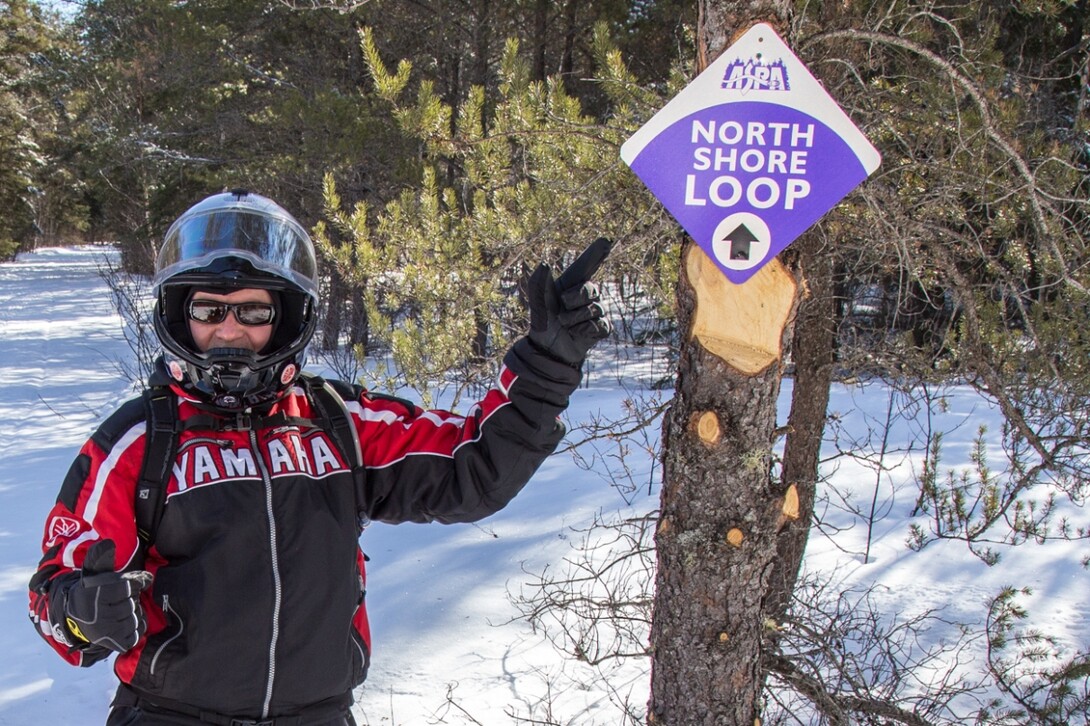 One, yes only one, season is the extent of my snowmobile touring resumé. So how does my lack of long-term experience qualify me to give any sort of advice? In the defence of my resumé, my first season included well over 4,000 km in the saddle sampling Ontario's best snow trails, and all of this in the company of very non-beginner riders.
Like any foray into a new activity, the learning curve can be very front-loaded, but man, I sure enjoyed the time spent studying. So here you are, the "not necessarily just for beginners, but by a beginner" guide to snowmobile touring.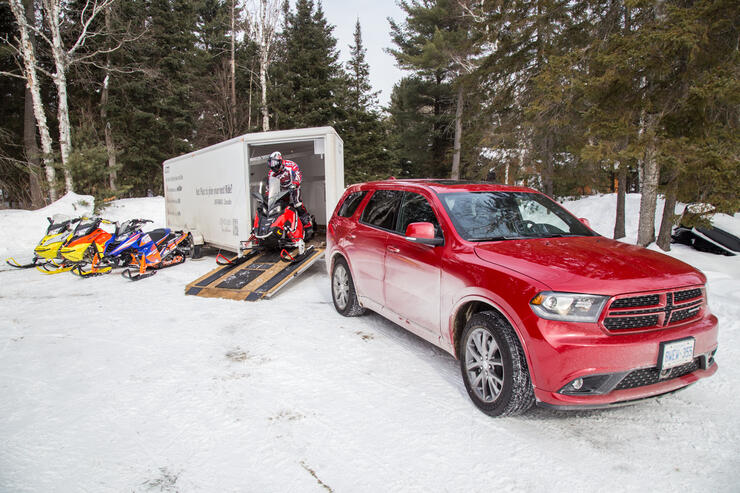 Where to Start
Unless you're lucky enough to be able to take to the trails from your front door, you will need to find a place to park that towing rig. Finding a parking spot hundreds of kilometres from home can be a challenge - but there's no need to fret, here are a couple of links to information that will get you set up.
First, the Big Map of Ontario Snowmobile Staging Areas where you can trailer to, unload and hit the trails. Second, The Intrepid Snowmobiler takes it a step further, offering his recommendations for staging from snowmobile-friendly hotels that are right on the trails.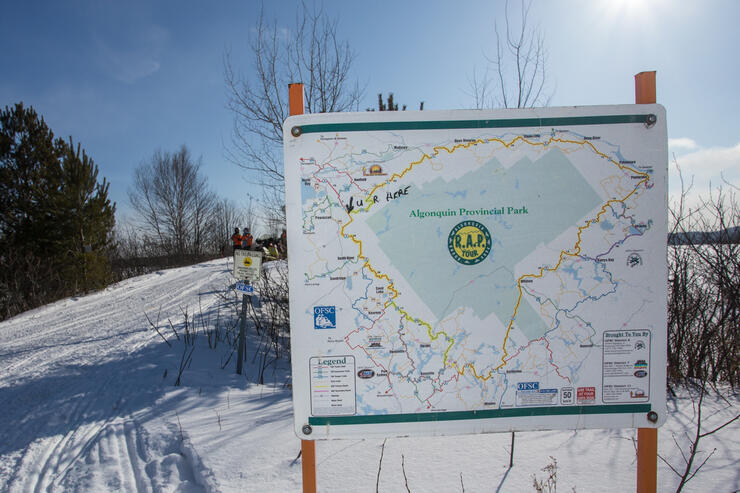 Baby Steps
Making your first touring day long, cold and exhausting can be a spirit crusher. A shake down tour is a good idea before you commit to the big loop. Look to the areas like Muskoka, Grey Bruce, and Ontario's Highlands, for manageable distances, good food and plush accommodations. A happily memorable first-time experience will make you want to go harder and push farther next time.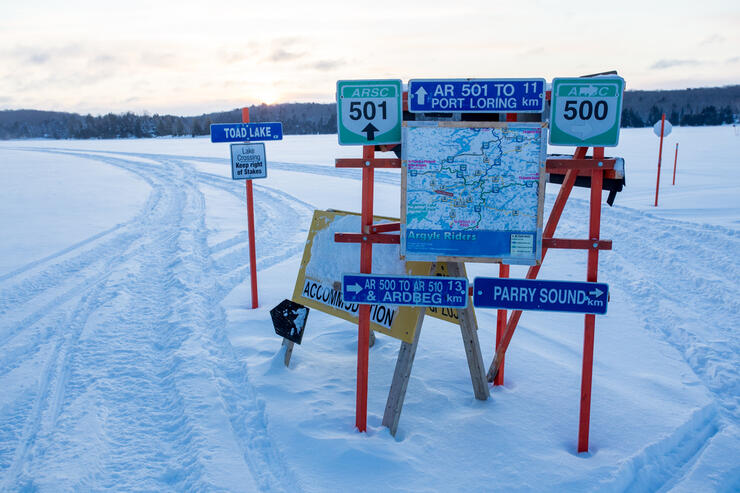 Study a Map
Ontario is blessed with 30,000+ km of groomed, marked and mapped trails. In fact, you could probably do a whole tour by just following the signs. So why open a map? For one thing, the Ontario snowmobiling maps are a thing of beauty. I personally get stoked just seeing all the touring potential outlined on a map. Knowing things like distances, town names, orientation, and points of interest make your day more enjoyable. Stopping to check the map gets annoying, trying to figure things out on the go is dangerous. So study up and enjoy the ride.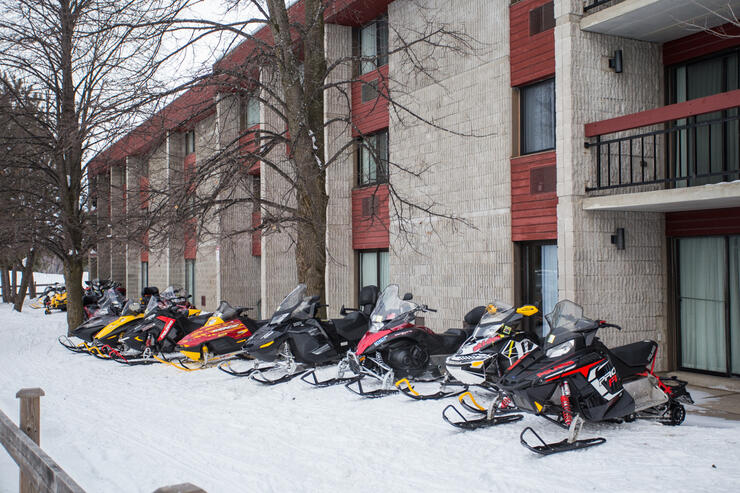 Book Ahead
You haven't truly experienced snowmobiling in Northern Ontario until you spend a few days living off your sled. You won't be the only one. It's entirely possible that you'll pull into a lodge or hotel and see a "no vacancy" sign and only sleds in the parking lot. Trust me, book ahead.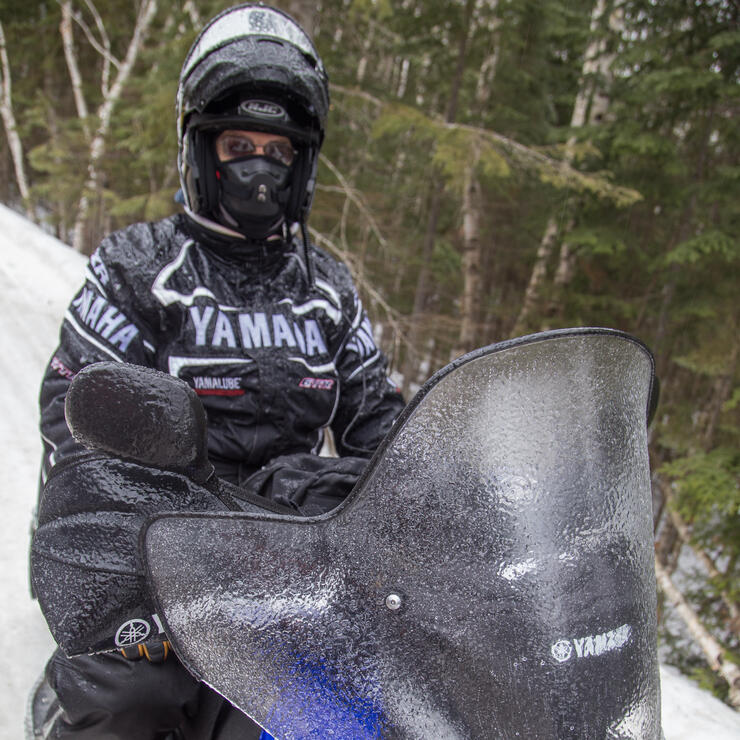 Know Your Gear
Yep, that's ice: four hours into a multi-day spring tour is no place to find out your gear is not waterproof. Same goes for freezing helmet shields or ice-cold feet. You will be out there for days so make sure your gear is up to the task. Staying warm, dry and comfortable will be the difference between good times or misery.
Pack Your Bags
Surprisingly, I found packing for a snowmobile tour extremely uncomplicated. After all, you wear the same outfit all day, every day while on the sled. So all that is really necessary is some evening wear, light pants, shoes. I make sure everything I bring can do double duty, and I pack synthetics and wool to keep warm in any conditions, no cotton. Extra gloves and socks are always a good idea.
As far as baggage, bungie cords are your friend. In the above photo there are factory accessory bags, generic saddle bags, a waterproof duffle bag and yes, that is carry-on luggage. Learn more about what to pack here.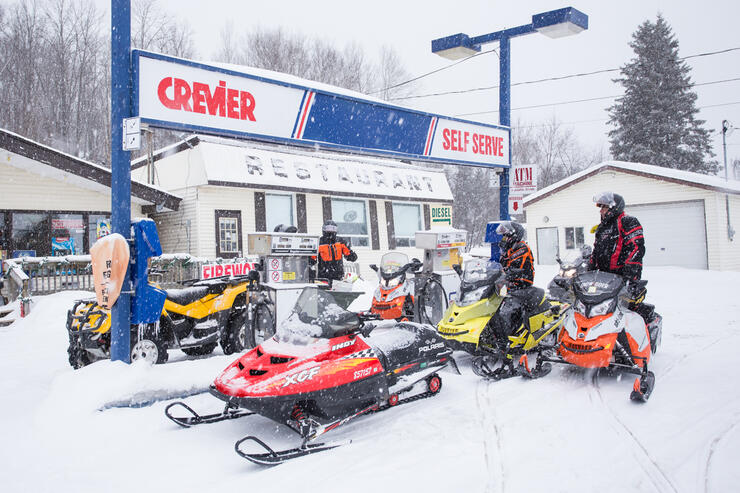 Feed the Sled (Gas)
A wise man once told me, "Never pass up an opportunity to top up the gas tank." I recall one bluebird day with a foot of fresh snow on the trail. We were having so much fun running the sled hard in the fresh pow. The fun came at a price, though, and waiting for gas in the middle of nowhere made for a long day. The wise man that provided the above advice was in our group that day, LOL.
Feed the Body (Food)
Small town dining can be complicated. In Port Loring, for example, there are two diners. In the winter months one serves dinner and one breakfast on any given day. Pulling into a town late only to find everything closed sucks, so plan ahead. You can apply the same rule to your tank as the gas tank in your sled and never pass up an opportunity to top it up. Enjoy each meal like it's the last one for the day. Click here for a list of Ontario snowmobiler's favourite places to eat.
Plan for the worst
As much fun as snowmobiling is, the nature of the activity places you in a less than hospitable environment. In sub-zero temperatures and a long way from help, any complications on the trail and your survival is on you. First aid kit, starting a fire, shelter, repairs, think about it, plan for it, hopefully you will never need to apply it.
Been There, Done That
Putting a cell phone in the outside pocket of your coat will turn it into an ice cube. If you put it too deep against your body it might get wet from perspiration. A small ziplock bag, a couple of layers deep should keep it working. Cell signal on the trail is a bonus, not a guarantee.
Keep the water flowing: throwing in a couple of water bottles in your bag sounds like a good idea until you find them frozen when you reach for a drink. A thermos, some sort of insulted bottle, or a small flask inside your jacket will keep things liquid.
Duct tape: one particularly cold morning on an extended rail bed, I found that a tiny air leak in my modular helmet was causing some frostbite on my cheek. The solution? A layer of duck tape placed on the skin in the affected area. Now I always carry a bit of tape in my pocket.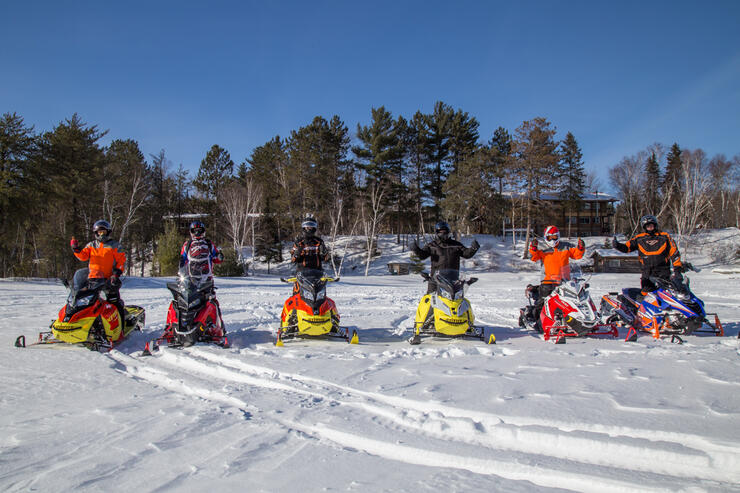 Once you experience an Ontario Snowmobiling Tour for yourself, you will easily understand why for some people this is the golden grail of happiness. There are dozens of loops for your touring pleasure, just pick, prep up and go. In reality, you can get on your sled as soon as the trails open and spend the whole season touring the province, hmmm now there's an idea.