50 of Ontario's Best Snowmobile Restaurants
Be ready to ride and eat and ride some more this winter. Each of these exceptional eateries are worth planning your trip around.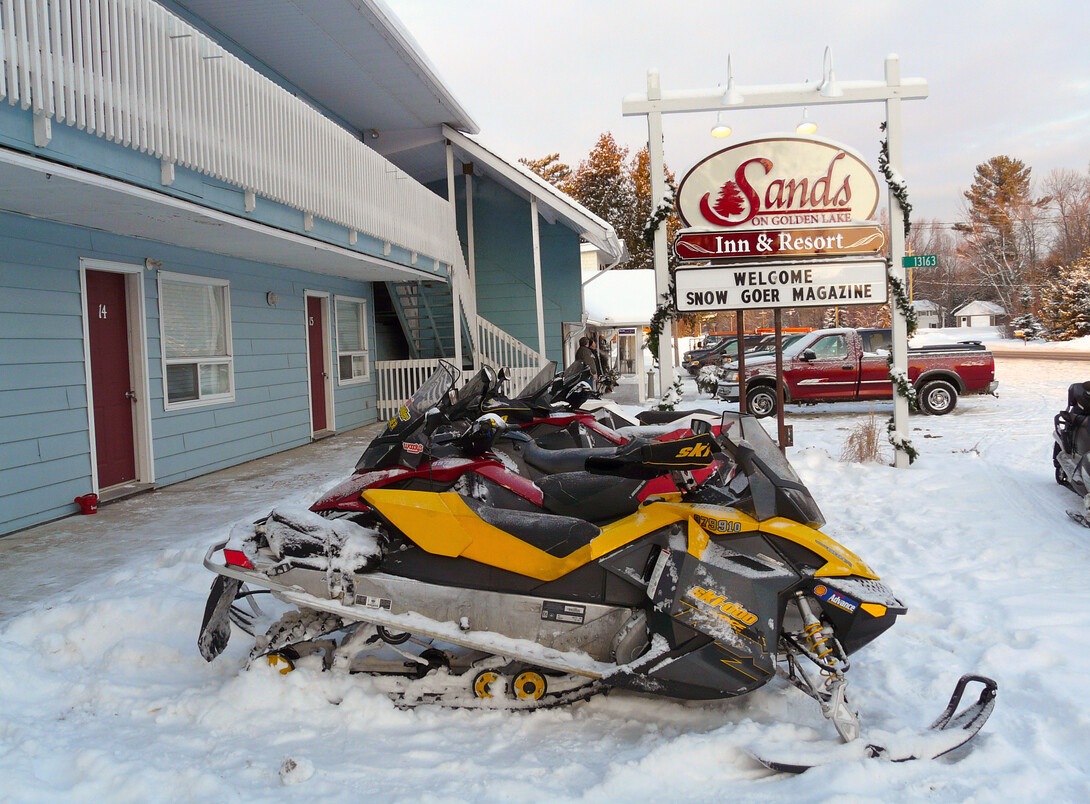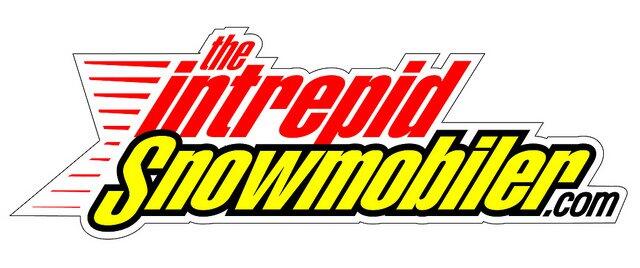 It's indisputable that snowmobilers love to eat. In fact, cravings for sustenance motivate many an Ontario ride being planned around a favourite lunch stop, what I call a "destination restaurant." These popular eateries have good trail access and offer something special, exceptional or memorable that's a cut (or more) above the rest. 
Mainly, they're mom n' pop operations with attributes distinct from what are available at most chain establishments and fast food joints. Sometimes it's their appealing atmosphere, unique architecture, exuberant personality, or warm hospitality—but for sure, their top-notch reputations always depend on great grub… homemade specialties, quality offerings, generous portions and good value that keep snowmobilers coming back for more.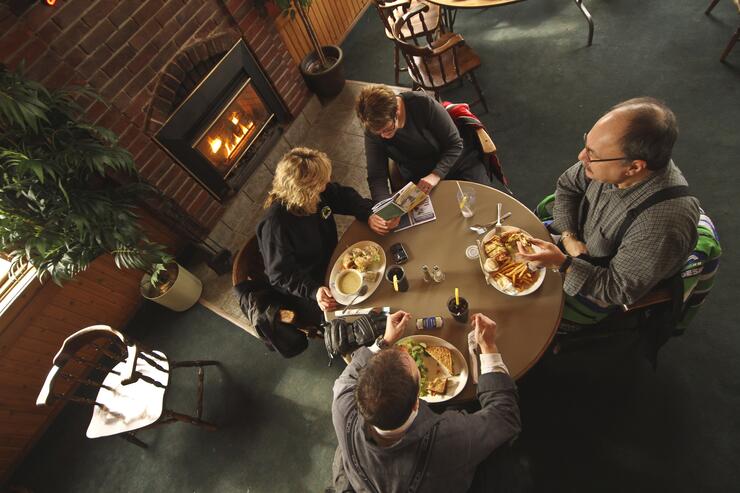 Ontario has lots of good places to eat along the snowmobile trails, but some really stand out. So to help compile this subjective list of most popular destination pit stops, I contacted more than 30 sledding enthusiasts who really love their food, and asked for personal recommendations for their most cherished trailside establishments. 

Boy, did I ever get me a bellyful of scrumptious suggestions! I culled through them to arrive at the list below, which I readily admit doesn't cover every part of the province. That's why I don't pretend it's the be-all and end-all list, and it may have left out a few of your deserving favourites, but it's a good start… and who knows, maybe your favourite eatery will make my next list!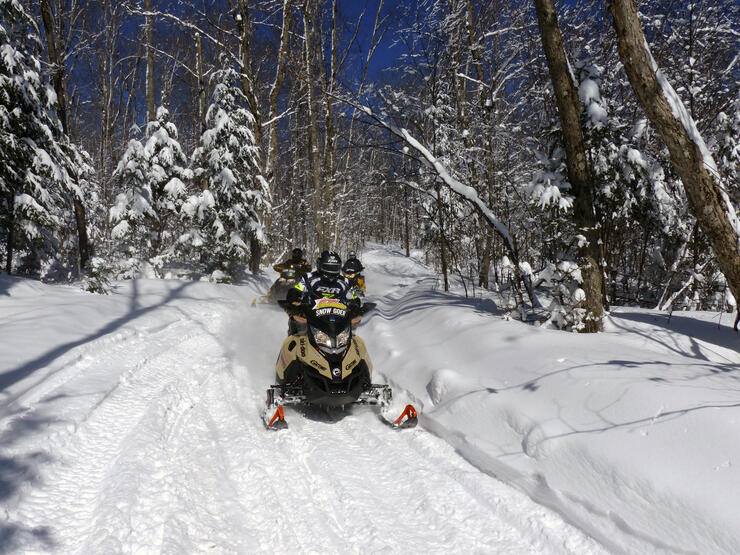 So the next time you're planning an Ontario ride, check out my destination restaurant list for yummy places to chow down at lunchtime—and before leaving home, be sure to check each one online for winter hours of operation.
CENTRAL ONTARIO
Bass Lake Roadhouse, Foot's Bay, Muskoka, ON
Region: Explorers' Edge
Trail: TOP C102D
The Boiler Room, Dwight, Muskoka, ON
Region: Explorers' Edge
Trail: Club Trail 77
Cast Iron Restaurant (homemade pub fare), Baysville, Muskoka, ON
Region: Explorers' Edge
Trail: TOP D 102B
Snow Tours: Lake of Bays Watch Tour
Mill Pond Restaurant (tasty burger, homemade pies), Carnarvon, Haliburton, ON
Region: Ontario's Highlands
Trail: Club Trail 8
The Beach Lakefront Bar & Grill, Keswick, Lake Simcoe, ON
Region: York, Durham, Headwaters
Trail: Club Trail 725
Pattie House Smoking BBQ, Coboconk, ON
Region: Kawarthas Northumberland
Trail: Club Trail 100
Spring Lake Resort Restaurant, Dwight, Muskoka, ON
Region: Explorers' Edge
Trail: Club Trail 77
Swiss Bear Restaurant & Bakery (hearty schnitzel or Monte Cristo sandwich), Apsley, ON
Region: Kawarthas Northumberland
Trail: Club Trails 632/631 off TOP E107
Snow Tours: Hav-A-Ball Tour
Trading Bay Dining Company (brisket & ribs smoked on site), Dorset, Muskoka, ON
Region: Explorers' Edge
Trail: Club Trail 60
Snow Tours: Lake of Bays Watch Tour, RAP Tour
WESTERN ONTARIO
Giffen's Country Market (homemade soups, stews, chilli, pies) Glen Huron, ON
Region: Bruce Grey Simcoe
Trail: TOP B111
Harley's Pub & Perk (daily special, butter tarts), Mildmay, ON
Region: Bruce Grey Simcoe
Trail: Club Trail 400 at Intersection 283
Snow Tours: Between Saugeen River Tour and Queen's Bush Tour
Junction Restaurant, Dundalk, ON
Region: Bruce Grey Simcoe
Trail: TOP B or Club Trail 310
The Taste Kitchen, Lion's Head, ON
Region: Bruce Grey Simcoe
Trail: TOP B107
Snow Tours: Bruce Peninsula Tour
Mylar & Loreta's Restaurant (good French Onion soup), Singhampton, ON
Region: Bruce Grey Simcoe
Trail: TOP B111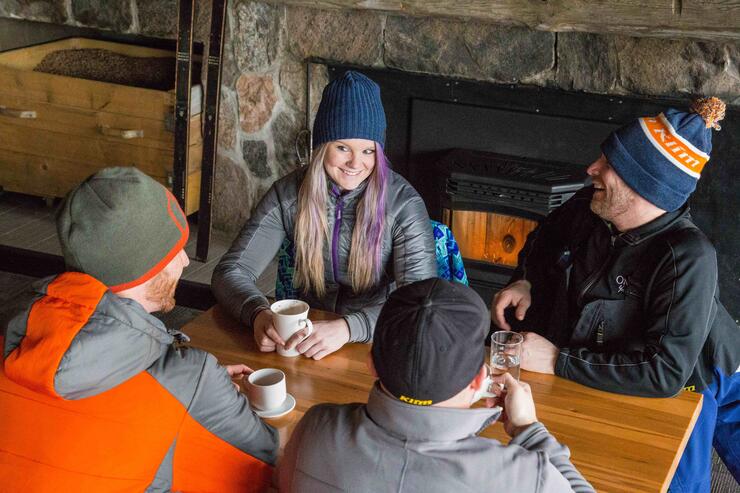 Kettles Back Home Cookin', Clifford, ON
Region: Huron, Perth, Waterloo & Wellington
Trail: Club Trail between Intersections 508 & 266
Ted's Range Road Diner, Meaford, ON
Region: Bruce Grey Simcoe
Trail: Club Trail at Intersection 162 off TOP B
Snow Tours: Walter's Falls Tour
The Spot Restaurant, Mount Forest, ON
Region: Huron, Perth, Waterloo & Wellington
Trail: TOP B111
Snow Tours: Queen's Bush Tour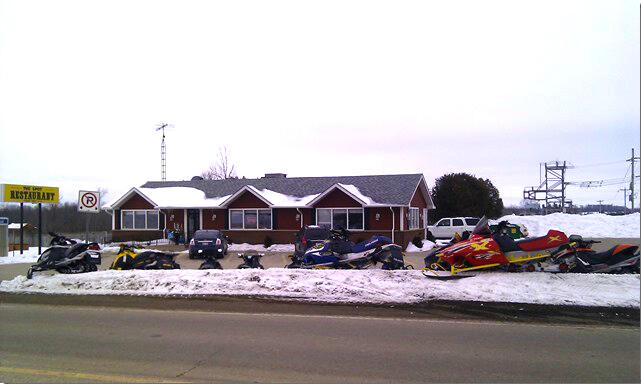 EASTERN ONTARIO
Ash Grove Inn, Barry's Bay, ON
Region: Ontario's Highlands
Trail: TOP E109
Hideaway Primitive Grill, Coe Hill, ON
Region: Ontario's Highlands
Trail: TOP E
Snow Tours: Hastings Highland Tour
Honey Doo's Café, Lake St. Peter, ON
Region: Ontario's Highlands
Trail: TOP B106E
The Atlantic Pub & Eatery, Alexandria, ON
Region: The Great Waterway
Trail: TOP A
Snow Tours: French Connection Loop 
Pine Valley Restaurant (save room for butter tarts), Griffith, ON 
Region: Ontario's Highlands
Trail: TOP E101
Sands on Golden Lake Restaurant, Golden Lake, ON
Region: Ontario's Highlands
Trail: TOP B102/B101A
Redneck Bistro, Calabogie, ON
Region: Ontario's Highlands
Trail: TOP E105A
Spectacle Lake Lodge, Barry's Bay, ON
Region: Ontario's Highlands
Trail: Club Trail 150 off TOP B
The Granite, Bancroft, ON
Region: Ontario's Highlands
Trail: TOP B106E
Snow Tours: Hastings Highland Tour, Bon Echo Loop
The Mad Musher Restaurant (fabulous homemade burgers), Whitney, ON
Region: Explorers' Edge
Trail: TOP B
Wheeler's Pancake House (real maple syrup), McDonald's Corners, ON
Region: Ontario's Highlands
Trail: 7A off of TOP E
Wilno Tavern Restaurant, (try the hearty combo platter), Wilno, ON
Region: Ontario's Highlands
Trail: TOP B102
NORTHERN ONTARIO
Auld Reekie Lodge, Gowganda, ON
Region: Northeastern Ontario
Trail: TOP A107C
Snow Tours: Gold Rush Tour
Chateau Guay Restaurant, Sudbury, ON
Region: Northwestern Ontario
Trail: Club Trail 86 off TOP D111
Snow Tours: Access to Chiniguchi Wolf Loop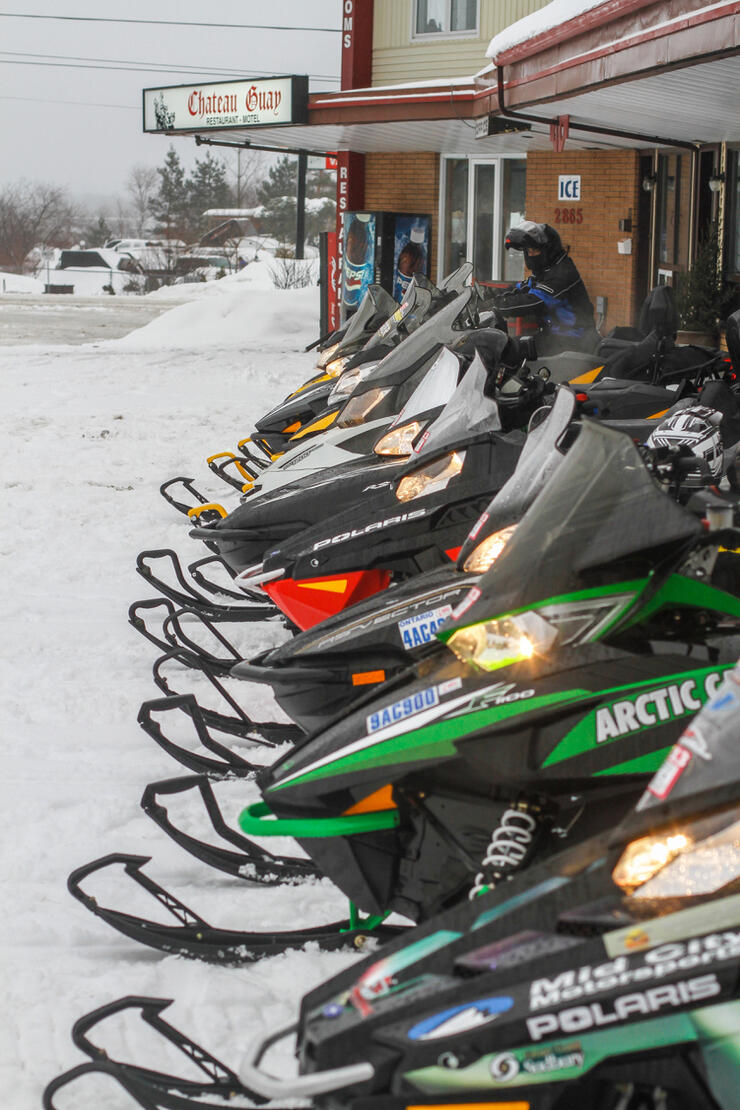 Dinner Bell Restaurant, Bonfield, ON
Region: Northeastern Ontario
Trail: Club Trail BF201
Snow Tours: Explorers Snow Tour
Duck Rock Restaurant, Dunchurch, ON
Region: Explorers' Edge
Trail: TOP C104D
Edgewater Park Lodge (best grilled cheese ever), Kearney, ON
Region: Explorers' Edge
Trail: Club Trail 303
Snow Tours: RAP Tour
Halfway Haven Lodge, Wawa, ON
Region: Algoma Country
Trail: Top D
White River Bar and Grill, White River, ON
Region: Algoma Country
Trail: TOP D
JR Bar-B-Q Ranch (ribs), Cochrane, ON
Region: Northeastern Ontario
Trail: Club Trail off TOP A
Jake's Place, Port Loring, ON
Region: Explorers' Edge
Trail: TOP D102C/C105D
Snow Tours: RAN Tour
Kenogami Kitchen, Kenogami, ON
Region: Northeastern Ontario
Trail: TOP A
The Wagon Wheel, Powassan, ON
Region: Northeastern Ontario
Trail: Club Trail SSR700
Mattawa Golf & Ski Resort (club sandwich), Mattawa area, ON
Region: Ontario's Highlands 
Trail: TOP A
Snow Tours: RAP Tour
The Dragonfly Ristorante, Massey, ON
Region: Northeastern Ontario
Trail: TOP D
Rock Pine Restaurant (yummy pickerel), Marten River, ON
Region: Northeastern Ontario
Trail: TOP A 7 A104D
Rocky's (poutine), Lake Wahnapitae, Sudbury Area, ON
Region: Northeastern Ontario
Trail: Junction of Club Trails 71 and 64
Rolly's Restaurant, Ramore, ON
Region: Northeastern Ontario
Trail: TOP A
Snow Tours: Gold Rush Tour
Smoothy's Restaurant, Smooth Rock Falls, ON
Region: Northeastern Ontario
Trail: TOP A
Terry's Steaks, Cochrane, ON
Region: Northeastern Ontario
Trail: TOP Trail A
Snow Tours: Gateway to the North
The Portage (homemade soups & stews), Trout Lake, North Bay Area, ON
Region: Northeastern Ontario
Trail: Junction of TOP A & D
Snow Tours: RAN Tour, Explorers Snow Tour
Valois' Restaurant, Mattawa, ON
Region: Northeastern Ontario
Trail: TOP A112A
Snow Tours: Explorers Snow Tour
Windy Lake Restaurant, Onaping, Sudbury Area, ON
Region: Northeastern Ontario
Trail: TOP C111D
Snow Tours: Cartier Moose Loop