So You Want to Go Snowmobiling in Ontario, Eh?
Ontario trails (and the Canadian border) are open for business.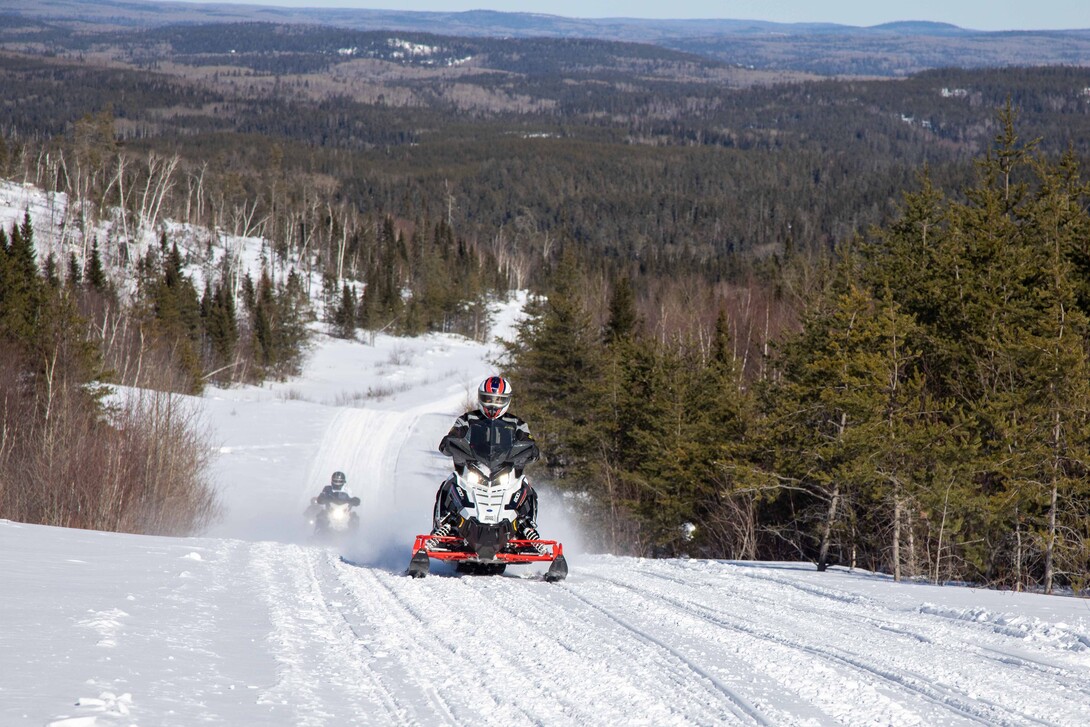 Welcome to Ontario, Canada—a snowmobiler's paradise. It's a land of wide open spaces, thousands of frozen lakes, vast forests, rock sculptures—aka the  Canadian Shield—and 18,650 miles of groomed snowmobile trails courtesy of the Ontario Federation of Snowmobile Clubs (OFSC). 
Ontario shares more border crossings with the U.S.A than any other province. So what does this mean for American snowmobilers? With 17 world-class snowmobiling districts just a short drive from the U.S., accessing Ontario's massive trail network this winter is just a hop, skip and border crossing away!
Snowmobile resources for riding in ontario
So why venture north if you can ride your local trails? We might be biased, but here are a few reasons to make the trek. 
More snow: Thanks to the lake effect snow in many areas and chilly northwestern winds, Ontario snowmobile trails get snow aplenty. 
More trails: One good thing about the metric units of measure is that more significant numbers impress, and at 18,650 miles of groomed trails, Ontario's trail system is undoubtedly impressive. 
More space: With trails spread out over a land area of 136,814 square miles there's plenty of room for sleds. Trail trafficking is seldom a problem. 
33 loops: With an easy-to-follow Go Snowmobiling App from the OFSC or old-school paper maps planning your ride is easy. But it gets even more accessible with 33 preplanned and signed loops. Whether you are looking to ride for a day or days, there is a loop for you.
More bang for your buck: For every USD $1, you will currently get CAD $1.35, a 35% bonus. No need to say more. 
an American guide to the best riding in Ontario
Depending on what state you're travelling from, some snowmobiling regions are closer than others. (And for travellers flying into one of our international airports, snowmobile rentals and all-inclusive tours are a great option.)
Here's a guide to where to go and how to best plan your Ontario snowmobiling adventure. With loads of snowmobile friendly-accommodations across the region, it's never been easier to ride, dine, and play north of the border.
We look forward to seeing you on the trails! 
Traveling from southern Michigan
Detroit or Sarnia
Make your way north to District 9. Situated between Lake Huron and Georgian Bay, District 9 is known for its record-breaking lake effect snowfalls, over 1,800 miles of groomed interconnected trail, and lots of snowmobile-friendly places to eat,  sleep and fuel up. The ride is always exhilarating, from snow-filled farm fields along the Huron Gateway Tour (110 miles) or the wooded twisties of the Niagara escarpment, Bruce Peninsula Tour (120 miles). 
travelling from upstate new york or vermont
Buffalo/ Niagara Falls 
From here, Ontario is yours to discover. Within a three-hour drive, District 7, aka Muskoka and District 6, Haliburton,  Bancroft, with a combined 3,100 miles of trail to explore, it's smiles for miles, as they say. For an epic adventure, head out on the 708-mile RAP Tour, the famous ride around Algonquin Park. 
East end of Lake Ontario 
Welcome to the Upper Canada Snowmobile Region. District 1 encompasses Kingston, Cornwall, Ottawa, and over 2,050 miles of marked, groomed trails. Here you can start your Ontario snowmobiling adventure just minutes from the border. Try the day-long Rideau–St. Lawrence loop or the 310-mile multi-day Ottawa Valley River loop. 
travelling from upstate Michigan and the U.P.
Sault Ste.Marie 
Welcome to Algoma, home to the biggest goose in Canada. Please don't take our word for it. Ride your sled to Wawa and see for yourself. Northern Ontario's District 13, big snow, big landscape, and big adventure opportunities. You can start your ride within Sault Ste. Marie city limits and head out for a day on the Soo Highland Loop, a weekend on the North Shore Loop or go big and tick off hundreds of miles deep into the reaches of Northern Ontario, where the snowmobiling season often lasts well into April. 
travelling from Minnesota
West end of Lake Superior 
Welcome to Sunset Country. Riders are in for a treat as Northwestern Ontario—located just above Minnesota—is a hidden jewel of Ontario's snowmobiling and trail riding. Easily accessible and with low population density, you are more likely to see wildlife than people along the region's 1,6768 miles of groomed trail. Here you will find riding experiences for riders of any skill level. Come for a ride and check out Niagara of the North—Kakabeka Falls—a natural wonder that throws more water over its crest per minute than Niagara Falls, and you can ride your sled less than 100 feet from the edge. Need more food for thought? Check out this guide to snowmobiling in Ontario's west end. 
plan your ontario snowmobiling adventure today
Yes, you can ride local, but as the saying goes, "the snow is always deeper somewhere else," and Ontario's snowmobile paradise is just a hop, skip, and border crossing away. See you soon.
Canada uses the metric system so a few conversions are practical to calculate speed and fuel. Check out this conversion chart for more. 
30 miles per hour = 50 kilometres per hour (posted trail speed) 
1 mile = 1.6 kilometres 
1 gallon = 3.79 litres 
32 °F  = 0 °C
quick tips for a smooth border crossing 
What you don't need:
Negative test or vaccination proof—all COVID-related restrictions no longer apply. 
Firearm—Canada's gun control laws mean no handguns or fully-automatic weapons are allowed into the country. 
What you do need: 
Passport 
Driver's license 
Registration and proof of insurance for tow vehicle and trailer 
Sled registration and proof of insurance, including third-party liability coverage 
You need an OFSC Trail Permit to ride your sled in Ontario. Order online today. 

Border Travel Information and Resources