A Pancake is Just a Pancake... Or Is It?
The Top 10 Places to get Finn Pancakes in Thunder Bay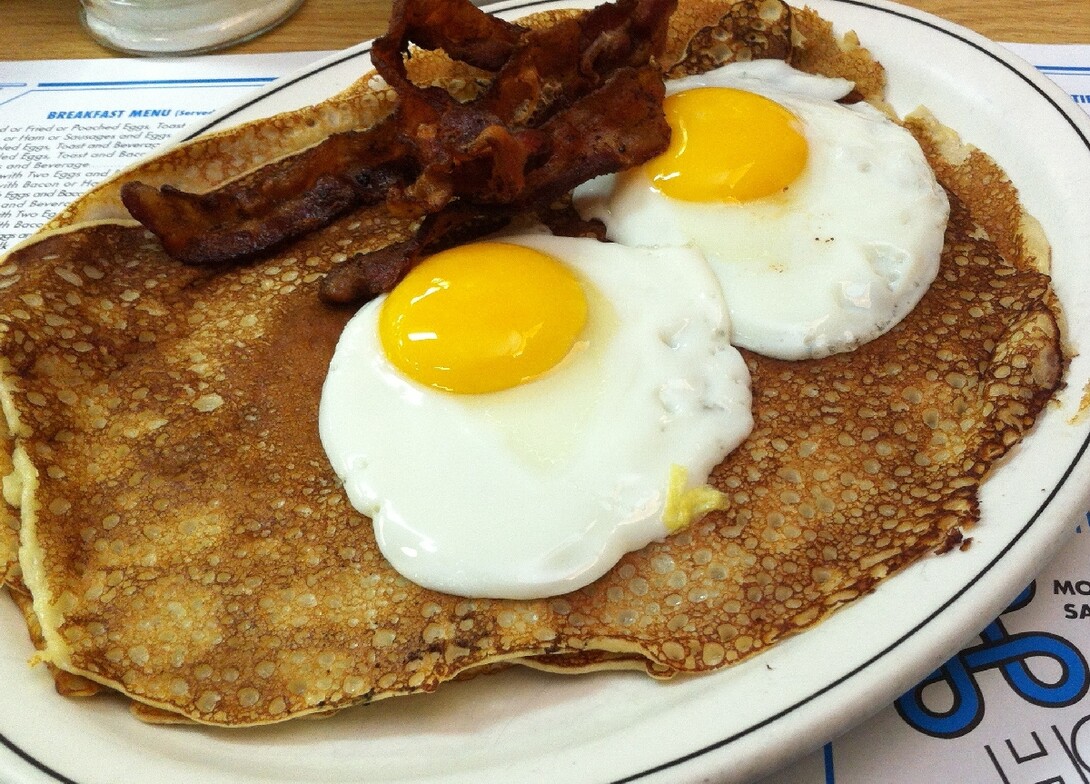 Thunder Bay is home to the largest concentration of Finnish people living outside of Finland, and as such, from skiing to saunas to food, Finnish traditions are woven into the fabric of the city's culture.
One of the most well-known of the Finnish influences found in the city is the pancake. Pancakes are a staple food in many cultures, and most of us are familiar with the classic, fluffy, buttermilk pancake, but in and around Thunder Bay you're more likely to find a Finnish-style pancake.
What is the difference? A Finnish pancake is thin, buttery, crispy on the edges, plate-sized, and quite possibly better than any pancake you've ever had before.
There are many restaurants in Thunder Bay that serve Finnish pancakes, but who's are the best? Well, if you asked 10 different locals, you'd likely get 10 different answers. The only correct answer is to try them all and decide for yourself.
Here's a list of some of the most popular places for pancakes in Thunder Bay.
The Hoito
The originators of the Finn pancake in Thunder Bay, The Hoito has been featured on Food Network's You Gotta Eat Here, in the Globe and Mail and the New York Times (as well as hundreds of other publications over the years) and is arguably one of Canada's most-famous pancake houses.
Established in 1918 as a gathering place for Finnish immigrants, The Hoito can still be found in its original location, in the basement of the Finnish Labour Temple in the heart of the Bay & Algoma Area. Simple décor, friendly staff and a menu of traditional Finnish fare has been a recipe for success as the The Hoito is currently in its 99th year of operation.
Fun fact: The Hoito uses 23,400 lbs of flour and serves 67,860 pancakes every year!
The Hoito is open seven days a week for breakfast, lunch and dinner. There can sometimes be a bit of a lineup on Saturday and Sunday mornings, but it's worth the wait.
Station Two: The Scand Stop/h2>
In the Westfort Village you will find Station 2: The Scand Stop - the reinvention of The Scandinavian House restaurant that stood in the Bay and Algoma neighbourhood for decades.
Kangas Sauna
There is perhaps nothing more Finnish or more Thunder Bay than a morning steam followed by a plateful of pancakes at Kangas Sauna.
Featuring authentic Finnish saunas for individuals and groups, Kangas is as popular for its pancakes as it is for its saunas. Grab something from the dessert case on your way out – you won't be disappointed.
Niva's
A popular spot for locals and tourists alike, Niva's came on the scene strong a few years ago and shows no signs of slowing down. There may very well be a lineup when you arrive, but Niva's has a take-a-number setup and a waiting area with a few chairs. The owner of Niva's worked in the Scandinavian House kitchen for over 30 years before striking it out on her own. With a more traditional menu, Niva's only features two Finnish selections: mojakka and, of course, Finn pancakes.
Java Hut
Found in what years ago was a Robin's Donuts location, is the Java Hut. Best known for its large portions and low prices, the Java Hut also makes a mean Finn pancake – add one to any breakfast.
Roosters
Serving all-day breakfast since before it was in fashion, Rooster's Bistro is probably most famous for its selection of amazing Eggs Benedicts but don't let that fool you into thinking they don't have great Finn pancakes, because they do – some of the best in town, in fact.
Tina's Breakfast & Lunch
Tina's Breakfast and Lunch is an apt name for this popular breakfast and lunch spot. Located in the centre of town, on Memorial Ave across from Intercity Shopping Centre, Tina's has a giant menu of breakfast items and serves both traditional buttermilk pancakes and the Thunder Bay-must Finn pancake.
Sweet G's
Located on Dawson Rd./Hwy 102 past County Fair Mall, you will find Sweet G's, a simple, comfort food restaurant with an unbelievable pie selection. Comfort food in this part of the world means meat and potatoes… and pancakes!
Crystal Beach Restaurant
When driving to camp or just passing through Thunder Bay on the Trans-Canada, turning off to the Crystal Beach Restaurant is a valuable detour. Fill your tank at the gas bar, grab supplies at the store (that includes an LCBO outlet) and refuel yourself with a great meal at Crystal Beach. Famous for great food and friendly service, Crystal Beach is making a name for itself in the pancake world as well.
Now that you know the most popular places to  try these Finnish delights – plan your trip to Thunder Bay to try them today!