Hungry for Adventure?
Check out these 7 essential Thunder Bay activities, then sate your appetite with local eats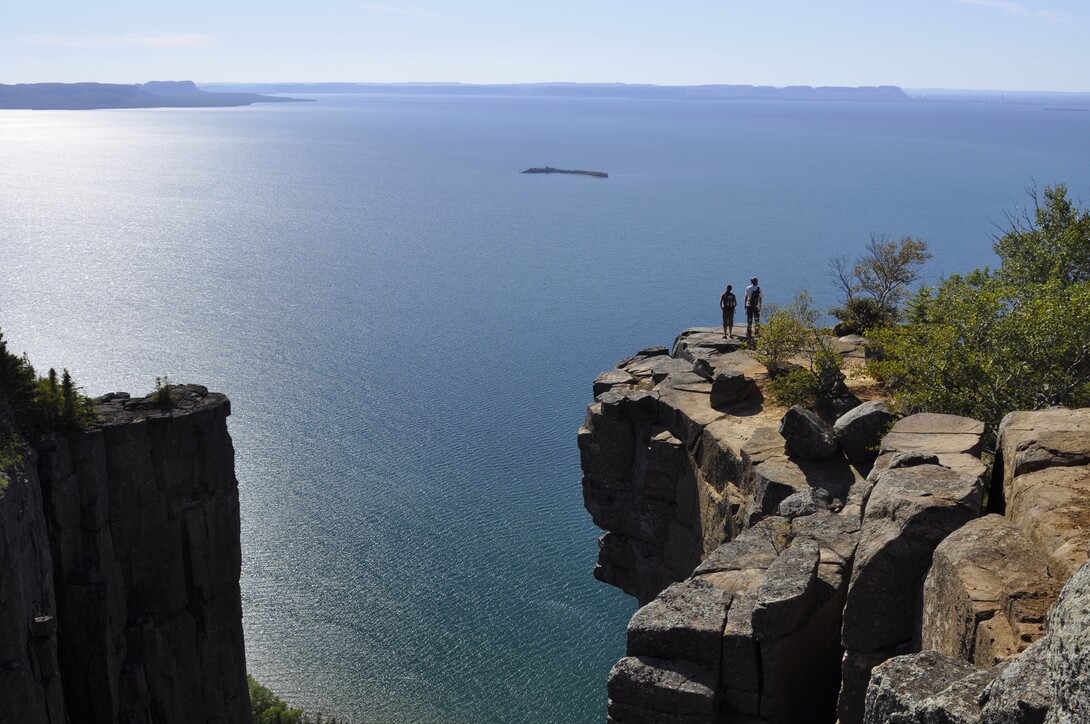 In Thunder Bay, you don't need to choose between vacationing in nature and top-notch food anymore. Looking to try ice climbing or dog sledding, or want to spend some time on the unique trails and waters? You can do it all here. Whether you're looking for farm-to-table fine dining, a locally made craft brew your friends at home won't have tried, a Scandanavian breakfast, or a one-of-a-kind dessert, Thunder Bay has it. To help you navigate the territory and possibilities, we've paired seven essential outdoor adventures with seven must-try dining experiences in the area. Travel north, eat local, and satisfy all your senses.
1. hikes & bites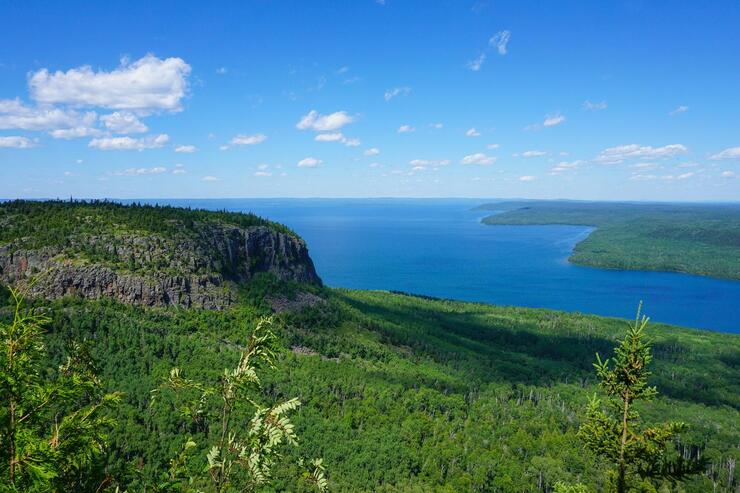 Six Provincial Parks are cradled between Lake Superior and the Canadian Shield. Reach remote lodges by floatplane and paddle through pristine parkland to get up close and personal with quintessential Canadian wildlife. The sights are beautiful all year, but the fall colours are particularly spectacular.
The lakes and forests in this area are essential to its cultural identity and the local food movement. Stop in at The Cheese Encounter to pack a lunch of local delicacies such as maple-smoked duck breast, Thunder Oak gouda, rosemary flatbread, and sparkling sweet apple cider. Then, head out on a serene hike through the 8-km Nipigon River Recreation Trail that hugs the shoreline between Nipigon and Red Rock, and the diverse terrain along Casque Isles' 50-km forest trail. Wherever you can hike, you can also snowshoe—and in the crisp air of winter, the views are breathtaking. 
2. Race to the Finnish
Thunder Bay is the launching point for immersion into true Canadian winter adventures. In nearby Kaministiquia, Boreal Journeys offers a unique dog sledding experience for a customized half-day or night run under the stars. Rounding trails, the musher controls the sled from behind while beautiful Alaskan Huskies bark and pull forward into a romantic wilderness passage. For horse-drawn sleigh rides, head to a cozy log-house at Gammondale Farm. Visit the goats, sheep, rabbits, hens, and draft horses; then, pour a cup of hot chocolate, bundle up in warm blankets, and away you go through the fields!
Thunder Bay is also home to the largest Finnish population outside Finland, so before our winter sojourn we enjoy a breakfast of champions at the Hoito Restaurant. Our meal includes salt fish, karjalan piirakka pastry, and Finnish pancakes. Thin and fluffy, they perfectly envelop local blueberry jam and offer fuel for the day. 
3. boat-in bbq
One of Canada's watersport capitals, Thunder Bay is a magnet for canoeing, kayaking, windsurfing, sailing, and shipwreck diving. Surfing the waves of Terrace Bay with all those vibrant colours in the background is awe-inspiring. Rent a boat from Sail Superior, leisurely sail along the rugged coastline to the trailhead of "The Giant," swim, snack, and hike up to one of the highest points in Ontario.
One favourite jaunt is sailing out to Thompson Island, enjoying a barbeque on the boat, swimming, relaxing on the beach, and hiking through the woods toward a beautiful waterfront Finnish sauna. If you want to give your meal some local flare, pack some local fire. By which we mean Heartbeat Hot Sauce. This small-batch hot sauce is made locally and simply, using only the freshest of ingredients. And while the duo behind the sauce has hopes of expanding to other regions soon, you'll be able to say you tried it in its hometown first. 
Light a campfire to heat it up, and unwind at your own pace. Afterwards, jump back in the lake and watch the sunset on the beach. 
4. Cyclist's Brew
In addition to hiking (and horseback riding), the trail systems for biking are invigorating, and the landscape is so diverse that the opportunities for leisure or challenge are endless. Historic routes include cycling through the rocky island community of Silver Islet to view the homes of 19th-century miners.
Designated trails and country roads lead to the scenic Kakabeka Falls. Countless others meander through forests and along the shore. Petrie's Cycle and Sports rents mountain bikes and fat bikes. Ride through the winter wonderland of Sleeping Giant Provincial Park—you're more likely to pedal past wildlife than another person. This is Canada's serene hinterland, where the only sound is from the thick tires crunching the hard-packed snow. The most popular fat biking trail system is in Centennial Park.
En route to the Sleeping Giant, The Fish Shop is a unique to-go lunch stop for local and traditional Finnish-style smoked trout, white fish, herring, and northern pike. It's all smoked by fire and offered as skewers, wraps, and spreads (like smoked trout guacamole and smoked whitefish salad) and in platters with cheese and Finnish-style rye bread. Compact coolers and ice packs are available if you want to take your fish with you for the road. Also a gift shop, you'll be hard-pressed to find another spot that offers Finnish grocery items and locally mined amethysts—a truly Thunder Bay-only experience!
Afterwards, warm up and relax at St. Paul Roastery, a modern cafe that sources fresh, seasonal coffee beans year-round. Try a nuanced Rwandan coffee in a 12-oz glass pourer, or a rich, raisin-y Burundi and Guatemala blend. The reclaimed wood details may leave you feeling like you're visiting a hip spot in a much bigger city. 
5. The ice-climbing on the cake
Thunder Bay is Canada's mecca for rock and ice climbers seeking to challenge themselves in a breathtaking environment. From the world-renowned cliffs of Orient Bay to the pinnacle of Dorion Tower, Outdoor Skills And Thrills leads climbers of all skill levels and interests through customized climbing and rappelling courses year-round. In winter, don spiked boots, grab a pair of axes, and scale the massive icicles that drape Silver Harbour. The quiet panorama of the canyons and the sense of accomplishment are rejuvenating.
Pick up a celebratory treat in the form of a a long-time local favourite: a fresh Persian from The Persian Man. A Persian is a cinnimon bun shaped pastry with fruity pink icing on top. This Thunder Bay bakery has line-ups out the door some days, making and selling well over 1,000 of the sweet treats per day. You'll want to see what the fuss is about.
6. Scandanavian snow, sauna & supper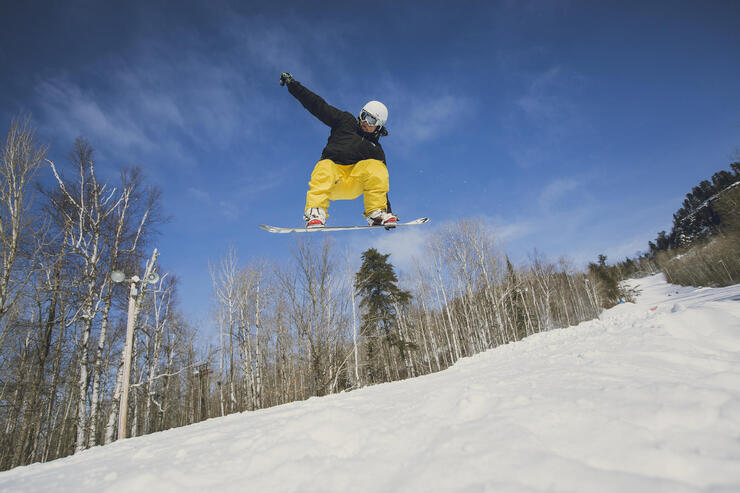 Skiing and snowboarding at Mount Baldy and Loch Lomond are popular day and night, and both offer fantastic tube parks for families. Loch Lomond's new terrain park is chock full of features to challenge and excite snowboarders and skiers alike. The large Scandinavian population here has ensured a network of Nordic ski trails for some of the best cross-country skiing in the world, whether in picturesque Sleeping Giant or Kakabeka Provincial Parks, or at the world-class Lappe Nordic Ski Club. No day of skiing would be complete without unwinding in a private Finnish sauna at Kangas.
For dinner, Silver Birch Restaurant boasts Northern-inspired cuisine such wild rice cranberry soup, maple whisky pumpkin gnocchi, and elk shepherd's pie. Their fish, game, and cheese are locally sourced, as are many other ingredients. Tomlin Restaurant features local products as well, this time with an eye on sharable plates. Dine family style or a la carte; their eclectic menu includes spaghetti with duck bolognese, herring chowder with smoked trout, and dry-aged local rib eye with red wine ragu. Keep an eye on their website for seasonal menu changes. 
7. Wind in your sails, washed down with ales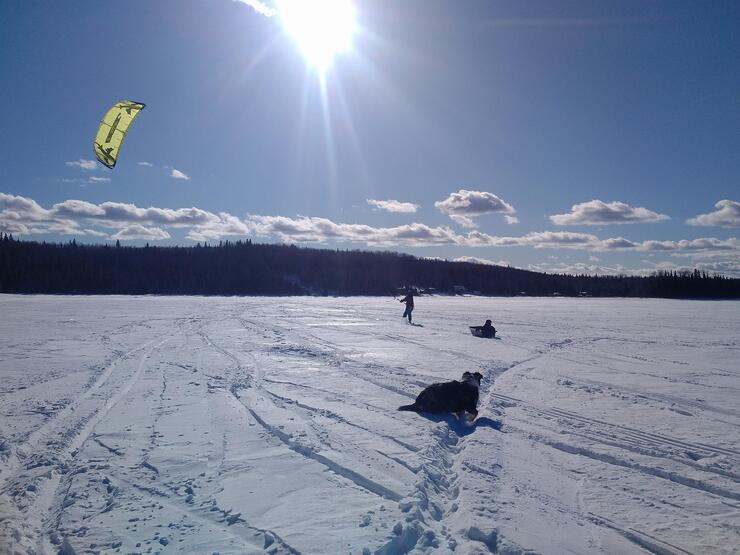 One sport that's catching wind—quite literally—is snowkiting. All you need is a kite, a board, and ice to glide across. Mission Island Marsh is a popular destination, and Superior Kiteboarding has the equipment for this energizing rush that is really taking off in Thunder Bay. Hold on! The speed and the lift make for a beautiful flight.
Afterwards, toast the craft beer scene at Red Lion Smokehouse with another flight: Stack Brewing Northern Cream Ale and Imperial IPA, Lake of the Woods Nut Brown, and Sleeping Giant Skull Rock Oatmeal Stout. Pair these with savoury 14-hour smoked brisket with maple bacon and addictive English-style crisped potato wedges.
Or, head to the waterfront to Bight Restaurant & Bar —right at the marina—for juicy local Tarrymore beef burgers with local gouda, paired with Sleeping Giant Northern Lager and Lake of the Woods Forgotten Blueberry Ale. 
There is always something unique to do in Thunder Bay—from rock hounding for amethyst in summer to ice car racing in winter. Step into a world away in our own backyard, where there's flavour and adventure for everyone.