Thunder Bay's Bay & Algoma Neighbourhood
Historical Sites, Great Restaurants and Fun Shops - Bay & Algoma has it all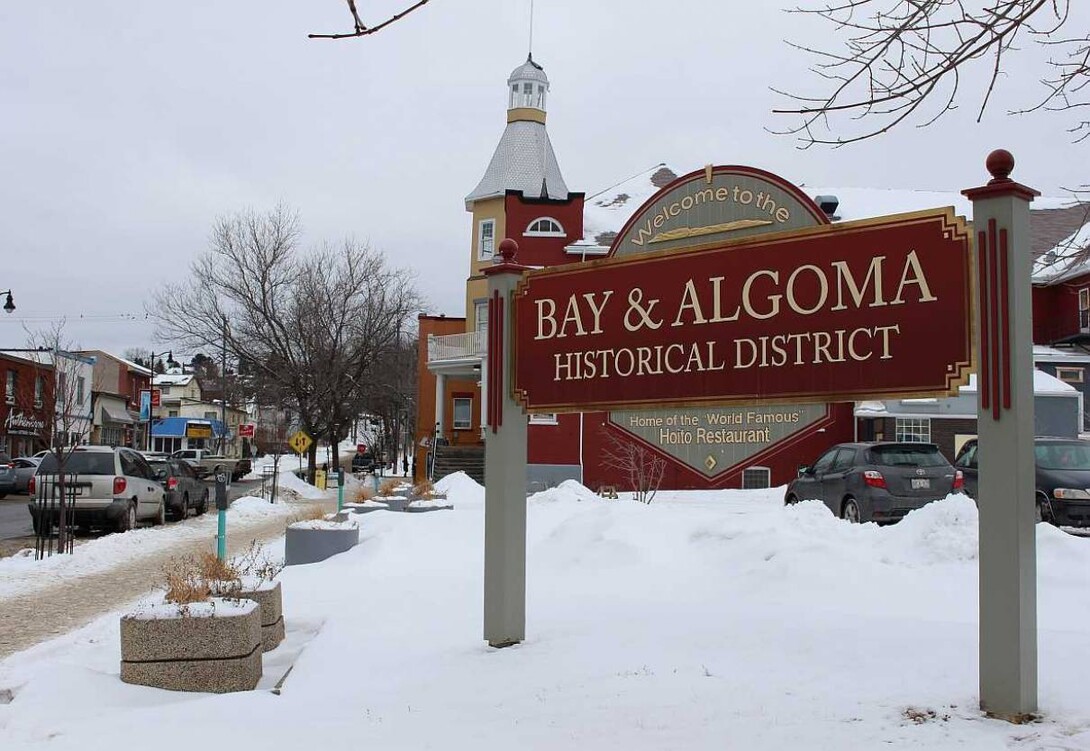 While exploring Thunder Bay, be sure to visit the Bay and Algoma Neighbourhood as it is one of the best places in town to find a great variety of locally made products, along with unique gift items. These are shops run by local entrepreneurs and it is unlikely you will find these items and wares in national chains stores or shopping malls.
This area is also quickly becoming known as a distinct shopping district where residents feel a little more comfortable shopping, and where landlords and shop owners take a little more pride, organizing festivals, street fairs, and beautifying their neighbourhood. With coffee shops, pubs, and even a few restaurants, you can't go wrong coming to shop or just hanging out in this area.  
There are many great shops, restaurants and other businesses in the neighbourhood, far too many for one list. Check out the entire list of area merchants at the Bay & Algoma Neighbourhood website.
Authentique - 

313 Bay St.
This fun-filled gift shop opened on Bay Street in 2005, with their namesake in different locations since 1988. Lillian and Jim Murray saw the potential of having a shop directly across from the very popular Hoito restaurant of the Finnish Temple. The walk-by traffic is not as good as in a shopping mall, yet good enough in which to thrive. Authentique became the inspiration for other merchants to relocate or start a business in this neighbourhood. Sometimes that's all it takes, one shop in the right place at the right time.



Authentique sells all kinds of popular items; ladies clothing, purses with unique designs, candles, original wine racks, fancy cards, large souvenir and keepsake stuff where one wall is dedicated to locally created crafts, fun costume jewelry and locally made amethyst Inuksuks. They have the largest selection of locally made moccasins, a wall dedicated to uniquely designed baby-ware and baby clothing, locally made teas, books by local authors, and works by local photographers and other artists, amongst many other delightful surprises. 

Scandinavian Deli and Soppi - 

307 Bay St.
The Scandinavian Deli & Soppi sells both international and Canadian products, best exampled by the maple syrup, from Ontario and European "bakeapple," specifically Dark Tickle Bakeapple Sauce.
In business and in the same location for nearly 40 years the owners, Aarno and Margit Peura, with their son Petri, sell Scandinavian style bakery goods, jarred herring from Sweden and Finland, fish balls, Finnish mustard, Finnish coffee, chocolates from all over Scandinavia, ginger cookies from Sweden and Finland, and popular 100% cotton t-shirts featuring original designs and logos. They also sell Scottish delicacies, baked goods.
The Scandinavian Deli & Soppi is a little village styled store where family and friends meet and greet and shoot the bull. They're all about the Finnish community, and act like a little Finnish info-center. You'll hear Finnish spoken when you enter. Call out, "Kitos," instead of "Thank-you," and get a great Finnish smile.
The Cheese Encounter - 198 S. Algoma St.
The Cheese Encounter specializes in both international and Canadian fine cheeses and other specialty items such as fine preserves, honey, chocolate, cured and smoked meats, caviar, mustards, sea salts, pickles, olives, marinated vegetables and crackers. The focus is on only providing the best authentic products and working with as many local producers as possible whose philosophies on quality are first and foremost. Here you will find cheese and porducts from around the world including many of Thunder Bay's own food producers.
Squitti's Gift and Lighting Shop - 319 Bay St.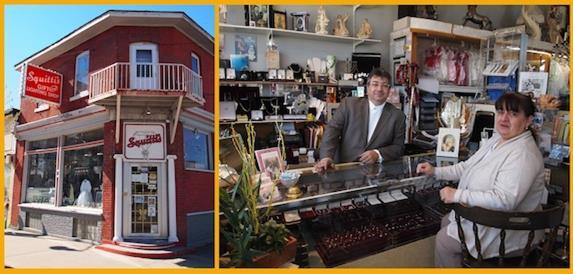 Squitti's "mini-department store" since the 1970s. As a family business, Squitti's has existed since 1910. Right at the corner of Bay and Ontario St., their shop is pretty much the top end of the Bay strip.
 A visual treat and a trip for culture vultures, this shop leans towards the Catholics among us, with religious statuary, rosaries, crystal and other catholic gift items. The majority of items for sale are non-religious; chandeliers, fine jewelry, bridal giftware, watches, and local amethyst set in gold. Italian fair include olive oil, coffee, chocolates, candy, perfumes, espresso machines, and imported giftware.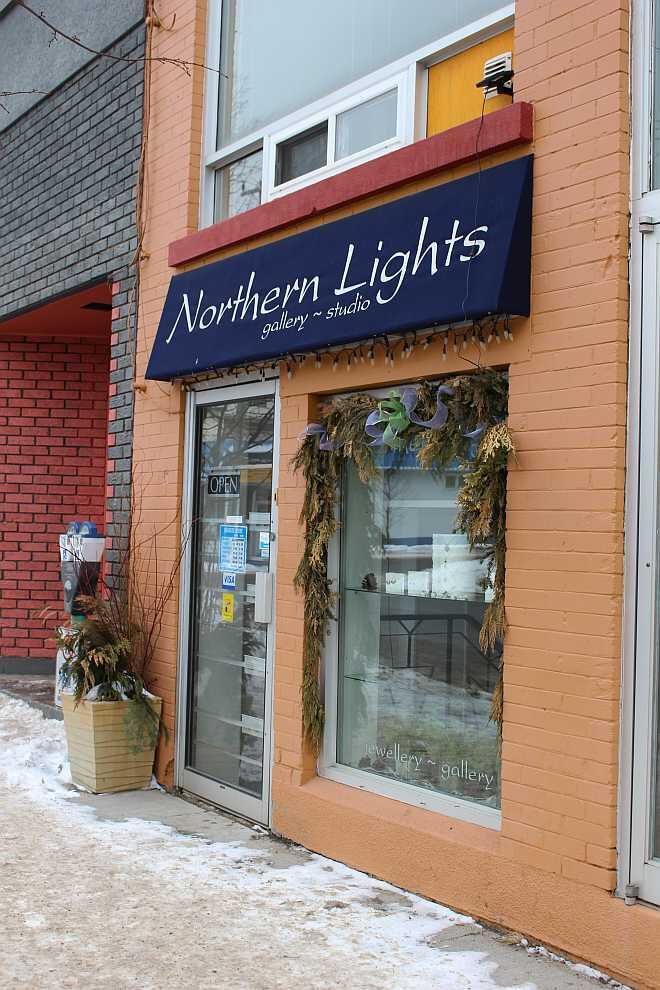 Northern Lights Gallery - 316 Bay St.
Linda Brown has been in business since 1996 with the Northern Lights Gallery specializing in hand hewn silver jewelry (ear-rings, pendants, bracelets, necklaces, rings) and hollowware (vessels), which makes her a professional silversmith. All parts are fabricated by hand and displayed in all their glory in classy glass cases.
Her work has been shown internationally and she occasionally shows her work in public galleries, with a vessel currently being displayed in a travelling exhibition at the AGO in Toronto called Moving Metal. Her little shop also features jewelry by her sister, Marianne Brown, a goldsmith, and wonderful work by the abstract painter, Patrick Doyle.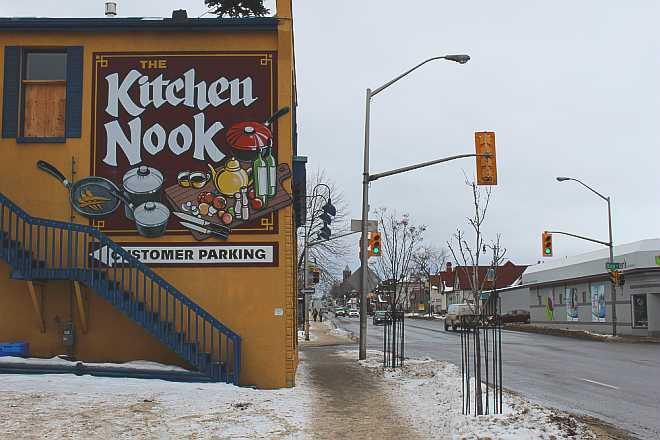 The Kitchen Nook - 168 S. Algoma St.
This stalwart and modern shop at the corner of Bay and Algoma sells the best of both "pretty and practical" work, including hand-made items.
The Kitchen Nook sells top brand names in kitchenware – Henckels, Emile Henri, Le Creuset, and others. They also sell knives, bowls, wine racks, great greeting cards, dishware, Canadian handcrafted window decoration, pottery, Canadian made foods, jams, hot sauces, maple syrups, spices, Finnish Candy.
They've recently added on to the original building to make the store even larger! 
Fireweed - 182 S. Algoma St.
This packed little shop in Thunder Bay is the best place in town for quality local handmade gifts. Three local artists now own the Fireweed what began as a collective in 1984. Variety and quality are keys to the shop's success.
They sell all manner of handmade gifts, with a large pottery and jewelry section.
Nearly a hundred artists are represented at the Fireweed. The windows to the store are packed with glassware, and once you're inside, you will have to take your time to take it all in.
If you're one of those people who plans ahead for Christmas and birthdays, you can't go wrong in this shop.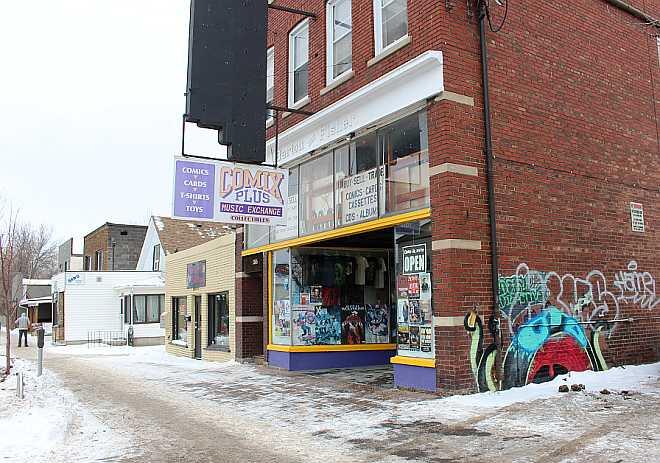 Comix Plus Music Exchange - 186 S. Algoma St.
Gary Gummeson has been a pop-culture fan all his life and in business since 1991. When asked what a tourist might look for in his shop, Gary smiles and says, "You can't come here and NOT find something you like."
Comix Plus has a huge collection of comics (new, used, vintage), graphic novels, collectible and vintage toys, awesome t-shirts, and a big collection of records, CDs, cassette tapes, and more. Popular now are the Bond Girl, Star Wars and Dr. Who toys. Locals love the music exchange. Comix Plus will buy, sell, and trade music of all styles. 
Mystic Garden Gift Shop - 41 S. Algoma St.
People often need just a little resurrecting – a little feel-good kick – the kind that comes from alternative sources, like healing crystals, organic creams, bees wax candles, metaphysical books, incense and more.

Yet this store, the Mystic Garden Gift Shop, appeals to everyone. The delightful products sold here also include all sorts of small stones, fantasy figurines (angels and fairies), organic spices and teas, unique box items, candle-holders, nice leather journals, crystal specimens (spheres), locally made fairy doors, and pixies made from Fimo clay. Some of this is a little Goth and a little fantasy. 
A popular and unusual specialty sold here are the smudging accessories. Smudging and related ceremonies have aboriginal roots. It's a method of getting rid of negative energies using different sages that are burnt and wafted around. It can be used to get rid of ghosts and unwanted spirits, or to release the soul of a dead pet 

International House of Tea - 205 S. Algoma St.
International House of Tea, located on Algoma the past two years, have been in operation for seven years. Terri Lynn, the owner, imports teas from all over the world, sourced through Germany, meaning that the tea is of the highest quality with no GMOs, no gluten, no dairy, no soy and tested for pesticides and germ content.
Popular teas taken home in little black packages by the locals and tourists are the Thunder Bay teas and Earl Grey. The tea is stored in large tins shelved behind a very long wooden counter. Opposite the counter are shelves with lovely tea sets, cups, mugs, tea strainers, and more. Unique to this shop are Tea Tasting classes. They also serve tasty scones with cream and fruit. The shop has its many regular fans, although there is only enough comfortable space for eight people, but it's a quiet comfortable spot.
Finnport - 290 Bay St.
Finnport, as their name suggests, primary sell Finnish imports but also carry many other Scandinavian products. The store established in 1975 is located just down the street from the legendary Hoito Restaurant on Bay St. in what many consider the Finnish district.
Finnport is known for bright Marimekko (very popular Finnish design), Iitaa Glass, and many other fascinating Finn and Scandinavian products. This quaint shop caters to those who might be looking for something unique as they sell all sorts of textiles, sauna supplies, boots, jewelry, knives, popular kitchen cloths, bags, towels, and much more. Their website is extensive and is set up for online shopping. 
Portobello Home - 271 Bay St.
The great tables that greet you by the door at Portobello Home are made of heavy beams and strong planks as they are original creations restored from old barns from the prairies, produced by a company called Prairie Barnwood.
Another highlight in this shop are the hand stitched kantha quilts made by working and retired prostitutes of South America. Purchasing these quilts helps these women find gainful employment. In fact everything in the shop is Fair Trade.
The shop supports a few talented local artists as well, so you can see quality drawings, paintings, collages, and wearable fabric and leatherwork by Joyce Seppala, one of Thunder Bay's most original designers.
Portobello Home also sell quality spices from France and Italy, unique chandeliers (some made of paper), rugs, candles, towels, bedding, dishes, robes, and pillows.
Find out more about Portobello Home on Facebook.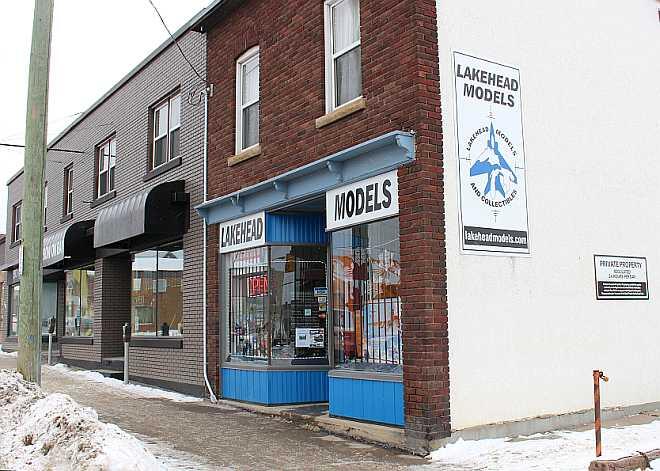 Lakehead Models - 262 Bay St.
Steve's interest in history and model making lead to opening his little shop, Lakehead Models & Collectables on Bay Street. He sells hobby grade kits and toys, so if you bought your miniature helicopter at his shop, you won't have to throw it out. He has the parts, unlike toys from department stores. 
Lakehead Models caters to all kinds of people who have become hobbyists. People like the retirees looking to fill time and rekindle the love they had for model making when they were children, or parents who are looking to pull their kids away from their computer, or the mother who build cars with her daughters and paints them with splashy bright colours or the disadvantaged kids who are enrolled in a rehabilitation program who are adding models to their dioramas.
Lakehead Models sells radio controlled airplanes and helicopters, toy cars, parts, paints, rockets, spaceship models, and more. The Internet has connected Steve to the world and he's supplied people as far away as Australia.