Dog Sledding with Boreal Journeys, just outside Thunder Bay
Pull of the Wild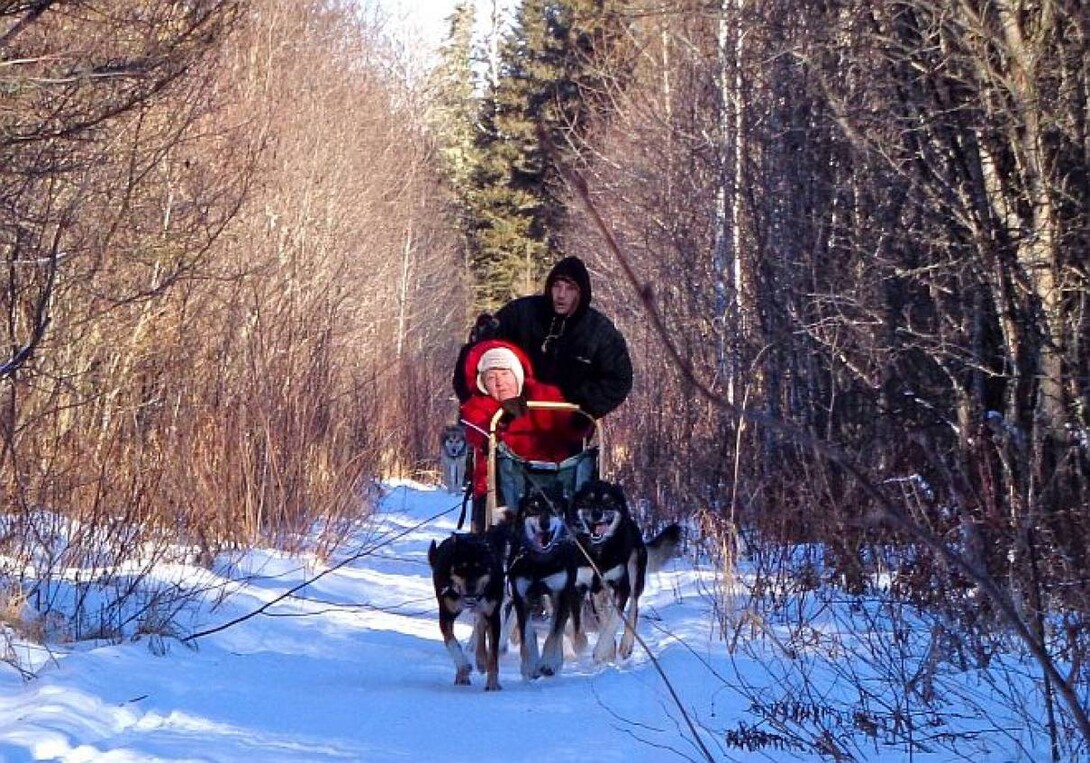 By Shannon Leahy
The following article is an edited version of material originally published in the Saturday, Jan. 26, 2013 edition of The Chronicle-Journal (Thunder Bay).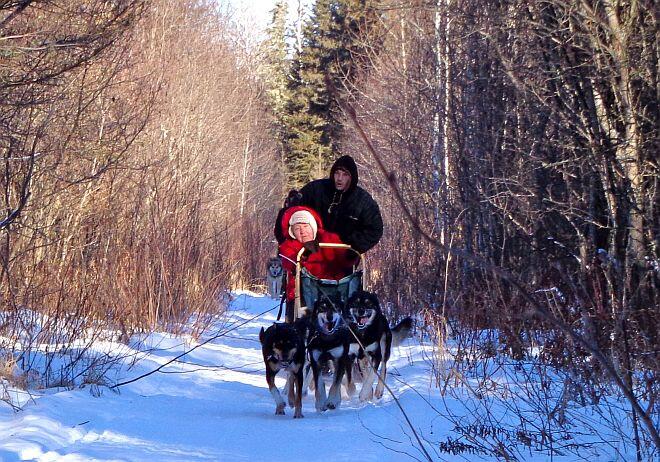 If an Alaskan husky ever jumps up, puts paws on your shoulders, looks you dead in the eye and sticks its tongue in your mouth, you've been kissed. 
At Boreal Journeys Sled Dog Kennel in Kaministiquia, 45 minutes west of Thunder Bay, dog hugs and dog kisses are common.
Paul Amano, owner and full-time musher at Boreal, basks in the canine friskiness. His 40 huskies are powerful creatures whose eyes shine with good humour and sharp intelligence. The kennel's love for Paul is as astonishing as it is vocal. Barking and howling reach a fevered pitch as Paul meanders through the winter colony's sturdy dog houses and large puppy pen.
The morning is a classic northern Ontario winter's day: snow, sun and cold. We're only 30 minutes into our half-day journey at the kennel and my fear of dogs is already gone.
I'm confident my feet will be gone too. They're frozen.
As Paul leads us away from the kennel, inquisitive barks and spine-tingling howls mark our departure. The dogs, according to Paul, are summoning us back, concerned we are running into the wild without them.
After marching through jack pine toward packed trail, we are heckled by a whiskey jack perched above a pair of empty sleds. Crafted by local woodworker and sled maker Brian Wiese, the basket-style sleds carry up to 150 lbs of cargo and two adult mushers.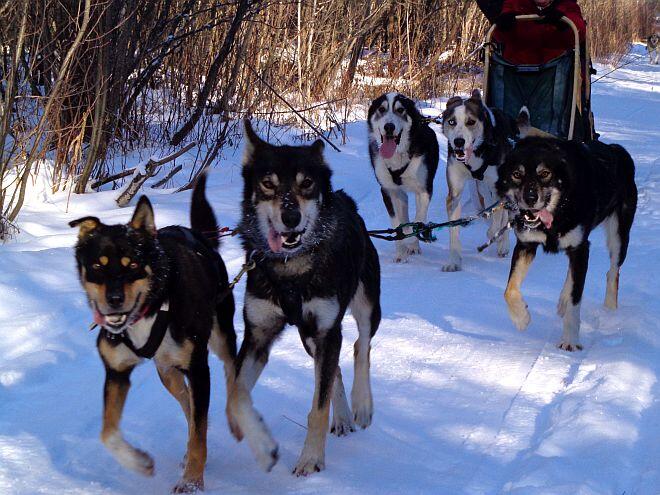 Working in shifts, the five of us will be pulled through up to 40 kilometres of Kaministiquia landscape depending on snow conditions and our courage. 
Paul will control the sled from the back seat and stand on the sled's skies. The guest musher stands in front of Paul and is also responsible for keeping their feet on the skies and shifting their weight as the sled rounds corners. 
The orientation's focus on safety and teamwork sets off a new fear.
I had planned on acting as a spectator, a giggling dog-sledding tourist, rather than a musher with responsibilities. While planning this excursion from Toronto, I had imagined sitting in the sled's basket waving at wildlife while sipping a latte.
My pipe dreaming is interrupted by the arrival of our sled dogs. Five Alaskan huskies – Eureka, Louise, Nanabijou, Marlin and Savage – are the furry Northern Ontario ambassadors set to pull me into the wild and out of my urban shell.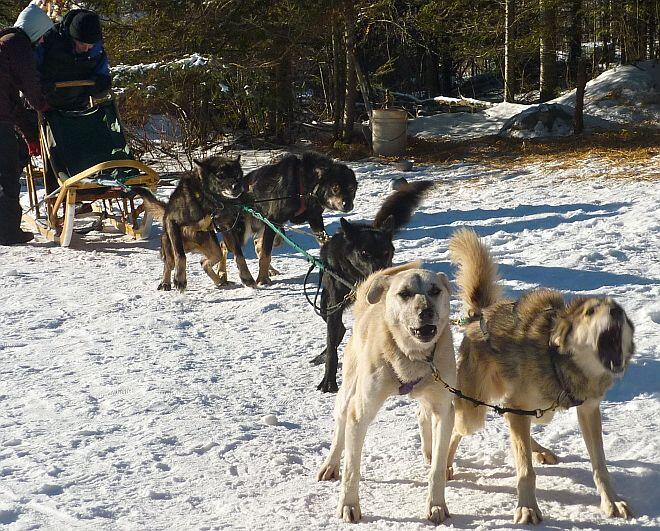 What happens on the trail stays on the trail, but I will tell you this: You must go dog sledding at least once in your lifetime, preferably with Paul and his dogs. Dog sledding through some of Canada's most iconic and revered landscape changes your life. Yes, you'll feel proud to be Canadian, and proud that northern Ontario is your home.
But a call from the wild connects you to something else, too. Perhaps it's the exquisite silence that falls once the dogs start running. Maybe it's the animal tracks that blur by or the way the sun hits the snow or the hard crunch of the beaten trail. But something is out there you need to feel to believe.
When we showed up at Boreal Journeys, we were looking for adventure. What we found was a magical place stewarded by kind, generous people and dogs utterly at peace with the joyful burdens they pull behind them.  
All 40 dogs marked our departure with lonesome howls. Whatever those dogs sang to us from their Boreal Journeys world, it's a song that promises to call each of us into the wild again, no matter the season, no matter the trail that lies ahead.