An Epic Road Trip to Thunder Bay
After the pandemic upset one traveller's international vacation plans this summer, they decided to do an epic Ontario road trip instead. Follow this Montreal-to-Thunder Bay-adventure and start planning your own!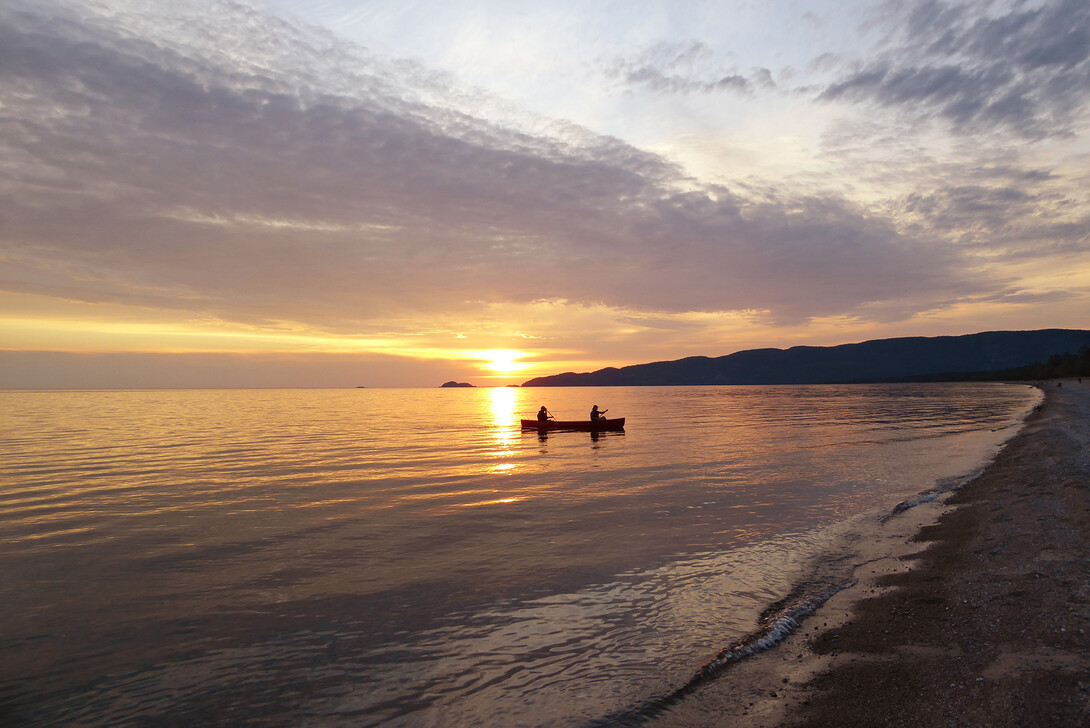 Like many of us this summer, I had a lot of travel plans. Then Covid-19 hit and changed everything. It felt like I was in a holding pattern as I monitored the news and listened to the recommendations from public health. One of my plans was to loop Lake Superior, but with the Canada-US border closed, that was now impossible.
In the end, my wife and I decided to do the first half of that loop, driving the north shores of Georgian Bay and Lake Superior, camping along the way, with Thunder Bay our final destination.
It turns out, this north shore Lake Superior road trip was one of the best holidays of my life. If you're wondering whether a family vacation is still feasible this summer, consider exploring the beautiful geography of this region and all that amenity-packed Thunder Bay has to offer.
We live in Montreal, 1,700 kilometers from Thunder Bay, and since we didn't want to spend long days in the car we decided on four stops where we could relax and explore: one in Algonquin Park, one on Manitoulin Island, one in Lake Superior National Park, and one at Pukaskwa National Park before the final push to scenic Thunder Bay on the northerwestern edge of Lake Superior. 
The last time my wife and I were in Algonquin together was 1986! Thankfully, not much has changed. The park is protected from development so was pretty much how we remembered it. We stayed at Canisbay Lake, mostly because it was a little off Highway 60 so presented something different from the campgrounds that dot the main road through the park. We would have loved to do some hiking and more exploring of the park, but with miles to cover, we had to resist. 
Manitoulin Island is one of our favourite places to visit, so we decided to spend a night there despite knowing it was a bit of a detour. The hour-and-a-half drive down Highway 6 from Espanola to Providence Bay Tent and Trailer Park on the island is beautiful, and the fish and chips waiting for us at Lake Huron Fish and Chips when we arrived were worth every minute. There is a quiet, slow time on Manitoulin, and we found ourselves surrendering to it and starting to destress from the pace of city life. That night we crossed the road from our campsite to do some stargazing on the beach. 
Highway 17 from Sault Ste. Marie to Thunder Bay is known as The Group of Seven Route. After the death of Tom Thomson, the painters moved away from Algonquin Park to Lake Superior and the Algoma District as the source of their inspiration. It's not difficult to see why. The landscape is wild, rugged, and relatively unblemished by human development, even today.
There's a special combination of majestic lake, rocky cliffs, and boreal forest that is unlike anywhere else in Canada and familiar to anyone who's seen Bill Mason's classic Canadian film Waterwalker. There are several excellent campgrounds in the park. On the advice of a friend, we chose Agawa Campround and were not disappointed. We loved it so much that we stayed an extra night, and two more when coming home. If you really want to explore an area, you need two nights minimum in one place. 
Agawa is located right on the lake with private campsites amid old-growth pines. If you are not lucky enough to get a site right on the beach, you are only a short walk away from it. You can drink your morning coffee while watching the sun rise on Lake Superior, relax on the beach during the day, swim in the lake when you get hot, and walk the beach in the evening to watch the sunset. For the more ambitious, The Nokomis Trail is a short drive away, ranked among the top five day-hikes in the country, according to Lonely Planet's "Discover Canada" guidebook. (The trailhead is at Old Woman Bay a little west of Agawa.) It's a modest climb (650 feet) that will take 2-3 hours and offers spectacular lookouts. 
Even closer to the Agawa Campground is Agawa Rock, where a short hike brings you to the Agawa Pictographs. Painted in a mixture of powdered ochre and fish oil, these Ojibwe paintings are estimated to be 150-400 years old. They depict mythical creatures, historical events, and lake and forest animals. But the pictographs are just one element of this hike; getting to Agawa Rock is a journey downward past deep, dark, dramatic crevices, into what is clearly a very special, sacred place for the Ojibwe.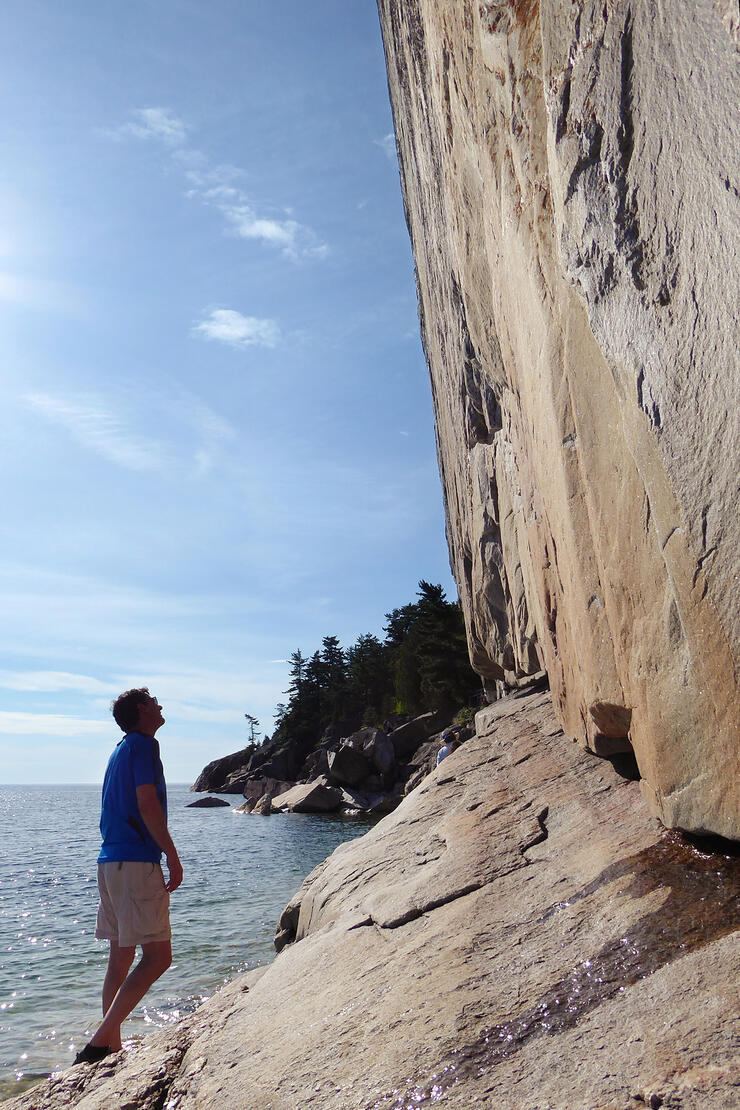 Be sure also to make at least a rest stop at Katherine Cove before leaving the park. The geography of this region is so varied that the cove, with its rocky shore and windy beach, is quite different from the relatively pacific Agawa Bay. 
We left Lake Superior Provincial Park and drove further west to Pukaskwa (pron. Puck-a-saw) National Park. Pukaskwa is about 15 kilometers off Highway 17, and one of the most remarkable features of the park is just how quiet it is there. The silence is broken only by the sound of your own breath, the waves, and birdsong.
Where Lake Superior Provincial Park is well-travelled and well-groomed, Pukaskwa has been left comparatively pristine and a little rugged. The coastal trails are a combination of surface rock, lichen cover, pine needles or leaves, and wooden stairs, resulting in a very unobtrusive trail along the shoreline. I found I sometimes had to use some intuition to find the way forward. Don't worry; there's little risk of getting lost. It's more like the path is a sort of game, a puzzle to solve, like navigating a hedge maze. There is a strong presence of the Anishinaabe First Nation here, and The Bimose Kinoomagewnan Trail shares important teachings of the Anishinaabe in a series of signposts along the hike. 
After two nights in Pukaskwa, it was time to push on to Thunder Bay. The highway snakes and climbs and drops, never straying far from the shoreline and presenting spectacular views of glistening Lake Superior in the near distance. Be sure to pull off at the lookouts because each is worth a stop. The final lookout before you enter the city from the east is The Terry Fox Monument that overlooks the Sleeping Giant landform across the water. The monument is right next to the highway so there is easy access.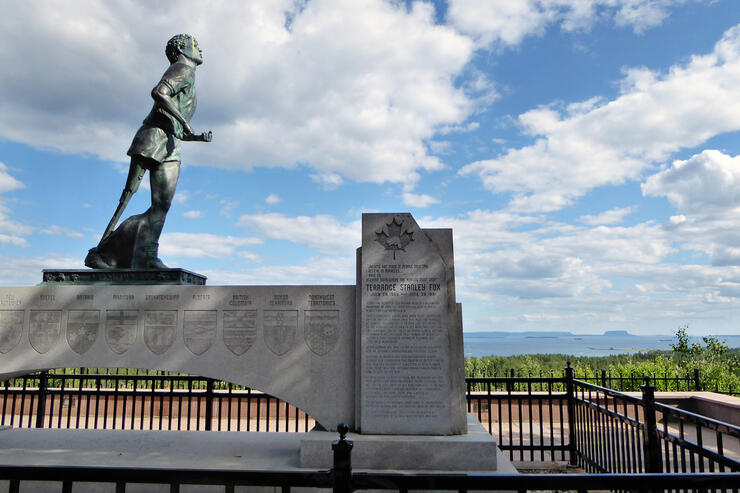 The moving Terry Fox Memorial found just before the city of Thunder Bay
I was surprised at how moving this memorial was for me. I was seventeen when Terry Fox did his Marathon of Hope. I remember the excitement surrounding his run vividly and the sad day when he had to stop near the site of the present-day monument. I've run one marathon in my life and it was one of the hardest things I've ever done. The prospect of running with Terry's disability the equivalent of a marathon a day is unfathomable. He was the first of his kind to do this sort of fund-raising, so not only an incredible athlete but also a visionary and true Canadian hero. Be sure not to miss the Terry Fox Monument before heading into Thunder Bay. 
We made it. And our very first stop in Thunder Bay was the Prince Arthur's Landing. The city has done an excellent job developing this waterfront park. It's another good rest stop with the best view of Sleeping Giant and a pleasant greenspace to walk the dog or have a picnic. For the more ambitious, there is Mount McKay Lookout, just south of Thunder Bay on the Fort William First Nation. Mount McKay is known by the Ojibwe as Anemki Wajiw or "Thunder Mountain," from which the city takes its name. It is a sacred place for the Ojibwe and the site of their annual pow wow and other ceremonies. You can hike the 1000 feet to the top, stopping halfway at the skyline walkway and viewing scope for an excellent view of the city, Sleeping Giant Provincial Park, Lake Superior, and the surrounding countryside, before pushing on to the summit. 
Another must see is Kakabeka Falls, the second highest waterfall in Ontario after Niagara Falls. It's located just west of Thunder Bay off Highway 17. Entrance to the park is a mere $2.50 and there is a boardwalk with viewing platforms to get a good view of the gorge and falls.
There are loads of things to do and see in Thunder Bay including the Fort William Historic Park, Sleeping Giant Provincial Park (yes, can get out there, not just view it from a distance), and Blue Point Amethyst Mine, an open-air mine where you can collect your own amethysts. Thunder Bay's many heritage walking tours are always a fun option as well. These self-guided tours will reveal some of the history and architecture of the city. Each tour is only 1-2 hours in length, and there are 89 featured sites to discover. Pick up your printed guides at City Hall or the Terry Fox Monument. Perhaps before heading out, try eating a Persian, a local pastry that is like a donut with pink icing on top–the carbohydrates are just the thing to power up for more walking.
A Safe and socially distanced holiday
After a couple of days around the city, we had to start heading home, but fortunately the route east is just as enjoyable as the way there. If you're okay with fast food drive-through for meals on the road and you enjoy camping, you can still have a holiday this summer while abiding by health and safety guidelines. We did not have trouble finding restrooms, maintaining social distancing, and keeping our cooler stocked. Park staff are following strict procedures to keep the facilities clean and visitors safe. In fact, the spectacular lookouts, hikes, sandy beaches, swimming, and stargazing are the perfect antidote to four months of Covid confinement, and I could feel my body reawakening from the sedentary lifestyle of this past spring. There are also opportunities to rent a canoe or kayak, turning the stunning landscape into a recreational area too. 
We have to adapt to the current situation. Instead of cancelling your travel plans this summer, consider a different kind of vacation—one in which some of Canada's most spectacular wilderness becomes a balm for the unsettling events of recent months.