The Best Sights to See in Thunder Bay
From the legendary Sleeping Giant to Indigenous art galleries, these Thunder Bay attractions are not to be missed.

Northwest Ontario's Thunder Bay is a small city, but it has some big elements that make it fun and memorable: the great lake, huge cliffs, immense history and living culture, and of course its own giant—the Sleeping Giant. Here are some of the best sights to see in Thunder Bay.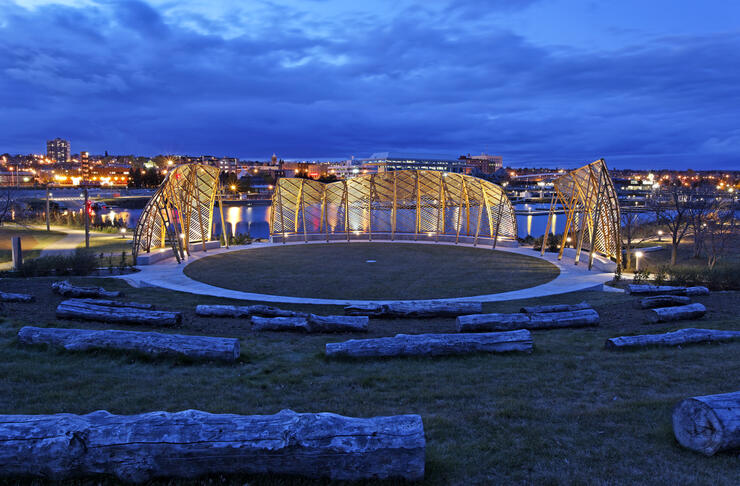 If you only have time for one stop, this spot delivers a lot in a short time. This beautiful waterfront area (often also called Marina Park by locals) is spread out along Lake Superior at the north end of the city. It has stunning views of the Sleeping Giant and Lake Superior year-round. In the summer, there's a chic splash pad and fountain for the kids and kids at heart, which turns into a lakeside skating rink in the winter. Relax in colourful chairs or stroll or jog the pathways that connect the various sites, which include public art installations, the Alexander Henry Museum Ship, moorings for watercraft and boat tours, a tai chi garden and the award-winning Spirit Garden. There is also a concession stand and food trucks, the upscale restaurant Bight and laidback café Windy Shores, both with patio seating. Depending on the season you may spot huge container ships heading into and out of port, sleek sailboats skimming over the bay, live concerts and free events and festivals. Take a quick walk up to Cooke Street (parallel to Red River Road and Van Norman Street) to see its "art alley" of vibrant contemporary murals and take a selfie or three.
Yes, we are fond of our famous Giant, an immense rock landmass that looks like a figure reclining in Lake Superior and comes with its own legend. There are a number of great places to view the Giant. Three to consider: the Terry Fox Visitor Information Centre, high on a hill and also home to the Terry Fox statue that commemorates his fantastic achievement, as well as lots of tourism info to plan your next steps; Hillcrest Park, another high vantage point and popular city park that includes accessible playground equipment and a summertime sunken garden; and Chippewa Park, a gem with seasonal camping and a small set of amusement rides, including a working 1920s-era wood carousel that is being carefully restored. Visitors can also hike to the top via the Top of the Giant Trail, and enjoy unobstructed views of Lake Superior. 
3. Indigenous Art
This is not one site, per se, but several destinations. The Thunder Bay Art Gallery is renowned for its collection of contemporary Indigenous art. Two recent exhibits (running until May 2, 2021) are Dakobinaawaswaan (Baby in a Cradleboard), a gathering of beautiful cradleboards (baby carriers) from across North America, and Piitwewetam: Making is Medicine, featuring incredible beadwork, fibre art, and other items. And, the Ahnisnabae Art Gallery is home to a variety of artwork for sale, created by contemporary Indigenous artists like Gordon Fiddler, Jim Oskineegish, and Doris Cyrette. Anemki Wajiw (Mount McKay) is a culturally significant landform on Fort William First Nation bordering the city (there is a $5 toll per vehicle), where you can view the city and surrounding areas from the scenic lookout, but also see a striking mural created by Indigenous youth through the Neechee Studio. 
This is a fun, cool, and eclectic set of streets to stroll, shop and snack your way through. A longtime hub for the area's Finnish community, it offers several Finn-themed shops with everything from home décor to books to beef jerky. A number of the city's favourite indie eateries are clustered in a few blocks, including the Calico Coffeehouse, Nook, Bay Village Coffee, Madhouse, Rebel Salad, Nomad, Growing Season, Bean Fiend, and Tandoor Kitchen. Several of these have patios, perfect for people-watching. If you want to shop, you'll find hand-crafted fine jewelry, vintage clothes, housewares, gourmet cheeses, tea, toys, comics, and flowers—and plenty of locally made items.  
A sprawling but walkable historical park, this is a thoughtful, detailed recreation of a 200-year-old fur trading post, the largest one in the world. You can tour the many buildings at your own pace, talking to costumed, in-character interpreters about life in the 1800s. Visit the animals in the barns, see how birchbark canoes or tin lanterns are made, smell the enticing scent of homemade bread, hear reproduction muskets being fired or the ring of the blacksmith's hammer, and get a sense of its role as a major centre of commerce with influence throughout nineteenth-century North America. Another intriguing feature is the David Thompson Astronomical Observatory, named for the fur agent, explorer, surveyor, and cartographer who was known to some Indigenous peoples as "the star-gazer," and home to one of the largest telescopes in Canada so you can explore the night skies during available programming. Seasonally (and depending on COVID-19 restrictions) you can check out a fun variety of festivals and events too. Can't go to the park? You can still soak in some history through free, self-guided heritage walking tours of various Tbay neighbourhoods like Waverley Park, Vickers Park and McVicar Creek/Harrington Court, or, when offered, try a guided tour of Westfort, Court Street, and other historical streets, hosted by the Thunder Bay Museum. 
Whether you're looking for big memories or smaller, special moments, there's lots to explore and see in Thunder Bay.