T-Bay's Food Scene is Getting Spicy
Some say there's a culinary and entrepreneurial renaissance going on in Thunder Bay. These local purveyors might be the hottest—literally!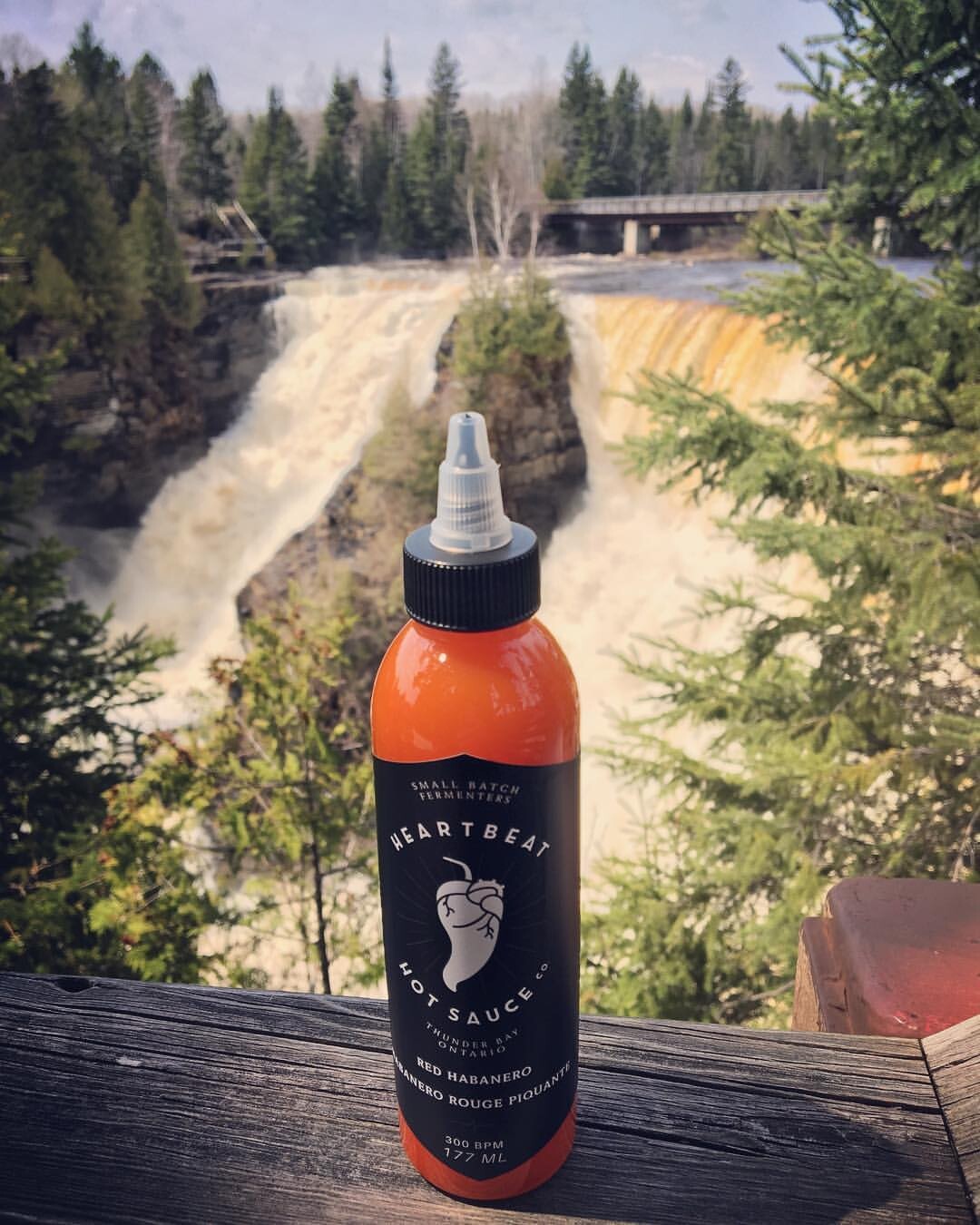 Little black-labelled bottles of fiery orange liquid have been becoming more and more ubiquitous on the store shelves, kitchen pantries, and dinner tables of Thunder Bay residents.  Although they're still mostly unfamiliar to outsiders, ask any local and they'll inform you that these unassuming vessels contain the best darn hot sauce this side of the Sleeping Giant—the one and only Heartbeat Hot Sauce.
The origins of the Lakehead's favourite spicy condiment can be traced back to 2015, when two mainstays of the local culinary scene, Nancy Shaw and Al Bourbouhakis, were gifted the remainder of local chili pepper farmer Chris Paulusma's crop at the end of his growing season. With 40 pounds of every imaginable variety of hot pepper in their possession, the pair wasted no time beginning their fantastic voyage of fermentation and experimentation.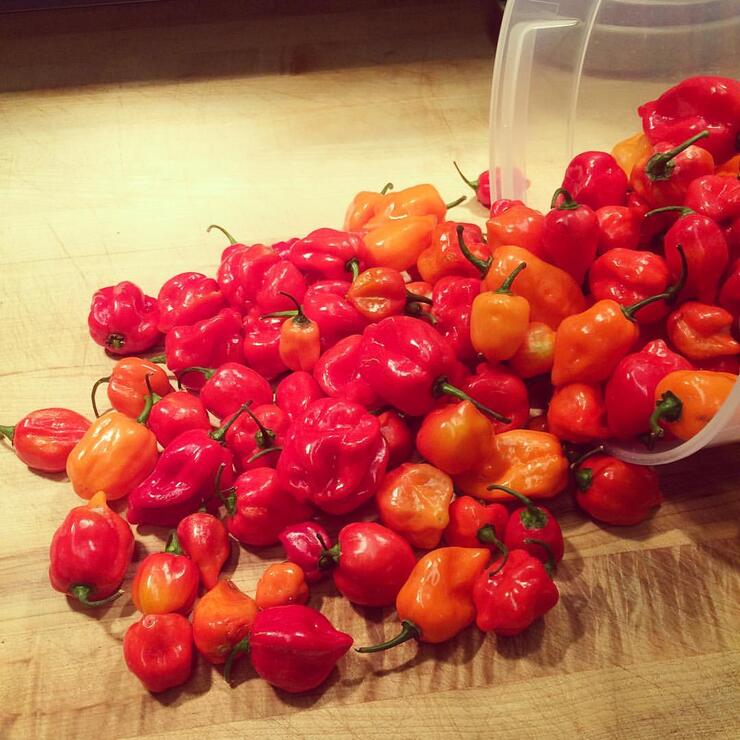 After a winter of trying scores of different techniques and recipes, the duo settled on the Red Habenero as their pepper of choice: "We fell hard and fast for the heat and flavor and wanted to share that sauce with our friends," explains Shaw. And it wouldn't be long before their love of the Red Habenero would be shared by not just their friends, but multitudes of heat-seeking locals.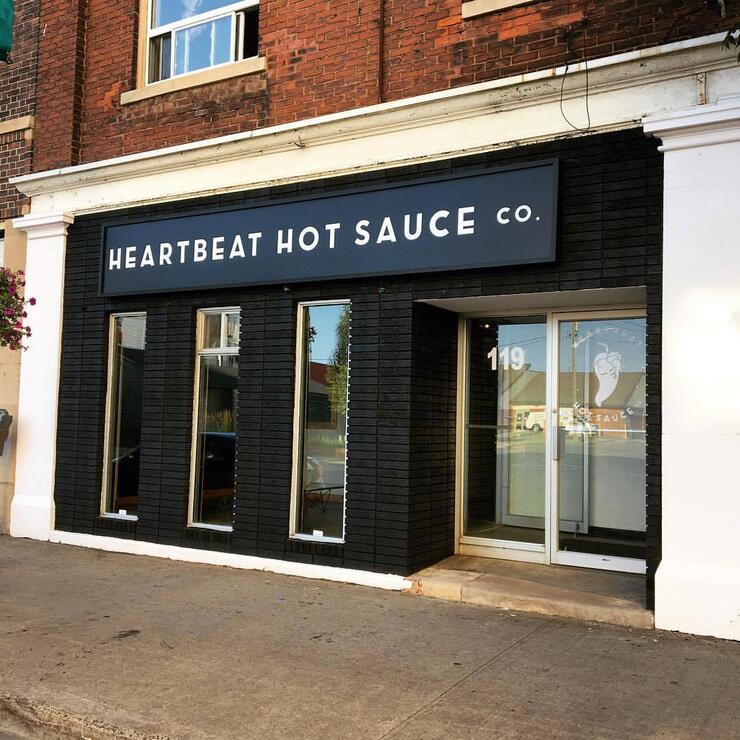 Since they started manufacturing their signature sauce, they've moved production from the Tomlin Restaurant kitchen (where Bourbouhakis was sous-chef and Shaw is co-owner) to their very own production facility on May Street in the south core. Here they produce upwards of 1,200 bottles a week and employ two workers to help them keep up with local demand.  They still source all of their Habeneros locally, with no fillers, additives, or thickeners in their recipe. The result is a sauce that carefully balances flavour and heat, appealing "even to people who don't usually like hot sauce," declares Shaw.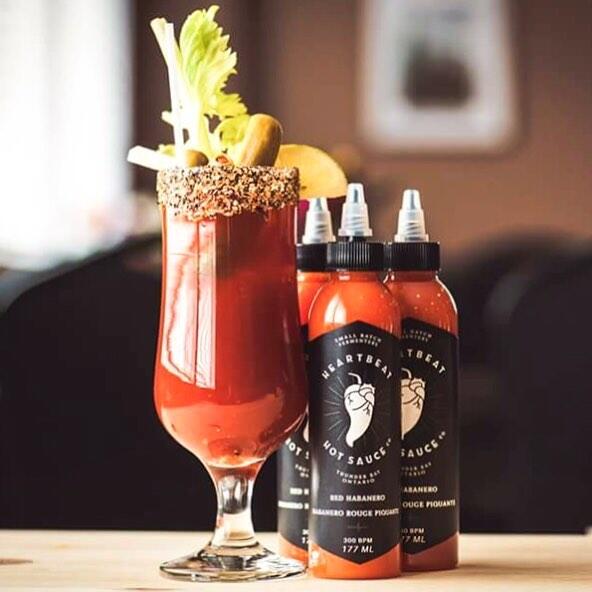 Over 40 different retailers in town now carry Heartbeat Hot Sauce, and around 20 restaurants are employing it in a variety of ways. The warm embrace and quick proliferation of their product is reflective of a broader culinary and entrepreneurial renaissance that seems to be occurring in Thunder Bay. "It's the best feeling in the world," Shaw reflects. "I really can't imagine a tighter knit restaurant scene than the one we have in Thunder Bay. Everyone seems genuinely interested in lifting each other up and collaborating at the drop of a hat."
And don't think their community involvement stops at the foodie scene. Heartbeat is now the proud sponsor of a curling team (can you think of anything more Thunder Bay than that?), as well as of several local artists, bands, events, and sports teams.
But make no mistake—the Heartbeat crew has their sights set on horizons outside of Thunder Bay as well. With an online store launching soon and a long list of retailers across Canada they intend to work with, 2018 promises to be an exciting year indeed. Perhaps it won't be long before Thunder Bay is as known across the country for its great hot sauce as much as it is for its cold Great Lake.