The Grand Algoma
The Grand Algoma Loop has been named the top weekend motorcycle tour in Ontario twice.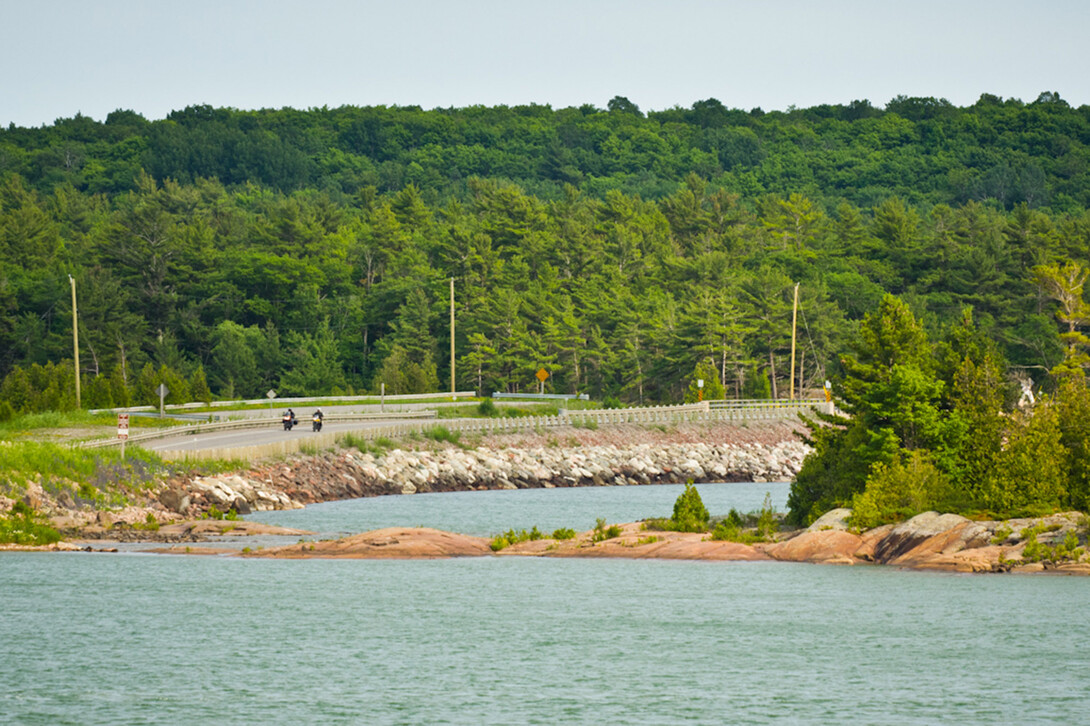 Algoma Country stretches from the North Channel of Lake Huron, deep into the northernmost wilds of Ontario. Here you'll find glorious swathes of untamed boreal forest, glittering lakes around every sweep and turn, massive cliffs and mountains and a combination of the best motorcycle roads that make up the Grand Algoma Loop.
In the summer of 2012, I made an attempt to ride every paved road in Northern Ontario, and after surveying thousands of miles of asphalt in the province, the most scenic and entertaining rides to be had on two wheels is this loop. From the quaint town of Thessalon on the shores of the North Channel, heading North on Ontario's "Tail of the Dragon" (Highway 129) to Highway 101 into Wawa and the iconic goose, and the jaw-dropping scenery of Highway 17 as it hugs the winding eastern coastline of Lake Superior, riding in Ontario doesn't get much better than this.
From the Greater Toronto Area, riders could undertake an epic 2,000 km trip in a long weekend but it's worth stretching out the trip and stopping to explore the peaceful back roads, scenic vistas, Provincial Parks and history-rich communities along the way.
If you're arriving at the start of your routes in Thessalon, you can stop for the night at the Carolyn Beach Inn and Restaurant and start the first section the following morning, or extend your trip with a quieter start, and stay overnight at the on St. Joseph Island, only 55 km west of Thessalon. The Island is a wonderful place to unwind before heading north.
On the island, the Kentvale General Store, established in 1888, has something for everyone and is a fun place to get lost. The St. Joseph Island Museum is a collection of many of the Island's historical buildings, outfitted with an amazing array of pioneer tools and beautiful antique homewares. If you're interested in any kind of antique implement, you'll find it here -- from hearses to Dictaphones to trailers to maps to old lace and irons. There's even a "motorcycle only" parking area out front!
The villages of St. Joseph Island offer lunch options, local art and antiques, and the perfect butter tart.
Heading north on Highway 129 riders will experience some nice curves through farmers' fields, which change into a series of never-ending sweepers, before a massive descent into a river valley, and then an incredibly technical group of rapid-fire switchbacks and quick ups-and-downs. The landscape here is stunning -- with mile-high cliffs on one side of the road, and a raging river on the other. After 225 km of this paved bliss, riders arrive at Highway 101 in Chapleau.
This is a road for pure riding, with few amenities. Gas up on St. Joseph Island or in Thessalon, and make sure you stop at the Tunnel Lake Trading Post on Highway 129. It's a treasure trove of hilarious odds and ends, so fill up your tank here while you consider purchasing a t-shirt that says "Don't Feed the Black Flies."
If you can handle the short patch of gravel (less than 2 km), this is the best road in Algoma. If you can't, it's still a mind-bender. Ride to the gravel and turn around -- you won't be disappointed.
Highway 129 continues north through several provincial parks until it meets Highway 101 just south of Chapleau. It's worth a stop in town for lunch at the classic diner Gus's Family Restaurant. Explore the area's logging and railway history at the Museum, then head west on Highway 101 to Wawa. If it's a hot one, stop at Potholes Provincial Park to soak your feet in the ice-cold river.
In Wawa, plan to spend at least an hour at Young's General Store, chockablock full of intriguing gift ideas, local snacks, fishing accessories, and a giant pickle barrel. It's a must-see, from the stuffed moose on the porch to the jalapeno fudge.
And don't forget to snap a photo at the iconic Goose on your way out of town. If you choose to stay the night, the Wawa Motor Inn offers motel-style accommodation or private housekeeping cabins and caters to riders with a newly paved parking lot.
The next day, head south on Highway 17 through Lake Superior Provincial Park. The ride between Wawa and Sault Ste. Marie is exhilarating, with the Lake Superior coastline close enough to touch. In 230 km, the road goes inland just once -- through the deep green of Lake Superior Provincial Park -- before landing riders out at the absolutely stunning Agawa Bay, where peach-coloured sand stretches out for miles.
This is a journey you'll want to savour, so give yourself a whole day to enjoy the dreamy sweepers and mountains reaching up into the deep green forest, sparkling blue water as far as you can see.
Trading posts and picnic spots abound on this part of the route, so stop and explore: indulge in a sunny nap in Katherine Cove or Old Woman Bay, pick your way through the driftwood and round red rocks of the Lake Superior beaches, and travel back in time with fascinating interactive displays at the Agawa Bay Visitor Centre.
To finish the loop, explore the historic and cultural sights of Sault Ste. Marie. If you're interested in old machines, you could get lost for hours in the Canadian Bushplane Heritage Centre. Housed in an old bush plane hangar right on the river, it's not only a repository of 25 bush planes and waterbombers but an educational centre dedicated to preserving the history of Bush Flying and Forest Protection in Canada.
The old downtown core of Sault Ste. Marie is home to beautiful heritage buildings, interesting coffee shops and eccentric fashion houses. It has an intriguing vintage feel, with the old store signage and old-school diners but vibrant and alive at the same time. It's also home to the historic Ermatinger-Clergue National Historic Site, home to two of the oldest stone buildings northwest of Toronto.
However you choose to tackle this route, you won't be disappointed. Two of the most epic roads in the province coupled with some of the most spectacular scenery, local colour, and fascinating local history make the #1 Ride in Ontario a total package, in two days or seven.
As always, if you want more information about riding in Ontario, check out routes.OntarioRides.ca.