When you can't find cheese, make your own
Here's where you buy Kapuskasing Cheese in Algoma Country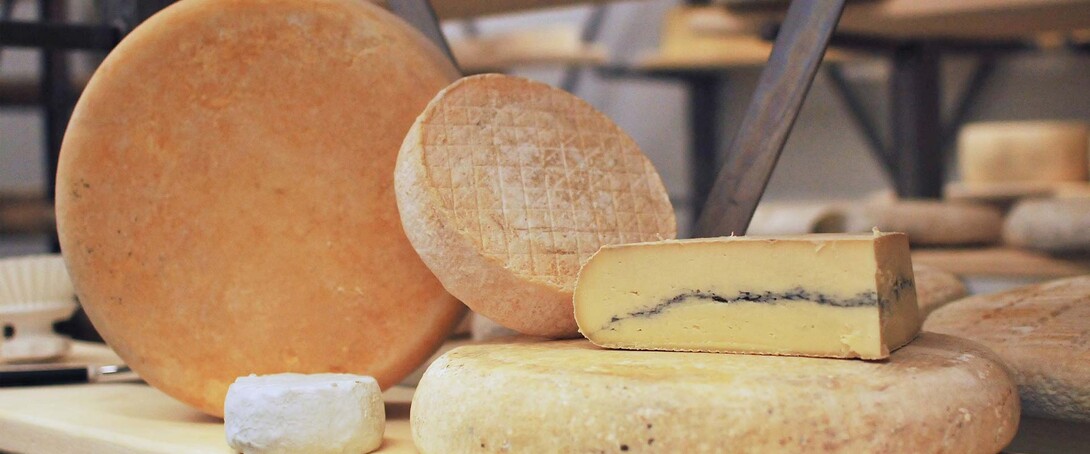 When I learned about Fromagerie Kapuskoise, an artisanal cheese shop in Kapuskasing, I knew I wanted to check it out as soon as I could, and I'm so glad I did.
The Town of Kapuskasing is located in Northeastern Ontario, very close to the Algoma Country tourism area—and more importantly, the Fromagerie does sell their products within Algoma as well as all over Ontario and Quebec.
When we got to Kapuskasing and found the cheese shop, we were welcomed by François Nadeau, owner and master cheesemaker at Fromagerie Kapuskoise. I first asked François how he got into the cheese-making business. "When I was travelling in Asia, I learned that cheese was very difficult, if not impossible to find there," he recalled. "This lack of cheese got me thinking and interested in making it so that I didn't have to go without." His developing passion brought him to Saint-Hyacinthe, Quebec for some basic training. Following that, he went for more in-depth training on the art of cheesemaking in France.
When François returned to his hometown of Kapuskasing in Northeastern Ontario he started to get to work to open his new cheese business. He needed to find a site, get loans, and obtain permits from government departments. He bought what was once a private home styled with a Spanish flair right on the main street in town. With extensive renovations, the home has turned into a cheesemaking operation, with production/fabrication rooms, aging rooms, and a reception/showroom. His first cheese sales happened on Canada Day 2015, and the business has been growing ever since.
The cheese is made from the milk of cows, goats, and sheep from farms in the Kapuskasing area. It's made from whole milk, as opposed to modified milk ingredients, François pointed out.
He talked about the process and technique for cheesemaking: how the milk is heated and pasteurized and the process to make it harden or not, the link between rennet and whether the cheese will melt or not melt, the importance of lactic acid and bacteria, and a ton more information. François also talked about the fabrication of the cheese, the making of bigger and smaller pieces, allowing drainage, or pressing to remove liquid. He explained the method of stirring, putting cheese back in the mold, and pressing it again. What I learned from François is that cheesemaking is very much a science as well as an art. It takes a lot of patience and experimentation.
The final products speak for themselves in the form of pressed (or formed more solid) and soft cheeses. François has come up with a variety of cheeses that can be eaten on their own or paired with many different types of food and drink.
Creatively, the styles of cheeses are named after rivers and lakes in the Kapuskasing area. Readers may recognize these names if they're familiar with the surrounding geography. 
The pressed cheeses are:
The Kapuskasing 
The Opasatika 
The Mattagami 
The Mattagami Chèvre
The Saganash
The soft cheeses are:
The Missinaibi 
The Pivabiska 
The Pagwa 
Fromagerie Kapuskoise also makes delicious cheese curds.
In each of the descriptions of the cheese on the website, it describes what food and drink pairings work well. The site also gives tips on how to best store and preserve the cheeses. 
I learned from François that their cheese rind is edible. "The rind is the outer part of the cheese that has hardened and it protects the cheese within. It can be confusing for cheese lovers, as other cheese manufacturers sometimes coat the rind with a paraffin wax, making the rind inedible," he said.
In the showroom, François proudly has on display pictures of himself and his new bride. They met in France while he was studying cheesemaking and she was there learning French. She is from China, and they are anxiously awaiting her visa in order to come to Canada and to Kapuskasing permanently.
Fromagerie Kapuskoise employs seven people; the company's busiest times are in July, August, September, and the Christmas season. They sell through distributors and resellers throughout Ontario and Quebec, as well as receiving customers and tourists at their on-site showroom in Kapuskasing. They will also mail out big wheels of cheese via Canada Post. This year, they will attend three or four Farmers' Markets in the area to showcase their wonderful cheese.
Fromagerie Kapuskoise are proud recipients of the Premier's Award for Agri-Food Innovation Excellence. François was quick to point out that his success has been very much due to the support and hard work of his family and to the community of Kapuskasing. They have been very supportive from the start and are his best goodwill ambassadors and positive influencers for the business.
I have to say it's not hard to be anything but positive about Fromagerie Kapuskoise, their cheese is simply exquisite!
Find Fromagerie Kapuskoise at these Algoma retailers:
Fromagerie Kapuskoise
376 Government Road East, Kapuskasing
PH: (705) 371-2177
Web: www.fromageriekapuskoise.com
Facebook: www.facebook.com/profile.php?id=100042234835676