Paddling Lake Superior's Sunshine Coast
This remote week long trip combines kayaking and a day hike to awe-inspiring waterfalls.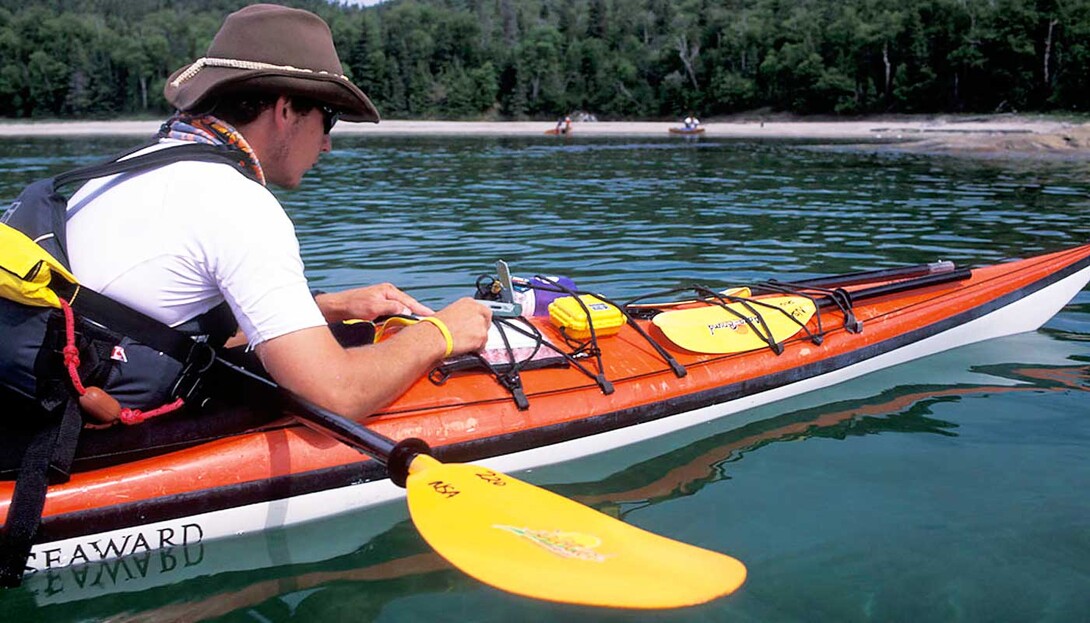 As the nose of my sea kayak sends a ripple across the mirror finish off Lake Superior's northern shore I start singing Gordon Lightfoot's Wreck of the Edmund Fitzgerald. This is not unusual for me when paddling the big lake. While floating in a tiny craft over massive water I think it's a means of keeping me on guard. The line "The lake it is said never gives up her dead..." resonates deeply as I dip my paddle into the fathomless lake, helping to keep me wary of moods that can change from meek to merciless with little warning. And on this trip, constantly reminding myself of Superior's wrath is necessary because so far she's been uncharacteristically warm, calm and inviting.
We left the mouth of the Michipicoten River near Wawa this morning for the first leg of a 30 km paddle along the remote coastline to the Dog River. I'm joined by Naturally Superior Adventures (NSA) guide James Roberts and fellow guests Tony Hill and Stephen Haggert. Although today our 16-foot sea kayaks seem invincible against the glassy surface of Superior, evidence of her fury is all around.
The entire coastline is gnawed down to bare rock sloping up to a stunted tree line ravaged by a booming surf. Bulbous rocky islands are worn smooth and rounded by wave action. Our first campsite is at the mouth of the Makwa River where black flowing water is squeezed between a long granite point on one side and a cobble beach on the other. We land amidst bowling-ball-sized rounded rocks and carry our gear up a steep incline of progressively smaller cobble spread beneath an expanse of driftwood.
A spicy chicken stir fry unites the group under the shade of a tarp overlooking the waters of the river mingling with the still lake. Fresh air and exercise accentuate our guide's well-developed culinary skills. Any trepidation about paddling with complete strangers is quickly washed away with a chocolate fondue and a splash of premium bourbon Stephen produces from his pack.
Day two dawns warm and still. Again the calm weather gives us a chance to hug the coast tightly. We see virtually nothing man-made today except for the items in our possession. Sculpted granite ranging from grey to red to black is rippled with veins of quartz and fissures of igneous rock. The detail of the coast is more striking than any work of art, impossible to recreate except through the forces of wind, water and time.
Once at the Dog River we hike two and a half kilometres up a narrow trail to 35 m Denison Falls. Even at summer levels, the falls are spectacular, with volumes of water issuing from a narrow gorge to spill over the craggy ledge. I follow Tony and James up one side to find deep circular holes, secondary falls and mist-shrouded caves. The whole ensemble is garnished with tenacious blue flowers that grip the sloping black rock.
Hot, sunny, and calm weather prevails for the rest of our time on Lake Superior and I'm secretly hoping the big lake will give us a slight taste of her power on our last day. However, a gentle breeze and slight swell nudge us past Perkwakwia point, across Michipicoten Bay and up the river mouth to Naturally Superior Adventures.
This is a coast where arctic plants cling to a barren rock, where paddlers are immersed in perpetual fog or shore-bound by storms for days. We manage to avoid it all. Although we were all expecting a challenging big water experience, we decide to count ourselves as lucky. After all, if we complained about the great weather on Lake Superior I don't think anyone would listen.
For more information on paddling to the Dog River and other destinations along Lake Superior contact:
Naturally Superior Adventures
RR#1 Lake Superior
Wawa, Ontario P0S 1K0
Phone Toll-Free: 1-800-203-9092
www.naturallysuperior.com