The See It All Tour: A 4-Season Guide to Ontario's Algoma Country
Welcome to Ontario's Algoma Country! Did you know that Ontario shares more border crossings with the U.S.A than any other province?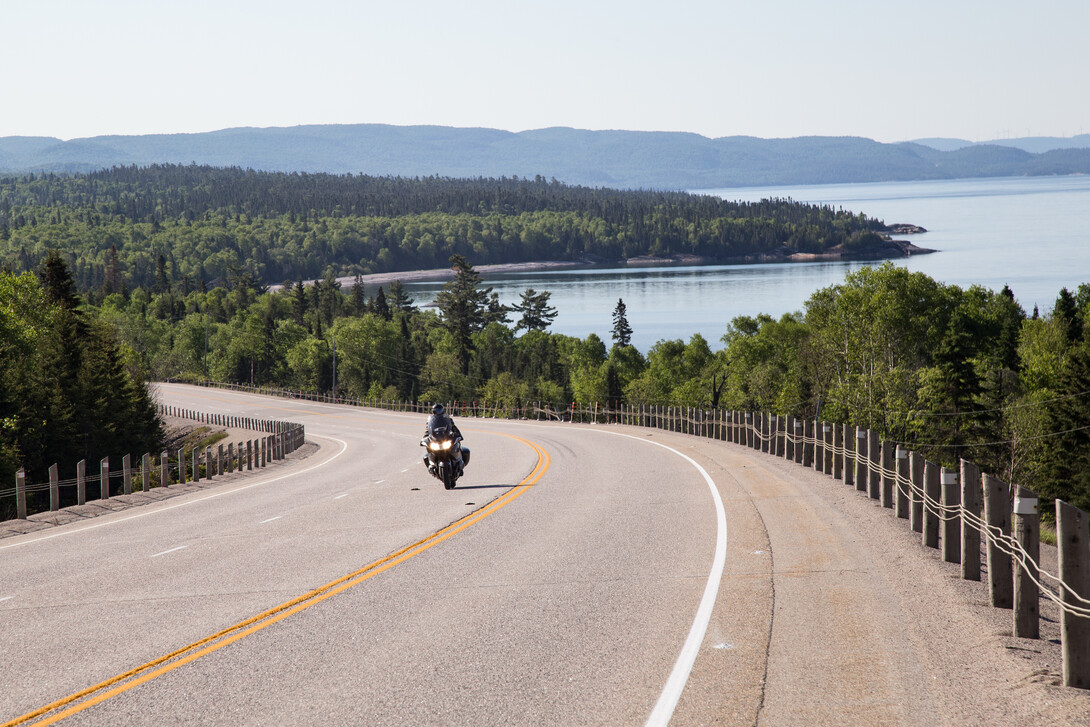 In Ontario's Algoma Country, a vast region located just across the border from Michigan, U.S.A., there is so much to see in so little time. Not a bad problem to have.
Blessed with an array of must-see destinations like the famous Agawa Canyon Tour Train, the Wawa Goose, Indigenous pictographs, and the waterfront city of Sault Ste. Marie, the scenic region is also known for its rugged coastlines, hidden beaches, rushing waterfalls, and provincial parks. The only way to see it all is to cover some ground! 
So while a Tour of Algoma is the obvious answer, how you choose to execute this tour is the next question. To help with the solution, here are a few ideas.
Getting to Algoma Country from the USA
To get to Algoma Country, the International Bridge at the twin Soos (Sault Ste. Marie, Michigan and Sault Ste. Marie, Ontario) is the closest border crossing by car. Visitors arriving by air can connect in Toronto for a direct flight to Sault Ste. Marie.
Note: As of late 2022, all pandemic-related restrictions to enter Canada have been dropped. Proof of vaccination or a negative test are not required. Check out our handy border-crossing guide for more information or visit here.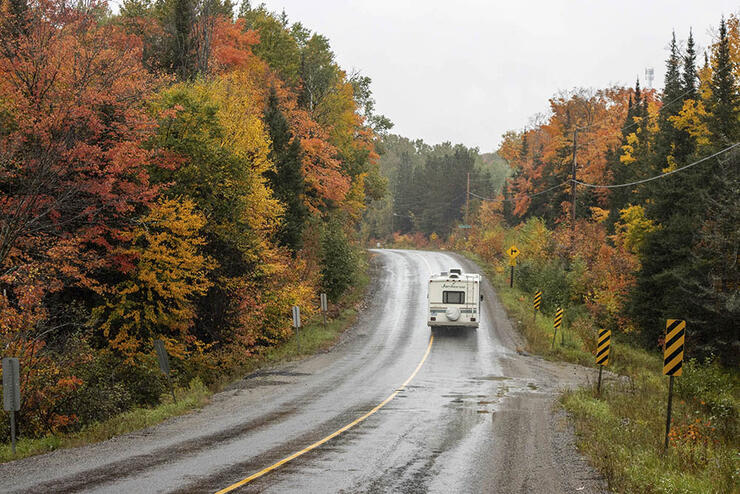 Travelling Algoma Country By Car or RV
Visit the Most Beautiful Highway in Ontario
Starting in the Soo: Highway 17 between Sault Ste. Marie and Wawa is regarded as one of the best, most scenic drives in North America. It is sure to impress with grand views of Lake Superior's rugged coastline. Be sure to stop and explore the many sandy beaches, hiking trails and rushing rivers along the way.
The water's edge theme continues along the North Channel of Lake Huron. Here, friendly communities of Bruce Mines, Blind River, Thessalon and Spanish will intrigue you with things to do, food to eat, and places to stay.
Make your way inland and experience a stunning view from the fire tower in Elliot Lake, the rushing waters of Aubrey Falls along Highway 129, the historic steam locomotive, Engine 5433 in Chapleau, and the goose in Wawa. Combine it all, and you're in for one memorable adventure.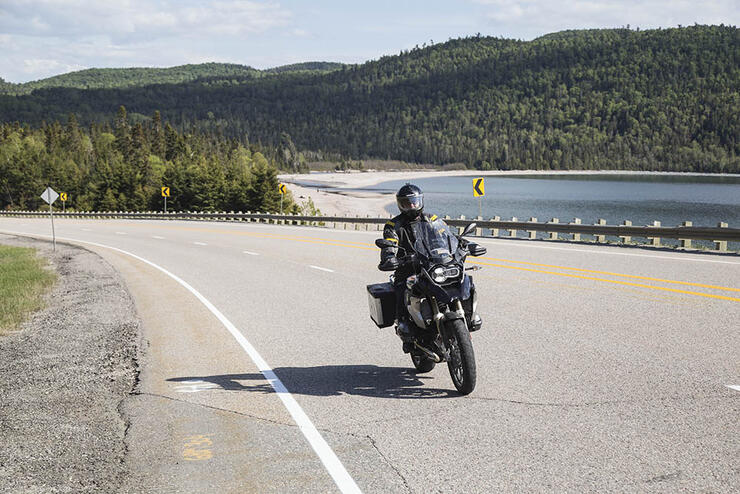 By Motorcycle
Ride the Tail of the Dragon
With four preplanned routes to explore, fill the tank and hit the road. Algoma's most popular tour, The 682 km (424 mi) Grand Algoma Tour, has been named the top weekend motorcycle tour in Ontario for two years running. Starting in Sault Ste. Marie, you will enjoy the twists and turns of Highway 129, often referred to as Ontario's "Tail of the Dragon" due to its angulating nature. Then on to the open expanse of Algoma's northern reaches and finish off with the Lake Superior coastline.
Make your way north to Hearst along the big sweepers and perfect pavement that is Highway 631. Along the way, the communities of White River and Hornepayne offer a chance to refuel both body and bike.
Mix it up with paved and gravel roads on the 328 km (203 mi) Island North Tour or day trip on the 120 km (72 mi) Deer Trail Tour loop around Elliot Lake, through Blind River and Iron Bridge. Whether you are after pavement or more adventurous road surfaces, Algoma has you covered.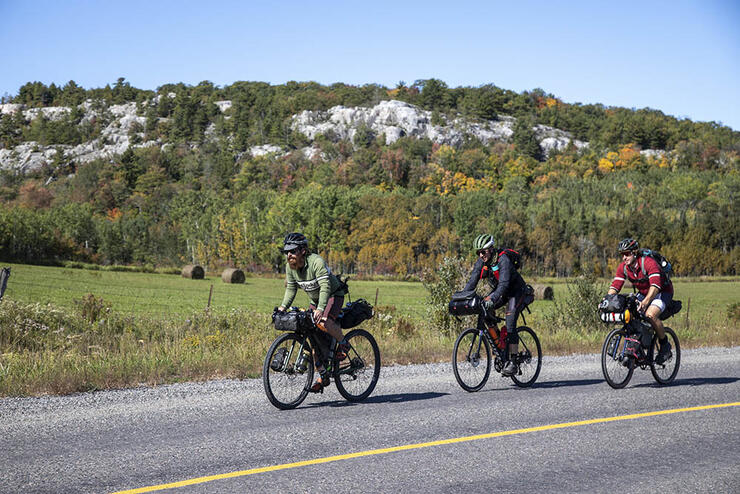 Travelling Algoma by Bike
3 Trails Systems and One Giant Island to Explore
Sometimes the slowest way is the best way to discover the most. With a prolific amount of paths, trails, low traffic paved and gravel country roads, a cycling tour might be the best Algoma adventure. For a day outing, explore Sault Ste. Marie's Hub Trail or the Hiawatha Highlands mountain bike trails.
To really discover Algoma by bike, pack your bags and explore. The Northern expansion of the Great Lakes Waterfront Trail follows Lake Huron's North Channel east, connecting 26 communities along a signed route. Discover hidden sand beaches at the Boom Camp Trails in Blind River, climb the lookout tower at the Spanish Municipal Marina for a grand view of the North Channel or take in the site that inspired the Group of Seven in Bruce Mines.
St. Joseph Island, with its open country roads and beautiful scenic views of Lake Huron, is already a popular cycling destination. With the island as the destination, you start your tour in Sault Ste. Marie and head out for a perfect weekend adventure.
As the popularity of gravel and all roads cycling rises, Algoma, with its thousands of kilometres of gravel roads and trails, has all the makings of an unforgettable experience for the adventurous cyclist.
Pick up a map and go it alone or let local guides show you the way.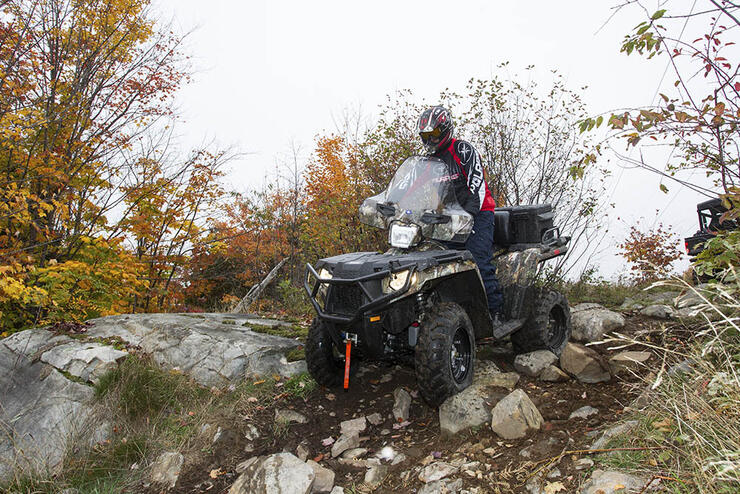 By ATV
Guided and Self-guided Tours of Ontario's Rugged Wilderness
If an adventure is what you're after, perhaps an ATV tour of Algoma's rugged and pristine wilderness is in order. With a network of marked trails suited for a self-guided tour, getting into the backcountry is easy. But for the ultimate adventure, perhaps partake in an expertly guided full-service overnight trip. Discover local secrets like ghost towns, abandoned mines and the kind of wilderness experience deep in the backcountry that only an ATV can offer. Enjoy an overnight in a cozy lodge or a tent under a starlit sky.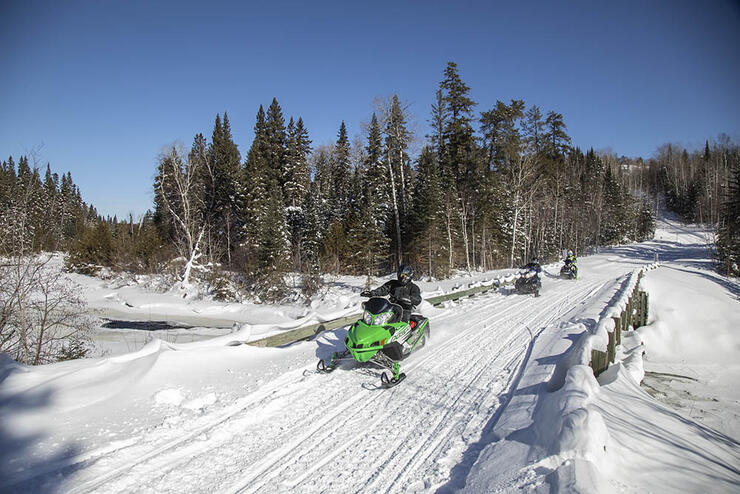 By Snowmobile
Bucket List Loops, Groomed Trails and Welcoming Snow Towns
When the seasons turn to snow, it doesn't mean Algoma's touring opportunities are any less promising. Thanks to the efforts of many locals, the rugged boreal landscape is groomed into a 2,000-mile ribbon of snowmobiling good times. Check out our guide for U.S. snowmobilers in Ontario for more info. 
If you are after the winter version of the See It All Algoma Tour, then the All The Way There Tour is for you. It showcases the best of the area's snowmobile trails and communities that will welcome you with open arms; Wawa, Sault Ste. Marie, Dubreuilville, and Chapleau live and breathe snowmobiling.
Of course, you can't claim to get All The Way There until you push your adventure deep into the Algoma trail system and the far-reach communities of White River, Hornepayne and Hearst, where sleds often outnumber cars during the winter.
For the weekend adventurer, the North Shore Loop, with views of Lake Huron North Chanel, provides a chance to explore St. Joseph Island and accessibility to the International Ice Bridge to Drummond, USA, a perfect mix of easy access and thrilling experience.
Plan Your Vacation to Algoma Country Today
It doesn't matter how you choose to tour Algoma—or what season to visit—only that you do. Even if your best touring efforts leave you looking for more, no need to worry: there is always next time!
For more information visit Algoma Country.