An "Eye" on Opening Day
Walleye are the fish species that the masses gravitate toward.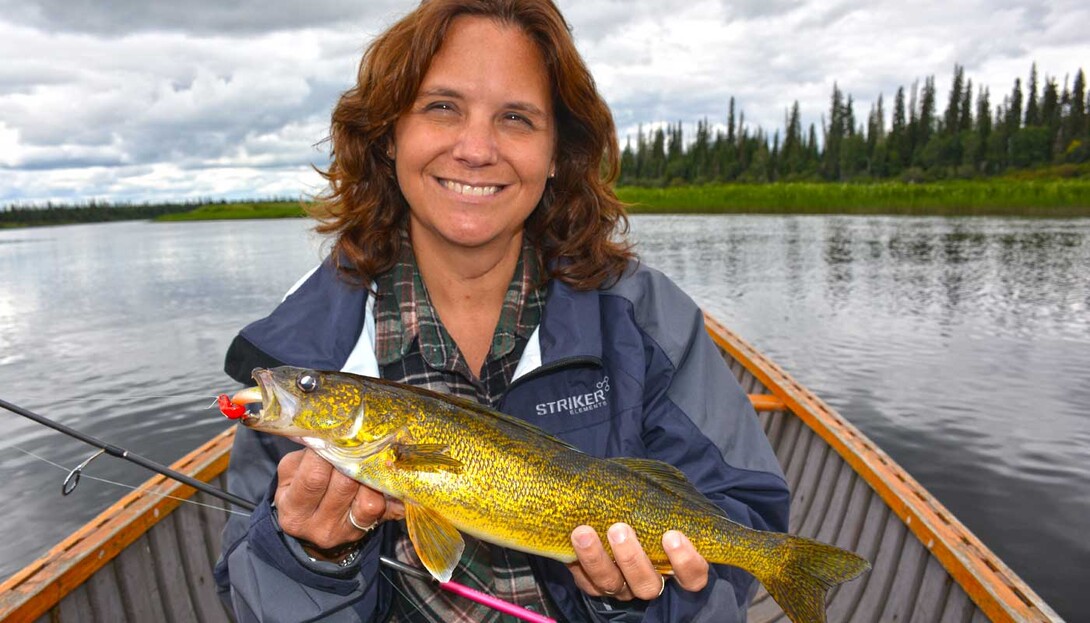 All across Ontario's Algoma Country anglers are casting an eye towards opening day. Walleye fishing season opens on the third Saturday in May, and countless residents and non-residents alike have their calendars already marked.
The opening day of the walleye fishing season is the unofficial beginning of the open-water fishing season in Ontario. While a host of other species are already open by the third Saturday in May, walleye are the species that the masses gravitate to. No surprises here, as walleye are not only popular in Algoma Country, but they are abundant and clearly the most prized on the table.
Jigs Get The Nod
Walleye are especially eager to bite early in the season when the water is cool. After a long lean winter and the rigours of spawning season, walleye hit the shallows in May looking for an easy meal. Hands down, the most productive lures for spring fishing are lead head jigs, and most anglers prefer to tip their jigs with a live minnow.
Just a quick reminder, non-residents are not allowed to transport live or dead minnows or leeches across the border. These regulations are in force to stop the spread of invasive species. Thankfully, a host of live bait dealers within Ontario are sure to have plenty of lively walleye minnows on hand.
Read: Minnows, Leeches or Nightcrawlers? Walleye bait for June, July and August
In May when walleye are found in shallow water, jigs in the 1/8- to 1/4-ounce sizes are usually best. The garden variety round-head jig does a good job, but stand-up style jigheads help reduce snags. These unique jigs also keep the bait positioned up off the bottom, where walleye are more likely to spot the offering.
Stand-up jigs have the added advantage of doing a great job of hooking walleye in the upper jaw. This feature helps to ensure hooked fish are landed and also makes it easy to live-release walleye unharmed. A number of trusted manufacturers produce stand-up jigs designed for walleye fishing. Some of the most popular brands include Bait Rigs Tackle, Northland Tackle and Fin-Tech Fishing Tackle.
Tips For Hooking Minnows
Using a jig and tipping with a minnow is almost a guarantee that walleye anglers across Algoma Country will be successful. Most anglers bait their jig by hooking the minnow through both lips or by placing the hook point in the minnow's mouth and protruding out the back of the minnow's head.
This standard way of baiting a jig works great, but unfortunately, the hook point is positioned in such a way it's pretty easy for a walleye to slurp up the minnow and not get a hook in the mouth! A better alternative is to use a jig with a long shank hook. My personal favourite is the Bait Rigs Odd'ball Jig; place the hook point into the minnow's mouth and then out through the gill cover. Slide the minnow up the hook shank of the jig and twist the minnow so the hook point can be run up the vent and out the back of the minnow.
Hooked in this fashion a walleye is going to have a very difficult time getting the minnow off the hook, without getting the point of the hook in its mouth. This method of baiting a jig works great for vertical jigging, drifting fishing, dragging jigs, and also for casting jigs to shoreline cover.
Plastics Are Almost As Good
To the hardcore walleye fisherman, minnows are king when it comes to spring fishing. It's true that minnows are pretty tough to beat when jig fishing, but open-minded anglers are experimenting more and more with soft plastics that imitate live bait and do a better job of staying on the hook, especially in casting applications.
The latest generation of soft plastics not only look like live bait, but they have the advantage of being scented and also flavour enhanced. A few of the soft baits that rival the fish-catching powers of live bait include Berkley Gulp, Power Bait, Rapala Trigger X and Yum Baits. All of these manufacturers produce action tail grubs, split tail grubs and shad body grubs that do an excellent job of imitating forage minnows while smelling the part.
Plastic baits can also do something that live bait cannot. Plastics come in a host of fish-attracting colours. In Ontario waters, some of the best soft plastic colours for walleye jigging include chartreuse, chartreuse/glow, and chartreuse/orange. pearl, pearl/pink and fire-tiger. All of these colours show up well in the tannic acid-stained waters of most Ontario lakes and rivers.
An Extra Boost of Enticement
A jig is deadly and when tipped with a live minnow it's almost more than any self-respecting walleye can resist. Anglers who fish jigs with soft plastics often go an extra step and slather their baits with after-market fish scents designed to create a defined scent trail and also to entice bites.
Pro-Cure is the industry's leading producer of fishing scents made from natural forage species like emerald shiners, crayfish, alewives, herring, smelt and gizzard shad. These natural forages are ground up and then mixed with a stabilizing agent that keeps these scents from spoiling. Pro-Cure has a five-year shelf life. Adding these scents to jigs tipped with plastic establishes a natural and pungent scent stream in the water that makes it easier for walleye to zero in on jigs tipped with plastics. The Trophy Walleye Super Gel is one of the more popular scents in the Pro-Cure line. This sticky paste adheres nicely and stays on soft and hard baits.
Read: Making Sense of Fishing Scents
On average, anglers should re-apply fishing scents about every 30 minutes while fishing. When using scent products, it also helps to clean lures before adding scent. A quick bath in Joy dishwashing liquid does a great job of removing foreign odours like insect repellent, sunscreen or tobacco smells that can spook fish.
For more information on how to use fishing scents, visit the www.pro-cure.com web page for insights.
Summing It Up
The opening day of walleye season in Ontario's Algoma Country is the third Saturday in May. Avid anglers everywhere will be heading north for this special event. It's a safe bet most of these fishermen will be fishing jigs and it's also a given that bait buckets everywhere will be overflowing with minnows.
The jig and the minnow is the traditional way to catch spring walleye. Jigs dressed with soft plastic bodies and doused with scent products are a close second when it comes to fooling these tasty and sought-after fish. The smart move is to show up at the party with both and let the walleye decide which trips their trigger.