10 Unbelievable Photos of the Winter Ice Caves on Lake Superior
Discover out these 10 photos of a bucket-list winter phenomenon.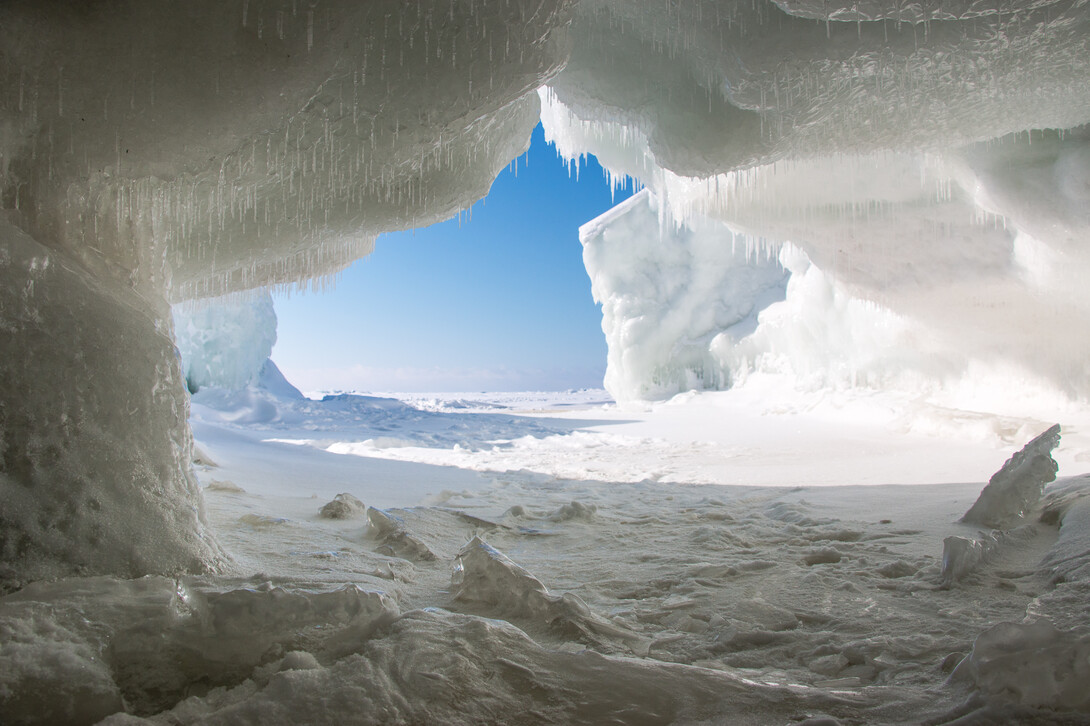 This is the perfect time of year to get out and explore the ice formations in Algoma sculpted by the wave action of the Great Lakes. Pack a picnic, put on your layers of clothing and head out to admire Mother Nature's work. Lake Superior, the largest Great Lake north of Sault Ste. Marie is a winter wonderland. There are many areas to explore some more rugged than others.
Pointe Des Chenes Park is a nice area to snowshoe or walk out onto the ice. Ice ridges have been formed by sheets of ice colliding and forming ridges out on Lake Superior. You have to watch you do not hit these at night on your snowmobile as the outcome could be deadly.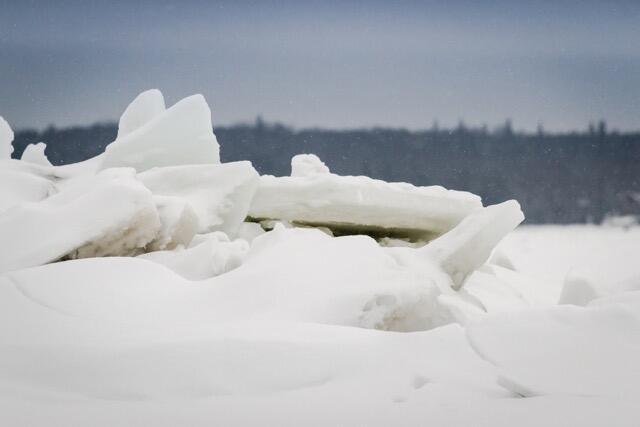 Gros Cap is a beautiful area to put on your snowshoes and head out along the shore and explore the ice ridges and formations. You will meet many people with their children climbing up the formations and crawling long the ridges. On a beautiful sunny day, what better way to get your exercise and soak in the beauty along Lake Superior?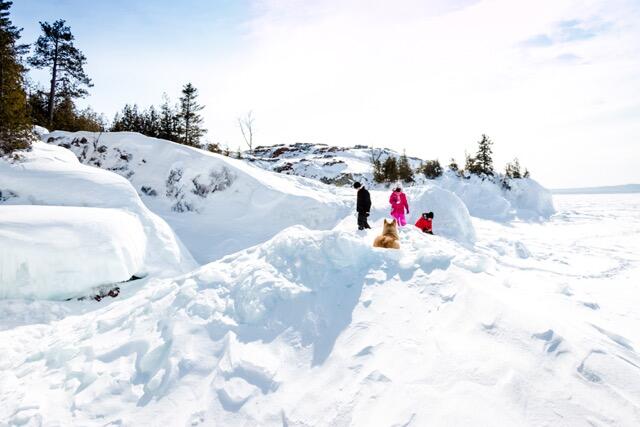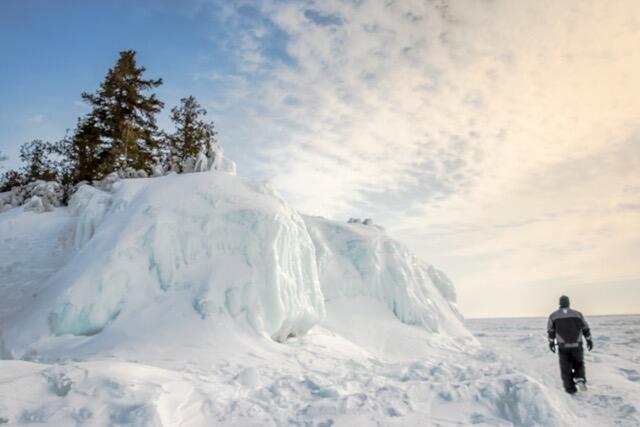 Venture a little further north to Red Rock and find some little ice caves and ice bridges. You can get out onto the ice at the Red Rock Park entrance so that you do not disturb the local home owners. You will find little ice huts for anglers dotting the ice which are a necessity to protect you from the jack hammer winds that come up.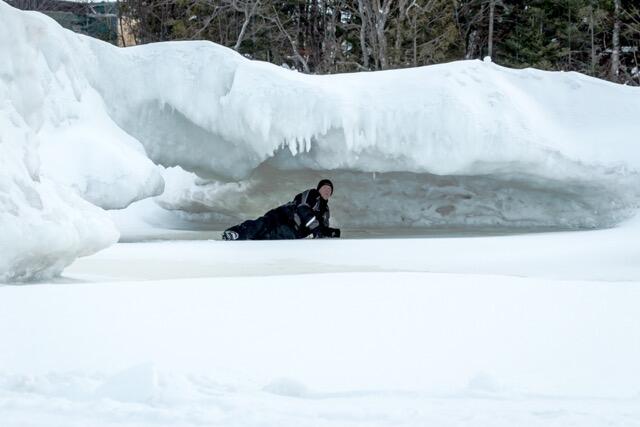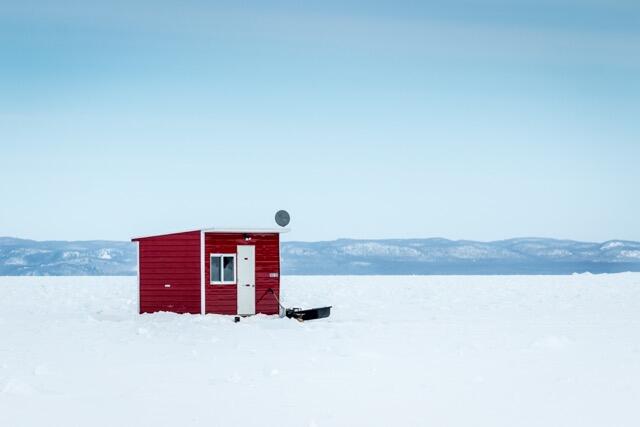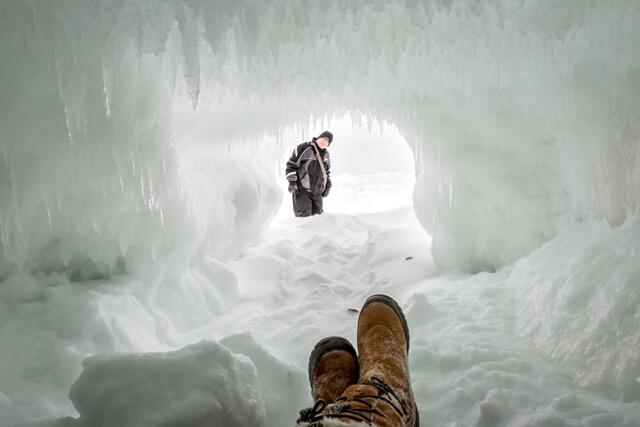 Coppermine Point is a beautiful area to explore with amazing ice ridges and caves along the way. We stayed close to shore on the ridges as you could hear Lake Superior moaning and groaning beneath the ice as this area is known for its huge waves crashing on the shore. We weren't sure of the undercurrents and the ice thickness so we stayed along the shore. This was our favourite spot along Lake Superior with magnificent ice structures.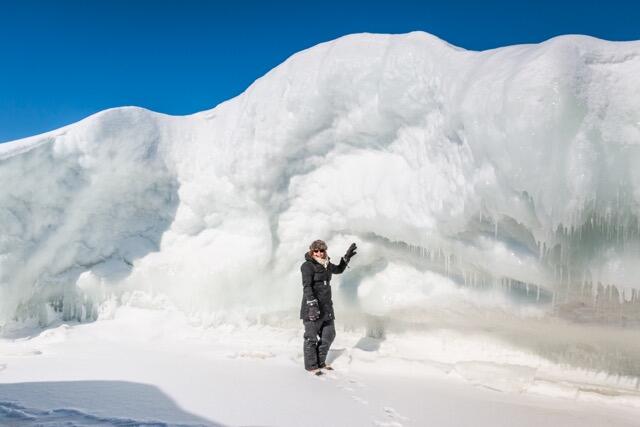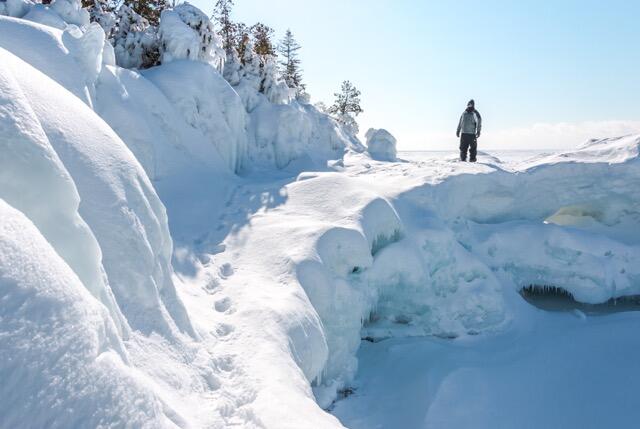 Alona Bay has a beautiful scenic lookout for you to enjoy the icy coastline. It is also a good spot to have your picnic lunch while you look out at the frozen Lake Superior.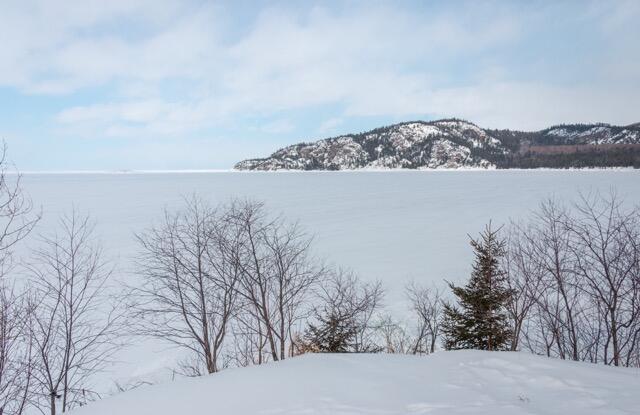 Enjoy your outing making sure you have dressed appropriately for cold temperatures and piercing winds. Travel safely, being cautious of safe areas to travel on the ice and areas not to. Enjoy the beauty of Lake Superior along the ice ridges of the shoreline to be safe. You will be amazed at how spectacular winter can really be just outside your doorstep.
Viewing Ice Caves and Formations
You must proceed with caution, and at your own risk
It is only safe to walk on ice 4 inches thick or more
Never venture out alone into the wilderness