6 Amazing Roadside Attractions in Algoma Country
The Wawa Goose is a must-see!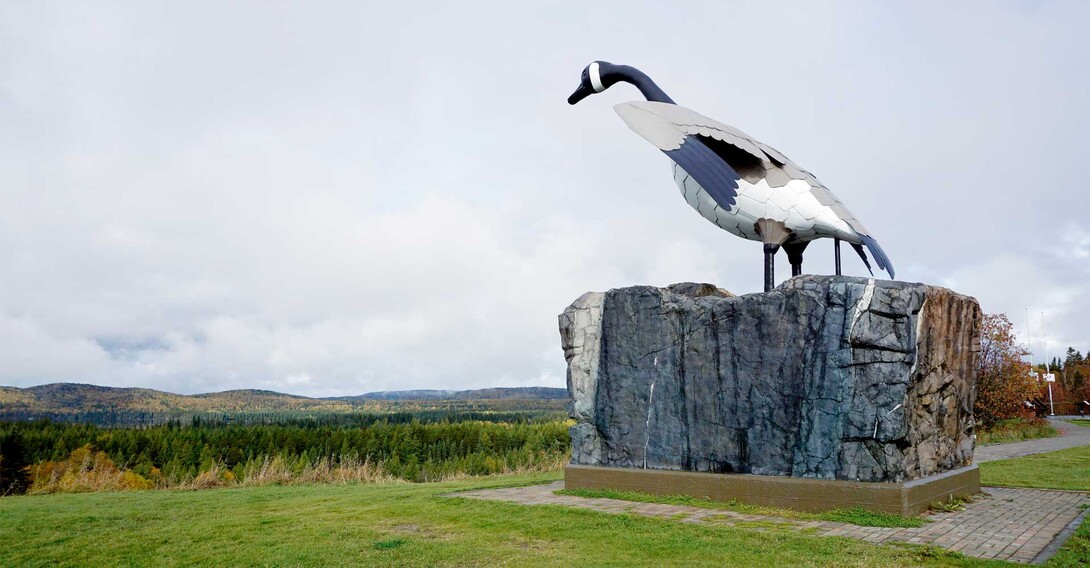 Roadside attractions are fun, often quirky, and usually represent the cultural background of the area you're visiting. Some of the earliest roadside attractions in North America got their start in the 1920s, although Lucy the Elephant of Margate, New Jersey is considered the oldest attraction. She was built in 1881 by a land speculator who needed a clever sales tool to help sell a property near Atlantic City. The birth of the highway system set off a building boom, and it wasn't long before enterprising businessmen dreamed up fantastical creations to attract passing motorists.
Both American and Canadian sides of the border of their notable roadside attractions: the famous Cadillac Ranch in Texas, or the Big Nickel in Sudbury, Ontario.
Whatever the purpose may be, one thing is for sure about roadside attractions: they never die. Roadside attractions are part of the adventure of touring new roadways. Algoma Country has its share of roadside attractions – some famous, some quirky, some you may not have even known about.
Below is a list of six roadside attractions you'll want to stop and photograph, and the recommended routes to find them. Looking for more? You'll find an extended list at the bottom of the article. If you've already snapped a photo of yourself in front of any of these things, please share them by using #algomacountry
1. Wawa Goose Monument
(feature photo)
Algoma's most famous roadside attraction, the Wawa Goose Monument, stands tall and proud on Highway 17, welcoming visitors to Wawa since the early 1960s. The iconic Goose is viewed and photographed by thousands of visitors each year.
Other Attractions in Wawa: Henrietta the Moose at Young's General Store
Recommended Route: Ride Lake Superior
2. Algomy Red Chair
Who could miss this big, red, 18-foot wooden Muskoka chair just west of Thessalon? Nicknamed Algomy Red, it's the largest Muskoka chair in Northern Ontario and was built by high school students.
Recommended Route: Island North Tour
3. Winnie-the-Pooh Statue
Take your photo with Winnie-the-Pooh. It's fun for all ages!
White River is the home of the real black bear that inspired A.A. Milne to create the beloved fictional character "Winnie-the-Pooh." In 1914, Lieutenant Harry Colebourn purchased a black bear cub and named her after his hometown of Winnipeg, Manitoba.
Other Attractions: White River Thermometer
Recommended Route: Ride Lake Superior
4. Arctic Watershed Marker
This unique marker on Highway 129 in the Mississagi Valley is the location "from here all streams flow north into the Arctic Ocean." It's just a really cool marker and definitely a fun roadside attraction.
Recommended Route: Grand Algoma Tour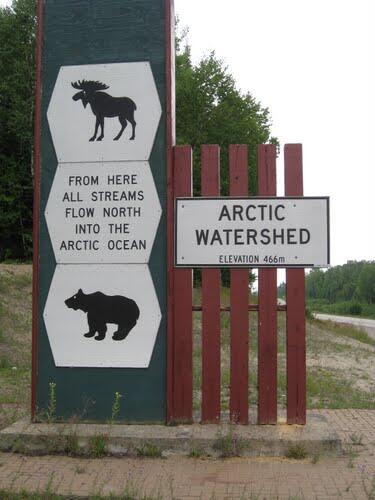 5. The Loon Dollar Monument
Located in Echo Bay, the big "Loonie" is dedicated to creator Robert R. Carmichael, the artist responsible for the creation of the Loon Dollar design and resident of the Township. The Loonie was introduced in 1987, replacing the one-dollar bill.
Recommended Route: Island North Tour
6. Canadian Bushplane
It's hard to miss the Canadian Bushplane Museum in Sault Ste. Marie with its enormous bush plane displayed outside the museum doors. Visit the museum and not only will you be able to photograph real bush planes, but you'll get to go inside them. (Check out the water bomber... it's massive!)
Recommended Route: Grand Algoma Tour
More Fun Roadside Attractions in Algoma
Lock City Dairy Cows, Sault Ste. Marie
Moose and Man at the Trading Post, Sault Ste. Marie
Giant Baseball, Straithclair Field, Sault Ste. Marie
The Fishing Bears, Sault Ste. Marie
Canadian Pacific Steam Engine, Chapleau
Moose and Wolves, Hearst
Cross-Cut Saw, Hearst
Giant Arrows, Garden River
Logging Monument, Blind River