The Ultimate Group of Seven Road Trip
See the inspiration for Canada's greatest artists up close in some of the country's wildest and most breathtaking landscapes.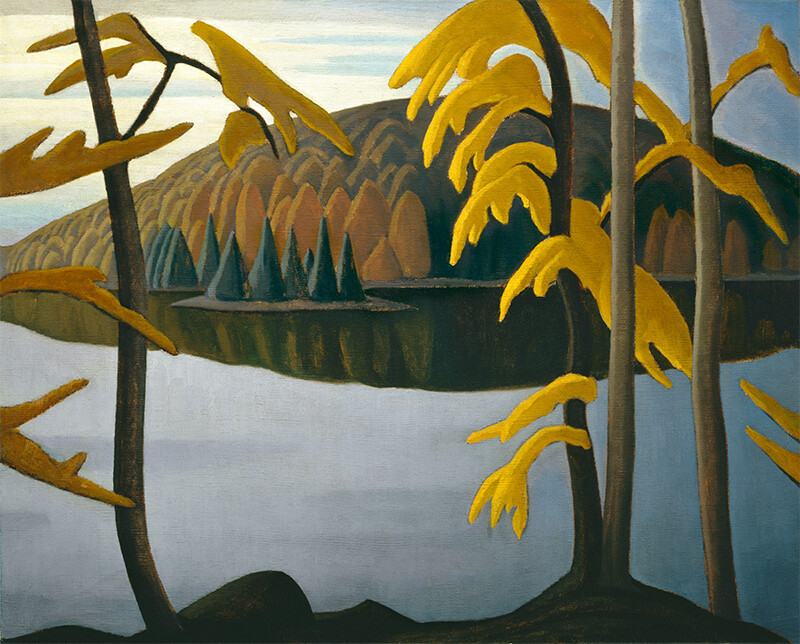 The Group of Seven were a hearty bunch—riding the rails, hitching boat rides, scaling rock faces, hiking, and paddling long and hard to reach inspiring vistas. They camped in the wilderness, stayed in vacant cabins, and lived off the land, often in less than ideal conditions. Their artistic journeys took them all over Canada, but some of their most memorable paintings were created in Ontario's Algoma Country and along the shore of Lake Superior—which they first visited a century ago this year.
It's a place where inspiration flows freely, and where the surreal beauty of these famous paintings is part of the very real landscape.
And just like the paintings, these landscapes demand to be seen in person.
Following the path of the Group is rewarding and inspiring. We've detailed here the five areas known to have inspired these artists, with a list of the most accessible sites, how to reach them, and how to deepen your understanding with some side trips on your way North. The Moments of Algoma project has placed interpretive installations at key points along the way to guide the journey.
"This is the land that resonated so deeply in the hearts of the Group of Seven 100 years ago and that inspired their most iconic works for over a decade," explains Michael Burtch, a Sault Ste. Marie-based artist, art historian, and one of the principals behind the award-winning film Painted Land: In Search of the Group of Seven. "Although at the time the members of the Group could only access those areas by rail, they were not painting merely in cul-de-sacs of beauty, but captured the essence of the entire area."
Where are you coming from?
Travelling from southern Ontario? Plan a 7.5-hour drive from Toronto or nine hours from Ottawa, and see our whole epic itinerary below. Or check Porter Airlines for flights from Toronto to Sault Ste. Marie and start your road trip there. Flights can be very cost-effective and take less than two hours. Three car rental agencies are available at the Sault Ste. Marie Airport.
Visiting from Michigan or Illinois? Start your trip in the border town of Sault Ste. Marie.
Coming from the west? See our suggested itinerary below but in reverse. For a shorter trip, skip to our Top of Superior recommendations.
On your way: driving to Algoma
Must-see: Get started at the McMichael Gallery in Kleinburg, Ontario (only 40 minutes north of Toronto), with its stunning collection of the Group, their mentor Tom Thomson, and their contemporaries—along with an equally impressive collection of Indigenous art.
Side trip: On your drive to Algoma through Northeastern Ontario along the shores of Lake Huron, stop in Sudbury, where the Art Gallery of Sudbury sometimes has Group of Seven-themed events. The A.Y. Jackson Lookout is situated just outside of town, offering a stunning view of High Falls and a self-guided geological walking tour (entirely wheelchair-accessible). Or, break up the trip with a visit to Manitoulin Island. Not only is the world's largest freshwater island a wealth of gorgeous nature and thriving Indigenous culture, but the local Perivale Gallery hosts an annual exhibition of art and events inspired by Tom Thomson and the Group of Seven (running this year from July 21 to August 5, 2018). Just a little further west, Killarney has some amazing paddling in prime Group territory. Click here for more Group of Seven sightseeing opportunities in the Northeast.
Where to stay: If you want to split this long drive into two days, you have a few options. In Sudbury, we recommend the Travelway Inn. If stopping in Manitoulin, try the Widgawa Lodge in nearby Whitefish Falls. In Killarney, stay at Killarney Mountain Lodge for luxury, or camp in one of Killarney Park's year-round yurts to get a taste of wilderness.
Entering Algoma Country
Must-see: The landscapes around Bruce Mines, located 70 km east of Sault Ste. Marie, inspired Tom Thomson's View Over a Lake, Shore with Houses, (c. 1913, National Gallery of Canada).  
Side trip: If you have time on your hands, turn north on Highway 129 and make your way to Aubrey Falls Provincial Park, where you'll find a Moments of Algoma interpretive sign in the shape of an artist's stool. Thomson's brilliance as a landscape artist was influenced by a two-month canoe trip he took along the Mississagi River in 1912. Its beauty is breathtaking.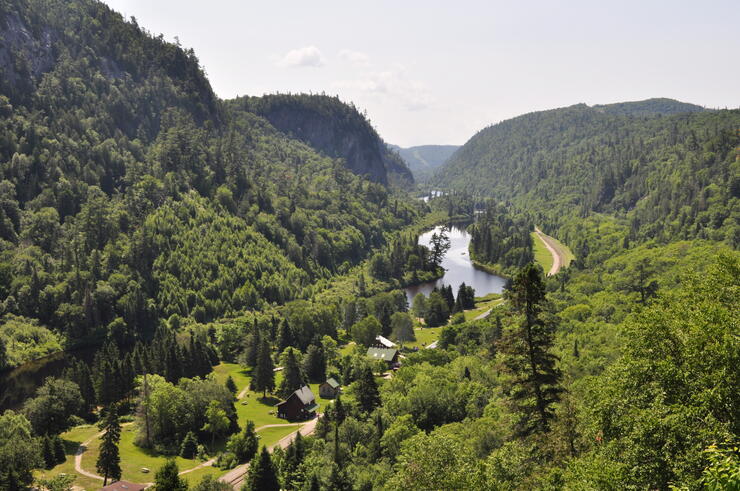 Must-see: Sault Ste. Marie was the launching point for the Group's rail journeys into Agawa Canyon between 1918 and 1922. You, too, can travel the rails and be whisked into the Algoma wilderness on the one-day Agawa Canyon Tour Train (advance reservations are recommended). With the aid of audio narration, if desired, you'll pass several sites captured by the Group of Seven along the journey, including J. E. H. MacDonald's Solemn Land and Frank Johnston's Distant Lake Superior. Once in the Canyon, it's a short hike to reach Bridal Falls and Black Beaver Falls. You will see how well both Lawren Harris and J. E. H. MacDonald captured the light and shadows of these falls. 
Side trip: Group of Seven sites in Sault Ste. Marie
• Even if you are not taking the Agawa Canyon Train Tour, drop into the Algoma Central Railway Station, located at the Mill. Inside you will find a replica handcart that the Group used to travel up and down the rails. Outside the station, you will find a Moments of Algoma interpretive panel.
• Drop into the Art Gallery of Algoma. Their permanent collection includes a limited number of Group of Seven sketches. Sign up for a guided tour of the exhibition and a mini-painting lesson in the Group of Seven style. Shop for local and Group of Seven-related books, gifts, calendars, and more.
• Wander along the Riverside boardwalk outside the Art Gallery of Algoma and you will come across another Moments of Algoma panel.   
• Travelling in October? Check out the Algoma Fall Festival for Group of Seven and related programming.
Where to stay: Days Inn downtown, Quattro uptown or, to keep things on-theme, the Catalina Motel—a small, privately owned motel with Group of Seven-themed photography in its rooms.
Entering Lake Superior
Heading out of Sault Ste. Marie, 55 km north on Highway 17, turn east (that's right) into the Chippewa Falls rest stop. A.Y. Jackson captured these rapids in the sketch Streambed, Lake Superior Country, c. 1955, now on display in the National Gallery of Canada. 
Must-see: Jackson was active in the area during the 1950s, capturing Coppermine Point (c. 1955, Art Gallery of Algoma) on board. You can reach Coppermine Point by turning west off of Highway 17, 85 km from Sault Ste. Marie and 30 kilometres from Chippewa Falls. A 5-minute hike into this protected area will take you to the views.  
Side trip: Looking for Group of Seven reproductions and other related goods or art inspired by the same landscapes? Plan on a stop at River Rock Gifts at The Voyageurs' Lodge, 45 minutes north of Sault Ste. Marie overlooking Batchawana Bay. 
Where to stay: The Voyageurs' Lodge
Agawa Bay
Your drive along Highway 17 now moves inland, giving you a sense of the rugged wilderness, much of it only accessible by train. Stop at Lake Superior Provincial Park Visitor Centre, Agawa Bay to view the Group of Seven display and replica railway handcart. Plan on picking up a Plein air kit to try your own hand at creating inspiring art as you hike the park's trails, some located not far from the Visitor Centre. 
Must-see: The 20-minute hike to the first lookout will give you lots of inspiration as you peer out onto Agawa Bay, the mouth of the Agawa River and in the distance, Montreal River Harbour. 
Shoreline, Wawa, Lake Superior (c. 1959, Hamilton Art Gallery) was painted by A.Y. Jackson from Sandy Beach Eco-Interpretive Park, Michipicoten Harbour, just south of Wawa, west of Highway 17. Wander along the shoreline to see if you can find the same perspective Jackson captured.
Side trip: Book a guided or self-guided single or multi-day canoe or kayak trip or join a photography workshop offered by Naturally Superior Adventures, perched on the edge of Lake Superior, 8 km south of Wawa at the mouth of the Michipicoten River. Many of these trips and workshops showcase the landscapes and rivers captured by the Group of Seven and other artists. 
Where to stay: In Wawa, Rock Island Lodge, a B&B located on the shores of Lake Superior, or Wawa Motor Inn.
Continuing your drive west along Highway 17 from Wawa towards Thunder Bay, you are now entering what many call "Harris Country"—as in Lawren Harris. Some call Harris the Group's leader, planning trips and pushing to find new inspiration. This push took the artists along the rail line that runs across the north shore of Lake Superior and into communities such as Port Coldwell, Jackfish, and Rossport. 
"The breathtaking scenery is ubiquitous; the towering rock fortresses, the trees, buffeted and bent by the wind, clinging tenaciously to the glacially scoured rock and the light, the shimmering, silvery light of Superior, bathing the region in its aura," enthuses Burtch. "It isn't uncommon to think as you drive, hike, or canoe this area: that if they didn't paint this spot, they should have."
Must-see: The Marathon area offers a few trail options to get you close to the water and land views that the artists saw. Trek along from Pukaskwa National Park to Pic River, part of the Voyageur Trail. Hike Marathon to Sturdee Cove, the area that inspired Harris to create Afternoon Sun, North Shore, Lake Superior (c. 1924, National Gallery of Canada). 
Side trip: Drop into the Marathon District Museum and Historical Society to see local stories and photographs related to the Group. 
If you stay at the Coach House Motel at Jackfish Lake, 56 km east of Marathon or 20 km east of Terrace Bay, you can see where A. Y. Jackson painted Jackfish Lake (1924, National Gallery of Canada) from an elevation across the highway from the Coach House. 
Must-see: Neys Provincial Park is one stop that you don't want to miss on this trip. Lawren Harris and the Group of Seven returned to the area for many years. And no wonder, with such awe-inspiring vistas. 
With a bit of effort, you will be rewarded with the spine-tingling views captured by Harris and the Group. Some of Harris's most compelling works were created here, including Above Lake Superior (c. 1922, National Gallery of Canada), Pic Island (c. 1924, McMichael Canadian Art Collection), North Shore Lake Superior (c. 1926, National Gallery of Canada) and Pic Island (c. 1934, National Gallery of Canada).
Side trip: The 9-km round trip hike to Pic Island Overlook Trail from Prisoner's Cove along an old dirt road to the Gazebo takes a bit of effort and time (about 3.5 hours return), but is well worth it. Plan your hike to the top when the air is clear to get the best view. Take a photo of the Gazebo, show it to the staff at the Neys Provincial Park Visitor Centre upon your return, and you will receive a button that says "I Hiked to the Pic Island Overlook." 
Once you arrive at Terrace Bay, climb to the top of the lighthouse to view the Slate Islands that inspired works by Harris, Jackson, and Carmichael. Take a few minutes to read the Moments of Algoma story for this area.
Bonus luxury item: a guided sea kayak tour of the Group of Seven's inspirational landscapes.
Where to stay: in Marathon, Lakeview Manor B&B or Marathon Harbour Inn.  In Terrace Bay, Drifters
With this, the Group of Seven's Algoma and Superior adventures come to a close. A true completist could continue west to Northwest Ontario, where Frank Johnston painted the beautiful Serenity, Lake of the Woods (1922, Winnipeg Art Gallery), and keep going all across western Canada
Wherever you're headed, the wealth of Group of Seven sources is nearly as bountiful as Canada's natural beauty itself. Follow in their footsteps to find your own inspiration.
Before you go
Check out date-specific experiences that will enrich your Group of Seven Tour. Book ahead to avoid disappointment.
Confirm hours and dates of operation, as many stops are seasonal.
Go to www.momentsofalgoma.ca to download the map of all of the interpretive panels along this route.
Read this list of strange facts you may not have known about the Group.
Pick up a DVD of Painted Land: In Search of the Group of Seven. It will set the stage for your in-person trip and fill in some gaps after.
Download road tunes! We recommend Canadian art-rockers Rheostatics' 1995 Music Inspired by the Group of Seven, Glenn Gould's 1981 interpretation of Bach's Goldberg Variations (influenced by the time he spent in Algoma often between 1967 and 1975), and Gordon Lightfoot's "The Wreck of the Edmund Fitzgerald," telling the true story of the wrath of Lake Superior in November 1975.