ATVing the Kawarthas
With over 250 km of varied trails, the Kawartha ATV Association welcomes every kind of rider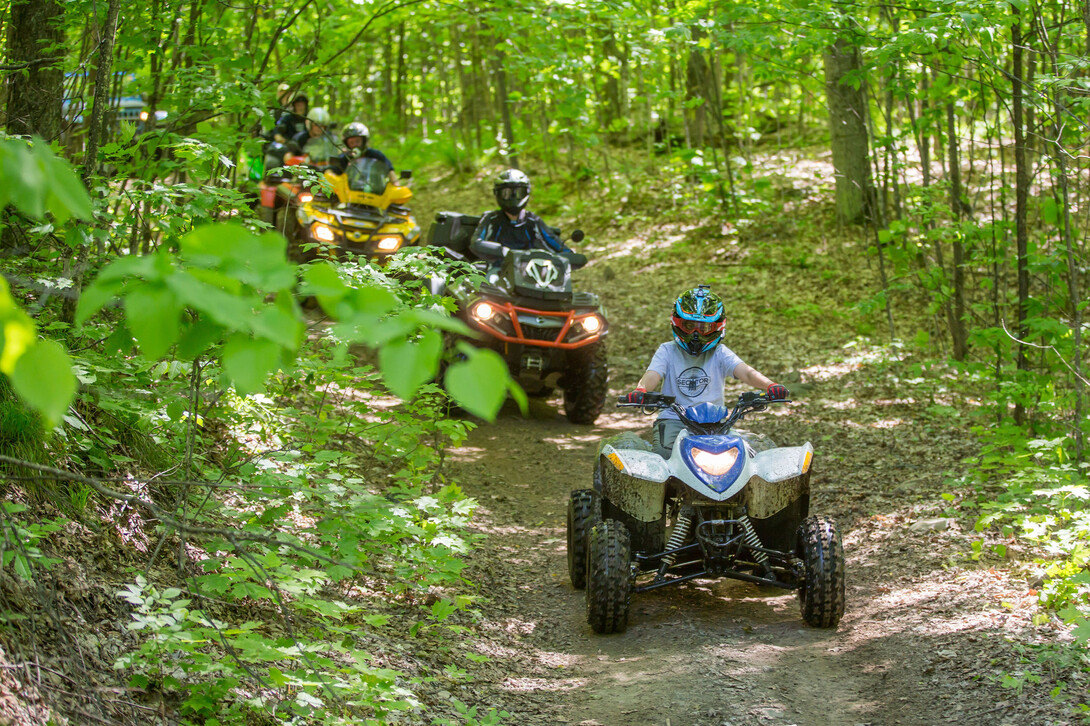 Lakeside rides, muddy rock climbs and rustic rail beds span the expansive ATV trail system in the Kawarthas region. The largest multi-use system within 90 minutes of the Greater Toronto Area, the Kawartha ATV Association's trails are a favourite of locals and visiting riders of all levels out for a day trip or a long weekend escape from the city.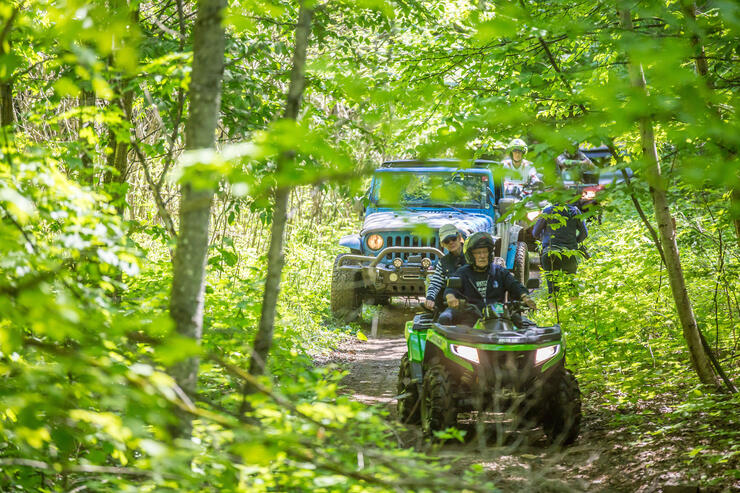 Covering an area that stretches through Peterborough and Kawartha Lakes to the village of Kinmount in the north, the Kawarthas region offers a northern Canadian wilderness experience optimized for ATV riders, with plenty of friendly accommodations, restaurants, and historic sites along the way.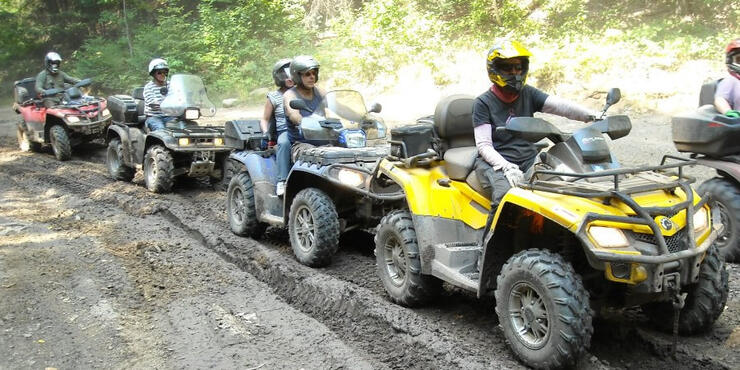 Ride with the Kawartha ATV Association 
In 2013, Kawartha ATV Association president Carolyn Richards set our to renew the KATVA brand to better represent the association's varied members. Once a small club known as the Kawartha Trail Riders, the not-for-profit, volunteer-run KATVA has grown to over 1,600 members, now the largest club in Ontario. 
"I saw such potential to turn this association into something bigger than it was," says Richards. "We have the most amazing trail system here—it really markets itself. I wanted to change a common perception that ATV clubs were just full of good 'ol boys, when the truth is that KATVA is environmentally conscious, family-oriented, and welcoming to women riders. That's just who we are."
A comprehensive website, strong social media presence, and group rides that encourage a diversity of riders to come out on the Kawarthas trails encouraged the leap in membership. "The sport itself has grown in the past several years," explains Richards, "but we really brought membership up by changing our image and reaching out. We're an incredibly social group."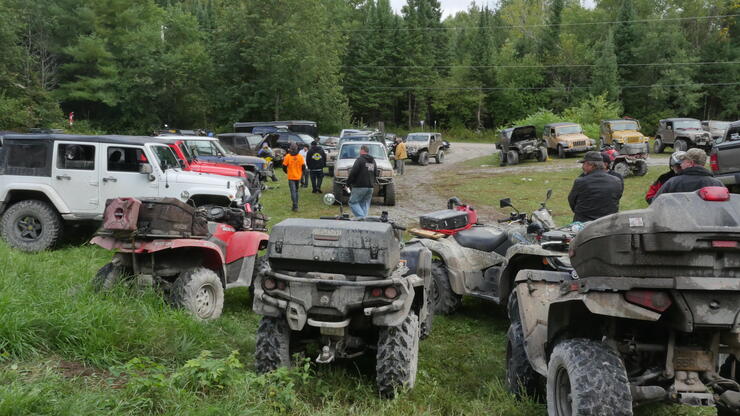 KATVA group rides offer an opportunity for locals, seasonal residents and visitors to get to know the trails together and go exploring. "One of the biggest things I've learned with KATVA is that people want to belong to something, so we give them a community to belong to and be proud of," says Richards. 
Currently, 40% of KATVA members live locally, while 60% are visitors. "The locals embrace that and are happy to see people using and taking care of the trails," says Richards, adding: "We want our members to feel a sense of ownership and pride in our trail system, so if they see something wrong they either report it to us or address it themselves, like clearing a tree off the trail. It's their trail system too; they're not just paying for membership so they can go for a ride."
In 2019, the KATVA took that sense of ownership literally and purchased a 104-acre section of the Five Points System for its members. "We're the only trail system in Ontario that's done that," says Richards, adding that anyone can use the trails, not only ATV riders. "These are some of the most sought-after trails in the area because they're at a key intersection, close to a lake and appreciated by everyone from ATVers to hikers, cyclists, and horse riders." 
Trails for every rider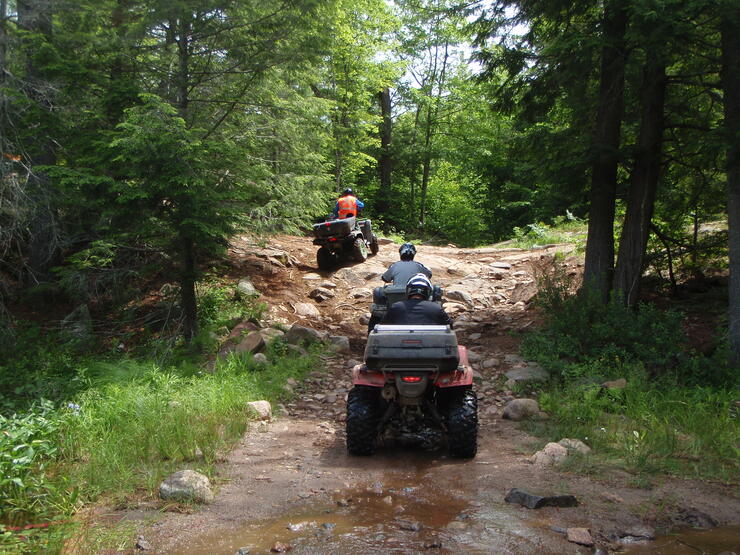 Located at the edge of the Canadian Shield, the Kawartha ATV Association's trails benefit from a variety of northern Canadian geography and scenic routes. Ranging from railway bed rides to dense forest tracts and granite rock climbs, there's a trail for every level of ATVer. 
As part of its mandate, the KATVA maintains all trail systems in the area not only for safety but with respect to responsible use and environmental preservation. "We have guides out there who are stewards of the trail. We protect the existing trails, wetlands, and water crossing, keep the trails free of motorized vehicles during April's wet season, and put signs up in certain areas to communicate that the lands are sensitive."
Certainly, the association hasn't forgotten about riders who prioritize mud and rocks, though. "We definitely maintain those features too, just not in active bodies of water like lakes and swamps," explains Richards. "We've got mudholes you need a machine snorkel to ride through. You can ride for three days and not see the same trail twice."
On top of riding the Kawarthas region, anyone who purchases a KATVA pass or permit has automatic access to ATV trails in the regions of Muskoka, Madawaska and Haliburton County, as well as the Algonquin West ATV Club, Lake of Bays ATV Club and Quad Niagara ATV Club areas. 
Sights to see and places to stay
Several trails in the Kawarthas area have historic connections, especially the railway beds that used to link communities by trains carrying goods of all kinds. Small towns dot the region as well, featuring their own historic sites—such as the Olde Gaol Museum in Lindsay, the Austin Sawmill and Model Railway and Museum in Kinmount, and the Horseless Carriage Museum and Mayboro Lodge Museum in Fenelon Falls. Fill up at restaurants there and in the communities of Stoney, Buckhorn, Chemong, Sturgeon, Lindsay, and Bobcaygeon, where you'll also find the Kawartha Settlers Village and Boyd Heritage Museum.
Many trails in the region start in the ATV-friendly town of Fenelon Falls, where the rail bed runs from the beach all the way up to Kinmount, offering a beautiful view of the lake along the way. (Kinmount loves ATV riders and snowmobilers enough that they built a parking lot in the middle of town specifically dedicated to them, no cars allowed.) ATVers can rent cottages right on the trail, or take the trail further north to popular Log Chateau Park campground and trailer park. If you're in need of the comforts of a bed-and-breakfast or hotel, you'll find them in Kawartha towns as well.

Along the trail in the Somerville Tract (three multi-terrain loops located in 3,420 hectares of the Victoria County Forest, just west of Kinmount), riders often search out the old boiler from a long-gone sawmill in the middle of the bush. And on every trail, you're likely to spot wildlife: bears, deer, moose, and coyotes traverse the area.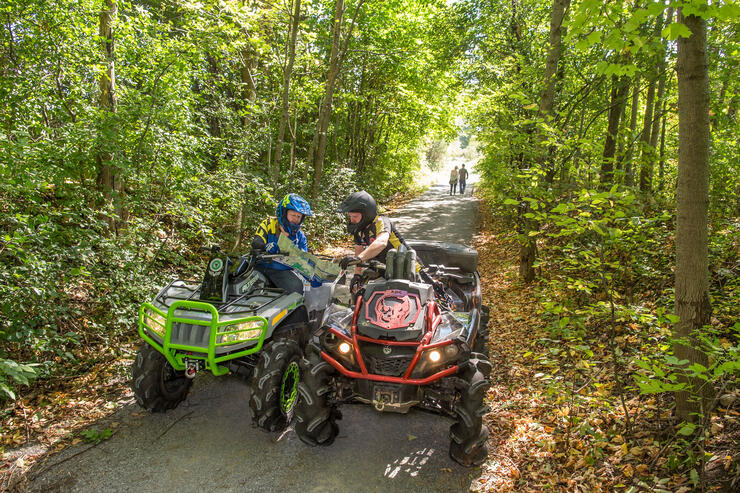 Even if you don't encounter wildlife, no matter what trail you take in the Kawartha ATV Association trail system, you'll likely meet a friendly fellow rider along the way.
Check out our series on Ontario's best ATV trails: