VIDEO: The Mattawa Multi-Moto Mashup
No matter what your favourite motorsport, Mattawa has something for you! Read about its wealth of options below.
There must be something in the water. How else did Mattawa, situated at that mystical place where the Ottawa and Mattawa rivers meet, become one of the world's truly great motorsports destinations?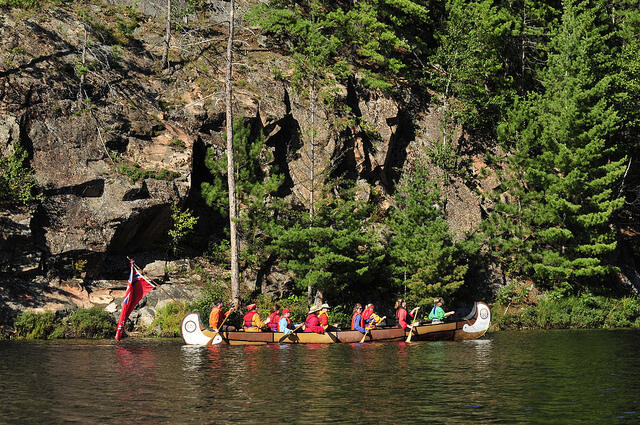 The region has always been about adventure and discovery—for First Nations like the Ojibwa, and later for the Voyageurs, Mattawa was a kind of major highway interchange and one of the places where Canada was born. Though you'll still find canoes and quiet trail rides here, if you're looking for the spirit of Canada's earliest explorers, seek out the grunt of high horsepower. Thanks to the natural diversity of the region, some very forward thinking and dedicated volunteers, and a real culture of motorsport adventure, Mattawa's Voyageur Country has emerged as a motorsports Mecca—all forms of motorized transport are welcome.
That's the gist of the Mattawa motorized experience: getting outside your comfort zone, tackling all challenges, and using whatever kind of vehicle you can. On land, liquid, snow, sand, or in the mud; be it on an ATV, Motorcycle, PWC, snowmobile, or whatever—Mattawa is where you'll find it. Take a look at this four-season mashup video we put together chasing after that spirit:
Wherever What A Ride goes looking for adventure, we run into people who want to talk about Mattawa—either to recount an adventure or who want to know what it's all about. Because the area is only three and a half hours from Toronto (about the same distance from Ottawa), we've been back every season, and always leave wanting more. Mattawa is a kind of spiritual home of What A Ride: motorized adventure of every kind imaginable.
Here's our round-up of what Mattawa offers:  
1-ATV / Dirt Bike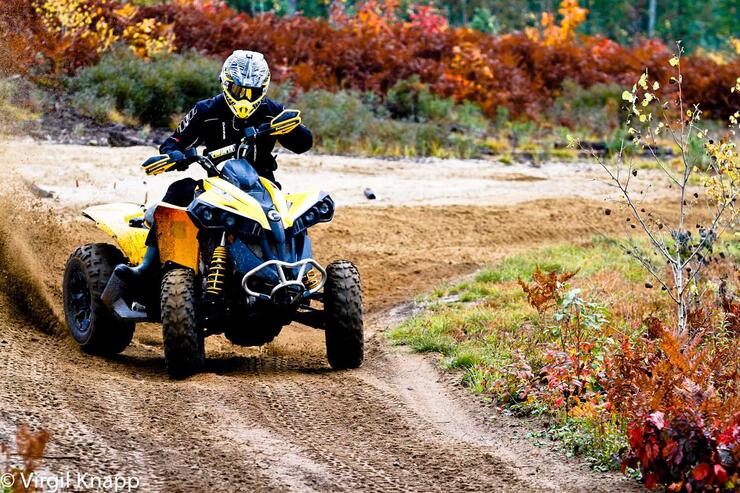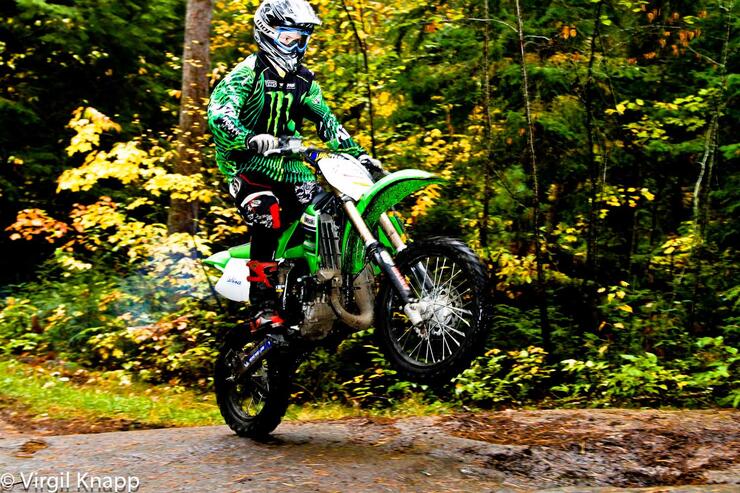 Mattawa is home to the world renowned Voyageur Mutli-Use Trail System: 300 km of signed, marked, and mapped trails weaving together scenic spots like the Bird's Eye View, Redbridge Lookout, and Mica Mine. The VMUTS Trail system also has camping spots, on trail shelters, and washrooms. The trails are connected directly to the Town of Mattawa where you can ride right to local businesses for food and fuel. 
Over the last few years, the VMUTS trail system has hosted media from around the world including delegations from:
Motorcycle.com: Dirt Biking in the Shadow of the Laurentian Mountains  
ATV.com: Exploring Mattawa's Multi Use Trail System
Sea You Soon Travel: ATV'ing in Mattawa 
and
Going Nomadic: ATV and Art
who all raved about the adventures they had. 
Professional ATV Racer Mark Freeman gets it exactly right: "These trails are like snowmobile trails: you could go forever."
The Trail system here is popular amongst YouTube producers such as Rex 4x4 and Graham Adams of Litmmpro – if you're considering going for a ride be sure to check out some of their experiences on the trail system here. 
2 – PWC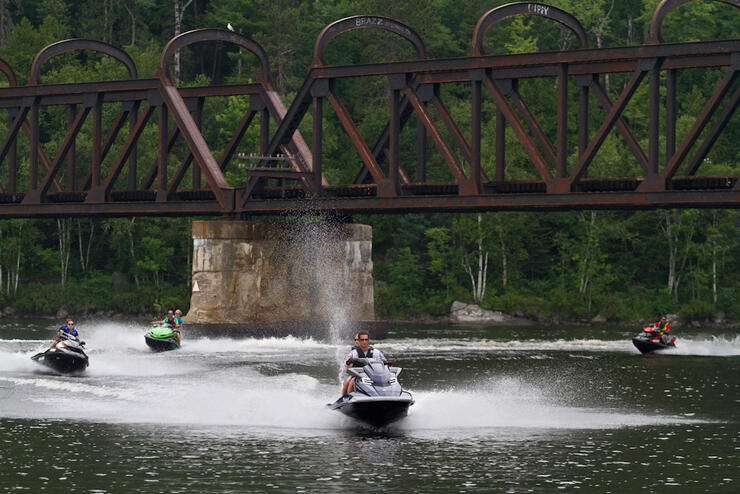 Back in the 1600s, when Samuel De Champlain first voyaged northward in his canoe up the Ottawa River, he would have never imagined that some 400 years later, the same route would be completed by 250+hp jet powered personal watercraft. Although transportation technology has improved greatly over the last 400 years, the shorelines and scenery along the Ottawa River to Mattawa is much the same as when the Voyageurs first paddled northward. 
Craig Nicholson has tackled this epic voyage on a PWC and is totally clear about it: "This is a must-ride PWC destination. The Ottawa River ride will make some of your finest PWC memories!" 
3 -  King of the North Dragway & Event Park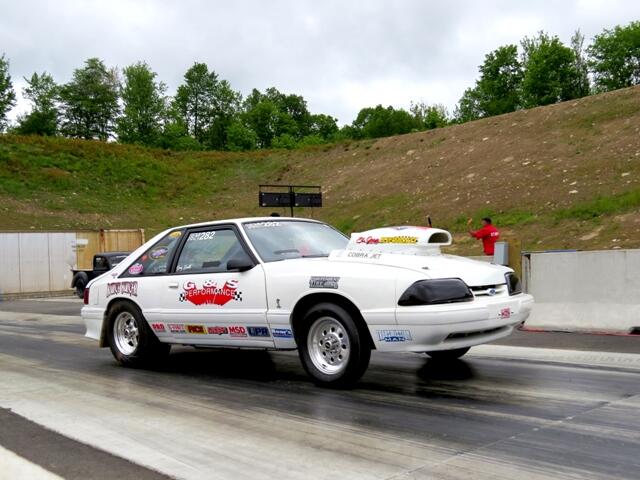 The only facility of its kind in Northern Ontario, King of the North Dragway and Event Park is situated on over 200 acres in Bonfield, a short 15-minute drive from the City of North Bay and Highway 11. The newly opened National Hot Road Racing Association approved Dragway and Event Park is a motorsports haven. The facility is northern themed and includes private, tree-lined RV & trailer camping sites, a full beer garden/concession stand, and spectacular seating on the permanently constructed built-in grandstands. Above the stands, fans can enjoy a beverage in the beer garden or relax at one of the many picnic tables that offer a superb view of the race track.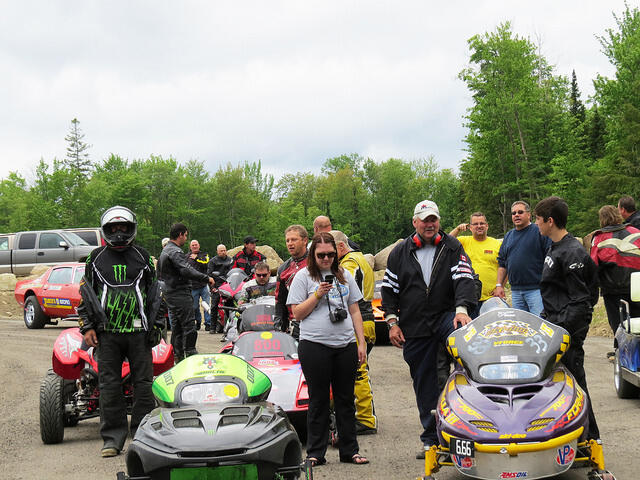 Be sure to check out the full KOTN Schedule, times, ticket prices and more details at www.kingofthenorthdragway.com 
4 – Motorcycle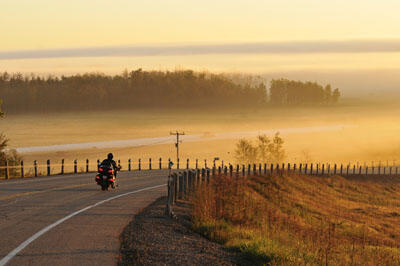 Lake Temiskaming Motorcycle Tour. Vicki Gray completed this route and stayed locally at the comfortable, welcoming, and bike-friendly Cedar Gables Lodge. She writes, "I climbed into the high, four poster bed and fell fast asleep to the serenade of the Cedar Gables own cricket orchestra." 
Other popular routes include riding down highway 630 to historic Kiosk, the northernmost entry point to Algonquin Provincial Park. A few years ago we toured this highway while attending Mattawa Voyageur Days on our epic Northern Ontario Road Trip. Highway 630 is a great side adventure when completing the Round Algonquin Park Motorcycle Tour. 
5 – Snowmobile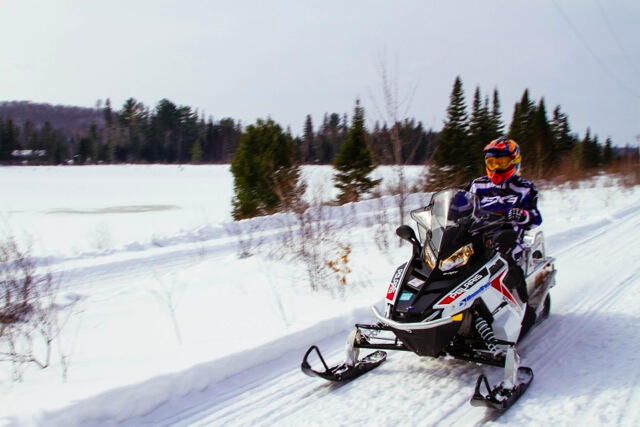 Home to the Bonfield, Mattawa, and North Bay Snowmobile Clubs, this area boasts some of the most consistent trail conditions in the province. In our snowmobile travels—including during the production of "This is Winter" and "Ontario's Oldest, and Possibly Best, Snowmobile Loop Tour – The Round Algonquin Park (RAP) Tour"—we experienced an amazing array of terrain and scenery. The Northern edge of Algonquin Park is dotted with towering white pines and 'double wide' groomed trails that meander up and down hills through the ancient forest. It honestly feels like you are riding a white carpet that has been placed just for you and your snowmobile. Notable stops include the Boulter Scenic View and the Amble Du Fond river crossing.
North of the Mattawa River in the Laurentian foothills is another must-ride: if there was a definition of what a perfect snowmobile trail would be, this would be it. Be sure to stop and check out the giant statue of Big Joe Muffraw, the Mica Mine, and Redbridge Lookout.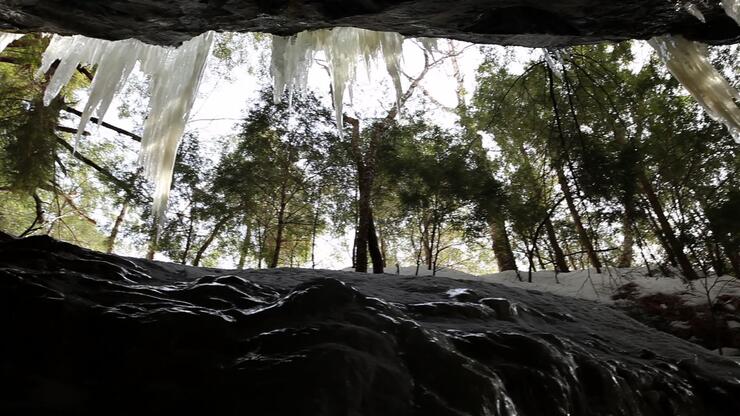 This past winter, Jess Kline rode the area and said: "Nothing can match the beauty of the sparkling snow, the winding landscape, the trees, and that fresh, clean smell. You know, that smell that they try to capture in a bottle of laundry detergent? It doesn't even compare to being there in the flesh."  Check out the full article on her backwoods northern Ontario adventure here.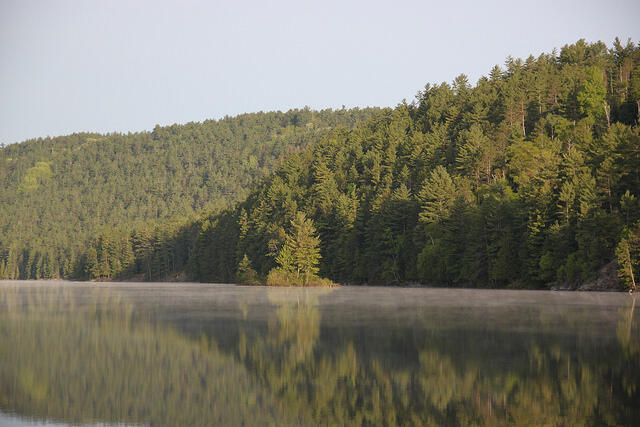 At What A Ride, we are always exploring new rides, new areas, and new experiences. The Mattawa-Bonfiled area delivers each and every time in a new way we never thought possible. The riding experience is second to none, the diversity of motorsports activities is unparalleled and local businesses like Cedar Gables Lodge, Le Voyageur Inn, Mattawa Adventure Camp, Mattawa Golf and Ski Resort and Valois Hotel welcome you with a smile and are always eager to ask "how was your ride today?" 
PS… You have to try the panzerotti at Myrts Family Restaurant!