A MAGS-nificent ATV Tour in Mattawa Voyageur Country
Searching for her next epic ATV adventure, writer and photographer Heidi Csernak goes to Mattawa.

I was overflowing with excitement for my ATVing tour date with Richard Pentiluk, my guide and the owner of MAGS: Mattawa ATV Guide Service. We were to ride a portion of VMUTS, the Voyageur Multi-Use Trail System, on the north side of the Mattawa River, sticking to the easy routes and moderate difficulty trails as this would only be my second time ATVing.
I wish I had the financial flexibility to own a 4x4 and be able to go out for a rip whenever the mood strikes, but with all my other outdoor adventure addictions, I need to draw the line somewhere! So, when Northeastern Ontario discovered my intense love for motorsports and interest in ATVing in Mattawa Voyageur Country, they didn't hesitate to set me up for the experience—from the tour with MAGS to hosted accommodations at Mattawa Adventure Camp.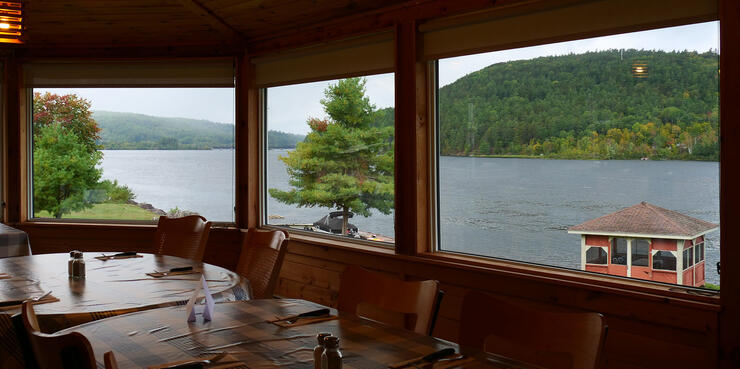 I talked up a storm about my upcoming adventure with everyone who asked—and didn't ask—and I was so wound up that I had trouble settling down at my base of exploration. I hardly slept a wink the night before my tour, tossing and turning from midnight through the wee morning hours, even though the bed was just about as comfortable as my memory foam at home. 
Despite the difficulty in falling asleep, I felt well rested and would be ready for my big day—after breakfast, that is. My hosts, Claire and Wim, made sure I started my morning with an epic buffet alongside two other groups of ATVers at Mattawa Adventure Camp's dining area.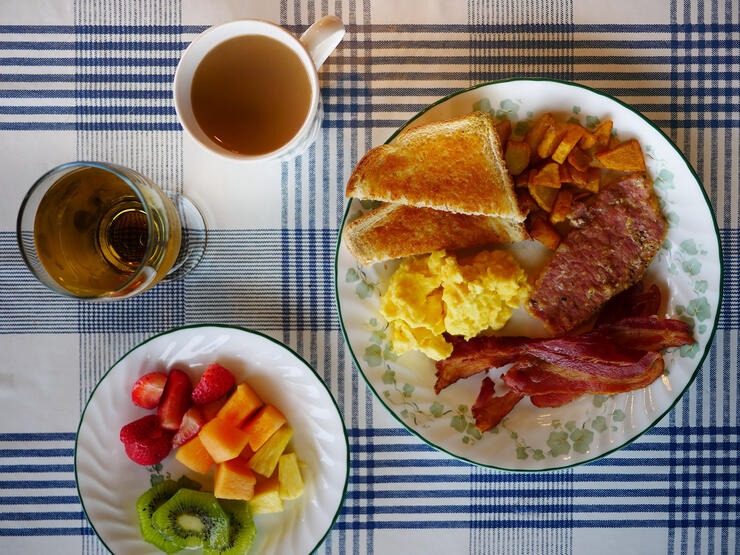 Chatting with a seasoned group staying at the Geranium Cottage, I found out they've been ATVing together for 17 years! It was their first time riding the VMUTS, and they were just as excited as I was to get out and explore.
We all agreed that Mattawa Adventure Camp was ideal for ATVers and snowmobilers. They could park their machines in front of their cabin (or motel rooms) and access VMUTS directly with the connecting trail leading from the family-owned four-season accommodations.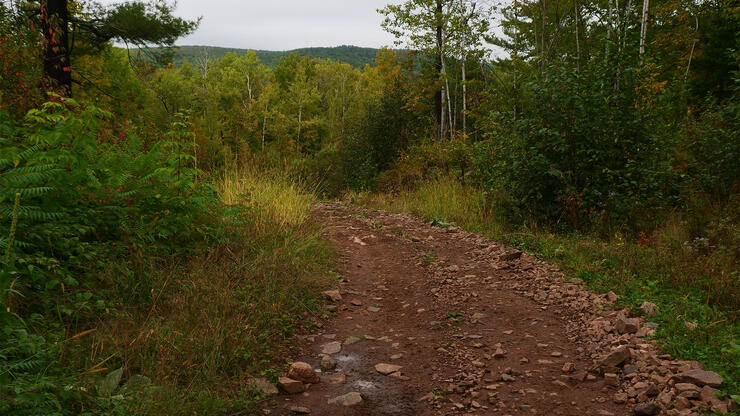 In the days leading up to the tour, storms chased the sun from Mattawa Voyageur Country, dumping inches of rain with every downpour. However, it seemed like there would be a break from the constant deluge that plagued the region much of the week prior. 
I wondered what was in my forecast because the morning was warm for a fall day, with sunlight streaming through the dark clouds, but it could all change without notice. With a 30% chance of rain, I couldn't count on all-day sunshine and would dress warmly, readying myself for anything coming my way.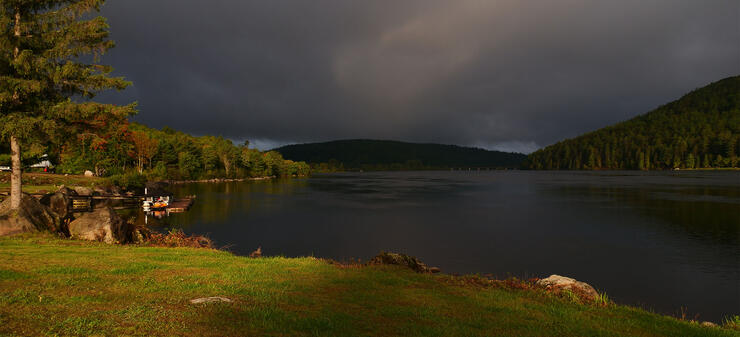 If the day turned wet and sloppy, I was dressed in my best water-resistant gear in anticipation of rain, splashing through big puddles and muddy terrain. I was topped off with my favourite wicking fleece sweater to keep me dry, paired with a neck gaiter and beanie to ward off the cool breeze. My leather boots were freshly polished, too, so my feet would stay warm and toasty.
With three spare batteries and a fully charged GoPro, I'd be able to record at least half of our ride, no matter the weather. Plus, I had a small camera (in a dry bag) for quick access when we stopped at scenic spots along the trail.  I hoped the rain would hold off when I reached the lookouts. Now, that wasn't too much to ask for, was it?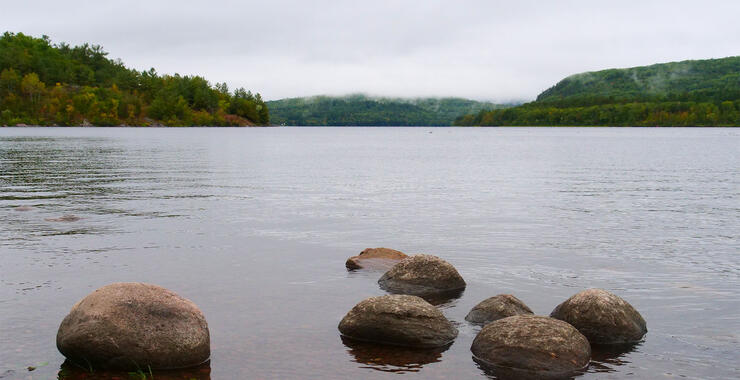 MAGS: Mattawa ATV Guide Service
When I reached MAGS and met Richard, the dark skies had rolled in, threatening the few rays of light shining down, but I had stopped caring about the forecast because it didn't matter. I was pumped and ready for anything.
There would be three others coming on the tour—locals Brad, Dustin, and Fab were joining us and riding their motocross bikes and a two-cycle ATV. Richard had thoughtfully asked them to bring up the rear as I was the only inexperienced person on the tour, and there was safety in numbers.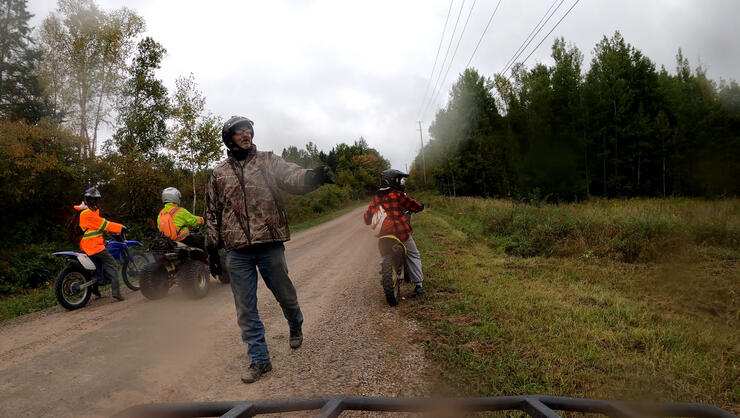 Richard's plan for the tour was simple - we'd head north of Mattawa on Route 533 to the forest access road trailhead, riding sandy trails to Olrig Road, the speediest way to one of the farthest points in the VMUTS. Then we'd have the rest of the day to slowly weave between scenic lookouts and fun trails on our way back to Mattawa on the full-day tour.
Not only did Richard know about some beautiful vistas along the trail, but he knew where all the vault toilets were and worked them into our route so I'd have ample opportunities to relieve myself. These multiple rest stops were a welcome convenience and a backcountry luxury because I always bring my own TP and hand sanitizer!

I followed Richard down Olrig Road and sped along at almost 50 km/h. I was instantly thankful for the overnight rains as the damp earth kept the dust to an almost non-existent level on our ride. I always steam up my goggles, so I considered this wet day optimal weather for a glass-less ride.
We ate up 24 km of bush road in no time before pulling off on VMUTS 21 for the quickest route to the first lookout that Richard had planned for the tour.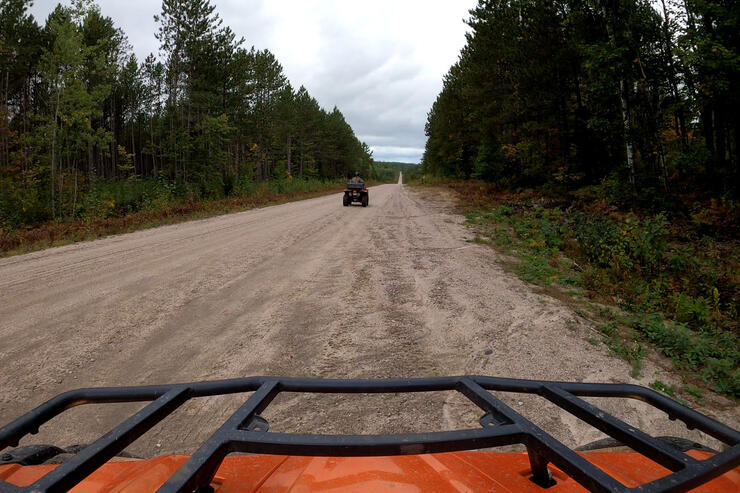 Going Uphill to the Redbridge Lookout
Richard knew the trails well and assured me that if I followed his tracks, he'd guide me around rocks and past obstacles so I wouldn't get stuck. Before we started our ascent, he had one crucial lesson: I should never hesitate when climbing uphill. I should approach with confidence, constant speed and that under no circumstances should I ever stop on the incline.
I held steady as we rode higher, climbing to our first vantage point over the landscape: the Redbridge Lookout. As we stood high above the landscape, the sun's few rays were blocked out by the clouds stacking up on the horizon, and the incoming storms hugged the mountaintops. 

The turn in the weather saddened the photographer in me—I'd have to rely on my GoPro for snapshots, but the adventurer in me revelled in the wet conditions. Why? Because I could fully engage in the experience, immersing myself in the tour rather than looking for photo ops on the trail.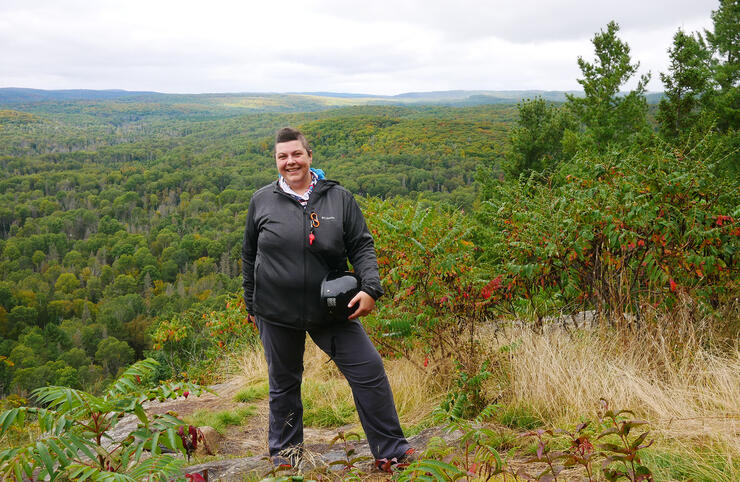 Along the Powerlines on VMUTS 36
After enjoying the view at the Redbridge Lookout, we backtracked to Olrig Road, avoiding the high-difficulty routes in favour of connecting to more bush roads and moderate-level tracks more appropriate to my skill level.
The rain started coming down in earnest as we rode south on the VMUTS 10, heading towards VMUTS 36—along the powerlines to the viewpoint over Cahill Lake. Water droplets clung to everything, and unbeknownst to me, my GoPro's lens misted over during the ride, so my captures felt a little more moody—and blurry.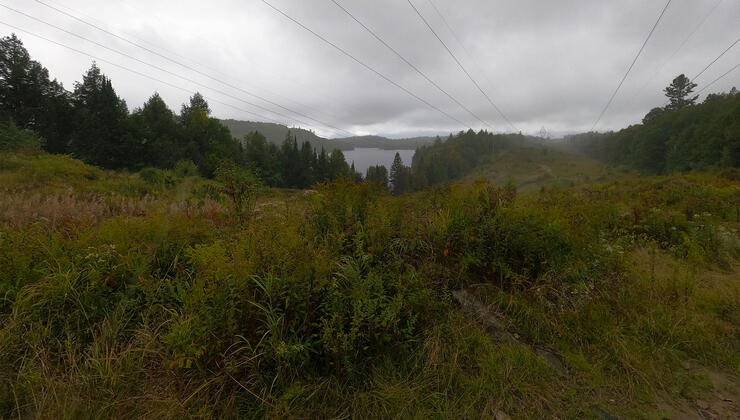 What struck me was the ever-changing views—we rode through Red Pine forests, past waist-high ferns, wetlands and marshlands. We drove over sandy trails, dirt roads, and rocky tracks, over boulders and straddled washouts. Through it all, we'd catch glimpses of the majestic mountains through the trees, reminding me how far uphill (and down) we were riding.

As we passed through the northern landscapes, I kept my eyes on the trail, looking for every chance to get as muddy as possible. Water splashed over my ATV, leaving my machine caked in dirt everywhere but my seat and the silhouette of my legs. Every puddle I hit made me giggle, and the bigger the splashes, the wider my smile became.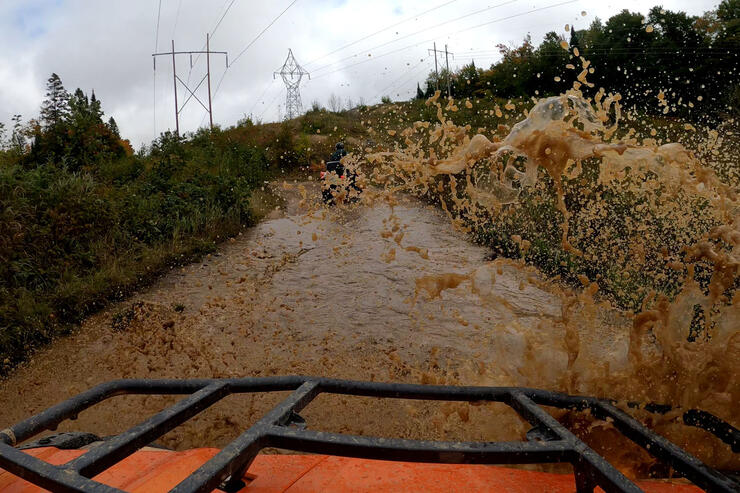 The Purdy Mica Mine
The next destination was the Purdy Mica Mine on the VMUTS 15. How close we were to the location was beyond me due to my lack of familiarity with the ATVing routes - even the ground glittering with mica on our approach didn't clue me in.
I didn't know we'd arrived at a point of interest because I was so focused on trail riding. It took me a few minutes after we stopped to spot the mine's entrance—seeing it was a surprise!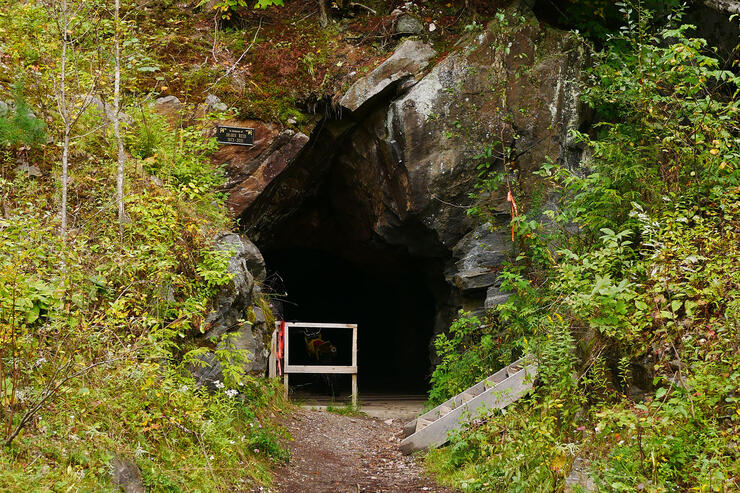 We broke out the headlamps and walked into the dark and damp tunnel.  The temperature dipped noticeably by at least a few degrees as I entered the mouth of the cave, and moisture dripped from the stones into pools of water that had filled the deeper shafts. 
A small set of stairs outside the tunnel's mouth brought me up to a massive split in the rocks, providing an alternate view of the water. The pond's surface was very still and held perfect reflections of the moss-covered boulders rising from the ground.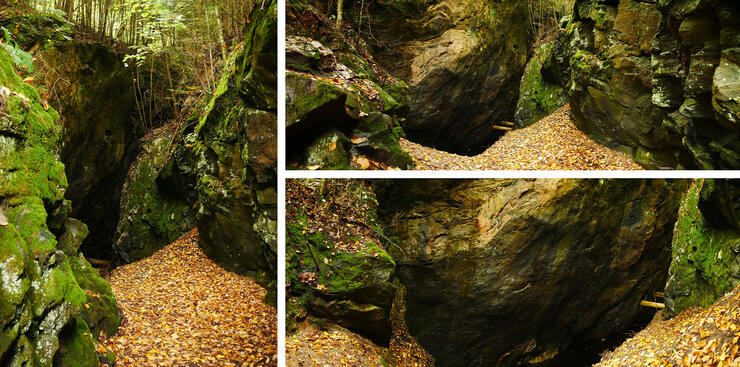 Nearing the End of the Tour at Kearney Lake
Our second to last stop was the scenic Kearney Lake and the waterfront campground. I couldn't help but imagine riding to this spot and making camp by the lakeside.
I stood on the beach, taking a few moments to reflect on all the trail riding so far, knowing the day would wrap up soon. While I soaked it all in, my riding partners drove loops around the campground before taking a break, as well. Eventually, we all mounted our machines and headed off on VMUTS 15.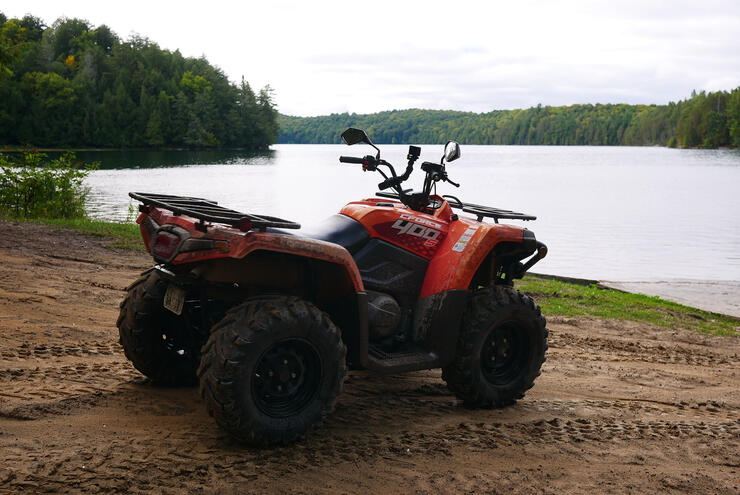 By the time we reached the last lookout of the tour—the Bird's Eye View, the rains had stopped, and the overcast skies turned into fluffy marshmallows as the sun broke through the clouds.
We stood on the viewing platform, looking south over Mattawa River Valley, and I felt breathless—like I had trekked all day just to stand on top of the world. The adrenaline that had coursed through my veins for most of the day was starting to dissipate, and my mind was finally acknowledging the work my body had done for hours on end—and it was all so very worth the effort.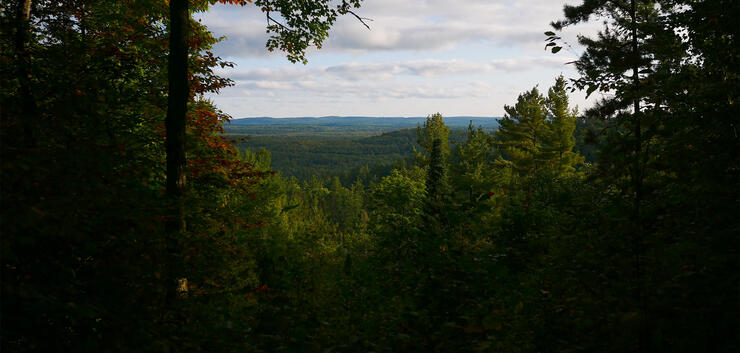 We rode back on VMUTS 11 to 75, coming out on Moosehead Road, and with every passing km, my body was increasingly letting me that we'd had a physically demanding day.
My calves and thighs were on fire from gripping the ATV like I was riding a horse, my backend was sore, and underused muscles I didn't know existed had started to burn. My wrist and thumb had grown numb from pressing the gas trigger, but I didn't care because I felt so alive.
As the end of the tour drew to a close, it felt bittersweet, but I had no regrets. We'd had a full day, and when we reached MAGS, the sun was an hour from fully setting.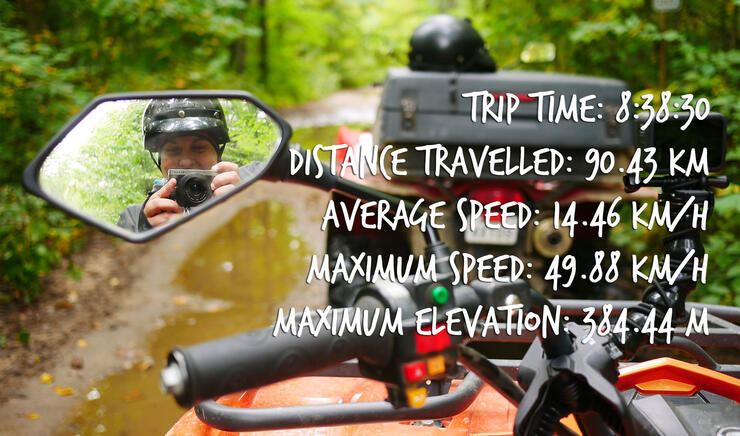 After saying my goodbyes and giving a million thanks to Richard, I left MAGS and returned to Mattawa Adventure Camp. Walking towards the bright lights of the dining room in the gathering darkness felt warm and inviting. Claire and Wim knew I would be late returning to camp, so they kept the dinner buffet hot in anticipation of my arrival.
I was thankful for that as my appetite was starting to dominate all thoughts.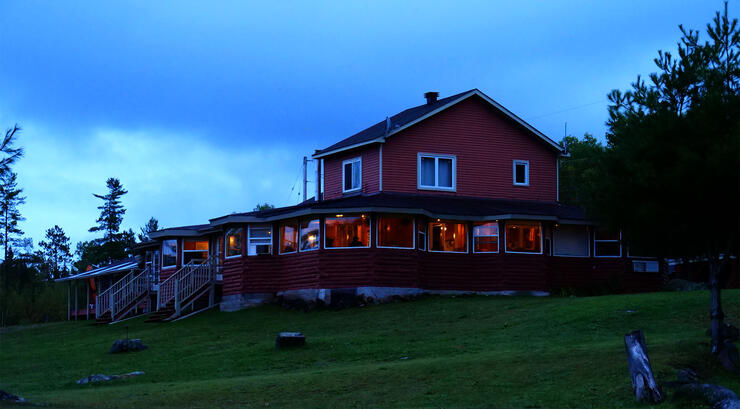 Your buffet dinner's serving time is prearranged, so each group coming to dine is staggered, thus preventing a pile-up of people waiting to eat all at once.
I slowly devoured the tender chicken topped with gravy, the vegetables covered with a buttery sauce and used my mashed potatoes to soak up the drippings. I relished every bite of deviled eggs and caesar salad. There wasn't a crumb left behind with a bun to wipe up my plate.
There's nothing like a tasty homemade meal to warm the belly after a long day in the cold drizzle.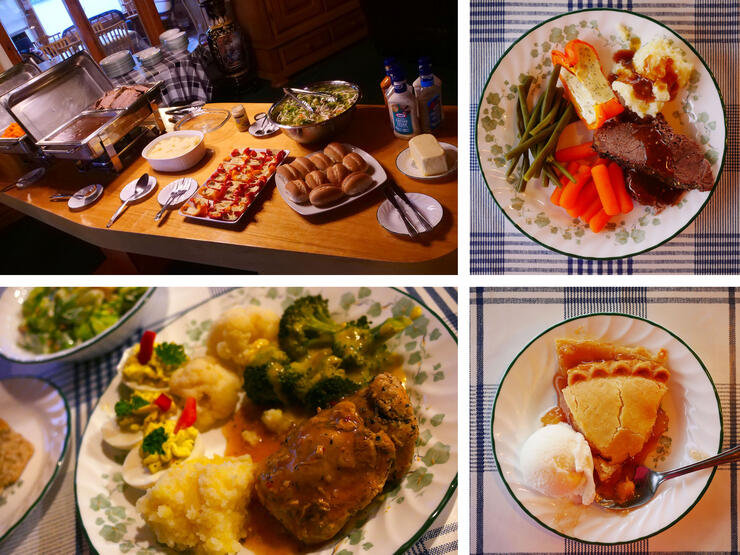 After I finished my meal, the sun had set behind the mountains; its last rays pierced through the cloud cover, leaving a little pink glow in the sky. The colours lasted long enough for a few photos, but I didn't spend too much time shooting photos—thoughts of relaxing in the Jacuzzi started to trickle in.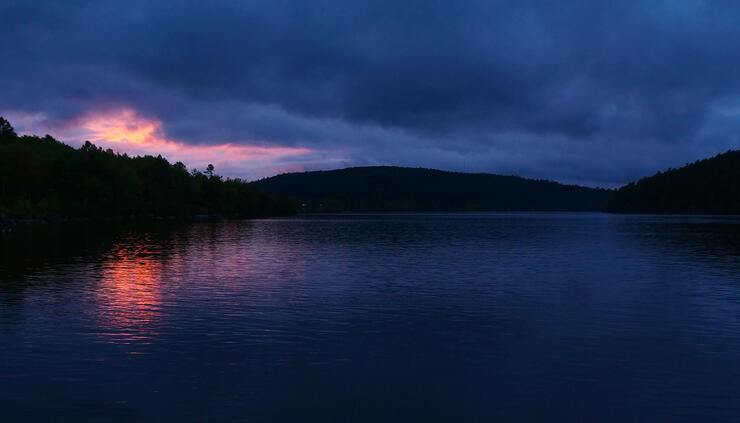 After a rejuvenating soak in the tub, I settled in bed to watch a movie but fell asleep before the first commercial even played. I dreamt vividly of riding the trails and splashing through mud puddles.
When I woke up the following day, I could only think about telling everyone about my wonderful time ATVing with Richard and staying at Mattawa Adventure Camp. I commiserated with the ATVers staying in the Geranium Cottage that our respective adventures were ending too soon.
After the second ride of my life—and their 17th year ATVing as a group—we all agreed we'd be coming back to stay at Mattawa Adventure Camp and ride the VMUTS. And next time, I'd bring my husband on a guided tour with Richard, for his first ATVing experience.