Confessions of a First Time ATV Rider: Mattawa Voyageur Multi Use Trails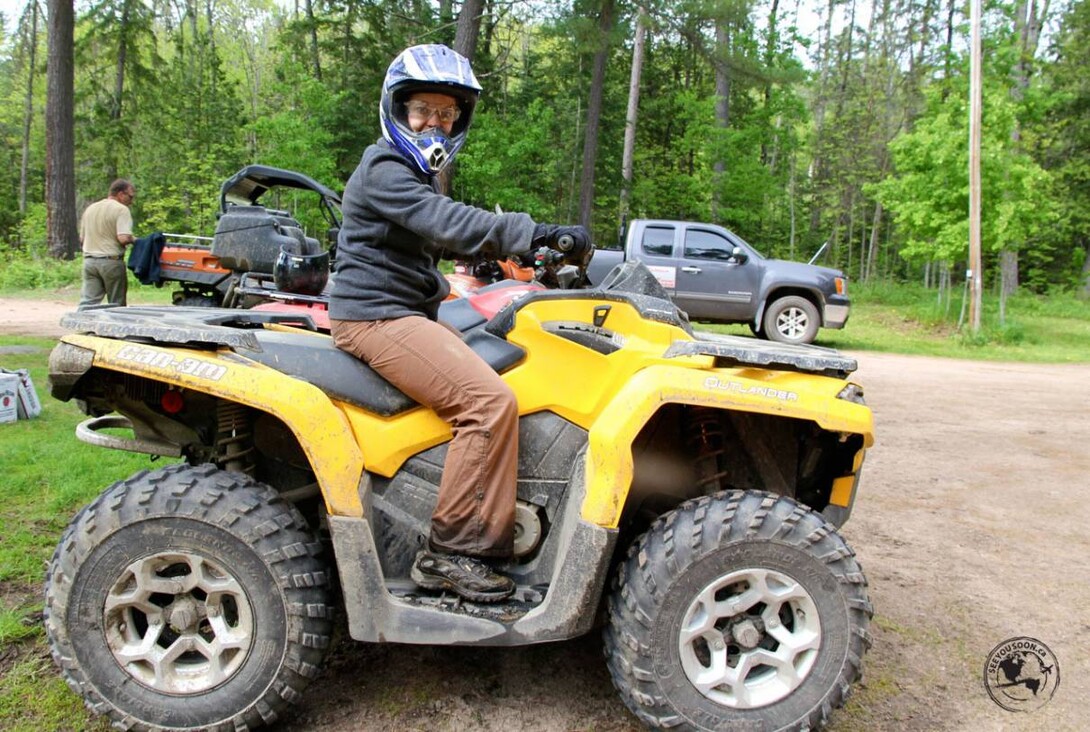 Thrilling, muddy, fast-paced, exciting…addictive.
Those are the best words to describe my experience ATV riding for the first time in Mattawa, Ontario.
Located in Northeastern Ontario, where the Mattawa and Ottawa rivers meet, Mattawa is full of adventure, history, and local artists to attract any type of traveler. Taking full advantage of the surrounding wilderness, the area is a playground for outdoor enthusiasts with activities such as boating, hiking, snowmobiling, and fishing to enjoy. But as I found out first-hand, the most popular activity in the region, and for good reason, is ATV riding.
Tucked away between evergreen and maple trees, rivers and lakes, is the Voyageur Multi-Use Trail System (VMUTS for short). With over 200km of signed, marked and mapped trails (and 1000 more kilometers of unmarked trails in the area), the system branches out like a spider web with Mattawa as one of its main entrance points.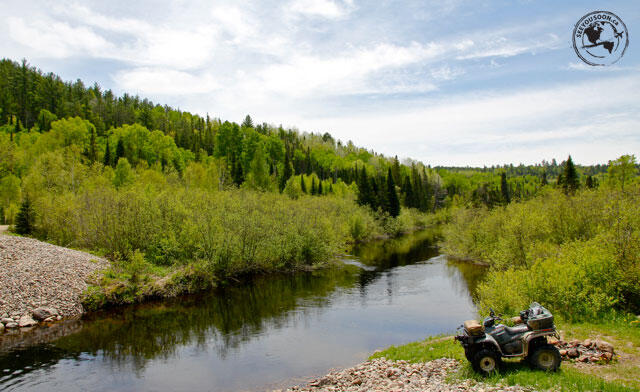 For the first time ATV rider, this trail system is perfect. It allows you the opportunity to get comfortable with the bike on sandy, flat terrain, and challenges you with some rocky, rugged terrain, while allowing you to let loose and have fun with large puddles and mud holes.
Never one to shy away from a new experience, the opportunity of ATV riding presented itself and my adventurous spirit knew I'd have a blast. 
I loved the thrill of it all, zooming along the paths, careening around the corners, wind in my face, and even traveling full speed through the mud holes. Check out the video below for to see what our day on the trail was like.
When I came back from the full day of riding, my thumb was aching, I was covered in mud, I smelled of bug spray and I had a huge grin plastered across my face. My first experience ATV riding was incredible and I was already thinking about when my next ride would be. Addictive indeed.
3 Tips From One First-Time ATV Rider to Another:
Be one with the throttle – the most difficult part of ATV riding for the first timer is getting the feel for the throttle. This touchy little trigger is very sensitive and if you're too aggressive with it you'll feel like you're riding a mechanical bull instead of an ATV.
This is not a fashion show – wear clothes you don't care about getting dirty, because half the fun of ATV riding is maneuvering through mud holes and plowing through puddles at full speed.
Don't be a speed demon – sure you might feel all badass zipping along the trails, wind cutting through your hair. But be mindful of your speed especially around corners and uneven terrain. This is your first time after all.
Adding to the entire experience was staying at Moosehead Estate and Retreat, a family run lodge located 4km from the Mattawa city centre and situated right on the water's edge of Lake Champlain. Steeped in history and exquisitely restored, Moosehead Estate provided a welcomed juxtaposition from the speed-riddled, adrenaline-pumping day.
Originally built in the early 1900s by Noah and Henry Timmins (for which the city of Timmins, Ontario is named after), Moosehead has had its share of interesting owners, including Bill MacBrien of Toronto Maple Leafs fame, and notable guests, including Mae West, Roy Rogers, Sass Jordan, Tom Cochran, and a bevy of Maple Leafs players during MacBrien's ownership.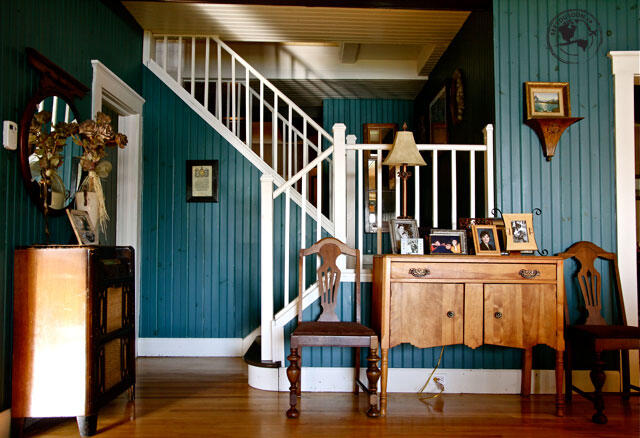 The current owners, Mel, Marc and their son Max, purchased the property in 2006 and spent 2 years completely gutting and restoring the building after the previous owner let it fall into ruins. Mel's particular love for all things antique is on full display throughout the house. Each room is uniquely decorated with careful consideration and family photos are sprinkled throughout the home. The building oozes charm and feels like a character from a 1920's set novel.
After riding all day, I plopped myself down on a couch in one of the screened-in porches, sank into the cushions, listened to the sound of the water lapping up against the shore, and gazed out as the sun was setting across the lake. Yeah, I could easily get used to this.
Oh, and the food! I could go on and on about Mel's home cooking, but let me just say it was stomach-bursting goodness. I wish I had a bigger stomach so I didn't have to stop consuming her mouth-watering dishes.
Another notable experience in the Mattawa region is the local art scene. Photographers and painters particularly find the region to be a creative stimulant and it's no more apparent than a visit to the Clermont Duval Art Gallery.  The gallery has been around for 20 years and showcases local artist Clermont Duval's work.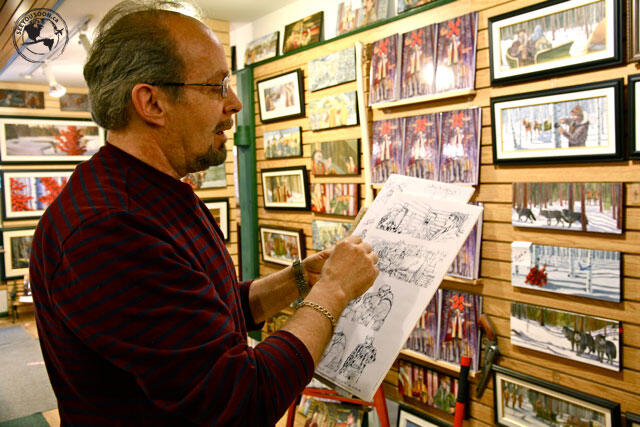 Duval draws his inspiration from the surrounding landscape, painting northern Ontario scenery, narrative pieces and ones he likes to call "magic paintings", where the complete painting doesn't reveal itself until you hold it up to the light.
I had the pleasure of meeting and speaking with Duval at his gallery just before leaving Mattawa. He talked about his current project, a graphic novel called "The Red Forest" in which he hand painted all 288 frames, scanned them into a computer and compiled the novel together. He's currently in the middle of putting together a follow up graphic novel called "The White Forest" to be released in 2015, and estimates it will contain 250 hand painted frames.
As Duval explained his inspirations and the stories behind some of works, his eyes would light up and I could hear his passion come through his voice. It was the perfect place to cap off a short visit to the region.
While the opportunity to experience ATV riding originally drew me to Mattawa, it was everything else combined that made this visit so memorable. From the moment I arrived, I felt completely welcomed, as if I were a family member being reunited after a long time away. I was awed by the landscape, enjoyed the adventure of exploring it by ATV, learned so much about the region's history and met an incredible artist. I already can't wait for my next visit to the area.