My Favourite Multi-Day ATV Trips in Ontario
Four outstanding destinations where you can get muddy, relax, sleep, get muddy, relax, sleep...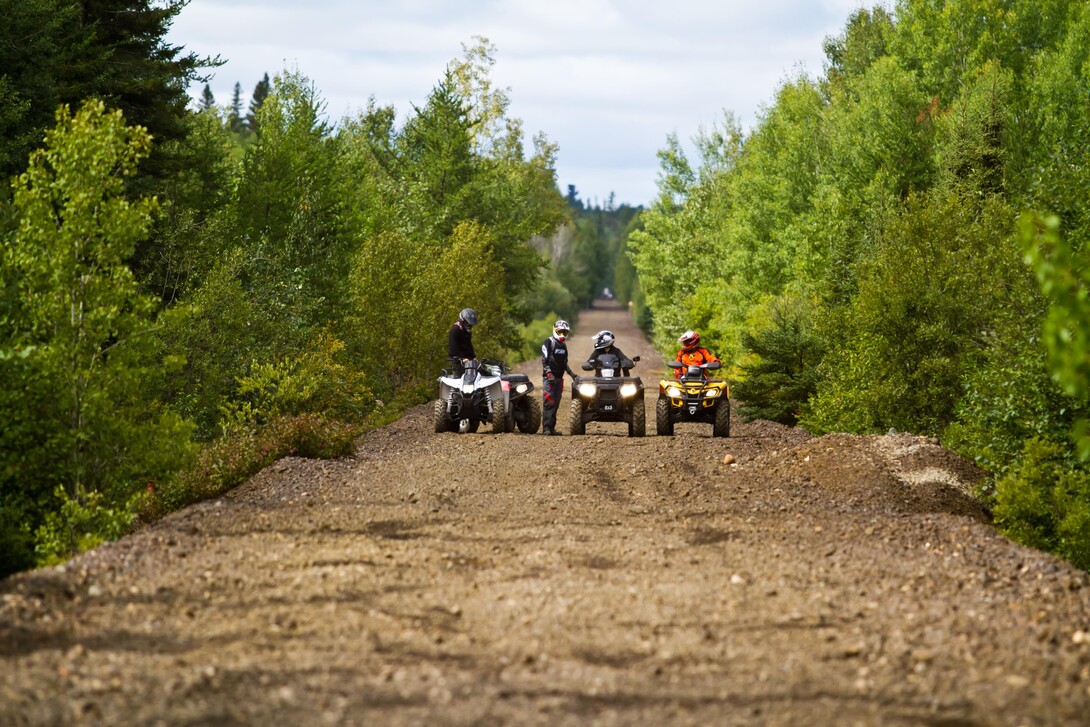 If you're looking to get some quality time on the trails, and make a real adventure of it, you're going to want to go somewhere new that's going to provide you with days worth of exploring. Anything less is just not worth loading the trailer for. 
When it comes to multi-day ATV trips in Ontario, these four places really deliver!
ATVing at the Adventure Lodge in Whitney, Ontario
My better half and I still talk about the trip we took to the town of Whitney, just outside the east gate of Algonquin Park, back in 2017. Central to the success of this trip was our stay at the Adventure Lodge. This resort is located within the largest managed, insured and mapped trail network in Ontario, thanks to the Haliburton ATV Club. Unless you're one of their members, you'll need to buy a 2-day or 1-week trail pass. It's also a good idea to purchase a map book (digital or printed), as their trail system is by far the biggest in Ontario at more than 1,700 kilometres, all readily available on their website.
We had an outstanding cabin with a hot tub right in the room, a real wood fireplace and a kitchenette. The perfect place to relax after a long day's ride. Included in the cost of the cabin, you get a gourmet breakfast and dinner. Making it easy to start the day with a fast but substantial breakfast before hitting the trails. And when you're all ridden out for the day, just stroll over to the dining room where the owners, Ken and Penny, will whip you up an outstanding dinner served to perfection! We really appreciated the hospitality at the Adventure Lodge—we were seriously spoiled on this trip!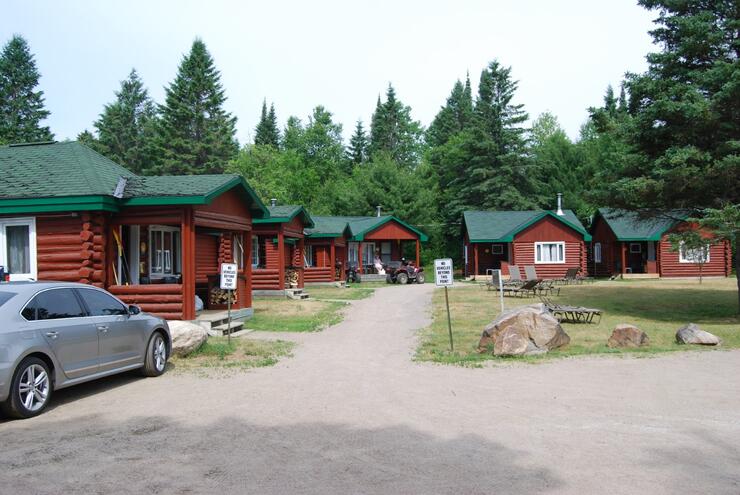 I suggest a three-, or even four-night trip to the area. This allows you at least two to three full days of riding. You're in the Madawaska Valley and the very cute town of Barry's Bay is right up the road. There are a lot of very scenic trails here. One of my favourites is the Haliburton ATV Club rail trail, located right outside the entrance of the Adventure Lodge. Also known as the RAP (Round Algonquin Park) snowmobile trail, it's a decommissioned rail line that runs a long way through the region. As it's a rail trail, it's an easy, and scenic ride. More challenging trails can be found, but many of them are on the easier side of things.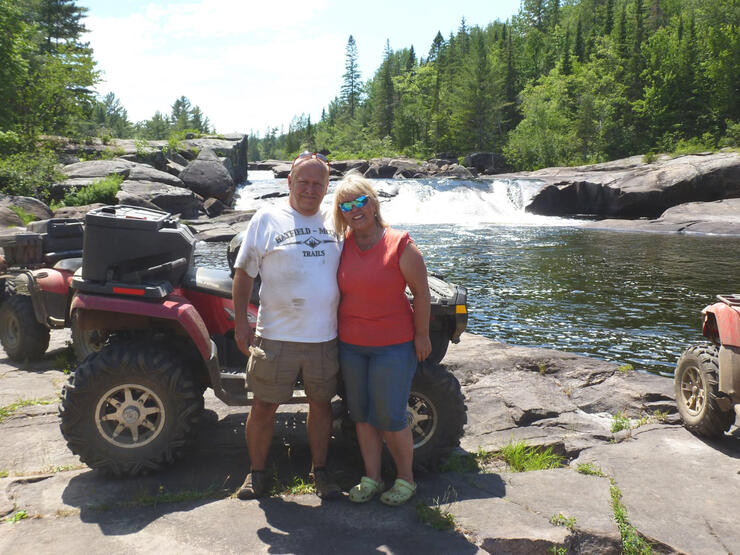 For more on the area, check out the article I wrote a few years back.
ATV Trip Near Algonquin Park
The Edgewater Park Lodge is less than 3 hours from southern Ontario and easy to get to. It's north of Kearney on Sand Lake on the western side of Algonquin Park, and much of the terrain here is just like it is inside the park.
The Algonquin West ATV Club operates the trails here, and you'll need a pass unless you're a member, or a member of Haliburton ATV Club, Lake of Bays ATV Club, or the Quad Niagara Club. Go to the Algonquin West ATV Club website to buy trail passes or get your membership.
Please buy a pass. The trails need lots of maintenance, and they just don't fix themselves. I may be a bit biased as I was a director there, the webmaster for eight years, and I still live in the area—great place!
A lot has been written about this place. I've covered some great events held at the Edgewater. A few years back, I took another highly-experienced and well-travelled ATV writer for a tour here—check out Graham Adams's story Are these the Greatest ATV trails in Ontario? A good read, and a good look at the trails here. Algonquin West ATV club has 350 kilometres of trail stretching from the north end of Huntsville all the way well past South River. They also connect to the Lake of Bays ATV club trails in the Huntsville area and further on toward Lake of Bays.
ATVing in Elliot Lake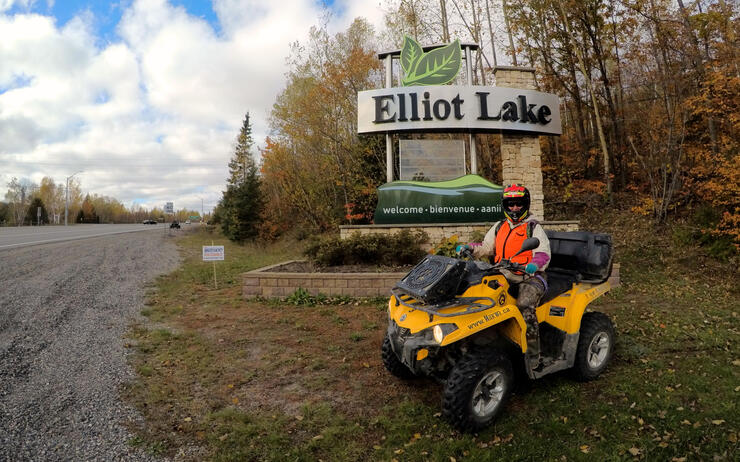 High on my bucket list is Elliott Lake. Two hours west of Sudbury, it's a place many of my friends and acquaintances have been to and I've heard enough to know it's worth the effort to get there! Find their club site and permit info on their Facebook page. Past OFATV president, Dave Baker, wrote a great article on it. And there are a couple of good videos on the Elliot Lake Tourism site. Dave's group put on 350 kilometres on the first day—wow! If most of that was off-road, that's a ton of riding! Unfortunately, the resort Dave stayed at has been turned into a rehab clinic, but there are plenty more resorts friendly to ATVs in the area. Just writing this article makes me want to step up my bucket list plans for Elliot Lake.
ATV Trails at Sportsman's Lodge
The Sportsman's Lodge is an off-the-beaten-path destination for hardy ATVers looking for great riding not too far from southern Ontario. Just northeast of Sudbury, it's located in an area of many lakes, right in between Kukagami Lake and Wanapitei Lake. Jim, the new owner let me in on a little secret—the locals will tell you there are no good fish to catch, but he reports to me there are large Pickerel close by. He sent me a few pics from last week to share. If you're looking for a detour from riding, he'll share with you where they came from.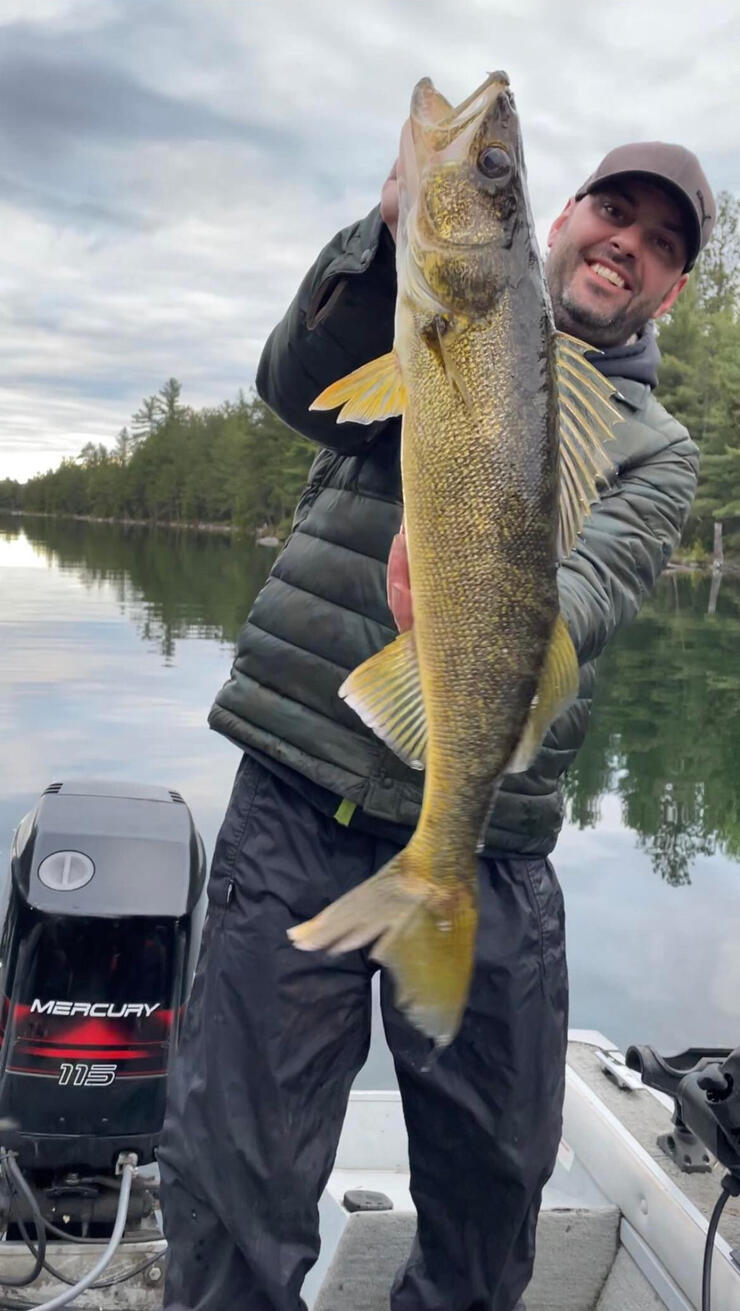 A disadvantage (or maybe an advantage to some) is that there's no club in the area. So trails aren't as well signed and marked, but there are no permits to buy. Jim has local trail maps for you to use. Two particular points of interest here are Wolf Lake Mountain.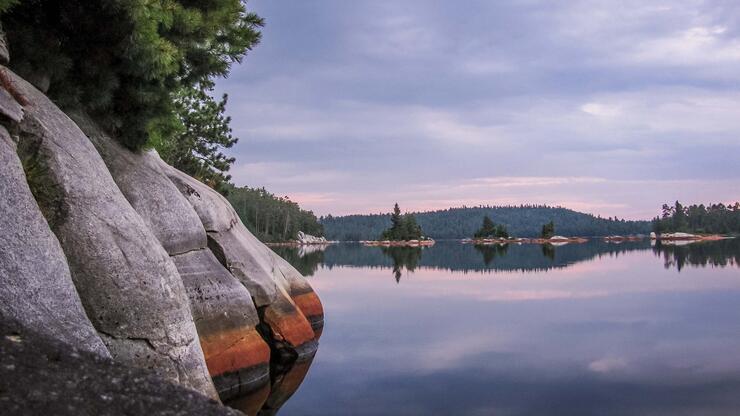 More great info and graphics at Save Wolf Lake.
In the same area is Paradise Lagoon, also known as Blue Lagoon. We all need to tread carefully everywhere we go, but perhaps a little extra care and extra courtesy and garbage pickup is warranted here.
Please always remember, take only pictures, leave only tracks, and leaving with more garbage than you brought in makes you a saint!