ATV Clubs of Ontario
Looking for somewhere to ride? The best source for trail info is the people who maintain them. Get in touch with a club to learn more.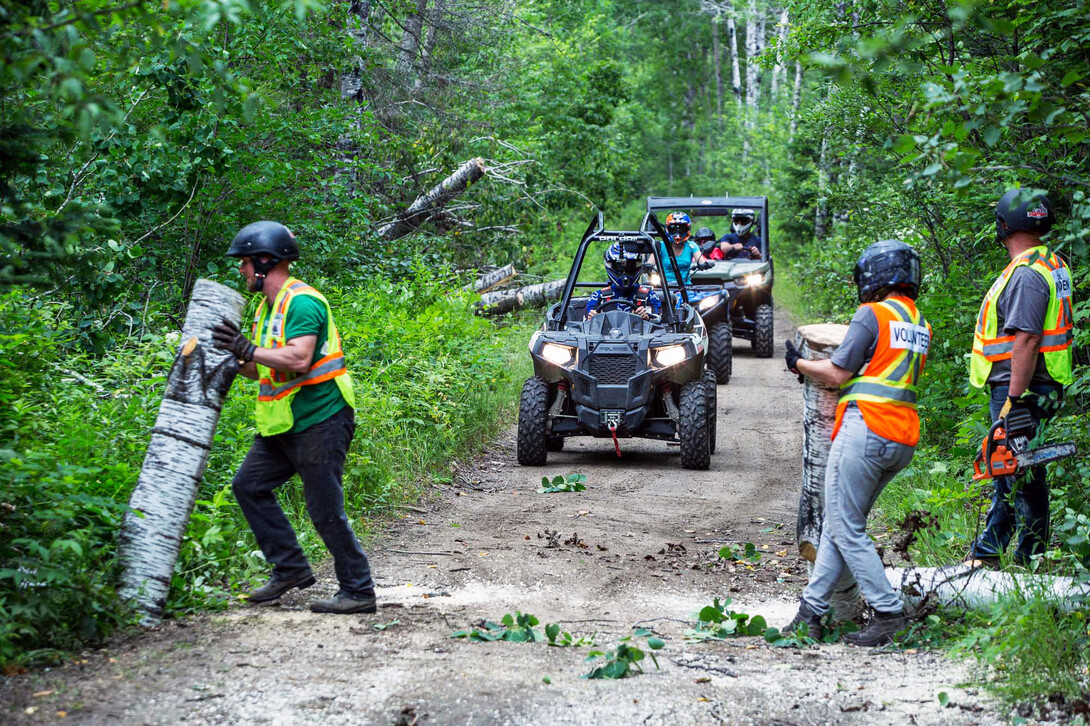 The various terrains and sheer size of Ontario make it a great home for ATV fans. But the thousands of kilometres of trails don't just appear out of nowhere. The many dedicated members of the Ontario Federation of ATV Clubs and the Eastern Ontario Trails Alliance are responsible for making this the off-road playground that it is.
Seeking out new places to ride, establishing and keeping good relations with land-owners, maintaining the trails and ensuring responsible use of them—this is the hard work that goes on behind the scenes. But don't let this dissuade you! Most of all, ATV clubs are a great connection for experiencing the outdoors, enjoying the camaraderie of fellow-riders and taking part in a range of events throughout the year.
This the most comprehensive list of ATV Clubs for Ontario. Find one in your neck of the woods and get in touch. If you know of a club that we've missed leave a comment below and we'll be sure to include it.
Cochrane Bear Tracks ATV, Cochrane, ON
Greater Sudbury ATV Club, Sudbury, ON
North Simcoe ATV Club, Espanola and Sudbury, ON
Voyageur Muliti-Use Trail System, Mattawa, ON
West Nipissing ATV Club, Sturgeon Falls
North Bay ATV Club, North Bay
Elliot Lake ATV Club, Elliot Lake, ON
Thunder Bay ATV, Thunder Bay, ON
Essex County ATV Club, McGregor, ON
Haldimand Area ATV Club, Caledonia, ON
Norfolk County ATV Club, Norfolk County, ON 
Talbot Trail ATV Club, Aylmer, ON
Great Lakes ATV Club, Oxford and Brant Counites, ON
Baxter / Severn ATV Trail Riders, Port Severn, ON
Central Ontario ATV Club, Stayner, ON
Dufferin Grey ATV Club, Clarksburg, ON 
Huron Shores ATV Club, Bruce County, ON
South Bruce Peninsula ATV Club, Sauble Beach, ON
Great Lakes ATV Club, Oxford and Brant Counites, ON
Quad Niagara ATV Club, Niagara Falls, ON
PTBO Trails ATV Club, Havelock, ON
Kawartha ATV Association, Lindsay, ON
Northumberland District ATV Riders Club, Grafton, ON
Quinte West ATV Club, Quinte West, ON
The Glendaler's Winter Sports Club, North and South Glengarry, ON
Johnstown ATV Club, Johnstown, ON
Napanee & District ATV Club, Napanee, ON
Nation Valley ATV Club, Winchester, ON
Prince Edward County ATV Club, Prince Edward County, ON
Quinte West ATV Club, Quinte West, ON
Thousand Island ATV Club, Lansdowne, ON
ATV Club of Eastern Ontario, St. Pascal Baylon, ON
Eastern Ontario ATV District, Tweed, ON
Haliburton ATV Association, Haliburton, ON
North Hastings ATV Association, Haliburton, ON
Ottawa Valley ATV Club, Ottawa Valley, ON
Renfrew County ATV Club, Renfrew, ON
Lake of Bays ATV Club, Lake of Bays, ON
Rideau Lakes ATV Club, Smith Falls, ON
Algonquin West ATV Associate Club, Emsdale, ON
Baxter / Severn ATV Trail Riders, Port Severn, ON
Parry Sound ATV Club, Parry Sound, ON