Three ATV Masters Meet in Mattawa
What happens when three YouTube stars of ATVing meet up on one of Ontario's top trails? A lot of fun.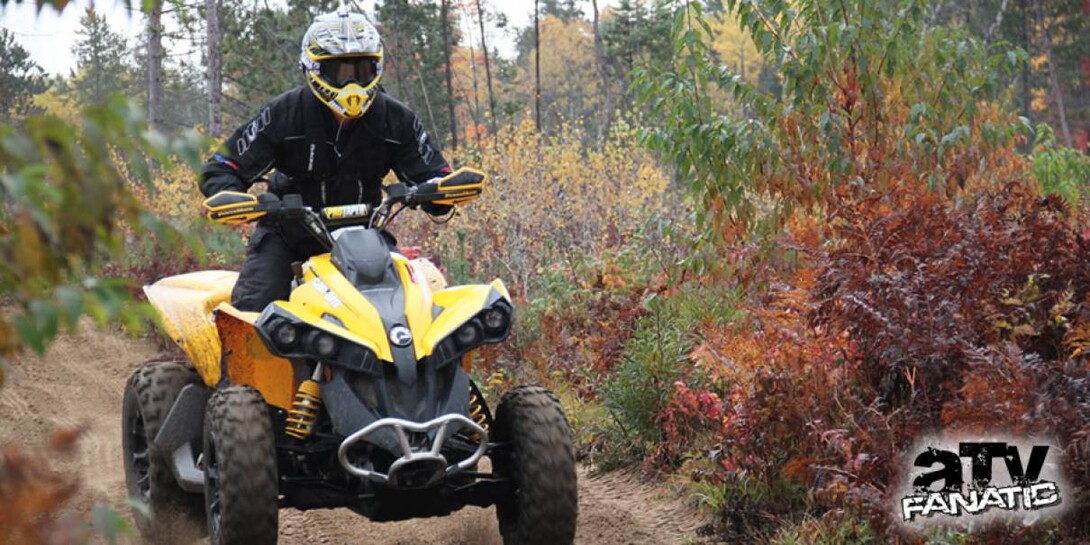 Brilliant colours, crisp fall air, ATVs and adrenaline. This was the scene in Mattawa, Ontario this fall as I rode with some of the most skilled off road enthusiasts I had ever come up against. In my quest for the ultimate ATV ride, this was surely a contender. I enjoy all types of ATV riding, and our three guest riders came from three quite different backgrounds.
Mark Freeman (MarkFreeman408 on YouTube) has been racing ATVs as long as he can remember. A quick view of his YouTube channel or Facebook page will give you some idea of his racing success, but also of his rather adventurous extracurricular activities. Mark loves to play, and he is exhilarating to watch, but his passion is for riding. As we sped down the endless trails that the Voyageur Multi Use Trail System (VMUTS) keeps so well maintained, we were treated to all manner of tricks, from drifts to wheelies, it was obvious Mark is very skilled and the ATV is an extension of his body. For me the thrill of keeping up with him was a rush, as we flew through trails, hills and mountains, having to stop and take in the beauty so it wasn't just a blur.
Getting to know Mark I learned what a down-to-earth person he is, and for all his crazy stunts he is dedicated to his sport. Mark spends much of his time training and working out, and is very mindful of his diet, reminding me of an athlete who runs marathons. He is close with his family, and has a lot of respect for those around him, in particular his friends. Mark was riding an 800cc Can Am Renegade on this trip, offering him plenty of power, while still allowing him to manipulate the machine easily. We all loved hearing the constant braaap as it was always followed by some sort of stunt, keeping our cameras busy.
We had all stayed at the Mattawa Adventure Camp nearby, offering us the perfect venue for a group of our size.  Our cozy cabin came furnished with a wood stove and huge closed in front porch offering a wide view of the Ottawa River only feet away. The two bedrooms gave us ample room for six of us, while two others were right next door in the next cabin that shared the enclosed porch. We ate together at the main lodge, where owners Wim and Claire served up some of the most mouthwatering meals we could imagine, along with a personal serenade from Wim as he sang to us during dinner. We all enjoyed sitting around the warm wood stove regaling the days activities while our gear hung from the rafters drying for the next day's ride.
After a gourmet breakfast and packing our lunches each morning, we would head for the hills, with trail heads being only minutes away, stopping for fuel as we passed through Mattawa. I had a chance to speak with Rex Wood (Rex4x4), and discovered that his riding passion is quite similar to my own, always looking for the tight technical trails. 
During one of our stops waiting for the others to catch up, our guide Jeff McGirr (Lucrestyle) asked us what type of riding we preferred, I responded:
"You know those trails that ATVers cut to get around a swamp or some other large obstacle, forcing you into the forest, up and down hills, wrapping your ATV around tight corners, and challenging you with tricky rock climbs? I could ride that all day."
Rex, smiling and nodding his head in agreement, indicated that we were of the same mind, and there was no shortage of challenging trails in this system. Rex spends most of his time looking for these types of adventurous trails and documenting his journeys on video. He has a great on camera persona that leaves you wanting to follow him on his next trip. Rex had arrived with the full backing of his local Arctic Cat dealer Carlson's Sports, who had outfitted him with a truck and trailer for the trip, as well as a brand new 700cc Arctic Cat Mudpro Limited. With the oversized aggressive tires he had no problem negotiating the trails and keeping up with Mark.
As our days in Mattawa passed, stopping for photos of the riders, or the scenery, we all became good friends, all sharing in our love of the outdoors, and powersports. The VMUTS really does have so much to offer, as Jeff, being the Economic Development Officer for the area loves to hear me say. VMUTS has possibly the largest collection of well-maintained trails in Ontario. Around every corner another spectacle awaited us, huge valleys, mountain streams, lush forests, and of course in the peak of fall colour. The sights and smells of this unending trail system left us all not wanting to leave.
As we stopped to play in one of the many sand pits along the trail, Graham Adams (LITMM) and I had a chance to get re-acquainted. Graham and I have known each other for about five years, running in to each other at ATV events and the likes. Graham's passion is simply put, "Hitting the mud, and getting it on video." You won't find too many Mud Bogs in Ontario that Graham isn't competing in, or video recording, or both. What started out as a hobby has turned in to what hopefully will become a career, as he is currently studying broadcasting at Canadore College in nearby North Bay.
As you can tell from his Youtube channel, he is quite gifted: in fact he recently was commissioned to film mud bogs as far away as Texas. Graham was riding his own machine, a 680cc Honda Rincon, and while admittedly not the best machine for speed, certainly the most reliable ATV of the bunch, and with the upgraded oversized tires he had no problem on the trails, or in the sand.
I will never forget this trip: the friends I made, the fun I had, and the amazing trails I rode. Polaris had outfitted me with a 550 Sportsman XP Touring from Central Ontario Powersports, the perfect, comfortable machine for long trials, and tons of camera gear. I managed to keep up with Mark, but I must admit I was pushing the machine to its limits. The photos that came from the experience were astounding, but I await the next opportunity. I will have to return to Mattawa. I am, very thankful to Jeff for organizing the event, and showing us the "Best of Mattawa."
I still am left wondering what the front wheel is for on his off-road motorcycle, as it doesn't get much use.
Mark Hamerton - ATVFanatic (Youtube ATVfnatic)