ATVing through Central Ontario's Simcoe County
The Central Ontario ATV Club welcomes riders to forest trails from Wasaga Beach to Barrie and beyond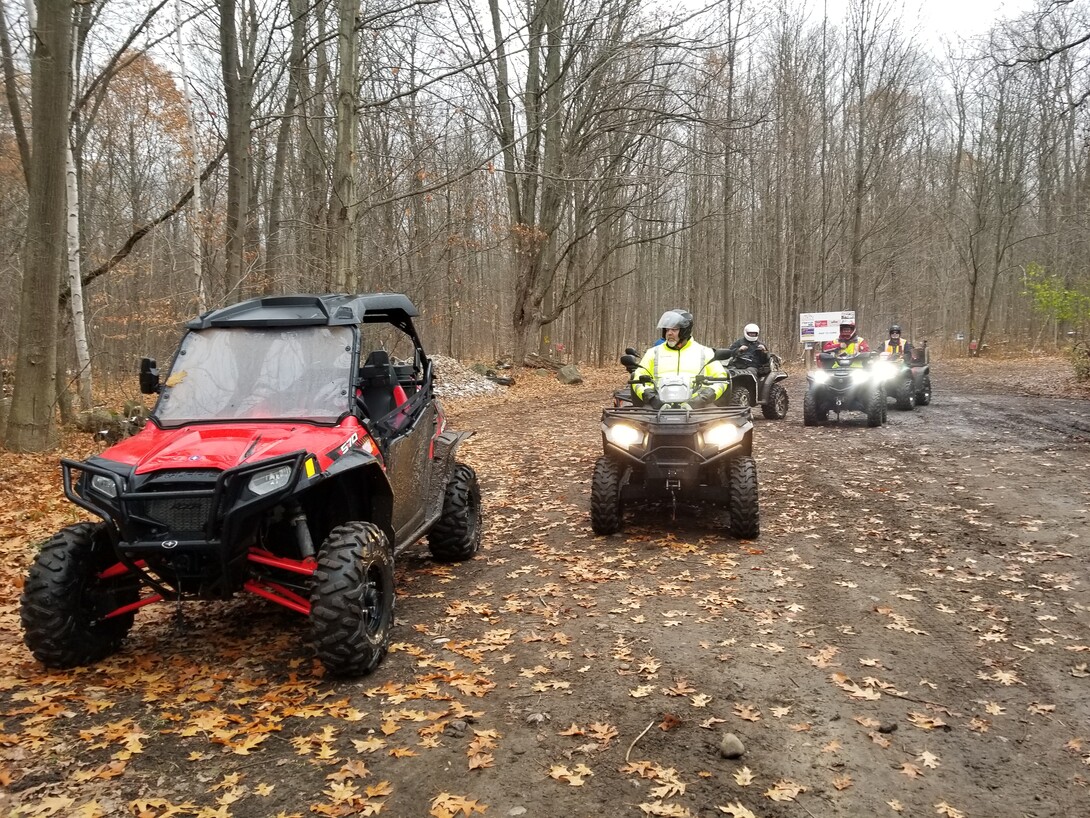 Ontario's Simcoe County stretches from the shores of Lake Simcoe in the east to rugged Georgian Bay in the west, with trail heads in towns like picturesque Wasaga Beach. In the forested areas in between you'll find an ATV trail system of varying terrain, from sandy trail to intricate forest loops, all maintained by one of the OFATV member clubs, the Central Ontario ATV Club.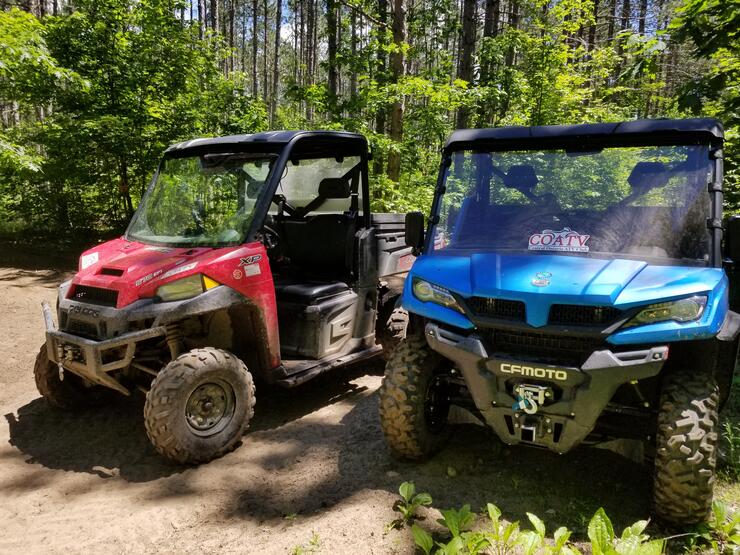 With few mud holes and rocky patches, most trails are perfect for families, a beginner's day out, or a quiet morning ride, while select trails provide intermediate riders with the slightly more challenging experience they're looking for. And when the traffic's good, you can reach the trails at the county's southern edge in less than a hour's drive from Toronto.
Forest trails by the beach
Maintaining 100 km of trails in the Simcoe County forests, the COATV club's trails can be found throughout Simcoe County, including among the waterways and lakes north of the city of Orillia on Lake Simcoe. The club's biggest and most accessible trail system runs through forests between the city of Barrie and popular tourist destination Wasaga Beach, about 40 km of trails and road connectors. "That trail's our pride," says COATV President Alain Pominville.
Not only does Wasaga Beach boast the longest fresh water beach in the world—14 km of white sand along the warm waters of mountain-lined Nottawasaga Bay—but it also has a new claim to fame: it's fully ATV-friendly. Any time day or night, any time of year, ATVs are welcome on roads within the city limits and in hotel, restaurant, and store parking lots.
While Wasaga Beach is a popular tourist destination, the ATV trails don't feel busy at all, says Pominville. "You're in the forest and the trails are spread out – it's not like you'll have a traffic jam at a corner," he adds. "You'll see maybe 10 to 20 people go by over a day."  
Online and on the trails with COATV 
There's one exception to that trail quietude, but it's in the name of community and safety. The club's biweekly group rides in summer often bring 30 or 40 riders together, with locals and visitors alike joining the ride.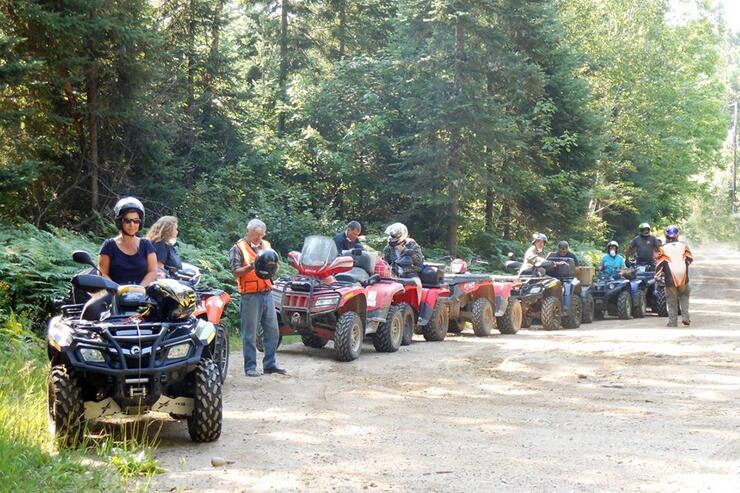 "If we go from the COATV clubhouse at Klondike Park in Wasaga Beach, ride most of trail system, and come back, that's about 80 to 90 km and four to six hours," explains Pominville. It's a day trip that lets riders explore the area, stay for dinner, and drive home that evening, or opt for a longer stay to ride trails connecting to several other ATV club systems. 
Adding to that accessibility, the Central Ontario ATV Club doesn't set fixed dates for their ATV season, where other clubs often set April to November limits. "We open when the trails dry up in the spring—we don't want them destroyed before that—and we close when there's enough snow for groomers to come out," says Pominville. "We were open until the third week of December this year."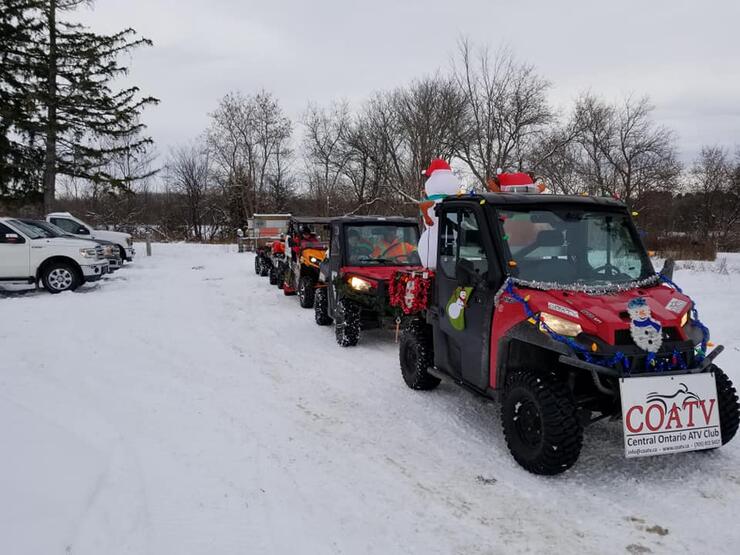 The club shares trail conditions and group ride events online through their Facebook page,  website, and QuadOn.ca app and live map. Social media and technological leaps like the app have seen the COATV club grow over the past 20 years of its existence, now with 800 members. "We also have a second Facebook page called COATVTalk just for people to connect, get a group together, and go for a ride," says Pominville. "You don't have to be from the area to join that group. And it's always safer to ride with more than one vehicle anyway."
More trails, more riders
Since its beginnings alongside the founding of the Ontario Federation of ATV Clubs, the Central Ontario ATV Club has always been family-oriented and focused on trail expansion and safety. "When we started we didn't have any trails, so the club was basically started to get things going," says Pominville. "There were trails in the county forest, but they were banning ATVs from them. It wasn't until we were formed as a club and joined the OFATV that they reconsidered and reopened some of the forest for us to have trails in."
One of the COATV club's goals is to open more of the municipalities in the area to ATV use, which means working with cities, towns, and other ATV clubs to build more support and a strong community around ATVing. "We have a route through Clearview township, which allows us to connect all the way to Dufferin Grey and the Dufferin Grey ATV Club trails to the west of us," explains Pominville. "We're also in the process of connecting to the Port Severin ATV club north of us—the Baxter Severn ATV Trail Riders. With our trails that are between forests, we're in the process of setting up more road links to connect them." 
The Simcoe Country forest is multi-use year-round: in summer on the trails you'll see ATVs, dirtbikes on their own single-track trail system, mountain bikers, hikers, and dog walkers, sometimes even a horse and rider. You're sure to also come across The Fry Guy restaurant right on the main trail near Anten Mills, a popular ATVer spot for lunch no matter which direction you're headed.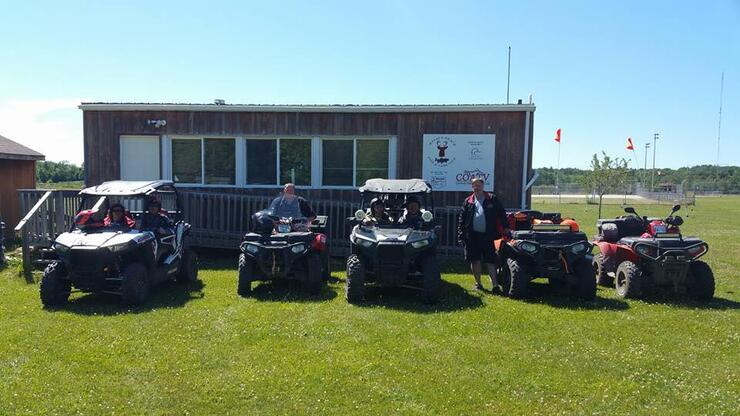 With its variety of trails and proximity to Toronto and smaller Southern Ontario cities, Central Ontario ATV Club's trail system is well worth a day trip or a weekend throughout the season—or make it a summer long weekender, riding from the forest right to the water and sand of Wasaga Beach.