Rules, Rules, Rules—You Need 'Em, We Got 'Em!
How to avoid getting pulled over by the OPP while ATVing on and off-road in Ontario—and what to expect if you do.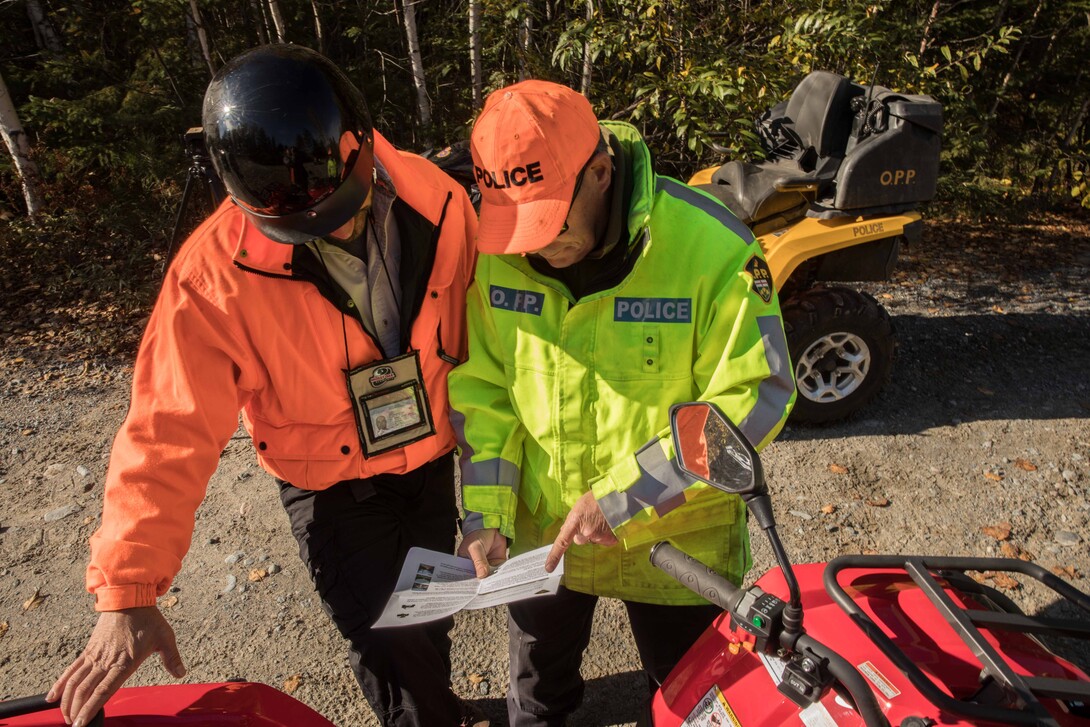 With hunting season underway across most of Ontario, I set out on an adventure with Larry Berrio aimed at giving us hunters and ATVers a much-needed refresher when it comes to ATV safety. In this article, we'll discuss what you need to know this time of year as well as general rules for on- and off-roading ATV riding in Ontario.
Larry partnered with the O.P.P Snowmobile, ATV, and Vessel Education (S.A.V.E.) Unit and had Constable Brian Bowes and Sargent Andy Bishop join us for the trip. The S.A.V.E. Unit is based out of North Bay and covers all of the northeast region encompassing Parry Sound, west to White River, and north to Hearst. The unit also provides support to the northwest region on a request basis.
The S.A.V.E. Units' primary objective is to work with communities and stakeholders to ensure that Ontario's trails and waterways are a safe place for outdoor enthusiasts. This is achieved by maintaining a presence on trails and waterways, addressing high-risk behavior, and alerting the public to the risks associated with boating, snowmobiling, and off-roading.
Monday morning Larry and I met up just outside Sudbury, Ontario and began our journey to the amazing Obabika Lake Lodge north of West Nipissing. As all good adventures go, we ended up taking some very questionable roads through the gorgeous countryside of Northern Ontario. I wouldn't say we were lost, but we definitely weren't sure where we needed to go.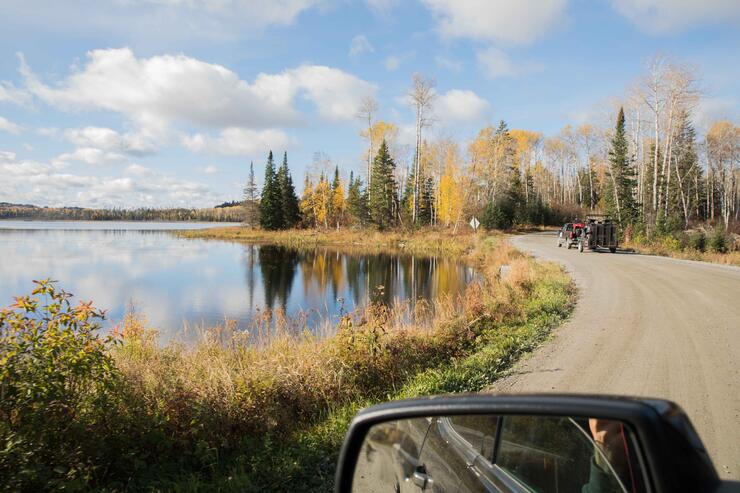 One of these questionable roads turned out to be a summer maintenance-only road that happens to be the D Trail during the winter snowmobile season. Bit of a tease for the upcoming winter, if you ask me! My first tip for hunters and ATVers alike is to carry a hard copy map and a compass for all those times when your adventures take you off-grid and away from cell reception!
Obabika Lake Lodge
After finding the right road north we met up with Constable Brian Bowes, Sargent Andy Bishop, and the local CFMOTO Wind Zone dealer Bob Lalonde (Marine Tech Plus) and made our way to Obabika Lake Lodge.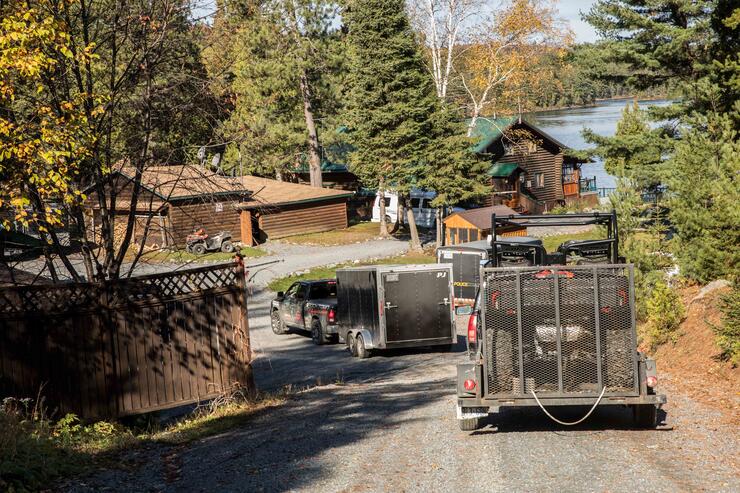 Arriving a little bit later than planned, we were greeted by the lodge owner Norm Desjardins. Talk about one of the nicest people I have ever met! Norm's passion and dedication to the lodge was absolutely inspiring. Norm purchased Obabika Lake Lodge two years ago because of his pure love of the lodge and surrounding area. Norm has brought the lodge into the public forefront by moving away from its past as a private facility.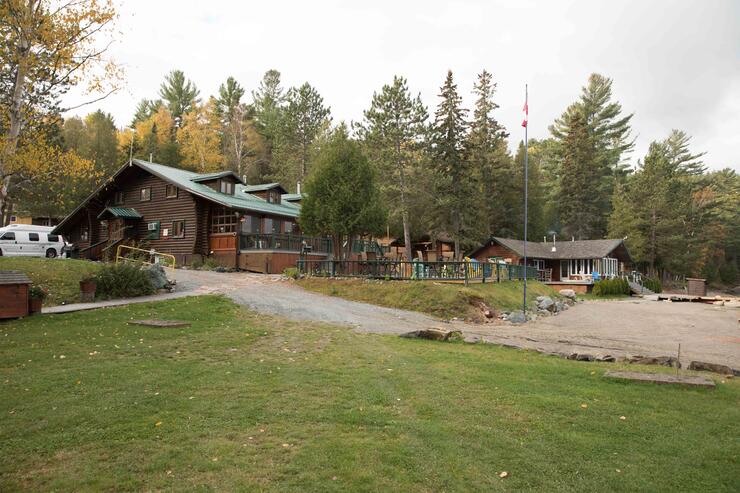 With miles of beautiful shoreline on the private Obabika Lake and hundreds of acres of surrounding public land, Obabika Lake Lodge is the perfect place to get away and relax with mother nature or go on an amazing hunting or fishing adventure. With seven private luxurious log cabins and several rooms in the stunning main lodge, Obabika Lake Lodge can accommodate upwards of 30 people.
With Larry's CFMOTO ZForce 800 unloaded and the S.A.V.E. Units CAN-AMS ready to go, we headed out on the hundreds of kilometers of trails and country roads surrounding Obabika Lake Lodge. Throughout our ride, we would take breaks along the way to stop and discuss different laws and regulations pertaining to off-roading. The main goal of this adventure was to simulate what you would expect to happen during a stop out on the trails and roads during hunting season.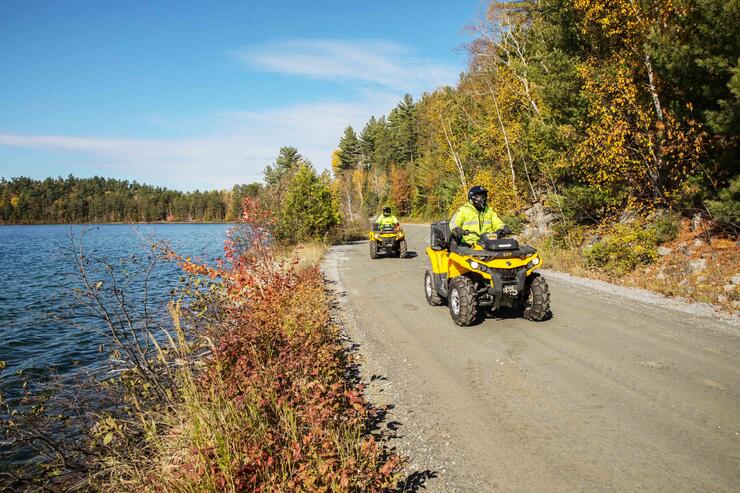 What to expect if you get stopped by the OPP
Our first stop was used to simulate being stopped while on an ATV. Larry drove up on a CFMOTO CForce 400 and we were led step-by-step through the process. Here's what you can expect:
When stopped on an ATV you will be expected to safely remove yourself from the vehicle without pointing your firearm in the direction of a person.
You must show that your firearm is unloaded whether you are carrying it over your shoulder or in a case.
Provide your driver's license, registration, ownership, and insurance for the vehicle, along with your hunting license, outdoors card, and possession license. 
You may be asked to show that you are in possession of the proper hunting safety orange apparel including jacket and hat. 
If you are returning from a successful hunt you must also show the police your game.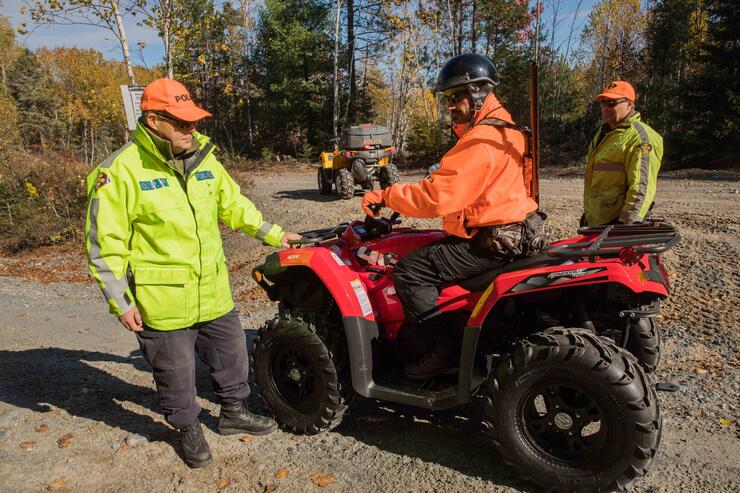 Our second stop took place beside a beautiful lake that created the perfect panoramic background, with fall colours for miles. On this stop, Larry was driving a UForce 800 UTV and the team demonstrated what may happen during an O.P.P check with a UTV on a roadway. You will be expected to do many of the same things as you would when being pulled over on an ATV. The only differences may be that your weapon and gear may be stored in the back of your side-by-side or UTV.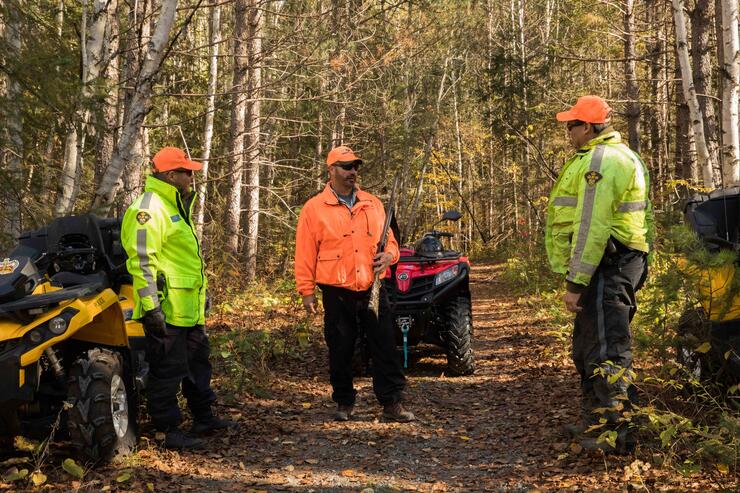 Rules for ATVing on Trails vs. on Roads
Some other useful information includes the difference between a maintained roadway and a trail, and the regulations that go with them.
Off-Road
If a trail is on privately owned property or crown land the Off-Road Vehicle Act is what governs these areas. Under this act you are required to have:
registration
a license plate
proof of insurance
you must be wearing a helmet. 
While riding on the road
On a maintained roadway legal off-road vehicles are considered a standard single-rider ATV, an OEM manufactured two-seater ATV, a side-by-side recreational vehicle, or a side-by-side utility vehicle.
Dirt bikes, 3-wheelers, and custom made off-road vehicles are not considered road legal off-road vehicles.
Legal off-road vehicles must always travel on the shoulder of the road unless it is unsafe or impractical to do so.
Off-road vehicles are prohibited from use in all construction zones. This means if you come upon roadwork or construction signs you must find an alternative route to get to your destination.
If the marked vehicle speed limit is 50km/h or lower the maximum an off-road vehicle may travel is 20km/h; if the posted limit is above 50km/h the maximum speed you may travel is 50km/h.
All passengers must be wearing helmets on both ATVs and in side-by-sides, must be wearing seat belts in side-by-sides, and be over the age of 8.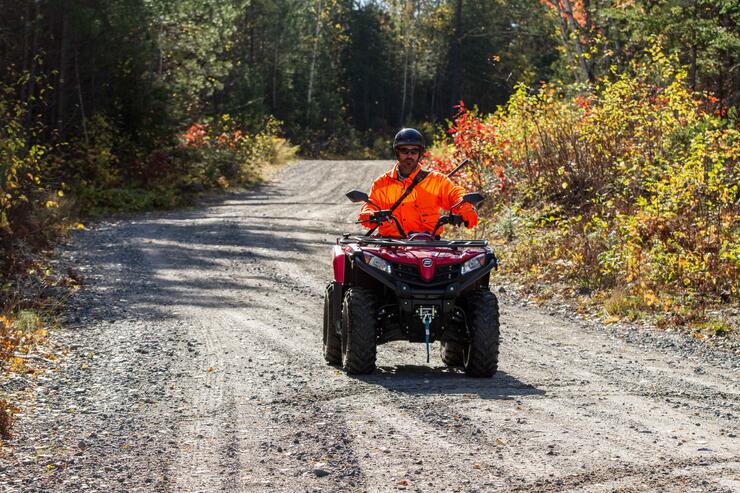 Some final Tips for Riding ATVs and UTVs Legally
Always wear a properly fitted helmet and ensure that it is securely fastened.
Always ride at a safe pace considering conditions.
When travelling upon a road, ensure your headlamps are on and you are travelling on the shoulder portion of the road.
Have your license, registration, and insurance with you.
Respect private property.
Always be courteous and considerate when being stopped or questioned.