9 Amazing Glamping Destinations in Northern Ontario
From eco-parks to islands, from luxury to working farms, Northern Ontario's got a glamping experience for every personality.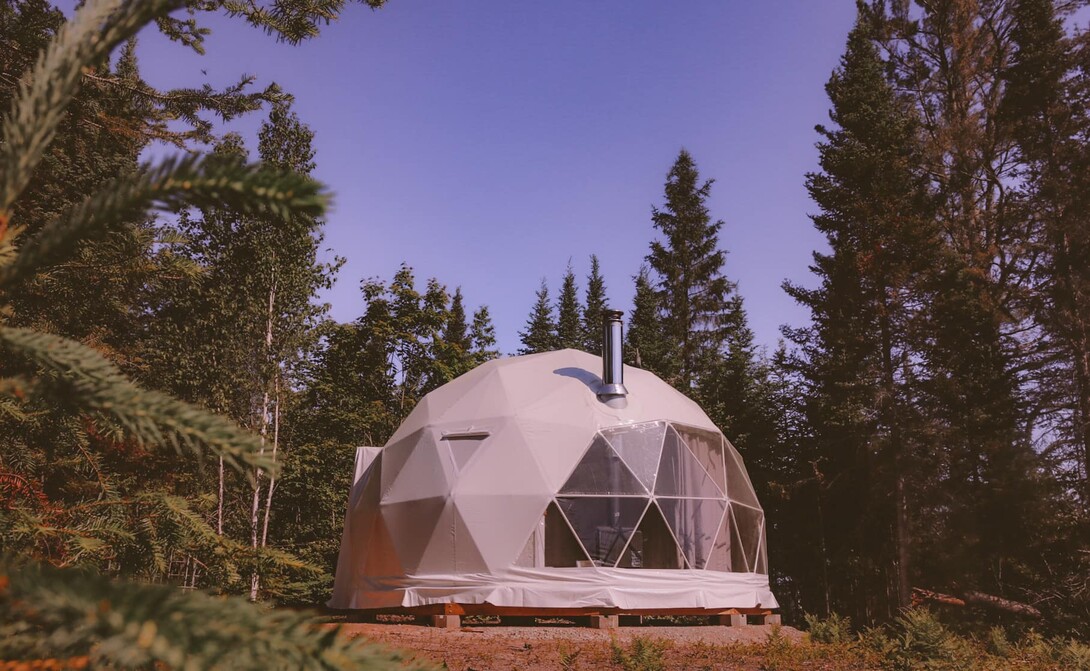 Over the last decade or so, glamping has become one of the go-to accommodation options for travellers craving an outdoors experience, but with the added comfort of a good night's sleep at the end of the day. The word itself is a portmanteau of the words glamorous and camping.
We've rounded up nine properties offering some sort of glamping accommodations in Northern Ontario, from cabins or huts, to trailers, tipis, and yurts. Many offer year-round options, and have plenty of outdoor activities to offer onsite or nearby. Prices vary by season, and many require that you bring your own bedding gear, so check each individual website before glamping it up. 
Here are the top 9 places to go glamping in Northern Ontario. 
Glamping High Adventure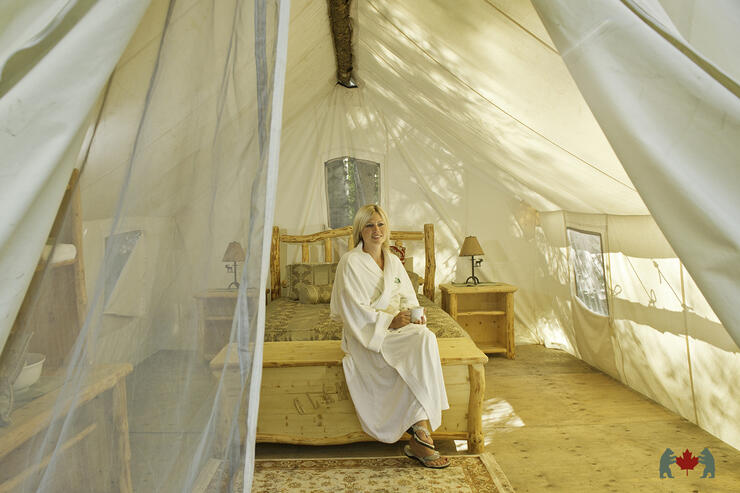 Wild Exodus offers several different lodging options, from prospector tents and wilderness yurt cabins, to RV camping lots. For the ultimate getaway, book yourself the Glamping High Adventure package, where you can paddle through ancient trade routes, go pontoon cruising, hike to a trap line cabin, and visit a local wildlife park. At the end of the day, get ready to dine on gourmet bison brochettes or fresh trout, complemented with wild blueberry wine sauce. Your accommodations include a mini fridge, coffee machine, microwave, and options for both queen and double bedding. Located in Timmins.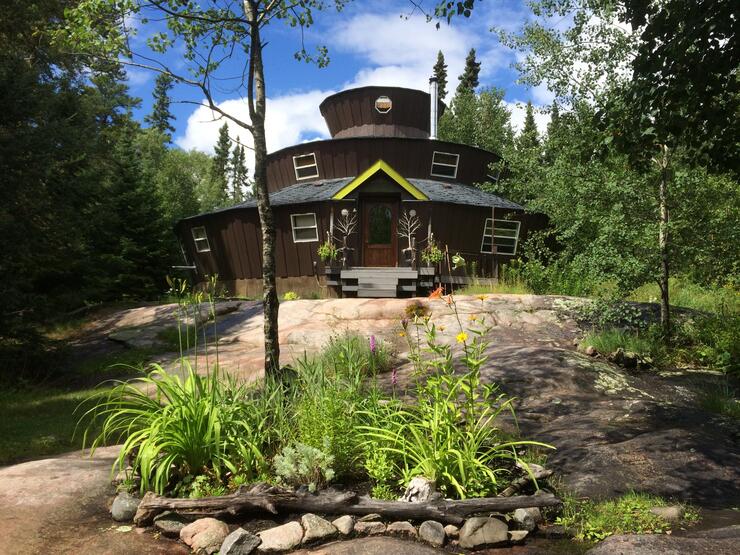 Minaki Yurt Adventures has been around since 1992 and offers a 20-km intermediate trail system through the boreal forest that begins right onsite. Spend the day exploring by bike or foot, or hit the water boating, then enjoy your evening in one of several cozy yurts. The Wiigwaasaatig is best suited for couples, and comes equipped with both electric and wood heat, fridge and stove, incinerating toilet, and running water. Larger groups can check into the 2800 sq. ft. (260m) Meenahkee, complete with fireplace and pellet stove, three bedrooms, with a separate kitchen and living area, two full and two half bathrooms, and a large outdoor deck with a private BBQ and wood fired sauna. All guests have access to a wood fired sauna and outdoor showers onsite to help rejuvenate, and a communal wood fired pizza oven, charcoal grill, campfire pit, and BBQ.to create an end of day feast. Located just 45 km north of Kenora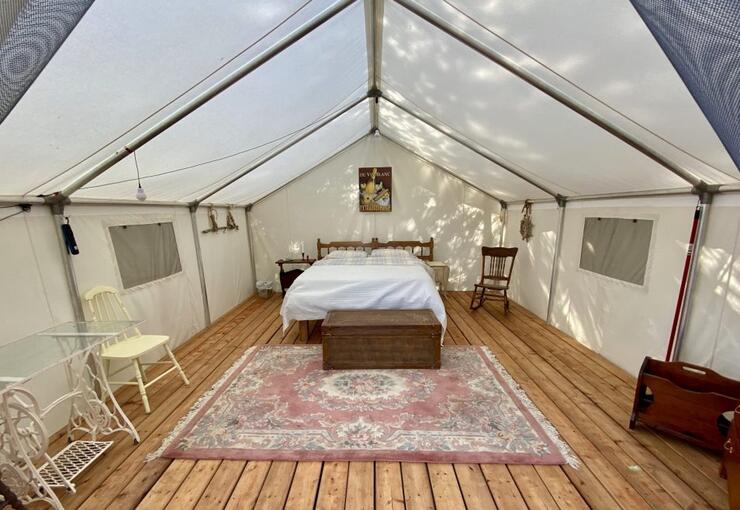 The Glamping Island is a private five-acre resort located on Farr Island within Lake Temiskaming. Accommodation options include permanent waterside sleeping huts, prospector tents, and even a tiny home. Each comes with a fire pit, solar lighting system, and a lounge hammock. Onsite amenities include the main pavilion elevated tent that includes tables chairs, recliners, and couches. It's  located adjacent to the communal kitchen, that has cooking appliances and accessories, an ice box, sink, and a solar lighting system. There are two well-groomed trail systems to explore, one that goes around the island, and another central trail that crosses the island. Other things to explore during your stay are the beach and dock, sauna, playground, a treehouse, and even a zipline. Located in Haileybury, Temiskaming Shores.
Bunker Down in a Dark Sky Preserve
Manitoulin Eco Park is all about cultivating a deep connection with nature, holistic health, and peacemaking practices, in the context of treaty relationships with ancestral expertise. They also offer some of the best star gazing opportunities on their 268 acre Dark Sky Preserve, the first commercial preserve that the Royal Astronomical Society of Canada ever designated. Rent one of the many meadow sites, the Milky Way Bunkie, or the coveted Stargazing Cabin that sleeps up to five individuals and is fully insulated. There's a propane stove top and camp lights, but you'll have to bring your own cooler for food and beverages. Eco-showers and washroom facilities, communal kitchen, and dish-washing station are all located in the main campground area. Located in Tehkummah.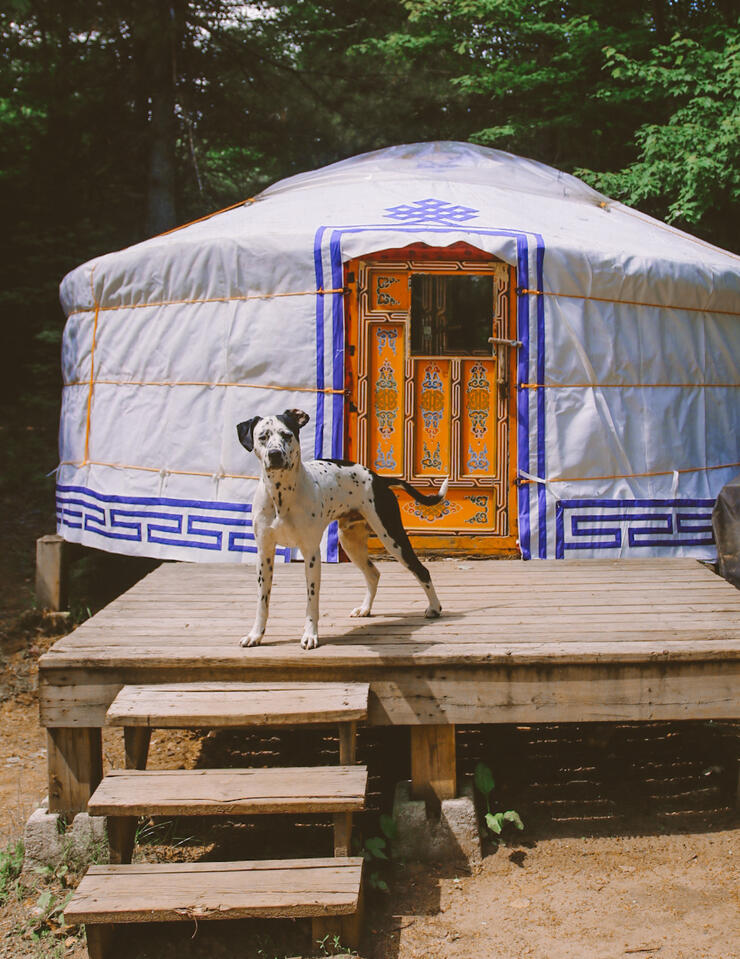 Nature's Harmony Ecolodge has an insulated four-season Glamping tent with a built-in kitchen area, wood stove, and plenty of windows. Their traditional Mongolian Yurt has a spectacular view of the Laurentian Mountains, and has hand-made traditional Mongolian paintings throughout. The Shamayim Cabin can accommodate up to six guests and is the most secluded stay on the land, with the Bang's Bay waterfront, the Little Mountain hike, and a small creek just a short walk away. The Ma'ayan Chalet has an open concept loft, separated sleeping areas, and a dining space that can accommodate up to 20 individuals, Onsite amenities include eco showers, compost toilets, private trails, water equipment,, sauna, and natural springs. Run Off-The-Grid takes place on September 22, 2022, where participants can enjoy the fall colours along the 12.5 km loop that's a mix of terrain from various single track sections, old forest logging roads, rolling hills, super steep hills, technical rocky sections, creek crossings, and a short section through a gravel pit with a sand dune to slide down. Located in Mattawa.
Dance Beneath The Stars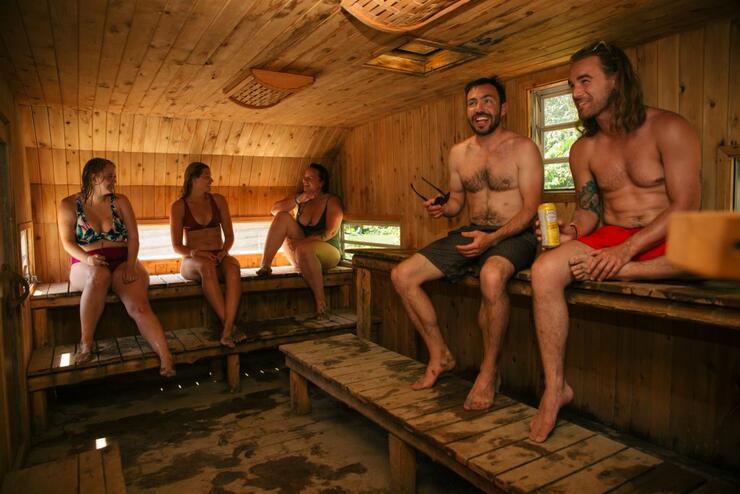 Fishers' Paradise has several glampsites that can accommodate up to four guests, each with a BBQ,  cooking and cleaning essentials, and first aid kit. There's also a community kitchen, beach, and hiking trails onsite, as well as a communal sauna nestled on the beach. Be sure to book early if you're wanting to take in their annual summer River & Sky camping and music festival, featuring both international and emerging indie, folk, roots music, DJ dance parties, and installation artists, Located in West Nippising.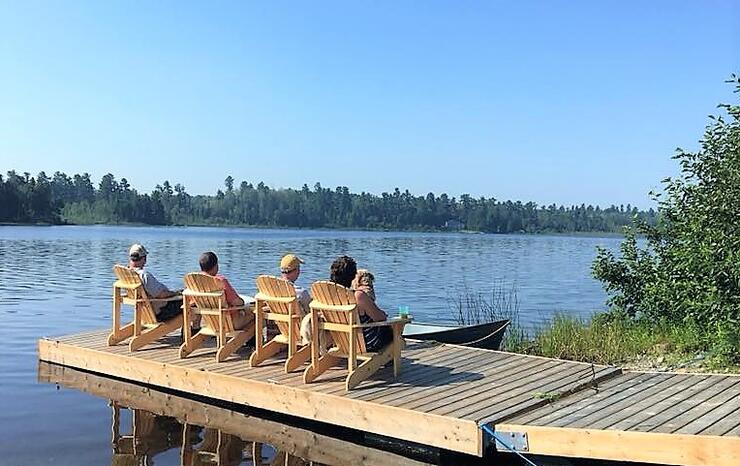 Marten River Escapes is a four seasons property that's known as "the canoe tripping capital of the world." The Glamping Cabin offers one bedroom and a loft for sleeping, that are separate from the main kitchen/dining area. There's no running water, however there is electricity, a ceiling fan, a mini fridge, microwave, coffee maker, toaster, and even USB charging ports. The outdoor deck has a table and chairs, a propane BBQ, and a butane camp stove. For larger groups, there's the Glamping and Camping package, that includes the Glamping Cabin and adjacent campsite. There's also smaller studios, two bedroom cabins, and a two-story chalet for larger groups. Comfort stations and water sources are located throughout. Day excursions can include a hike up the Temagami Fire Tower, or exploring the snowmobile and motorcycle routes nearby. Located in Marten River.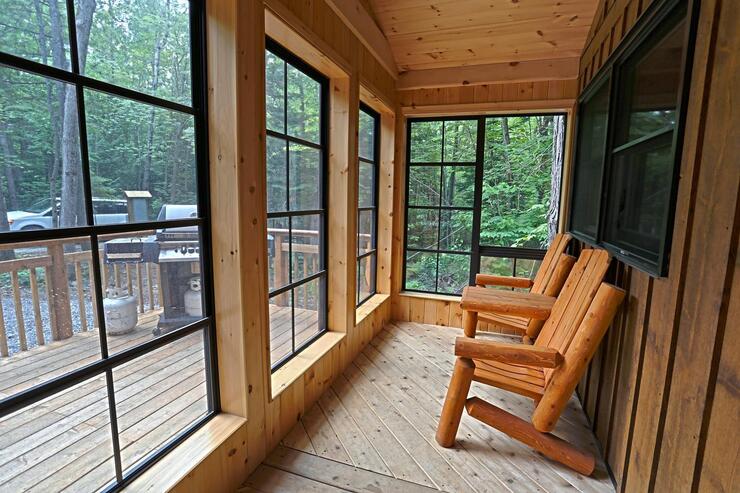 Killarney Provincial Park is one of Ontario's most beautiful provincial parks, located in a 645 sq km wilderness landscape set among Jack Pine hills, an inspiration for the iconic Group of Seven artists. It offers extensive backcountry canoeing, sea kayaking, and hiking, with cross-country skiing and snowshoeing options in winter. There are two one-bedroom camp cabins that sleep up to five, and have a kitchenette with a microwave, mini fridge, coffee maker, dining area, and propane fire place. The six yurts are located in their own area, and are available year round. Each yurt sleeps six people, and features all the same amenities, with some including an outdoor roofed dining area. Located in Killarney.
Working Farm and Workshops
Foxfire Heritage Farm is dedicated to the preservation of heritage breed animals, traditional skills and lifestyle, and sustainable practices with a holistic approach. Their yurts are actually two yurts attached together to form a figure 8 pattern, a truly unique and one of a kind space. There's no electricity, but guests are provided with a mobile power bank for powering the lights, and charging devices. A BBQ and campfire grill are also provided for cooking, and a basket of fresh seasonal vegetables and local eggs can be purchased separately. Guests can enjoy over 50 acres of woodland trails, visiting the farm animals, or just relaxing beside the campfire. Workshops on Yurt Building, Blacksmithing, and Experimental Archeology can be booked onsite. Located in Powassan.
Plan your glamping adventure in Northern Ontario today!