Fall Colour Report Ontario 2022 + 6 Amazing Viewing Experiences
Autumn in Ontario is one of the most beautiful sights in the world. Here's how to plan a spectacular viewing experience.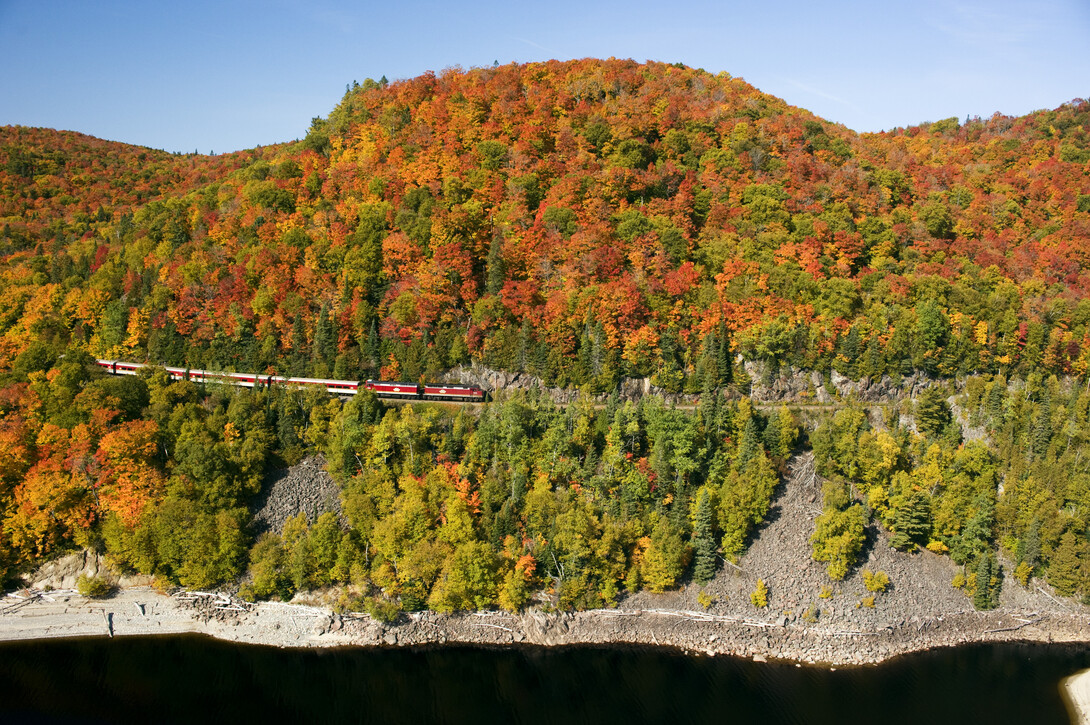 Ontario's boreal and Great Lakes-St. Lawrence forest regions are internationally known for their fantastic displays of colourful fall foliage. The conical coniferous trees like pine, spruce, and fir—which remain green year-round—provide a stunning contrast to the warm hues produced by the area's deciduous trees like aspen, balsam poplar, and of course, maple, and the result is nothing short of magical. 
Wondering when and where to catch the best views? Grab your favourite pumpkin-spiced beverage and use this guide to plan your ultimate fall foliage adventure.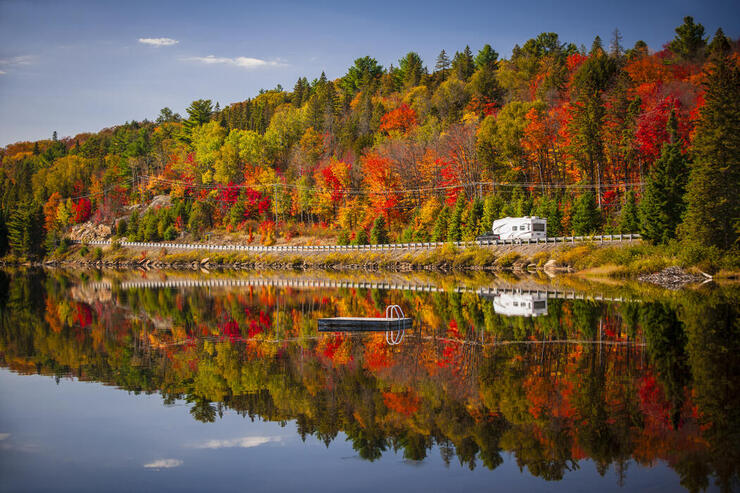 When is the best time to see the leaves changing in Ontario?
The leaves can start their transformation as early as September, depending on seasonal temperatures, but generally, prime viewing time is late October. There are several fall colour reports that you can use to pin down the best time for viewing, by region. Because different regions are on a slightly different schedules when it comes to colours changing, there are lots of viewing possibilities! 
1. Ontario Parks Fall Colour Report
The Ontario Parks fall colour report is an interactive map with detailed information about the foliage situation across the Ontario Provincial Parks. 
At a quick glance, you can see where, and how, foliage is changing across Ontario, thanks to colour-coded leaf icons. Clicking on them gives you more detailed information about the percentage of colour change, and the percentage of leaf drop! 
Below the map, detailed information for each provincial park states when information was last reported, the dominant colour, and tips for best viewing within the park. 
2. Algonquin Park Fall Colour Report
Algonquin Park has its own, detailed Fall Colour Report, with diagrams showing the leaf status of their maple, aspen, and tamarack variety of trees. 
Their report also identifies ideal locations for viewing the fall colours, updated based on the latest conditions, and features a livestream from outside the visitor centre, so you can check up-to-the-minute views. 
3. Muskoka Fall Colour Report
The Muskoka fall colour report is a thorough guide to the region's autumnal colours, as well as suggestions for top Muskoka-area routes to drive in the fall, best lookouts, and fun ways to experience the foliage, like:
Where can you see fall colours in Northern Ontario?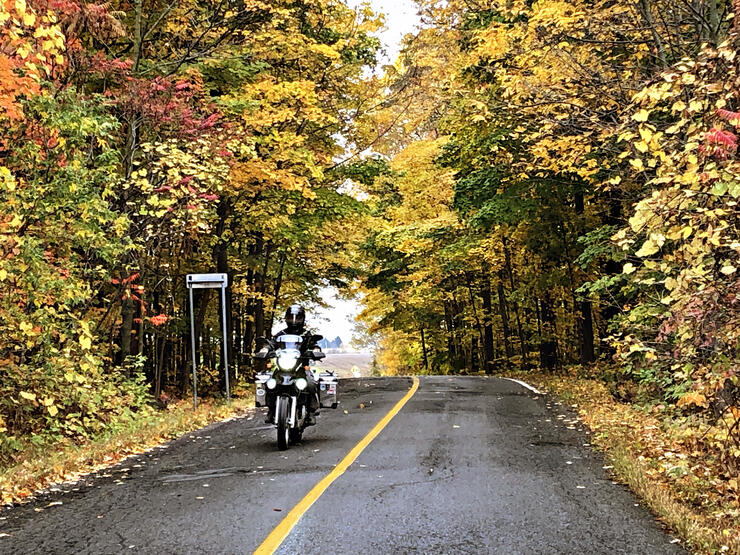 Pretty much anywhere! Immerse yourself in the beauty of autumn in Northern Ontario by driving one of our scenic roadways, biking or hiking one of our exceptional nature trails, or kayaking or canoeing one of our numerous lakes. Remember colours change earlier the further north you go, so plan accordingly! 
Visit here for more information on seeing the leaves change in Northwest Ontario. 
Visit here for more information on seeing the leaves change in Algoma Country. 
6 Spectacular Viewing Experiences
If you're looking for an extra-special way to see the changing colours, try one of these autumn adventures! 
This scenic rail adventure, departing from Sault Ste. Marie, is one of the most popular ways to see the fall colours in Ontario. This full-day trip provides epic views of the mixed forests of the Canadian Shield, but also includes a 90-minute stop at the Agawa Canyon Park – only reachable by rail! Here's everything you need to know about the excursion. 
Camping isn't everyone's cup of tea – especially once the temperatures drop – however outfitted with bunk beds and a source of heat, a yurt can be a comfortable way to get the full fall foliage experience. The Mew Lake campground at Algonquin Park and Minaki Yurt Adventures offer yurts year-round.
It's a 7 km round-trip hike through a forest of sugar maples and yellow birch to this magnificent lookout. The payoff: stunning views of Lake Superior and a canopy of maple trees. 
For an extra-dramatic view of the autumn colours, hike the 2 km loop High Falls trail, along a historic logging road, where views of the leaves are enhanced by a picturesque, 28-meter-high waterfall.  
For an unforgettable experience, charter a helicopter to enjoy the spectacle of Lake Nipissing changing seasons from above. Tours can be booked ranging from 12 minutes up to 2.5 hours.
On the summit of Caribou Mountain, this 100-foot-high tower provides stunning panoramic views of the area, 1300 feet above sea level. The White Bear Forest below is largely old-growth pine, which makes the shocks of colour from the deciduous trees that much more special. 
Autumn in Northern Ontario is full of colourful adventures. Wherever you choose to explore this fall, happy foliage viewing!