​​​​​​​5 Baller Boating Destinations in Ontario
Northern Ontario is a boating paradise—check out these top spots for the best marinas, cuisine, views, and accommodations. There's even a boat-in golf course.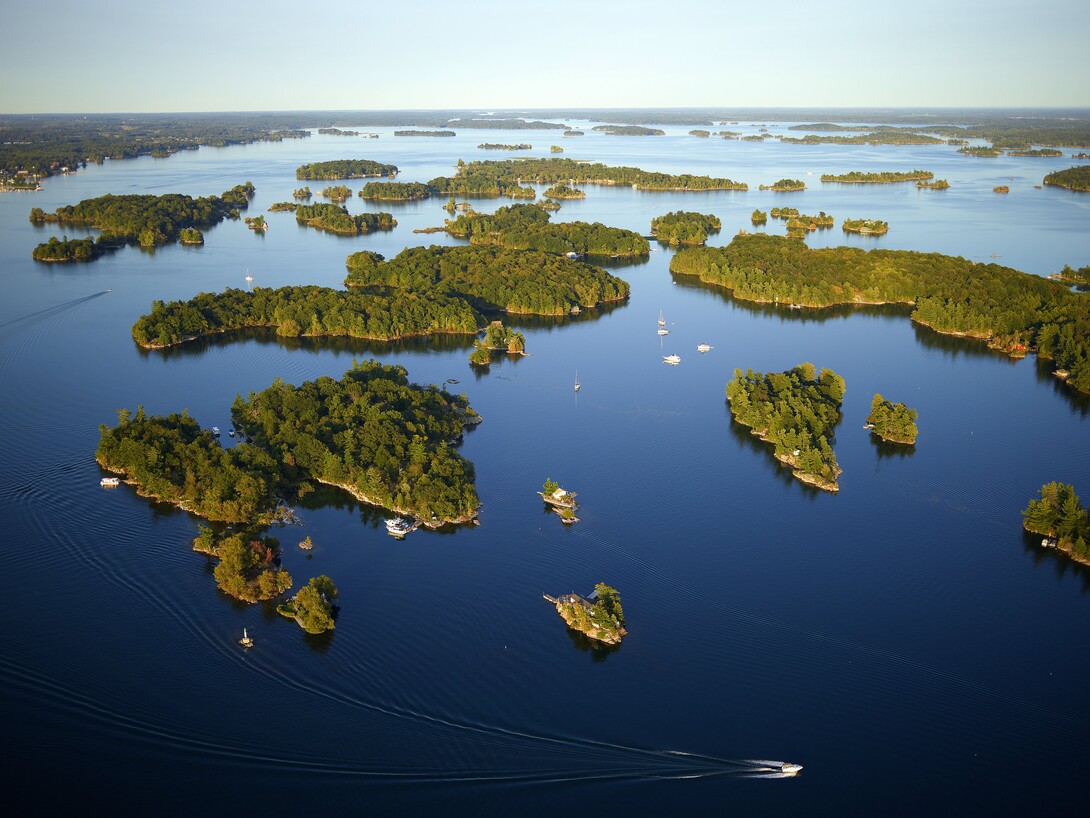 Whether you have your own pleasure craft, or prefer to charter one, you'll want to hit up these luxurious boating getaways.
Ontario is home to some of the best lakes in the world for canoeing and kayaking, but you might be surprised to learn it also has excellent waterways for sailboats, deck boats and cruisers. When you're craving an opulent boating getaway complete with private islands, scotch-tastings and boat-in golf courses and beaches, head for these destinations.
Note: Make sure you have your Pleasure Craft Operator Card (boating license) if you'll be operating a motorized boat.  
Because some of these waterways are shared with the US, ensure that you are aware of customs and boat reporting procedures before you go. 
Here are 5 best baller boating destinations in Northern Ontario. 
The North Channel of Georgian Bay offers peaceful cruising, stellar views and plenty of opportunities to spot wildlife like beavers, otters, bears, and moose.  
There are six marinas and docks along the waterfront, including the Killarney Government Dock, which features a popular fish and chips stand operated by Herbert Fisheries, the Killarney Mountain Lodge Marina, where docking overnight grants you access to their resort amenities, including swimming, a coffee shop, and top-notch restaurants complete with a wine cellar and scotch tastings, and the Sportsman Inn where you can dock and have a meal delivered right to your boat as you enjoy a film from the water!
Don't have your own pleasure-craft? No worries, at Killarney Mountain Lodge you can learn to sail on a Pico, or charter a captained J22 sailboat or 28' Denali Pursuit sport boat to experience the beauty of the Baie Fine, one of the world's largest freshwater fjords, surrounded by spectacular quartzite mountains. 
It's no wonder this 80-kilometre waterway, which crosses the US-Canadian border, is one of the most popular spots in North America for boating. Made up of open waters, narrow passageways, and peaceful coves from the St. Lawrence River and eastern Lake Ontario, it provides excellent conditions and scenery whether you're aboard a speedboat or a yacht. 
See and be seen, as you cruise by castles, mansions and historic lighthouses on the islands—which actually number closer to 2000—that dot this historic waterway. 
Dock at plentiful boat-friendly spots along the Kingston to Brockville shoreline, like The Ivy Lea Club in Lansdowne, ON, featuring a marina, fine-dining restaurant and a café, the Gananoque Golf & Country Club, an established course that has been around for over a hundred years, and the Thousand Islands Playhouse, where you'll be entertained by professional actors from across Canada performing in everything from the classics to world-premiers.
Situated between the Ottawa River and Georgian Bay, this lake covers over 850-square-kilometres and leads into the French River, a popular fishing destination that has Canadian Heritage River designation. 
You'll have your pick of marinas around the lake, including the North Bay Waterfront Marina,  Hunter's Bay Marine in Callander, ON, and the Minnehaha Bay Municipal Marina in Sturgeon Falls, ON. Spend your day cruising past the mysterious Manitou Islands, checking out the incredible rock formations, or angling for one of the 40 species of fish here, including walleye, small-and-largemouth bass, northern pike and musky.
If you left your vessel at home, you can book a stay aboard a yacht at Bowhey's West Nipissing Resort Marina & Café, and charter a captain to take you to the sandbars for the best warm-water swimming, 
The Lodge at Pine Cove, outfitted with handmade wool carpets, copper soaker bathtubs, and wood-burning log stoves, will have you feeling pampered on dry land. The communal lounge building features a bar, library, and a chef serving up local and seasonal meals, including gourmet picnic baskets, and they offer restorative yoga and nature retreats. 
Please note that this body of water lends itself to unpredictable conditions with sandbars, rapids, and shallow depths, so be sure to familiarize yourself with the area before setting sail.
This is the second-largest lake in Ontario, spreading over 1.5 million acres, offering plenty of exceptional experiences for boaters, including the week-long LOWISA (Lake of the Woods International Sailing Association) Regatta. 
Visit Scotty's Island Beach or Coney Island Park, two of Kenora's beaches that can only be accessed by boat, or golf 9-holes at a boat-in golf course just north of Sioux Narrows. Hike the Vernon Nature Area Lookout Trail, which links Boreal Forest, St. Lawrence-Great Lake Forest and Prairie Grasslands vegetation regions, or indulge in some excellent fishing. 
If you'd like to dock overnight and stay on land, you can book a chalet on your own private island through Crow Rock Lodge, or Wiley Point's Wilderness Lodge, which also has a hot tub to soak in and gourmet meals to indulge your senses at the main lodge, and if you're in luck, you may even have a Northern Lights sighting. 
Surrounded by Lake Huron, Manitoulin Island is the largest freshwater island in the world, and has over 100 freshwater inland lakes of its own, including Lake Manitou, Lake Kagawong and Lake Mindemoya. 
Gore Bay Marina is an excellent starting point. It's located next to Split Rail Brewing Co., and is home to Canadian Yacht Charters, where you can choose from an impressive selection of chartered yachts or you can book a skippered cruise. 
Make sure the Benjamin Islands, at the eastern end of the North Channel, is on your itinerary. Made from pink granite, and surrounded by enticing sapphire waters, they are stunning. Another picturesque must-see is the Bridal Veil Falls, a popular spot to take a dip, with space to walk behind the falls. 
Book a meal at North46 restaurant at the Manitoulin Hotel & Conference Centre for beautiful views of the LaCloche Mountains, and stay the night in one of their contemporary rooms. 
Happy Boating!
Be sure to check out these additional boating tips as well as other ways to explore Ontario's waterways.