Tobermory: Boaters Paradise on the Bruce Peninsula
With two marinas, shipwreck boat cruises, stunning hidden coves and so much to take in, it's no wonder this idyllic small town at the tip of the Niagara Escarpment draws boaters back year after year.
When most people experience the natural beauty and wonder of the famous geological formation known as the Niagara Escarpment, they're usually taking in a stunning vista of the magnificent Niagara Falls. A few more may realize the same formation is home to Ontario's top ski resort, Blue Mountain, many kilometres north in Collingwood.
Where to Find Tobermory
What many may not realize is the escarpment continues much, much further. It stretches up the Bruce Peninsula and extends out into the crystal clear waters of Lake Huron, marking the western boundary of Georgian Bay. It's not easy to see, but any Ontario boaters in this part of the area – and there are many – knows where to find it.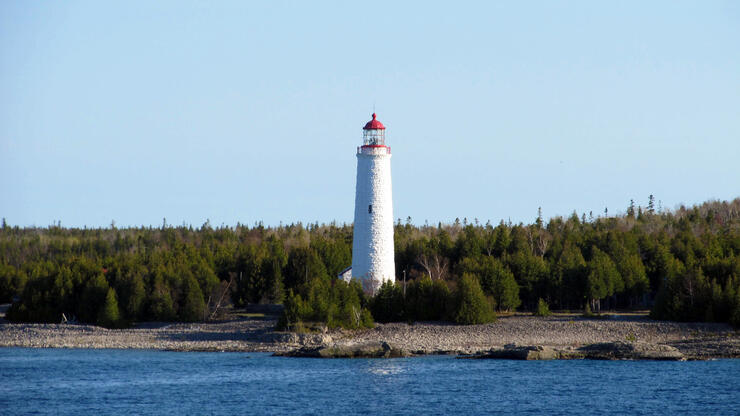 It's one of many fascinating discoveries that make the small town of Tobermory one of the top destinations for boaters. I spent a summer as a cadet on board the MS Chi-Cheemaun, the 364-foot passenger/car ferry that plies the waters between Tobermory and Manitoulin Island, so I had plenty of time to explore everything this town has to offer a visiting boater.
For a small town, it's big on boating features. There are two natural harbours in Tobermory. Affectionately known as "Little Tub" and "Big Tub," they form the basis for the town's boating infrastructure.
Little Tub extends into the heart of the town and is home to the marina, boat launch, and docks, and provides easy access to downtown shops and restaurants.
The fuel dock is located at the mouth of the harbour, providing gas and diesel to transient boaters. You'll also find the harbourmaster's office and Canada Customs information if you're visiting from the US.
Further in, you'll find plenty of dockage along all three sides of the harbour. There is space available for larger vessels, but it can get pretty crowded on summer weekends. At the very end of the harbour is the boat launch. It's big enough to handle day boats, but parking is very limited.
For a larger boat or an extended stay, you might want to check out Big Tub Marina Resort on the north shore of Big Tub Harbour. This full-service facility offers services slips for both seasonal and transient boaters, free Wi-Fi, an on-site eatery and showers. They also offer personal watercraft rentals for you to enjoy.
Boat Tours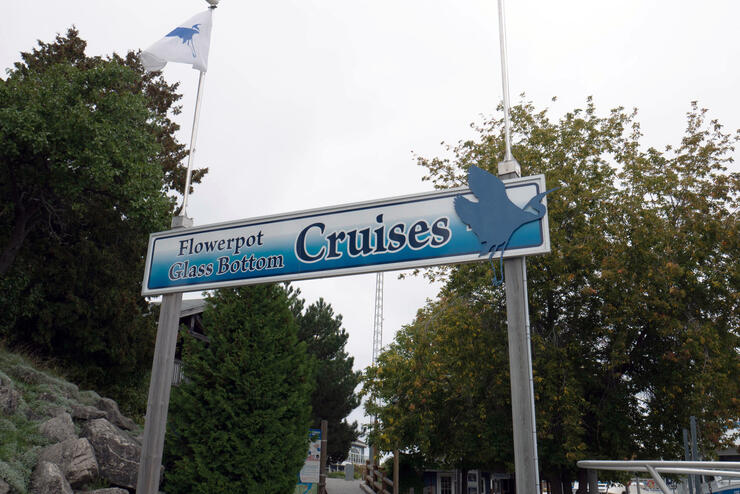 Both harbours have their share of tour boats that carry passengers on guided cruises of Fathom Five National Marine Park, Canada's first marine sanctuary. These glass-bottomed boats provide a spectacular view of the 22 local shipwrecks, and are a great way to see the underwater sections of the Niagara Escarpment.
It's a fascinating sight. You'll be cruising along with a clear view of the lake bottom a few feet below the glass. Then suddenly the lake bottom disappears into the abyss as the boat passes over the cliff, and the water is now hundreds of feet deep.
The unique geological formations and numerous shipwrecks make this area a top destination for freshwater scuba diving. There are 45 square miles of water to explore with wrecks in water up to 150 feet deep.
Of course, the ultimate destination for the tour boats is Flowerpot Island. The flowerpots, unique rock formations that tower over the shoreline, are considered to be one of the most fascinating attractions provided by nature in the entire country.
Most of the tour boats will get you close enough for a photograph. Other tours land on the island, allowing you to hike right up to the flowerpots where you can truly appreciate their beauty. There are also caves to explore and an old light station you can visit.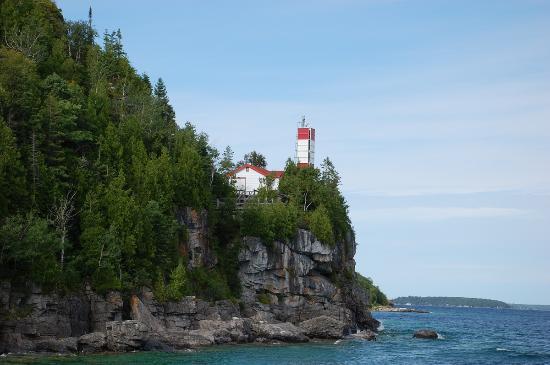 Gotta Go To the Grotto
A 12-km boat ride east out of the harbour, along the shore of the Bruce Peninsula will bring you to my favourite spot – and I'm sure many others would agree – the Grotto.
A popular swimming hole and diving spot, this natural cave was carved out of the rock by the waves on Georgian Bay over thousands of years. It's tricky to get to by land, involving a 30-minute hike from the nearest parking spot and then a challenging descent down a 40-foot cliff. It's definitely easier by boat, but either way, it's an absolute must-see.
Nearby you'll also find Indian Head Cove. It's a great place to swim and relax on the rocks. Both places get very busy during the summer months, especially on weekends. You should also note there are no facilities at either location, so bring everything you need, and be sure to pack out your trash.
Where to Stay in Tobermory
If you're looking for a place to stay in town, might I recommend the Bruce Anchor. This two-story motel is located on the north end of town and offers clean, modern rooms and plenty of parking. They also offer a selection of cottages and chalets.
Big Tub Resort also offers motel rooms with a waterfront view. On the south side of Little Tub, you'll find several more motels, including the Innisfree Bed & Breakfast, Tobermory Princess Hotel and the Blue Bay Motel, which offers free bikes for easy transportation.
There are several excellent restaurants in Tobermory. The Crowsnest is one of my favourites, with its outside patio overlooking the marina. The menu is pub fare, but the food is always great.
For a more family-style restaurant, check out Leeside Restaurant, conveniently located across the street from the ferry dock. They offer a full menu and, for the early-riders, they're open for breakfast two hours before the first ferry departure.

Tobermory is a must-visit destination for any boater. Endless miles of scenic shoreline and crystal clear waters make for an idyllic setting for a weekend getaway. With the number of things to see and visit, one could easily spend a week or more in this small town and still not experience everything it has to offer.
I spent four months here in the heart of the summer season; there are still a few things I missed, and plenty I hope to go back and visit again soon.