Cruising the Upper Ottawa River
A boating expert describes a two-day trip full of serenity, majesty and unspoiled beauty.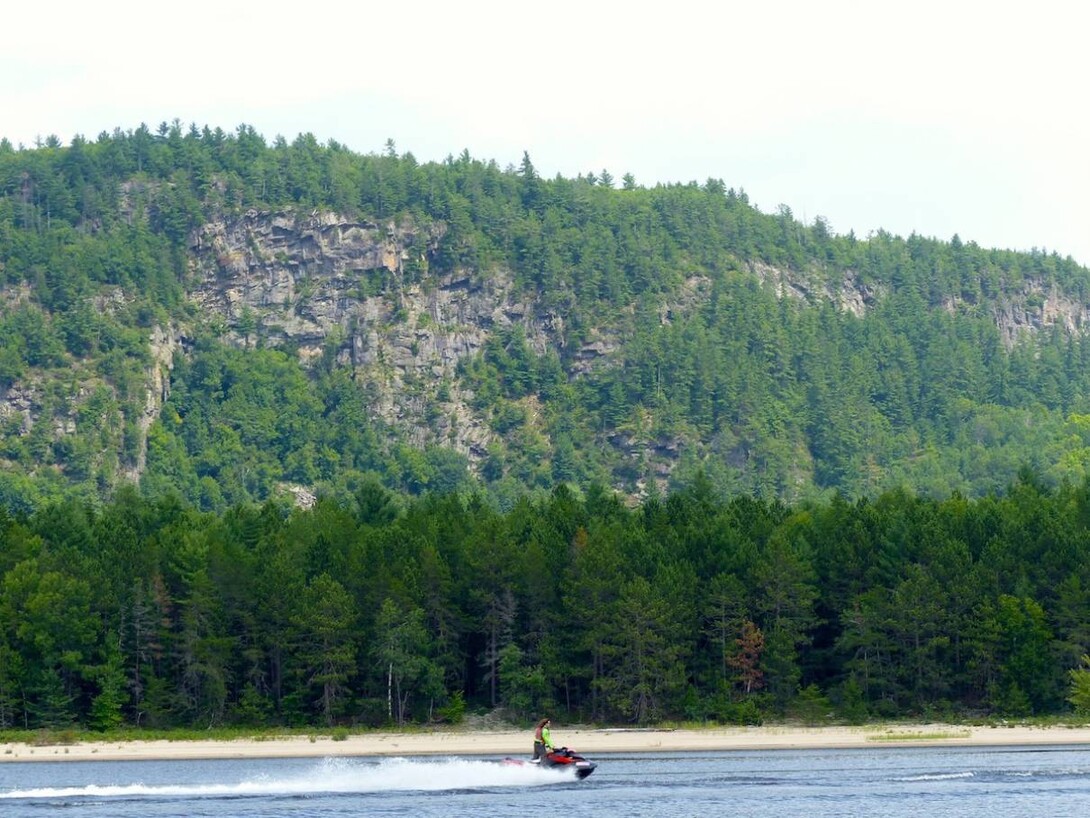 Editor's Note: Craig Nicholson is easily one of the most well-traveled boaters in Ontario (to say nothing of his knowledge of Ontario snow trails.) Watch for his next article on the lower section of the Ottawa River, or watch the video of a truly epic tour he led last year from Pembroke to New Liskeard. Or check his article on cruising the lower half of the Ottawa River from Montreal to Canada's Capital Region.
One of the most unique trailer boating experiences on Ontario waterways is the Upper Ottawa River. Whether you own a PWC, runabout or cruiser, adventuring on to this Ontario wilderness route must be on your go ride bucket list. I've been on a lot of Sea-Doo tours, but nothing matches the serenity, majesty and unspoiled beauty of this Ottawa valley gem. Best of all, it's wide, deep, easily navigable and usually pretty calm. There are a few green or red navigation buoys as guideposts, but hardly any rocks or shallow spots.
boating from Pembroke to Mattawa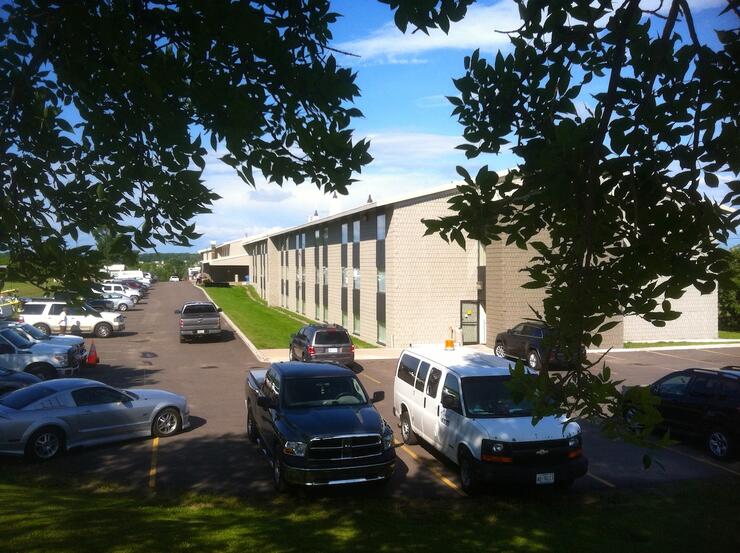 I've completed the entire 660-km return journey from Pembroke to Temiskaming Shores several times by Sea-Doo watercraft, but that's more than most boaters may want to undertake first time out. Instead, I'd suggest the 300-km return ride from Pembroke to Mattawa. It's a two-day jet-ski trip with an overnight at the riverside Valois Motel & Restaurant, which has its own docks. We staged out of the Pembroke Marina and stayed just minutes away at the Best Western Pembroke, which has ample parking for trucks and trailers. The Pembroke Marina has a good launch ramp and plenty of free parking.
boating from Pembroke to Swisha
The first leg of this voyage is about 65 kilometres from Pembroke to Rapides-des-Joachims (colloquially known as "Swisha"). On our Sea-Doo watercraft, we made this on one tank of fuel, but there's also a marina with gas 46 km from Pembroke at Deep River. Cruising our Sea-Doo's along at about 60 kph, the ride from Pembroke to Swisha took us one and a half to two hours, with photo stops along the way, including at Oiseau Rock and the Chalk River Laboratories.
Swisha Transfer for boats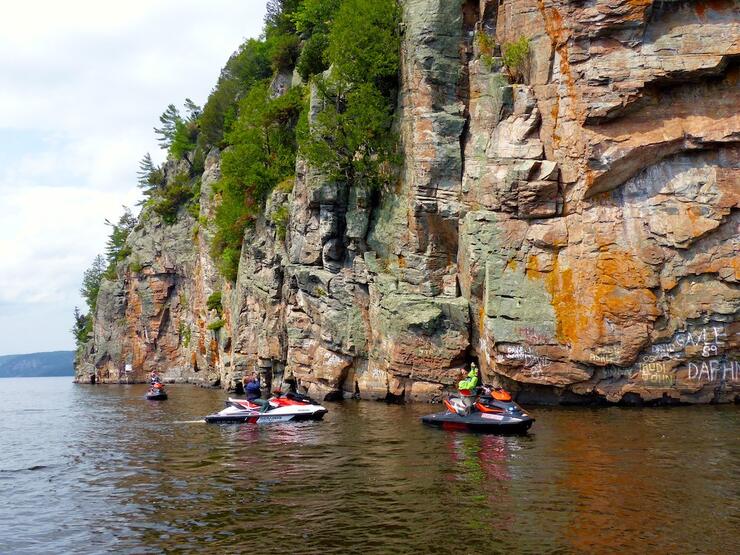 At Swisha, there's a major hydro dam blocking the way. Fortunately, the municipality bypasses the dam with a transfer trailer capable of holding five PWCs or boats up to about 32'. We pre-booked our transfers (outbound and return the next day) and gassed up at Lance's Convenience Store while our watercraft were on the trailer. If you're hungry, there's also a hamburger stand at the launch presently open Tuesday to Sunday from 11:30 am. Count on the one-way transfer taking about an hour including fuelling.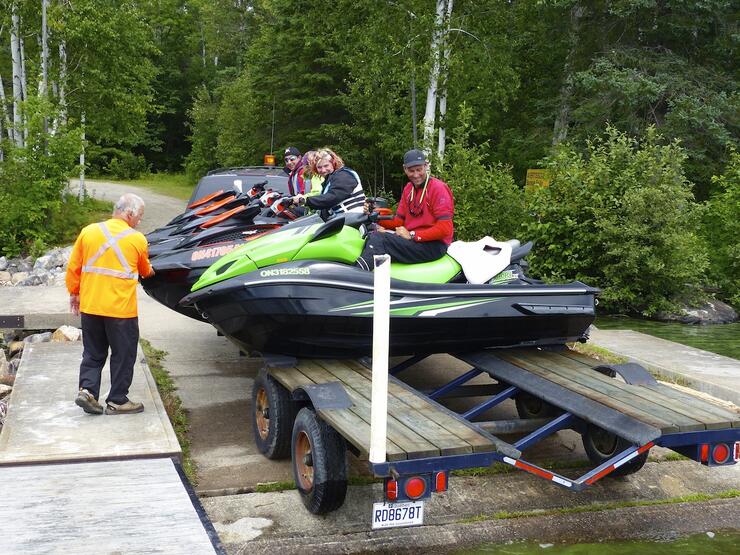 boating from  Swisha to Mattawa
The second leg of this amazing odyssey is about 84 km from Swisha to Mattawa. Included is the only deviation from running straight up the river is at Rocher Capitaine Island, about 26 km after the transfer at Swisha. Here, the route bears to port around the inside of the island to avoid rocks mid-stream.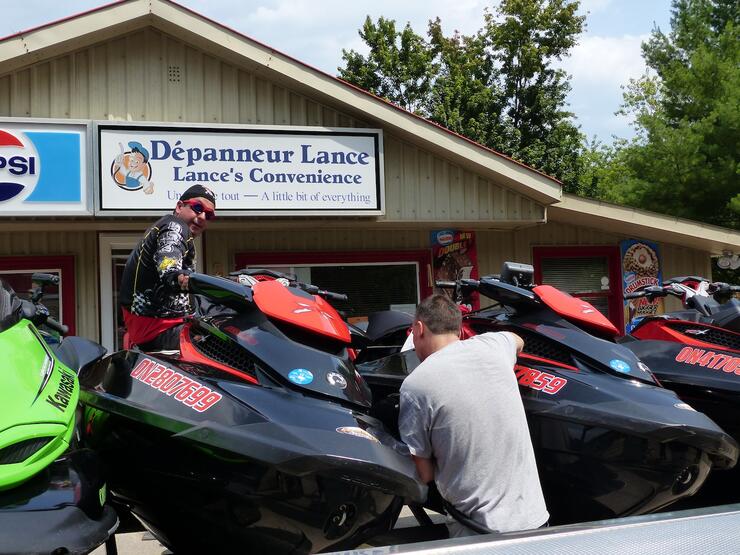 Once again, we made Swisha to Pembroke on one tank of PWC fuel with about a quarter tank to spare. But be aware that there hasn't been gas available at the Mattawa Marina for several years, although I keep hearing it may be soon. That's why we stayed at the Valois Motel. When reserving rooms, tell reception that you're arriving by PWC or boat and will need gas. As it did with us, the motel will arrange someone with a truck to bring it in jerry cans for you.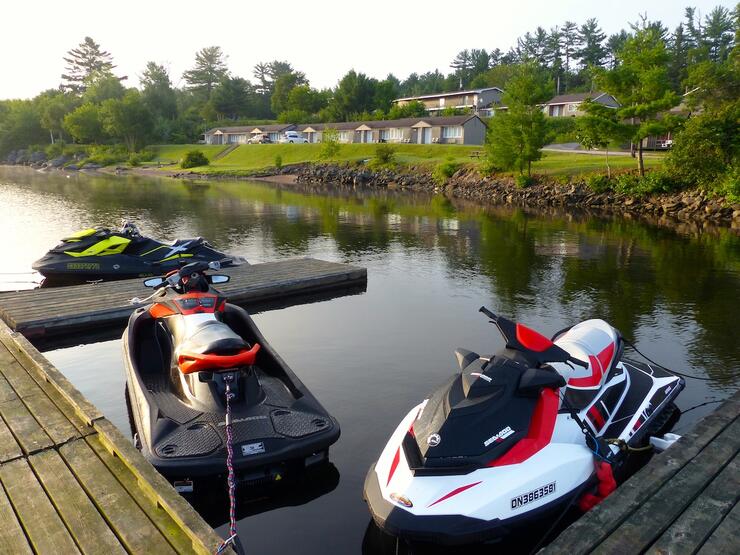 Going Back
The return trip is equally easy, following the same route and with the same stops along the way. But there's a neat side trip up the Dumoine River, which empties into the Upper Ottawa about 8 km west of Swisha. We ran several kilometres upstream up to the rapids with enough fuel left to get back to the Swisha transfer site.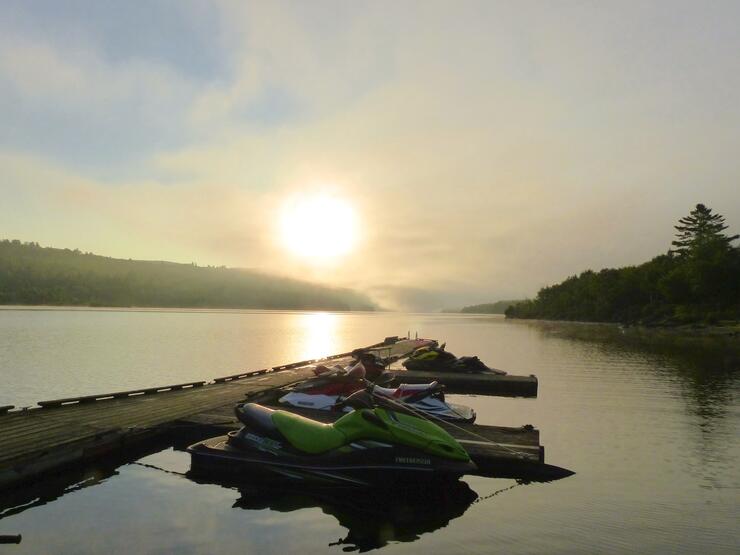 For PWCs cruising along at 50 kmh or more, this is an easy two-day ride. In a runabout or cruiser, your timing and fuel needs will be different, but your enjoyment will still be mighty high. Whatever way you do the Upper Ottawa River, it will make one of your absolute best boating memories!