Boutique Houseboat Rentals Are a Thing: Here's Why You Need to Check Out H2O Getaways
Enjoy luxe linens, one of the world's highest hydraulic locks, and the adventure of a lifetime with these all-inclusive houseboat rentals. All you need is a pleasure craft license. What are you waiting for?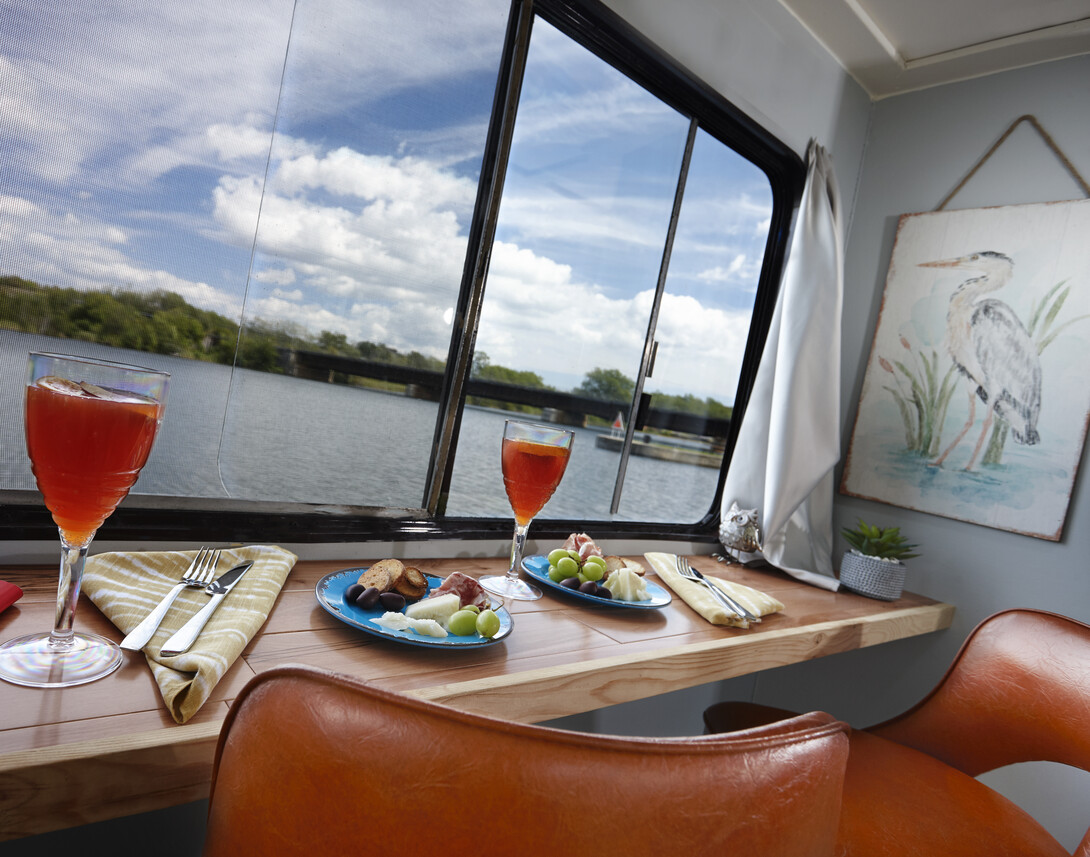 Houseboat rentals are in high demand as word gets out about what it's like to explore the province in a private floating hotel (newsflash: it's awesome). H2O Getaways is a houseboat rental company in Ontario that's giving travellers a new way to explore the Trent-Severn Waterway—in style.
We spoke with Jen Cook & John Lott of the newly established H2O Getaways about their houseboats and what travellers can expect when they book. 
Tell us about your company and how you founded it. Why houseboats? 
H2O Getaways is a boutique houseboat rental company, the first of its kind to operate along the lower half of the Trent-Severn Waterway, from Lock 1 in Trenton, Ontario to Lock 21 in Peterborough, Ontario.  We have re-imagined, re-designed, and renovated our boutique houseboats to include creature comforts such as upscale linens, bedding, and towels, as well as modern amenities such as bow and stern thrusters creating a safe, stress-free, rejuvenating escape. 
H2O Getaways is a post COVID startup, created in June 2020 due to the decimation of our original careers in the entertainment industry—Jen in performance and myself on the production side.  Recognizing the world of large scale Broadway theatre would be out of commission for an indeterminate amount of time, we wanted a business that allowed us to work together, offer us the joy of entertaining, satisfy our unquenchable need to renovate, while still fulfilling our love of the outdoors and boating along the Trent-Severn Waterway.  A boutique houseboat rental company was a perfect fit.
While working in the entertainment industry, we have spent our "spare" time buying, renovating, and selling houses or properties since we started dating 25 years ago. At the moment, we make up the entire management team—we also do dishes, wash sheets, and clean floors.  We like nothing more than being involved with any kind of production that encompasses creativity, arts, technology, people, and of course, boating.
There is an inexplicable serenity that happens whether you are tied to the dock or on the move. The feeling of unlimited space, watching the sun rise and set, looking up at a star-filled sky, everything seems possible in those moments.  Now add trees, wildlife, meeting fabulous people along the journey, and really, what more could you ask for? 
 
Why is travelling by houseboat so much easier and more enjoyable than other types of boating? 
The biggest difference between travelling on a houseboat and any other style of boat is that there are more creature comforts available on a houseboat than any other type of boat. Houseboats are aptly named as they are more like a house on the water than a boat. 
The only disadvantage to the large cabins, lounge areas, and full-size kitchens, is that it makes houseboats the furthest thing from aerodynamic and therefore, ideally operate at a more meandering pace. Perfect for the calm canal waters and lakes of the Trent-Severn Waterway.
If you are a new boater, our boats are a perfect place to start as they are equipped with bow and stern thrusters making the handling of the boats much easier when docking or locking.
What can boaters expect when they rent from you? 
H2O Getaways is committed to providing exceptional customer service in an extraordinary space.  We want nothing more than for each guest to feel well taken care of and to have everything they need in order to relax and enjoy their holiday.  
Our website has all the practical information on pricing, what is required before heading out on the water, and a variety of photos to give guests the information they need. 
John & I are only a phone call away to answer any additional questions or concerns someone might have.
As long-time boaters of the Trent-Severn Waterway and in conjunction with Parks Canada, Bay of Quinte Tourism, Hastings and Northumberland County, H2O Getaways can provide you with all the printed guides necessary for the ultimate "choose your own adventure" holiday.
What amenities can travellers expect onboard? 
Each boat is outfitted with high-quality Canadian-made linens, pillows & towels, as well as locally sourced, biodegradable soaps and shampoos and the option to have the boats provisioned with local goods, prior to departure.
Propane for the BBQ, fridge, cooktop, and hot water heater is included with the rental. As part of our licensing agreement with Parks Canada, our guests enjoy free lock passage and overnight mooring for the duration of their holiday.
Really, the only thing you need to bring is food, clothes and your desire to relax and enjoy the experience. 
Our boats are decorated in an upscale boutique-style, each boat is uniquely furnished with a built-in dinette area and comfortable lounge areas both inside and out. The kitchens come equipped with a full-size fridge/freezer and a propane cooktop. The sleeping quarters all have full-size queen mattresses and the washrooms include a full-size stand up shower with endless hot water, a modern home style flush porcelain toilet, and vanity.
We equip each boat with a GPS tablet that provides instructional videos on the different elements of each vessel. Paper charts are provided as well as a complete safety package with PFDs for every adult on board. A BBQ on the back deck of each boat makes it easy to cook large meals to serve either on the dock or the rooftop lounge. The boats are also equipped with solar panels powering everything inside the boat and have bow and stern thrusters, making it easier and safer to navigate the lock system.
More information about the onboard amenities can be found here. 
So the journey begins in trenton, Ontario. What are some of the sights to see along the way? 
These self-driven bareboat charters start from the mouth of the Trent-Severn Waterway in Trenton, Ontario and with enough time, allow guests to meander all the way to Peterborough to the historic Lift Lock 21. With options for swimming, fishing, shopping, paddle boarding, and kayaking along the way, our guests have a real "choose your own adventure" at their fingertips. Many of the locks are remote and quiet, perfect for rest and relaxation; however, there are also locks located in or near small towns where travellers can partake in local restaurants and shopping, as well as local attractions. The Trent-Severn Waterway is a National Historic site, originally built between 1879 and 1920, each lock is its own federal park and is pristinely maintained by Parks Canada. 
How long should you rent a houseboat for? Is it something you can do in a weekend or can you go for a month? 
H2O Getaways will rent a houseboat for as little as three days midweek or a weekend if you want a quick, relaxing getaway; however, if you are hoping to get the most out of your rental, 7-14 days is ideal.  A 7-day rental comfortably allows enough time to get to Healey Falls, Lock 15,16,17, which has a 300-meter wide waterfall that spills over rugged, wide steps of limestone, a spectacular stop. It also allows guests the opportunity to experience the double flight lock at Ranney Falls, Lock 11 & 12, where the Ranney Gorge Suspension Bridge spans 300 ft across the gorge to Ferris Provincial Park, another beautiful spot and everyone loves to spend some time downtown Campbellford for a little shopping and exploring.
A 14-day rental will allow more than enough time to get to the Trent-Severn Waterway's showpiece, the Peterborough Lift Lock. This lock's dual lifts is one of the highest hydraulic boat lifts in the world, raising boats an impressive 20 meters. With an impressive visitor centre built beside the lock, that offers interactive simulations and historical exhibits detailing the construction of the lift lock, it's a fantastic stop for kids and history buffs alike. No matter what timeline you choose, there are always places to stop for swimming, fishing, shopping, paddle boarding, and kayaking along the way, as well as staying at locks closer to town and being able to enjoy local pubs, restaurants, and bakeries.
 
Frequently asked questions about renting a houseboat
1. How many people does it take to operate a houseboat & navigate the locks safely?
It is ideal to have 3 or more people onboard to comfortably operate the larger boats through the Locks, we recommend one of the smaller boats if there are only 2 people on board.
2. Will I be able to drive this big boat confidently?
YES! Most folks find getting into the Captain's chair quite comfortable; however, there are a couple of things to keep in mind: houseboats do not drive like cars or RVs. They are big, slow-moving, floating houses. Our boats are the perfect boats to start on if you are a new boater, as they are equipped with bow and stern thrusters that help move the boats sideways, making locking and docking much easier.  Before you head off on your adventure, one of our staff members will walk you through all the operational features of the vessel and if you choose, one of us can accompany you through your first locking experience to put your mind at ease.
3. How can I be confident I know the rules of the waterway?
Get Your Boaters License!  We require anyone captaining our boats to have their Boaters License. All operators of motorized recreational watercraft used on Canadian waters must show proof of competency such as the Pleasure Craft Operator Card (PCOC). This is an inexpensive online course and exam that is provided through Transport Canada. Completing this course will give you all the knowledge required to confidently navigate the waterways.  In addition, the onboard paper charts and GPS we provide, will keep you in the channel and let you make confident decisions when planning your day to day adventures.

What might they find surprising? 
Everyone that has rented from us comes back with different stories of what they saw or where they chose to stay along the way, but almost every guest has made mention of how wonderfully uncongested this end of the Trent-Severn Waterway is and how incredibly friendly and helpful the lock masters are, which we are not surprised by, but always happy to hear. We're also happy to hear from everyone how easy and fun the experience was. Once you're through your first day of boating the worries about docking and navigating will lessen, and before you know it you're captaining with confidence through historical waterways and 100-year-old locks like a pro.
Book your Ontario houseboat adventure today with H2O Getaways

https://www.facebook.com/h2ogetaways/
IG: @h2ogetaways