11 Essential Safety Tips for PWC Riders
"Good colours to wear are orange, pink, yellow or bright green."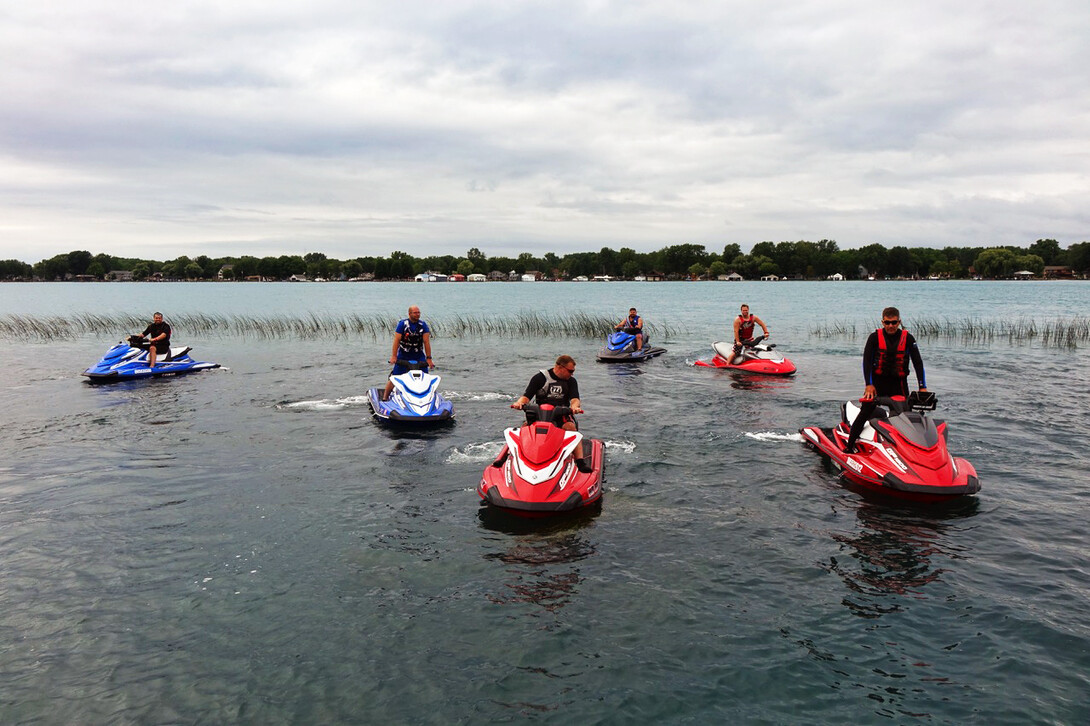 You've got your new PWC, chosen a trailer, and have learned a lot about them. Now it's time to get on the water and have fun. Whether a short afternoon ride or a full day of cruising you want to have fun safely.
I've been riding PWCs for many years and have either experienced the following myself or know people who've found themselves in these situations. Here are some suggestions to ensure a safe time on the water.
1. Avoid towed vessels + minimize your wake
Whether you are riding your PWC at speed or cruising along, keep your head on a swivel and be on the lookout for other vessels. Bear in mind that any powered vessel towing a skier or a tube needs a lot of space. Keep as far away from them as possible. Also give vessels towing disabled boats a wide space. If you must pass close by, slow your PWC in order to minimize waves that could cause problems to the vessel under tow. 
2. remember non-motorized vessels have right of way
Slow down if you cannot keep a wide distance when passing non-motorized vessels such as sailboats under sail, canoes, kayaks, and paddleboards. Remember that non-motorized vessels have the right of way over motorized. Give them lots of space and keep your eye out for others. 
3. avoid public beaches and swimming areas
Keep your PWC away from swimming areas. Beaches can look inviting to head towards—it's tempting to pull up onshore and go for a swim yourself. Public beaches, however, are off-limits to powered vessels and are often marked with buoys or floating ropes. Swimmers' heads bobbing in the water are really hard to see until you're almost on top of them. I suggest maintaining a good distance from the swim area boundaries as sometimes swimmers will swim outside the markers. 
4. how do I communicate on my pwc? Use hand signals

When riding in a group, individual riding skills are as varied as the PWC ride participants. The more people in a group the more you need to keep your wits about you while riding. Maintain good distance between PWCs, refrain from horseplay, and don't follow directly behind another rider. Hand signals are extremely useful in a group setting so ensure everyone knows them before heading out. In our group rides, we use some of the same hand signals as snowmobilers do.
5. keep your distance, no tailgating
Never follow directly behind another PWC. If the rider in front of you stops suddenly you could find yourself riding over them causing serious injury or suddenly taking evasive action and possibly a collision with someone else. It is preferable to ride well behind and off to one side or the other of the lead PWC. If someone has to stop suddenly then everyone can glide to a stop safely nearby. 
6. What if I fall off my pwc? let go and get clear
Horseplay on a PWC—such as splashing others with your wash, jumping boat wakes, or riding in tight maneuvers together—could result in collision and injury. Be respectful of the space everyone needs to operate their PWC safely. If you suddenly begin to fall off your PWC, let go and fall clear of it. Hanging on could potentially injure yourself with strains, bruises, or broken bones from impact. When you resurface and are floating near your machine take a moment to gather your thoughts before reboarding. The PWC operator boards first and then the passengers. Once everyone is back on the PWC you can restart it and carry on.
7. check your blind spots
When you want to change direction first look around everywhere including behind you for other vessels that may be nearby or attempting to overtake you. If someone is overtaking wait until they have passed if you plan to turn in that direction. It is safer to turn well behind the vessel after you have been passed. 
8. steer defensively: avoid all oncoming vessels
If you see a vessel coming directly at you take action early and make a deliberate turn in a direction away from them. Even if your PWC has the right of way, the other vessel operator may not be aware. Give way if you suspect you may be on a collision course with another vessel. 
9. make sure you're visible: choose neon
Safety on the water means being easily seen by others. Good colours to wear are orange, pink, yellow or bright green. Black, blue and other dark colours can blend in with the surroundings and be overlooked. White may not be a good choice as it's the same colour as white caps on rough water. My experience wearing neons and other bright colours has been a positive one—many PWC riders and boaters comment that I'm very easy to see at a distance on the water. Bright colours are also easily seen if you're out on the water when the weather turns nasty. You may need to lead others to safety while being easily seen.
10. get illuminated: ride with navigation lights

Navigation lights are legal on PWCs in Canada, so consider adding them. Lights are useful when the weather turns or you get caught out after sunset. In these situations ride to the conditions and do not overrun your lights (the visible range ahead of you). Your GPS will also come in handy, helping you navigate your way back to the launch ramp. 
11. seek shelter + dismount in inclement weather
Watch the weather for unexpected changes. Even after checking the forecast before leaving home and ensuring it's going to be a gorgeous day, the weather can change. The Windfinder Pro: Wind & Weather app (download here for Android or iOS) is a great way to keep an eye on the tides, waves, and storm forecast while you're out on the water. 
If a thunderstorm rolls in quickly find shelter, avoiding areas with very tall trees, antennas, or wide-open areas. You also don't want to be on your PWC at this time. Tie up to a dock or beach the PWC and find shelter away from the water under a building overhang or inside a building.
ride safe and have fun
Keeping these points in mind along with a safe attitude will ensure that your day riding your PWC with a buddy or a group is loads of fun for everyone.