A Beginner's Guide to Bikepacking in Ontario
The latest outdoor trend to hit Ontario combines backpacking, camping, and biking for an amazing (and easy) adventure.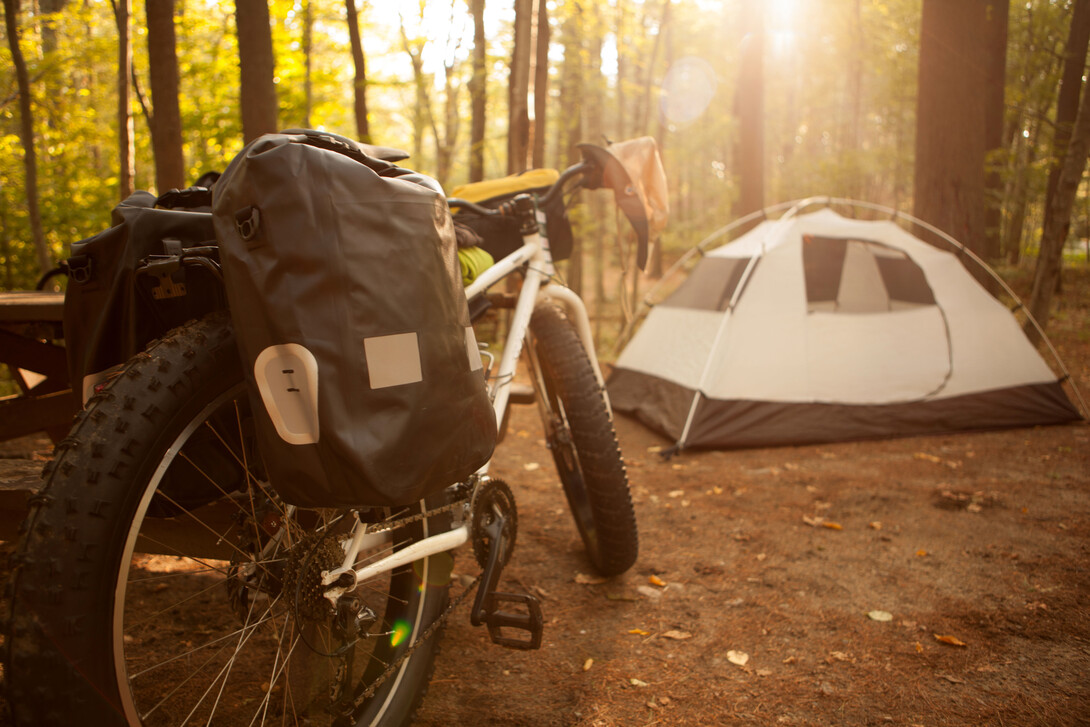 There's a relatively new trend sweeping outdoor enthusiasts in Northern Ontario. And if you're desperate to get outdoors and get some fresh air this fall, it's the perfect activity to cure those physical-distancing blues.
Because people like making up new words for things, the trend is called bikepacking–a blend of biking, camping, and backpacking. And it makes total sense that it's become even more popular in the year 2020. 
Why? Everyone is desperate to get outdoors and enjoy nature (safely) with friends. Bike sales are through the roof–even getting your hands on a second hand bike is tough. But for those lucky enough to have a bike can get excited for new adventures because bikepacking is easy, safe, and rewarding. 
Read on for our introduction to bikepacking where we round up everything you need to know about your new favourite way to travel!
What is bikepacking?
Bikepacking is biking plus a bit of camping and backpacking. It's an easy way to get outdoors with minimal commitment and preparation (at least compared to a big camping trip). 
Grab your bike and all your safety gear. Consider getting a tune up for it if you're planning on a longer trip. 
Grab a light backpack, or some panniers (if you're fancy), or specially-designed bikepacking bags that fit under and alongside the bike frame and fill it with essentials–trail map, water and snacks, rain gear and warm clothing, cell phone and backup charger, etc. Here are some ideas of what to pack. Remember, the key is to travel light! 
Plan your route, how many kilometres you'll cycle each day and where you'll stop–either at a campsite or a motel or hotel. Maybe you'll try bikepacking for an afternoon, a full day trip, or a multi-day route–whatever you're comfortable with!
If you're going on a longer journey, budget for food and essentials and make sure you've got enough cash or a credit/debit card to handle it all.
Let a friend know your itinerary (safety first!).
Consider investing in a satellite phone or GPS if you're planning to go long distances over remote areas.
Do I need a special bike to go bikepacking?
What sort of bikes are recommended for bikepacking? 
You'll be happy to know bikepacking is suitable for all manner of bikes–and it's easy to plan your trip according to the type of bike you've got. Some bikepackers prefer mountain bikes or fat tire bikes which are better for dirt and gravel trails and more difficult terrain. If you've got a city bike you may want to plan to bike on paved roads. 
How long should a bikepacking trip take?
There's no ideal length of time for a bikepacking trip–it's whatever your schedule, budget, and comfort level allows. Many riders enjoy day trips outside their cities or an opt for overnight stay or weekend trip to really experience the outdoors. A real vacation might be a weeklong trip and hardcover bikepackers can be out on the trails for months at a time, traversing massive distances. Most likely, you'll be out for a day or two, though!
what is Credit card bikepacking?
Not everyone is down for a camping trip. Tents and equipment are expensive and not everyone has access to all that gear–sleeping bags, portable stoves, etc. And more importantly, not everyone wants to carry all that on their back while biking around–even if you are just carrying the camping essentials.
This is why loads of bikepackers are opting to overnight in motels, B&Bs, and hotels along their route–hence the term "credit card bikepacking." While the term may sound like there's a hint of judgement there, there's no wrong way to bikepack. Everyone enjoys getting outside in their own way, so do whatever makes you comfortable. After all, there's nothing like a hot meal, a nice shower and an actual bed at the end of a day on the road. 
Travellers who are driving to their bikepacking trails can also choose to camp out in their vehicle. This kind of multi day bikepacking/road trip hybrid requires less equipment and is more affordable than staying in a motel. You'll likely still have to plan your meals, though, so take note. 
Bikepacking vs. hiking
As every avid cyclist knows, seeing the world on a bike just feels different. It's a fantastic way to experience both cities and nature in a new way. Plus, biking lets you travel much longer distances and see more stuff than you can on foot. It's easier to traverse rough terrain on a bike, and when you hit those downhill stretches, there's no better feeling than sailing along without a care in the world.
Where do I bikepack?
Are there established bikepacking routes?
Anyplace you can bike, or camp, you can bikepack. The Central Ontario Trail (COLT) is a popular 500km loop but basically anywhere there are roads and trails, there are bikepackers. The Trans Canada Trail is a great option for bikepackers–it runs through North Bay, Sudbury, and Sault Ste. Marie, along the north shore of Superior to Thunder Bay and Kenora.
Aside from these established routes, there are loads of loops and trails around–try joining or following a local cycling group on social media for expert tips in the area you'd like to explore. And try following well-known bikepacker Miles Arbour on Instagram for a wealth of bikepacking inspiration.
Whether you choose to get out and do some bikepacking this fall, or whether you opt for some regular old bicycling, Northern Ontario is the perfect spot for a cycling adventure.