Paradise Cove Resorts
Musky...the fish of 10,000 casts.
I'll be the first to admit that, even with over half a decade of experience under my belt, I'm still relatively new to the vast and wonderous world of fishing. Both art and sport, fishing in its many forms is so much more than simply tossing a line in the water; there's seemingly no end to the knowledge and technique one can acquire through research, conversation with other anglers, and of course experience that can only come from being out on the water. While I do my best to learn from every angler (and fish) I'm lucky enough to meet, I still often feel as though I have barely grazed the surface of all there is to know about the techniques and nuances of fishing for different species.
One such species that both thrills and intimidates me are one known to many anglers as the fish of 10,000 casts: musky. Also known by its more scientific name Muskellunge, this prehistoric fish is revered throughout the fishing community for its size, strength, and elusiveness. Personally, I've only landed one sizable musky. It was my first year learning to fish, and I have to say, the second I saw that massive jaw engulf my topwater fly, I was completely hooked. I finally understand why one fish was worth those 10,000 casts, as few fishing experiences since have compared to the excitement I felt seeing such a huge creature at the end of my line.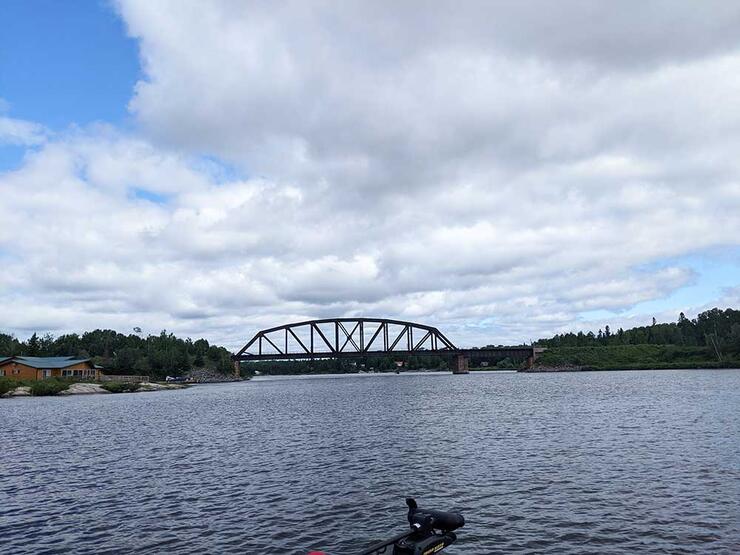 This past summer, I was lucky enough to once again have the opportunity to fish for this incredible species while visiting Paradise Cove Resorts with pro fly angler and friend, Mark Melnyk. Located in the small town of Minaki, Ontario, Paradise Cove Resorts rest on the banks of the Winnipeg River System—not to be confused with the City of Winnipeg, which is across the border in Manitoba. This river system is known for holding large numbers of massive musky, making Paradise Cove Resort the perfect location for Mark and me to stay while hunting for these epic fish.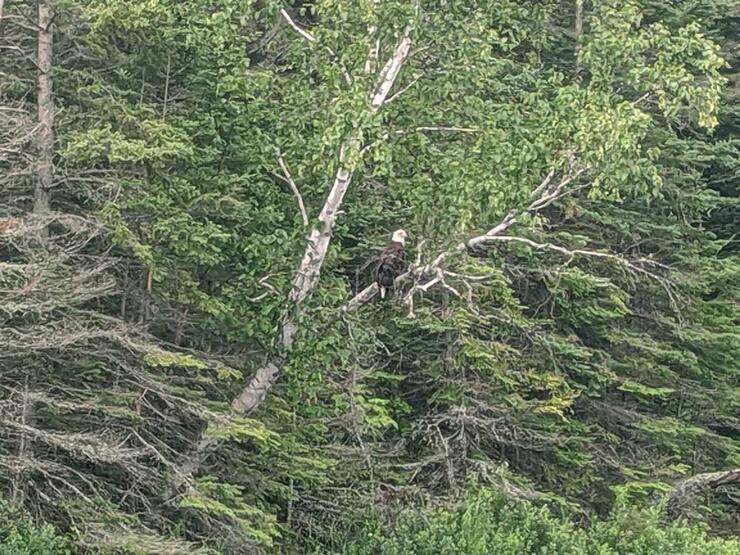 Owned and operated by Duane Hell, Paradise Cove Resorts is an excellent choice for anglers and families alike. With a wide variety of waterfront accommodations and services available, guests will have no trouble booking a trip that suits their price point. Additionally, the resort is home to a marina (with free boat launch and dock access for guests), a restaurant and lounge, and a beautiful sandy beach. When all of this is coupled with the incredible multispecies fishery that includes bass, walleye, northern pike, and of course musky, Paradise Cove Resorts has all the ingredients needed for the perfect fishing adventure.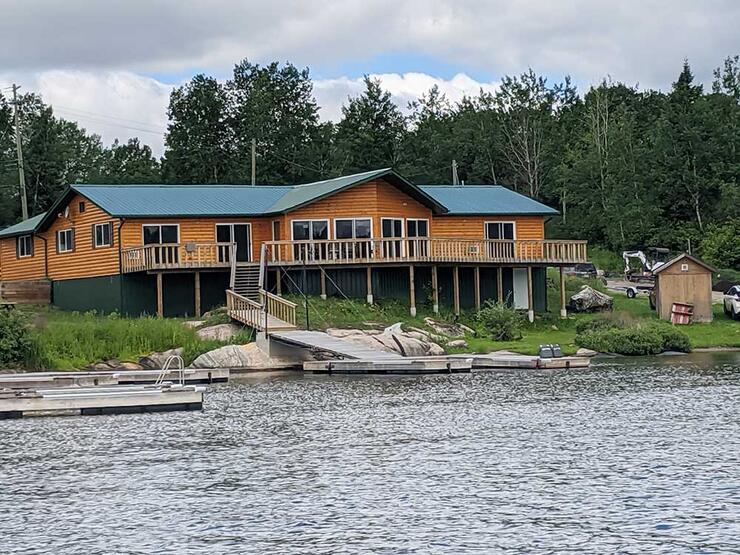 Musky are unique, in that unlike Northern Pike, they're a species that thrives in extreme weather. Where intense heat will cause Northern Pike to dive deep and sulk at the bottom of the lake, musky will stay shallower and bask in warm water on a hot summer day. This was perfect for Mark and me, as our trip fell during what he refers to as the dog days of summer. This rang true as our days on the water were all but sweltering. Not that either one of us noticed, as we were too busy scanning the water for any movement triggered by our flies. We were lucky on this trip to be guided by Duane Hell and his son Corey Hell, on different days respectively. Their knowledge of musky fishing, as well as the expansive river system, was invaluable and allowed us to more effectively locate active fish.
I am sad to report that, despite our best efforts and some 10,000 collective casts, Mark and I didn't land a single musky during our trip. However, I wouldn't say neither one of us left disappointed. Mark and I share the mentality that the thrill of seeing and engaging with big fish is half the fun of the experience—and in this way, we struck gold. During our first few days on the water, we saw more active (albeit picky) musky than I ever anticipated. They followed, they bumped our flies, everything but actually going in for the kill. The anticipation was exhilarating. What's more, the beauty of staying at Paradise Cove Resorts is that with access to such a large multi-species fishery, you'll always have something. When we knew the musky fishing had turned off, our guides took us to a variety of other spots on the river system to fish for small and largemouth bass. I, unfortunately, had to leave early due to a family emergency, but Mark finished out the trip strong, engaging with a few more musky during his late-day fishing with our guide Corey.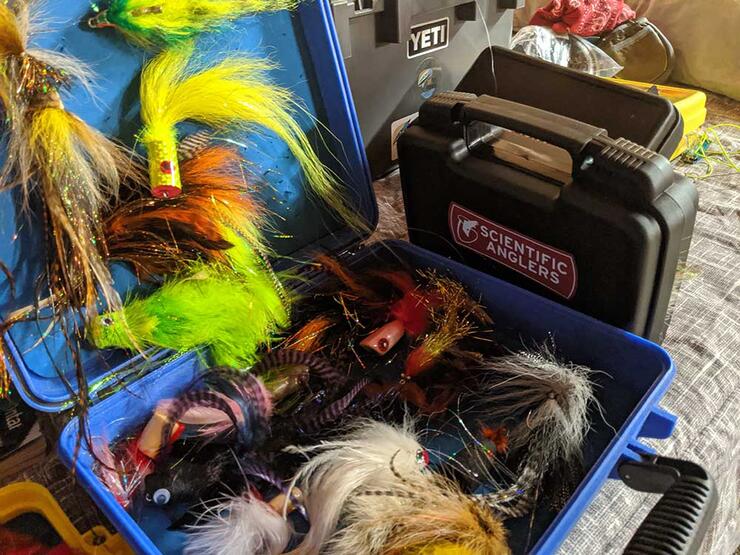 When musky fly-fishing, I would suggest coming prepared with a wide variety of musky flies in order to align with the conditions, the time of year, and the naturally occurring food sources available to the fish. Mark and I found the flies that were most successful at triggering a reaction were walleye patterns (black with green or chartreuse flanks), white fish or cisco patterns, and of course big mouthed poppers that will create all kinds of fish-attracting topwater chaos.
Despite driving home without any success getting a musky in the boat (or even on the rod for that matter), Mark and I both agree that the thrill of seeing those big fish so close to the boat was almost as sweet a success. With all the uncertainty in the world during this time, dreaming of a big, fat musky and a return trip to Paradise Cove Resorts gives me something to look forward to. Ontario lodges and outfitters look forward to welcoming international anglers.
Ontario and all the musky at Paradise Cove Resorts will be here waiting for you!