A First-Time Bear Hunter Visits Watson's Kaby Lodge
Ty Sjodin brings niece Kalie to Algoma Country for her shot at a fall black bear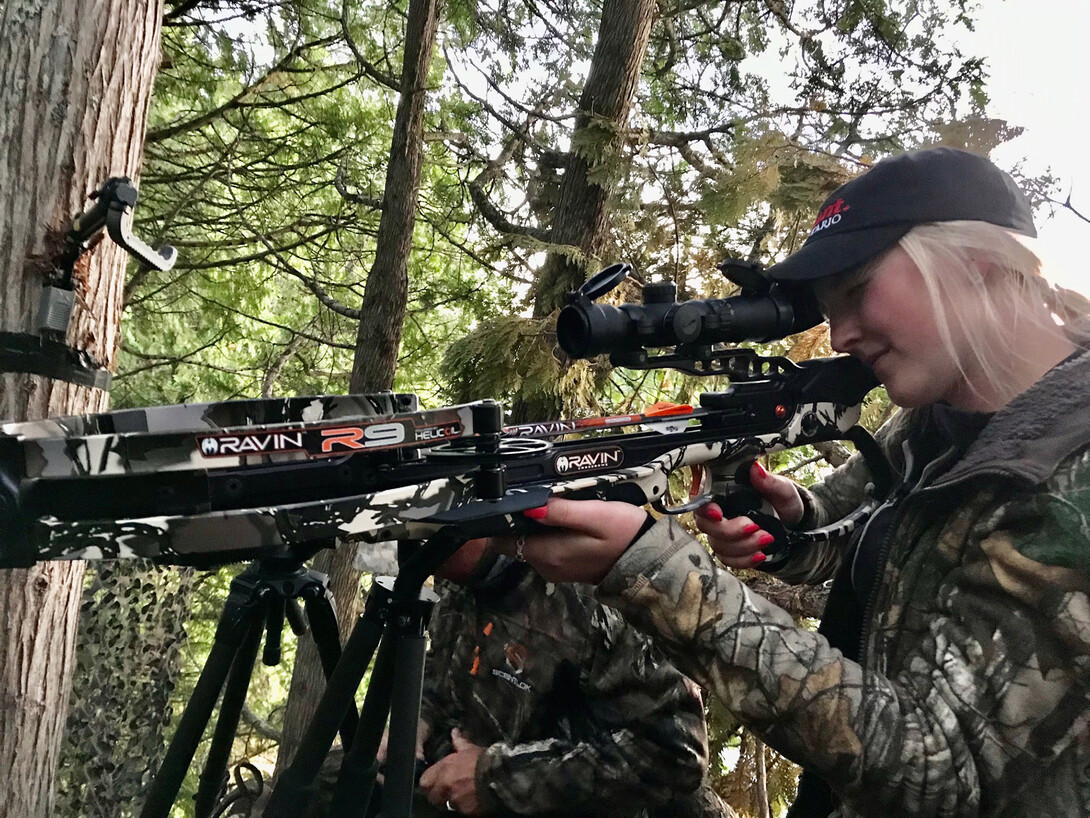 If you're looking to plan a fly-in to a truly remote wilderness destination, Watson's Kaby Lodge is a place you need to experience. It starts with a beautiful drive to White River, which is in the heart of Ontario's Algoma Country, and from there it's a quick floatplane ride into the remotely located Kaby Lodge on the south end of Kabinakagami Lake.
Kabinakagami Lake or "Big Kaby," is a 30,000-acre lake, 25 miles long with hundreds of miles of shoreline, 140 islands, and full of great structure, with an average depth of 20 feet which makes it a multi-species dream.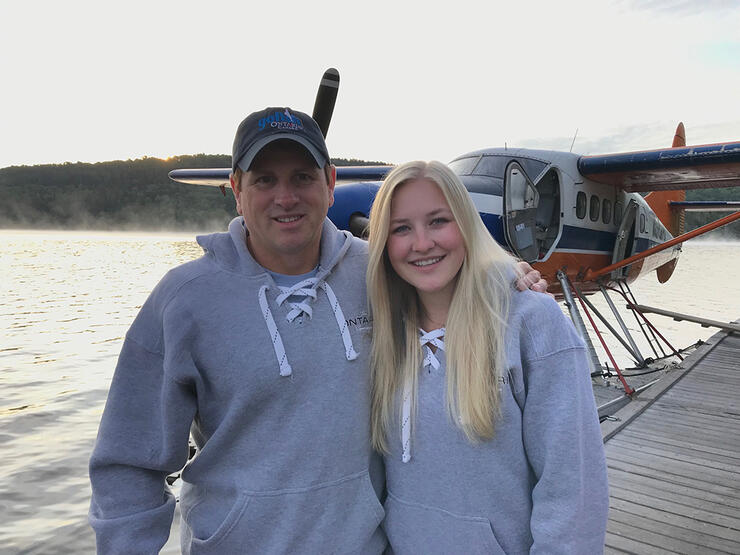 Kaby Lodge was originally known as Kaby River Lodge and was established in 1974. The lodge was then purchased by Dick Watson Sr., Tom Watson's father, in 1980.  After extensive renovations, Dick reopened it in 1982 as Kaby Lodge. Tom and Michel took over the management of the lodge in 2000, purchased it from his family in 2009, and have been operating it ever since.  
Tom and Michel continue to make numerous upgrades and infrastructure comfort improvements to Kaby Lodge, as well as upgrading their marine equipment recently to very comfortable, custom-designed 16' MirroCraft boats with full floors, swivel seats, and Helix Humminbird depth finders with 20hp 4-stroke electric start Yamaha motors.  Kaby Lodge offers nine cabins that are available for their American Plan guests, as well as one cabin for those choosing the Housekeeping Plan who want to do their own cooking. All the cabins are equipped with 24-hour electricity, full bathrooms, on-demand water heaters, propane wall heaters, refrigerators, microwaves, and coffee makers, along with satellite tv and Wi-Fi available in the main dining room, giving you all the creature features to make your stay very comfortable.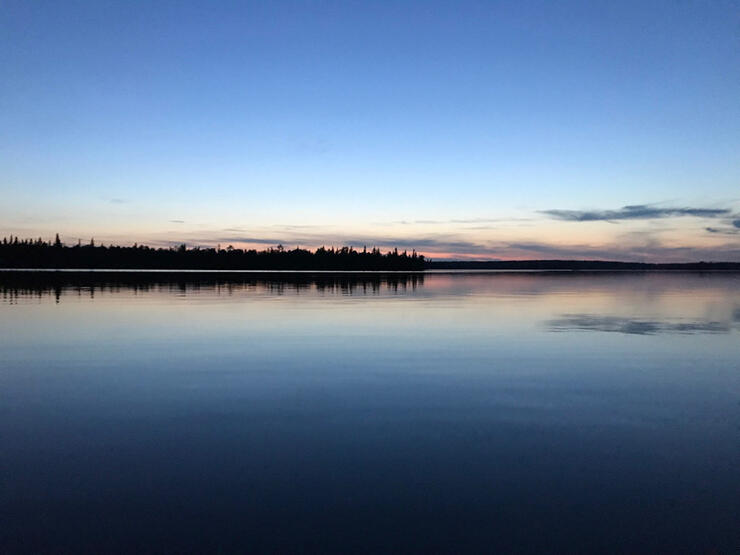 Kaby Lodge can accommodate up to 56 guests and have 10 staff catering to your every need. Delicious home-cooked meals are served in the dining room at the beautiful main lodge overlooking breathtaking Kabinakagami Lake. Breakfast is served à la carte, with a wide variety of delicious hot or cold meals to suit your appetite. For lunch, the staff prepares a bag lunch or a fully equipped shore lunch box, including everything needed to cook your own fresh fish you catch that day. Dinners at Kaby Lodge are nothing short of spectacular, with a different entree served each day of the week along with a full hot and cold salad bar and fresh homemade breads. You are sure to walk away very full and satisfied.
I was very excited to bring my niece, Kalie, on her first-ever Ontario Experience this fall. There were a lot of "firsts" for her on this trip. Her first time in Ontario, her first time on a floatplane, and most exciting… her first-ever bear hunt. On this trip, she would be the one behind the crossbow scope bear hunting, and I was there to help mentor her. It was just as much fun for me to see her enjoyment on this awesome double-duty, fins and fur adventure at Watson's Kaby Lodge as it was for Kalie!  It's truly memorable spending time with a family member and watching them experience all these "firsts." This was a perfect place to go out and spend part of the day setting the hook on lots of walleyes and pike, and part of the day waiting in the stand for a big bear. That absolutely amounts to feeding two passions all wrapped in one trip.
On our arrival at the lodge, we were greeted by Tom and Michel at the dock when the plane landed and our gear was quickly placed in our very comfortable cabin. After getting settled in, Tom reviewed trail camera photos with us at a few locations. They had some great bears showing up at a number of stands they planned for our hunt. To see when the bears were visiting and the size of those animals definitely got our excitement started, and we planned accordingly. Because the bears were coming in during the evenings, Kalie and I spent the mornings catching tons of walleye and pike, then we'd returned to the lodge for a quick lunch before being dropped off at our bear site, where Tom would freshen the bait each day.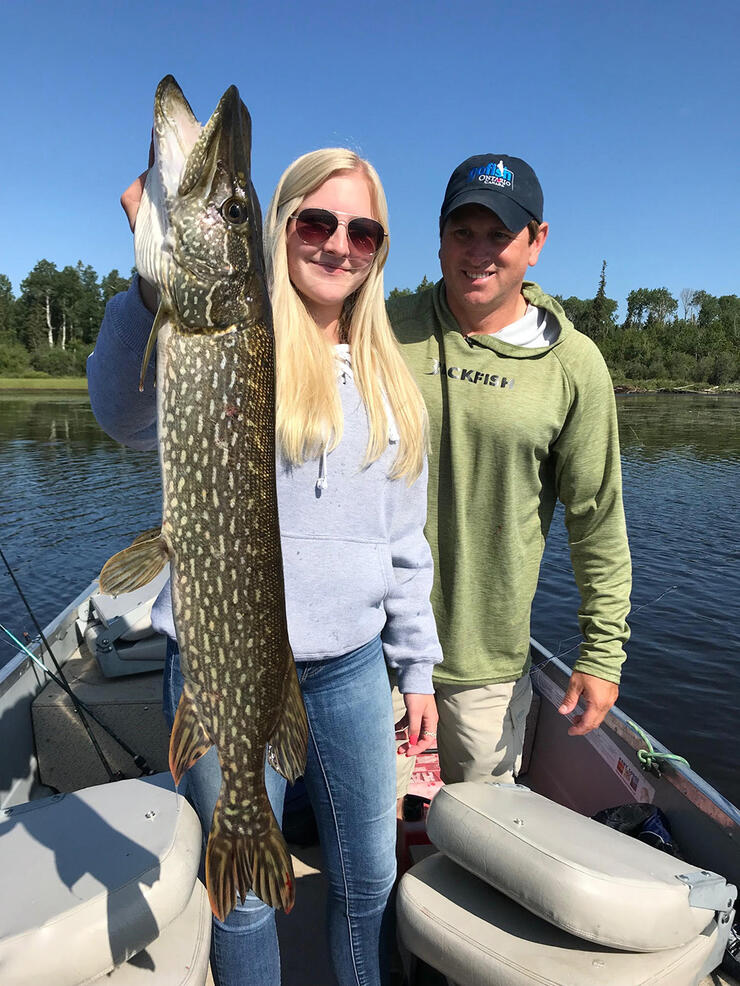 Prior to our first evening hunt, we made sure Kalie's shot with the Ravin crossbow was dead on and nothing had been bumped during our trip. Once we confirmed she was hitting the bullseye on the target, we headed off for the first sit.  
The trip started off with an excitement-filled evening, with a smaller-sized bear coming to browse and giving Kalie a shot of natural adrenaline. It was beneficial to have that smaller bear come in so she could practice going through her progressions to help her prepare for when a shooter-sized animal did arrive.
Following day one, the weather turned to unseasonably warm temps along with heavy rain for a couple of days, which is not beneficial for getting a big bear to move during daylight hours, but with the trail cam pictures showing bears in the area, we hunted through it, getting excited with every sound and breaking twig. Kalie was a trooper, her determination and excitement never wavering.
With the trip coming to an end, we were very encouraged by the weather changing in our favor bringing cooling temps for our last day. As we arrived at our stand and settled in for that last chance at a bear, I looked at Kalie and said "I feel it, it's going to happen. A shooter is going to give you an opportunity this evening".
The minutes, then hours went by, and with an hour left to go on that still and quiet day, I heard a huff back in the thick bush. I looked at Kalie in disbelief and asked her if she heard it too. She confirmed and immediately got her crossbow on the shooting stick.
As the bear came around the bait barrel I knew it was a shooter; I told Kalie to get ready and talked her through what was about to happen. A minute seemed to last forever as the bear would slowly move in and huff multiple times as to let any bear in the area know it was in charge. Unfortunately, the big bruiser would quickly grab a sample and run back into the bush. Kalie was in disbelief that her chance may have slipped away, but I reassured her that the bear would be giving her another opportunity and to stay ready. Just like the bear had read the script, it turned and came back in, almost identically to the first time. I told Kalie it would do the exact same thing but would give her a little longer opportunity.
This time as the bear reached for the bait, Kalie was ready on the trigger and squeezed, sending the crossbow bolt to the perfect place right behind the front shoulder. Her prized bear didn't go 30 yards to its final destination. Her smile and excitement were all I needed to see, and knowing that this was a trip of a lifetime for her was something I'll never forget!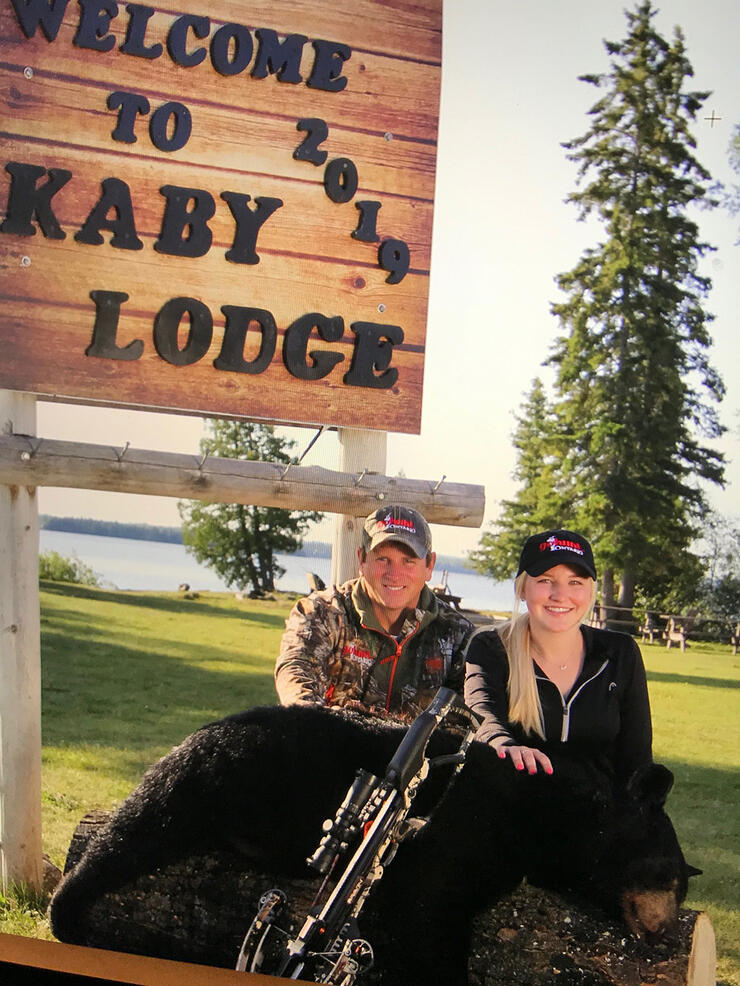 So if you're looking for an amazing multi-species fishing trip for walleye, northern pike, perch, whitefish, or even brook trout, and to experience unbelievable hunting for trophy bear, moose, or even a wolf hunt—Watson's Kaby Lodge provides these unforgettable experiences and more at their top-notch, full-service fly-in lodge, all in the unspoiled beauty of Northern Ontario.