Cast and Blast
Want to try fishing on your annual hunting trip, or hunting on your annual fishing trip? Read below to find out where you'll get the most out of your visit to Ontario.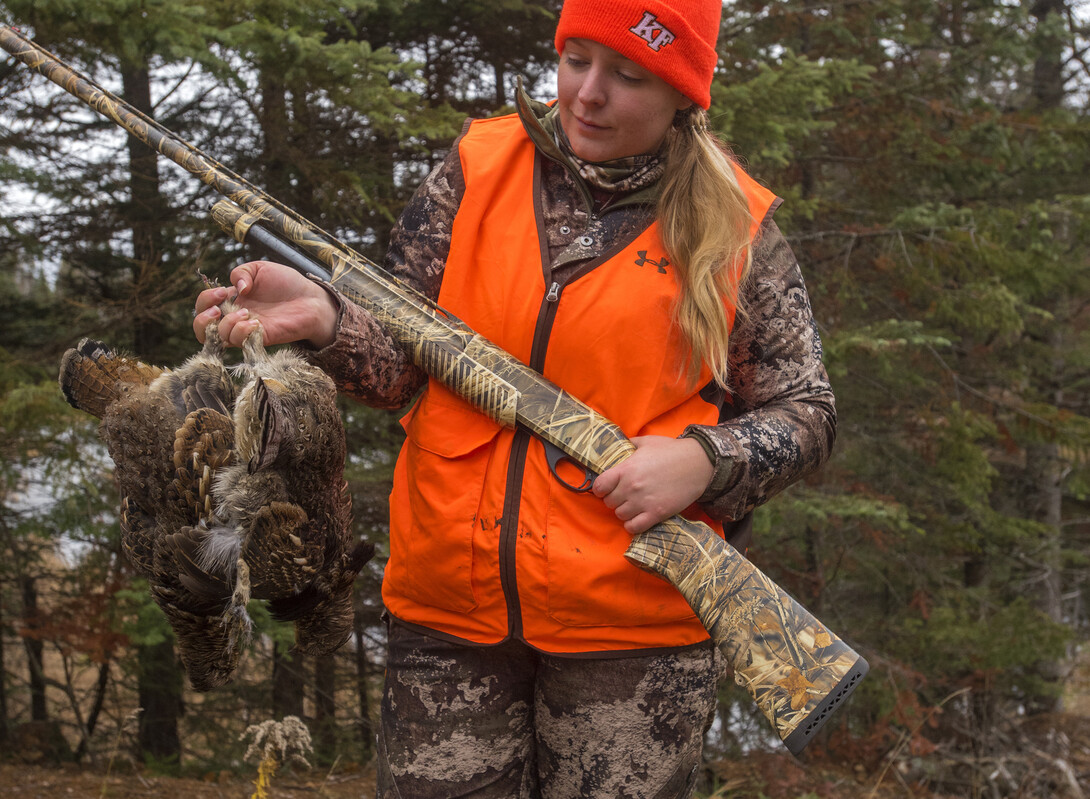 You're already aware that Northern Ontario is full of fishing lodges with several to spare, but did you know your annual fishing trip could also include hunting? Or that your annual hunting trip could include fishing? 
There are more lodges and independent guides than you can imagine in Northern Ontario that offer this unique experience outdoors enthusiasts rarely take advantage of. 
Did you know that some of the best walleye areas are also excellent places to shoot grouse? Or that your annual moose hunting trip is likely near some of the best waters for muskie in the entire province? 
Paired like a fine wine with your moose steak, cast and blast trips across Northern Ontario are the perfect experience to complement your interests. 
There are almost too many lodges and guides to list separately, so here are a small handful in order of species to hunt across Sunset Country. Remember, these lodges may offer many if not all of these hunts, so it's worth your time to give them a shout and talk further about your trip! 
MOOSE 
Thunderhook Fly-ins/Smoothrock Camp:
Fish: Walleye, Northern Pike & Lake Trout 
Wabakimi Fishing & Canoeing Outfitters:
Fish: Walleye, Northern Pike, Lake Trout & Smallmouth Bass 
Fish: Walleye, Lake Trout & Northern Pike 
Fish: Smallmouth Bass, Lake Trout, Walleye, Northern Pike, Muskie, Largemouth Bass 
Fish: Walleye, Northern Pike, Smallmouth Bass, Lake Trout, Perch & Crappie 
Fish: Walleye, Northern Pike, Smallmouth Bass & Lake Trout 
Fish: Walleye, Northern Pike, Smallmouth Bass, Yellow Perch, & Lake Trout
Fish: Smallmouth, Walleye, Northern Trout, Lake Trout 
Fish: Crappie, Northern Pike, Walleye, Smallmouth Bass & Lake Trout 
Rusty Myer's Flying Service Ltd.:
Fish: Walleye & Northern Pike 
Fish: Muskie, Walleye, Northern Pike, Smallmouth Bass, Crappie, Lake Trout & Perch
Fish: Walleye, Muskie, Northern Pike, Smallmouth Bass, Lake Trout 
Davis Bonny Bay Camp & RV Park:
Fish: Muskie, Walleye, Northern Pike, Smallmouth, Lake Trout, Perch & Crappie
Fish: Walleye, Northern Pike, Perch, Smallmouth Bass & Crappie 
Fish: Walleye, Northern Pike, Smallmouth Bass, Perch & Muskie
BLACK BEAR 
Fish: Smallmouth Bass, Walleye, Northern Pike & Lake Trout
Fish: Walleye, Northern Pike, Lake Trout & Smallmouth Bass 
Fish: Walleye, Northern Pike, Perch, Smallmouth Bass & Crappie 
Lac Seul's Golden Eagle Resort:
Fish: Northern Pike, Walleye & Smallmouth Bass 
Fish: Walleye, Northern Pike, Smallmouth Bass & Perch 
Fish: Walleye, Northern Pike, Lake Trout & Smallmouth Bass 
GROUSE/RABBIT 
Fish: Walleye, Northern Pike, Smallmouth Bass, Lake Trout, Perch & Crappie
Fish: Walleye, Northern Pike, Smallmouth Bass & Muskie 
Fish: Walleye, Northern Pike, Smallmouth Bass, Yellow Perch, & Lake Trout
Fish: Walleye, Lake Trout & Northern Pike 
Jeff Gustafson "Gussy" Outdoors:
Fish: Walleye, Northern Pike, Muskie, Smallmouth Bass & Largemouth Bass
Fish: Smallmouth Bass, Walleye, Northern Pike, Muskie & Lake Trout 
Fish: Bass, Northern Pike, Crappie & Walleye 
WOLF 
Fish: Walleye, Northern Pike, Smallmouth Bass & Muskie 
Fish: Walleye, Northern Pike, Muskie, Smallmouth Bass & Largemouth Bass 
Fish: Walleye, Northern Pike, Smallmouth Bass, Yellow Perch, & Lake Trout
Brown's Clearwater West Lodge:
Fish: Lake Trout, Walleye, Northern Pike, Splake, Brook Trout & Whitefish
Fish: Walleye, Northern Pike, Smallmouth Bass & Perch 
Jeff Gustafson "Gussy" Outdoors:
Fish: Walleye, Northern Pike, Muskie, Smallmouth Bass & Largemouth Bass
WHITETAIL DEER 
Davis Bonny Bay Camp & RV Park:
Fish: Muskie, Walleye, Northern Pike, Smallmouth, Lake Trout, Perch & Crappie
Jeff Gustafson "Gussy" Outdoors:
Fish: Walleye, Northern Pike, Muskie, Smallmouth Bass & Largemouth Bass
Fish: Walleye, Smallmouth Bass, Northern Pike, Muskie & Lake Trout
Fish: Muskie, Walleye, Northern Pike, Smallmouth Bass, Crappie, Lake Trout & Perch
Fish: Smallmouth Bass, Walleye, Northern Pike, Muskie & Lake Trout 
Fish: Muskie, Walleye, Northern Pike, Lake Trout, Largemouth Bass, Perch, Crappie & Smallmouth Bass 
Fish: Walleye, Northern Pike, Muskie, Smallmouth Bass & Largemouth Bass
Fish: Walleye, Northern Pike, Smallmouth Bass, Perch & Lake Trout