A Bird In Hand
Small game hunting in northwest Ontario is a great way to have fun in the outdoors––it's simple, accessible and affordable. Read on to learn all about hunting grouse in Sunset Country, and watch the video on how to clean them at the end!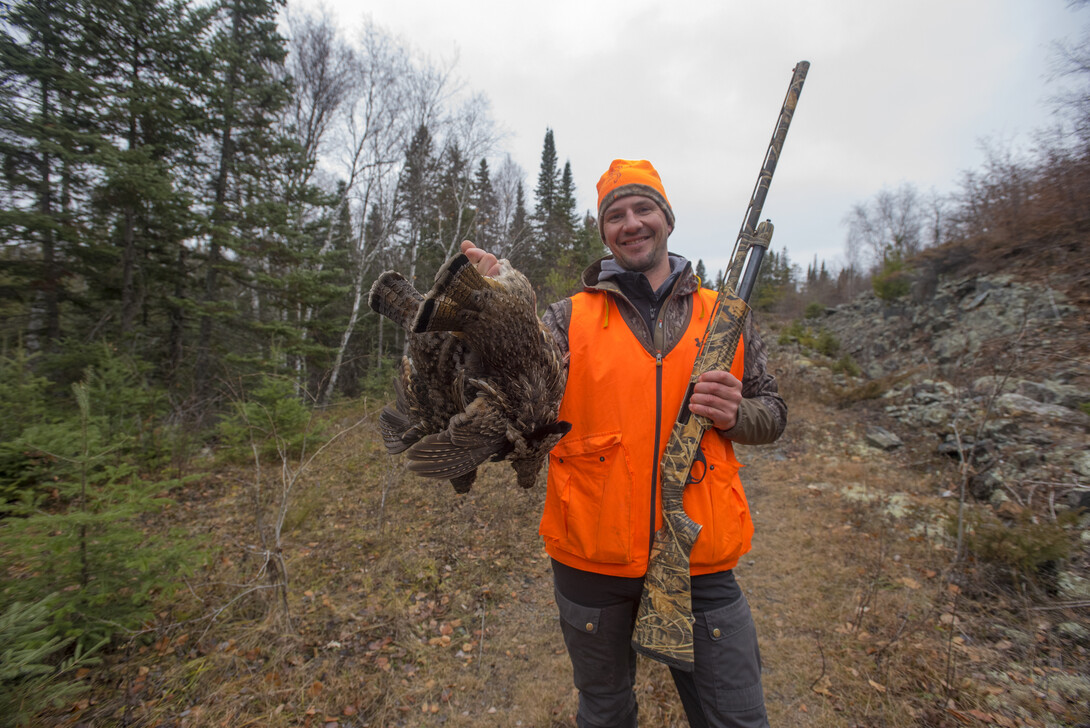 If you grew up in an outdoors-oriented family, your first hunt was likely for ruffed or spruce grouse, also known as partridge to some. Whether this is a familiar hunt to you or not, experiencing grouse hunting can revert you back to your childhood the moment you spot your first bird on the trail. 
Everything about grouse hunting can be made as simple as you need it to be—from getting ready, your weapon of choice, time spent seeking them, and even cleaning them. *The video at end shows how simple it is to clean them! 
Going Solo 
Grouse hunting doesn't have to be a group effort, and it's rather enjoyable to trek out on your own terms with your own schedule. Make sure you're prepared with hunter orange and underneath it, dress according to the weather. If you're comfortable, you can stay out for as long as you want, or until you've reached your limit.
While hunting alone, I make a habit of telling someone close to me where I plan to head and approxiatemately how long I'll be gone. This type of information shouldn't be limited to hunting adventures; it's good practice for any solo expeditions you may have.    
Simplicity
Non-residents need only a hunting license, Outdoors Card and small game license. You don't need an outfitter or a host to hunt for grouse, making them an easy and enjoyable hunt you can do on your own. 
There is plenty of Crown Land, and you don't need to bring an ATV or four-wheeler to walk through public lands and target these birds. 
All you need is your licenses, legal hunter orange, and a legal weapon of choice. More information on small game hunting in Ontario can be found on Page 79 of this document on Ontario's Hunting Regulations.
Why We love grouse
Both ruffed and spruce grouse are exceptionally beautiful upland birds. The patterns and colour palletes that line their feathers are mesmerizing. Once you've harvested a bird, you can save their tails as decorative pieces or pluck some feathers for fly tying and other fishing lures. 
What we really, really love about them is how they taste. And the ease of cleaning makes them even more desirable than other upland birds. You can clean a grouse in less than a minute and have two perfect, ready-to-go breasts to eat in an instant. 
What they eat 
Grouse are foragers through and through. I've personally found many different food sources in their crop, which is the first stage of their stomach. The second is their gizzard—which is, amazingly, muscular enough to crush nuts. 
When you clean a grouse (see below), you can extract the crop from the rest of the parts, break it open, and take a look. It sounds much messier than it is, and it always helps knowing what they are feeding on if you plan to find more that season. 
Grouse will eat everything from fruit to small insects. In the winter they will feed off of buds and catkins of deciduous trees—this is why late season grouse, when the snow falls, can be a bit trickier. In the fall, they can be found near clover, a favourite amongst many critters here in Sunset Country. 
REsources 
Hunter Orange
Here is a good example of what is considered legal hunter orange: 
Your head must be covered, as well as a full vest in hunter orange. A strap-on vest that is open on both sides is not legal. Neither is construction yellow, yellow with reflective strips, or orange mesh. No broken patterning, don't wear a back pack over it, and don't waste your time on faded orange. This is for your safety and your safety alone. 
It must be solid, fully daylight reflective orange. Read more on Hunter Orange here.
Certain seasons, for instance during bow only, hunter orange is not required, but it is always recommended. 
Hunting Regulations 
You must be dilligent when checking Ontario's Hunting Regulations for certain exceptions to firearms permitted, typically this changes by location, as well as daily bag limits and full possession limits for ruffed and spruce grouse. 
Remember to only hunt public land unless you have written agreement and permission from a land owner; this will cover you should there be any dispute in the future. 
Wear your hunter orange, respect other hunters, and have fun!
 *If you're using any style of ATV for transportation, you must be wearing a helmet
How To Breast a Grouse
Learn More
If you're visiting Ontario and you'd like a guide or outfitter to point you in the right direction, you can visit a list of lodges that offer grouse hunting here or hire an independent guide, such as Jeff Gustafson, to show you where to go and best practices while hunting. 
While grouse hunting isn't always the main event, it's a wonderful side activity to your big game hunt, trophy fishing trip, or paddling adventure here in Sunset Country!