Beasley Brothers' Triple
48 hours that lead up to the Beasley Brothers first ever triple for turkeys
Turkey hunting for us is all about scouting. When we first started turkey hunting, our success rate was not good. When we started to scout our birds and put them to bed, our success rate skyrocketed. In this blog, we are going to talk to you about the 48 hours that lead up to our first-ever triple for turkeys.
At first light on the morning of April 23, Keith, Paul, and Kevin were out on three different properties, trying to locate some of the toms we had been watching throughout the spring. We each went to scout different properties that had been holding more than three toms. We really wanted to finish the job that we failed at the previous year, and that was for each of us to harvest a tom while hunting together for our first triple.
Keith found the group he was looking for and there were four toms, a couple of jakes, and a handful of hens. Paul's morning was successful as well, as he found a group with three toms, three jakes, and a number of hens. Kevin was on a property that held a large number of birds all winter, and he spotted six toms as they had not split up yet. This was obviously a great sign, as we had three properties that would give us a chance for our triple.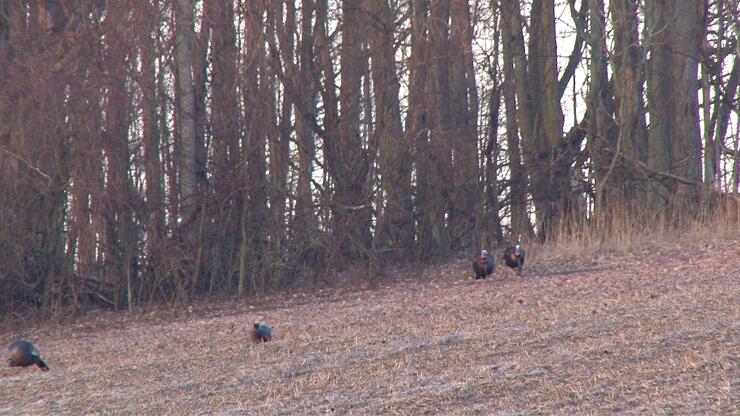 We like to scout mornings before the season opens, as it gives the opportunity to watch what the turkeys do when they come off the roost, providing insight into their travel patterns, which helps us to know where to set up. Now, animals are unpredictable and can change each day, but the more we watch them, the more we can see where they like to go, and that ups our odds. We also like to see where they are roosted, and quite commonly they roost in the same trees in our area.
That night we all went to the same properties as the morning and watched our birds fly up into their trees for the night. Keith and Kevin found all of their birds from the morning, but Paul had lost one of his toms and now only had two. When putting birds to bed, we stay back as far as we can and find the highest vantage point, and glass from there so that we do not spook the birds.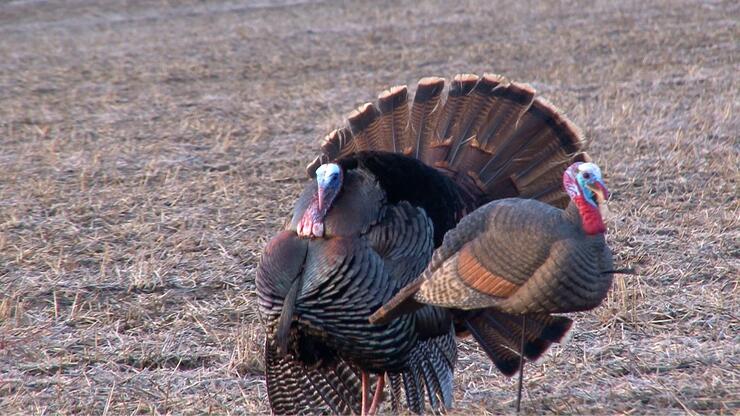 The last morning before the opener, Keith and Kevin were back in their spots and watched the birds do almost exactly what they did before. Paul went to a new spot to see if he could find another property that was holding three toms. He did not have any luck, so he returned to the property he was at the previous morning, and it still had only the two from the night before.
With this news, we were excited to think that we had two properties with chances for our triple. At midday, Keith and Kevin went to their properties to set up ground blinds and picked the spots that they had seen the birds using on both mornings' scouting.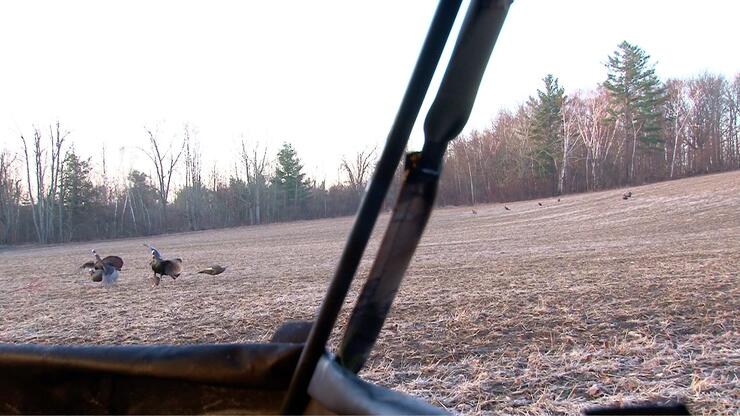 Keith's setup was 300 yards away from the roost in an open field, about 50 yards from a tractor path that the birds were using to go into another field. Kevin's setup was about 80 yards away from the roost in the hardwoods, along an old logging road they liked to use.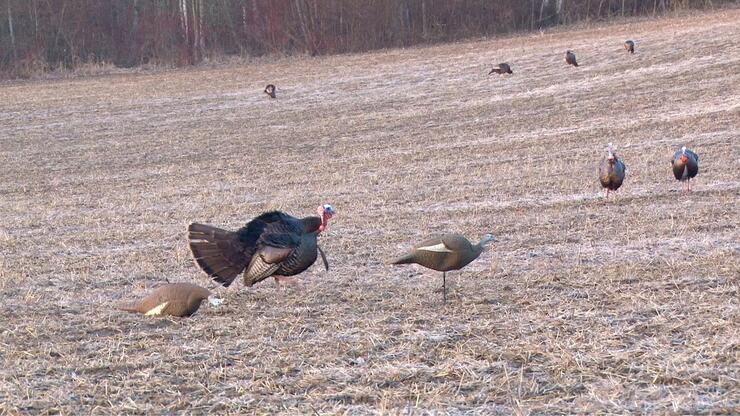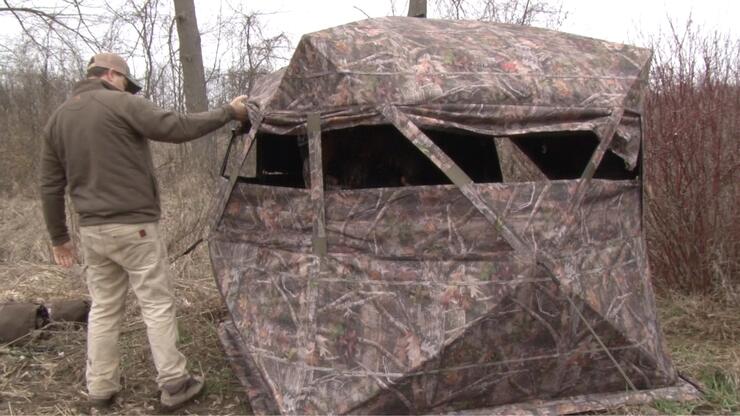 When setting up our blinds, we also like to range and pick the spot for our decoys, and we will then place a stick in the ground. We do this because in the morning when we get in it's dark, and it's often hard to judge yardage, so this way we know we are putting our decoys right where we want them.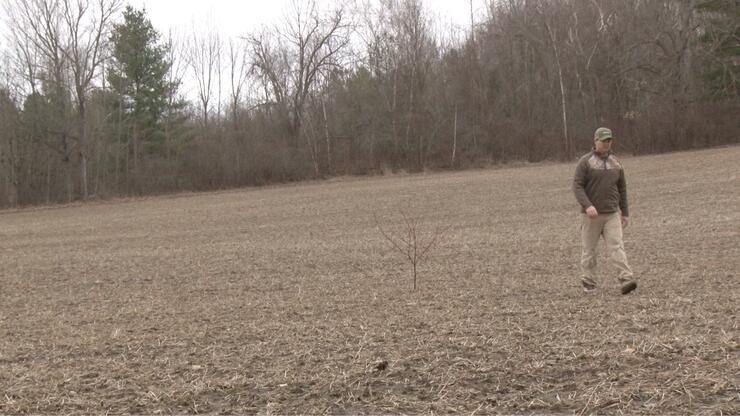 The last thing we do before a hunt is to try and roost the birds the night before. So on the evening of April 24, Keith and Kevin were back at the properties they had been scouting. On this night, Keith's birds were exactly where they had been previously. Twenty minutes before dark they left the field and were soon spotted up in the trees.
Kevin, however, was not having the same luck. He could not find his birds from his vantage point. So he moved a couple of times to try and find them, but no luck. With Keith finding his birds and Kevin not, it made the decision easy on where we would be the next morning.
We were all settled into the ground blind that Keith set up, and minutes after legal light the first gobble was heard—and then the gobbling didn't stop until the birds hit the ground. When the birds hit the ground, we could no longer see them as they pitched down into the woods. It didn't take long before we could see a tom strutting just inside the tree line, and then soon after, a hen entered the field. The hen was followed by another hen and then two toms came out behind her. These four birds stayed on the field edge and slowly worked their way down the hill in our direction.
Ten minutes had passed and there were still no sightings of the other two toms. We started to worry that the other two might have gone the other way, but all of a sudden a bird was spotted flying down off the roost, and soon after the other two toms came out of the woods with two more hens. As soon as this happened, it was like a light switch went on for the two toms that had been in the field for a while, and they headed straight for our decoys.
As they approached our decoys, the other two toms were still on the opposite side of the field. At this point, we started thinking that this may not happen for us and that we might have to take these two. We were thinking of the different scenarios that might play out when one of the toms in our decoys started to attack the jake decoy. This got the attention of the other two toms; they came running and made up the 200 yards fast, and now all four toms were tight in our decoys.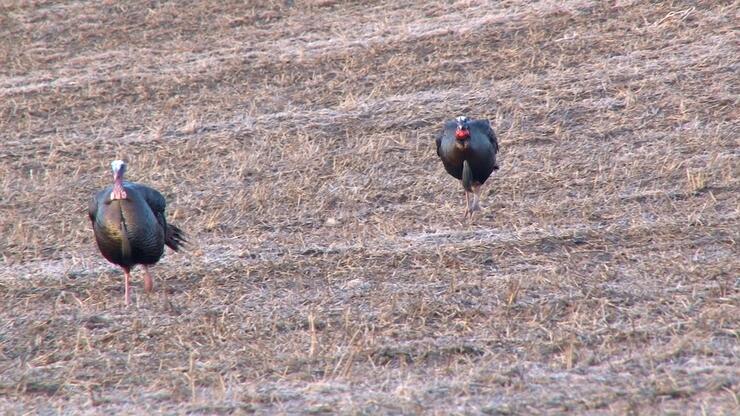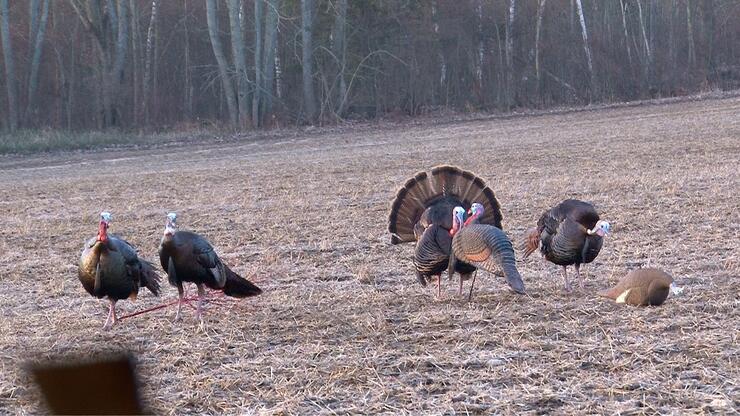 Our game plan was to always have Keith give us a countdown to shoot. Keith started the countdown on two different occasions, but each time he would have to stop because the birds would get too close together. Finally, on the third try, the guns went off and we had our triple down!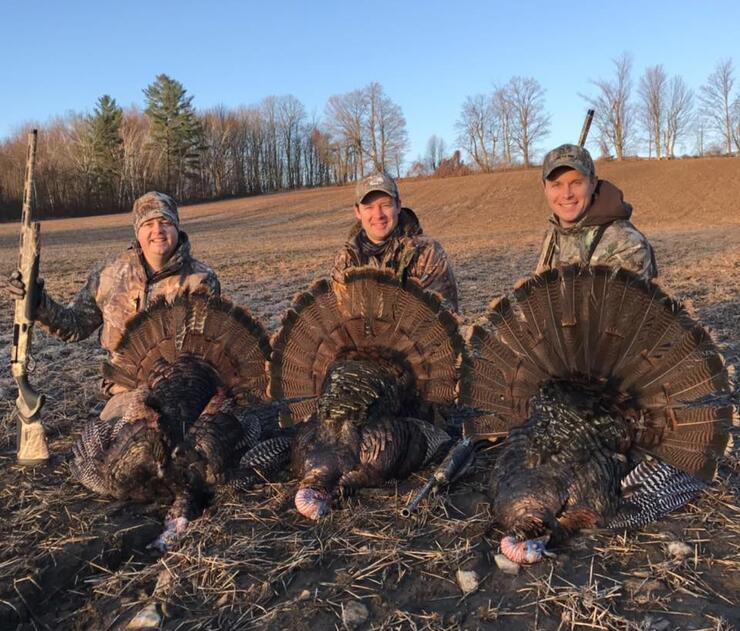 It was a special hunt for the three of us, as we don't get to hunt together too often anymore. Definitely a moment in time that we will never forget!