Big & Small
From predators to furry-footed small game, this unconventional list of underrated or coveted hunts in northern Ontario is just the challenge you're looking for.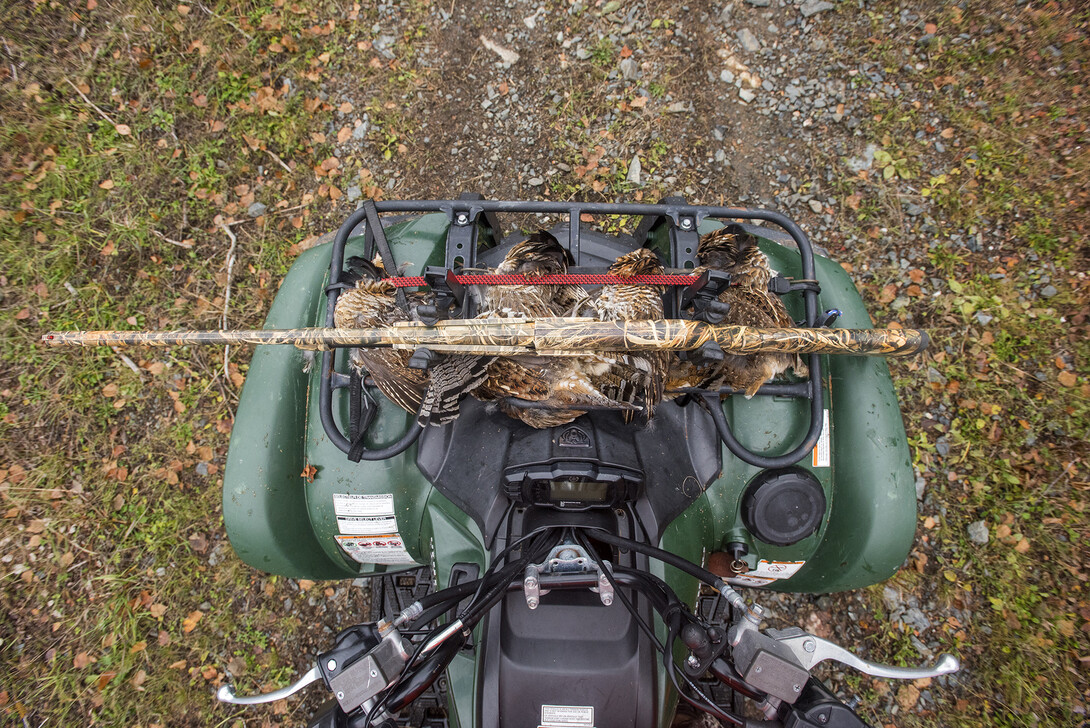 When it comes to Northern Ontario, there are few places that offer as much game while being as beautiful and unapologetically rugged. This trying terrain offers its challenges, but it also gifts us with prime big and small game to pursue and fill our freezers with.
All of these species offer their own unique experiences, techniques, and benefits. When seasons line up, you may even have the chance to target more than one game animal during your visit to Northern Ontario. Without a doubt, possibly my favourite part of these opportunities is the option to go fishing for multiple species during your time out and about or after your hunt.
BEAR
This underrated species has two open seasons in Ontario. Both spring and fall hunts offer new challenges and approaches as well as different benefits.
A predator hunt that you'll remember for the rest of your life, its beautiful hide isn't the only thing you can marvel over. It also garners underused and under-appreciated meat.
There are a variety of recipes and preparations for bear meat such as slow cooking a neck roast as if it were pulled pork, fried bear bites from loins you can use in stir-fries, and perhaps my favourite: goulash made with ground bear, pasta, and a plethora of herbs and cheese.
There are bear outfitters all over northern Ontario, but if you want the full quintessential bear camp experience with exceptional hospitality, look no further than Ursus Outfitters, located just north of Thunder Bay.
MOOSE
Highly respected by locals across northern Ontario, moose is the ultimate big game hunt in Ontario.
Moose represents so much more than a trophy as the largest in the deer species. Their presence is a sign of prosperous waterways and a healthy terrain.
As a non-resident, to hunt moose you must stay with an outfitter who has acquired a moose tag on your behalf. Unless of course, you have an immediate family member who is licensed in Ontario to hunt.
You have to possess a valid Outdoors Card and moose hunting license before a tag can be provided by your outfitter.
As they are coveted and regulated, it is easier to apply for tags through Outfitters if you plan far enough in advance. If you want to experience the true northern pursuit of a moose, I'd recommend Winoga Lodge in Sioux Lookout, where you can choose your own adventure, such as paddling, fly-in, and more.
HARE
What? Were you still expecting whitetail deer to be on this list?
Snowshoe hare hunt in northern Ontario runs from September 15 to March 31 of the next year. Naturally, this season opens up the opportunity to seize ice fishing moments during your hunt, or hunting moments during your ice fishing trip!
Whatever activity you set out to do first, you know you'll have a great "surf and turf" dinner to savour later on.
Much like the grouse below, snowshoe hare hunting is accessible for non-residents. All you need is your Outdoors Card, small game license, Crown land, and to hunt responsibly.
GROUSE
My all-time favourite hunt. I grew up in moose and deer camps where my job was to find the grouse. I haven't had a job I enjoyed that much since.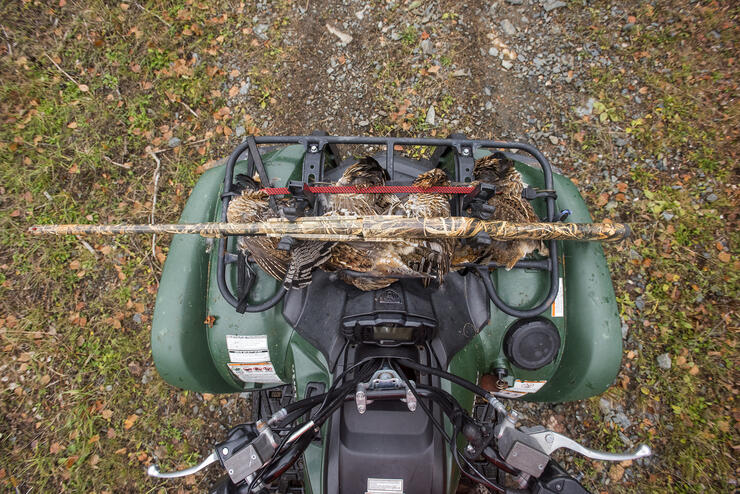 Grouse hunting will bring you back to when you were a kid, or at least it'll make you feel like a kid again. The most seasoned of hunters get excited over grouse hunting. It could be their quirky nature, or their telltale coo right before they are about to flush, but I think it has a lot to do with how good they taste, and every hunter knows it.
The beautiful thing about grouse hunting is it's fully accessible so long as you have your Outdoors Card, a small game license, and can locate crown land. It's a great way to introduce beginners, and you can even grouse hunt while you're on another hunt in Ontario, for instance, moose. Check regulations on guns you can use before you venture out.
If you want to continue the cast and blast trend, perhaps throw a line in the water and reel up some nice perch or walleye to accompany your buffet of grouse. If a crowd arrives, I cube my grouse breasts up and fry them as bites—appetizers go a lot farther, but they still won't last long.
MORE INFORMATION
If you're looking for more information on hunting in Northern Ontario, my first piece of advice would be to look up the hunting regulations or the area you plan on visiting. Reach out to guides and outfitters you're interested in booking a hunt with. You'll get a better feel for what's best for you after talking to some folks
If you're not sure about what outfitter or guide you'd like to settle with, consider ordering a free Ontario's Sunset Country Travel Guide and Map. This guide includes outfitters from all over northwestern Ontario, amalgamated into one handy publication.
The back of the map is especially handy because you can narrow down which outfitters offer what you're after by area and species. A huge time saver and it's completely free.