The Snow Hunt for Moose
If you don't mind a little cold and snow, it may be the very best period to hunt the bull of a lifetime.
Hunting in the snow for moose is not easy. It's usually very cold, with a whole lot of snow to deal with. And outside of a snowmobile or pair of snowshoes, there is no other way to get around but to trudge, step by step, through knee-deep powder. Nothing will test your cardio like a snow hunt. I've seen fit men gasping for air, and teenage hunters red-faced and sweaty. Hunting in the snow can be a real challenge. Yet some of my most thrilling hunts have been in the late season, and the snow hunt is almost always an exciting one.
One memorable hunt occurred a decade ago, with my Dad and a longtime friend. We were hunting north of Nipigon, and there was a fresh layer of snow on the ground. We were driving back roads, trying to cut a moose track, and seeing nothing. Then, we rounded a corner and suddenly came upon a barnyard of tracks, poop, and hair. We stopped the truck, looked out in the cut, and saw two black shapes.
"Moose!" someone said.
We piled out of the truck and tried to make sure we had a positive ID on a bull. At first, it looked like two cows. However, binoculars revealed a small set of antlers on one of the animals. They scattered shortly thereafter, so away I went on the chase. My Dad, Gord Sr., and my friend took up posts on either side of the cut. The snow was deep and I was floundering, but once I got on the track, the adrenaline took over.
The small bull was a couple of hundred yards ahead of me and was cracking twigs loudly as it worked its way through the scrub. There was no clear shot until it scrambled up a hill and stood broadside at 100 yards, looking back at me. One shot put the bull down. Then, as they say, the work started. The snow was deep and my old Tundra had trouble negotiating the cut, as many stumps were lurking. We had to quarter the moose to get it out, and it was an all-day event. However, the feeling of satisfaction -- and great meat -- we had from that day in the snow was well worth the effort.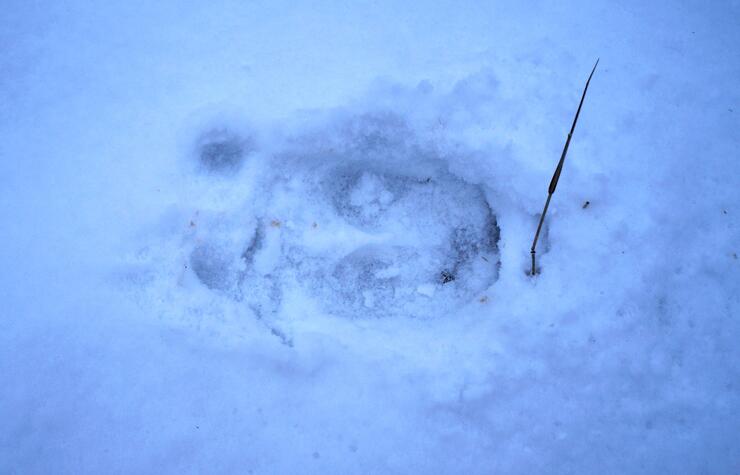 One of the best parts of the snow hunt is the ability to get on a fresh moose track and follow it. This is not as easy as it may sound, as moose cover a lot of ground in a short period of time. However, if you learn to gauge the speed the moose is moving, you can speed up when they are trotting, then ease your speed and watch more closely when they are slowing down or feeding. 
It goes without saying that a moose sticks out in the snow. Black on white is tough to miss. Yet it is really quite incredible how much a moose can blend into its environment. They can stand stock still in an alder grove and be almost invisible. Moose also have the ability to nearly disappear if they bed down in the snow. A bedded moose does not move and looks for all the world like a stump or rock. More than once I've walked along the edge of the cut and had a moose explode up behind me and hit the bush once I'd passed by. Once again, the moose is so in tune with its environment that it can let a hunter walk by and not move a muscle.
One of the things you should always look for when snow-hunting moose is areas of heavy browsing. If the moose have been nipping the tops of dogwood and other saplings, look to see how fresh the sign is. You should see a load of tracks and droppings in the area. If the sign is fresh (unfrozen poop for instance), you can be sure those moose are not very far away.  It might be worth getting on a track, or you could set up shop 100 yards off the feeding area and see if the big animals come back.
At first and last light, moose will often be browsing. The colder the weather, the more likely the moose will come out in the light. Cold winter weather forces the moose to feed more as they battle the elements. That makes them less nocturnal and more vulnerable to being caught in the open. The coldest, nastiest days of late November and December are also some of the very best days. If you are OK with bone-chilling weather, there may be no better time to get a moose than when snow is on the ground. 
The snow hunt for moose is a time-tested way to fill your tag. If you don't mind a little cold and snow, it may be the very best period to hunt the bull of a lifetime.