Summer Brews
Manitoulin Brewery has emerged from lockdown with a new menu, a renewed sense of purpose, and some delicious brews you've just got to check out.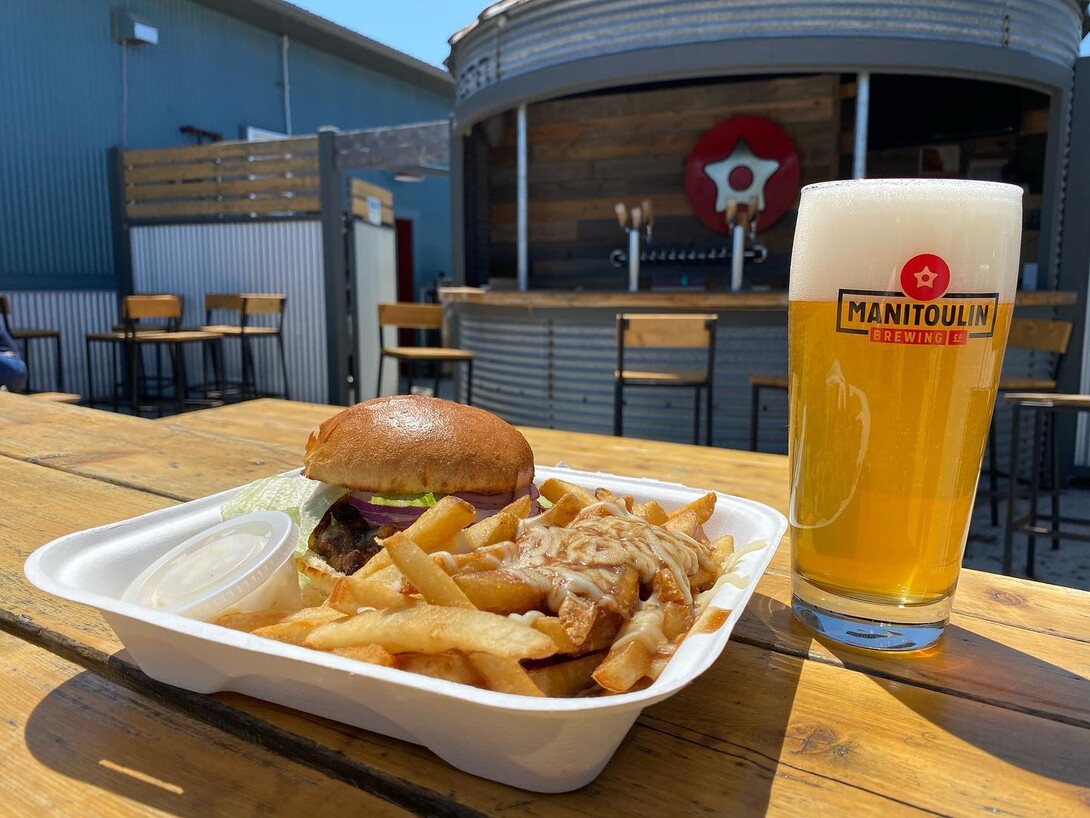 As pandemic-related travel restrictions ease, Manitoulin Brewing is ready to safely welcome visitors again. They've also made some changes. This Manitoulin Island hot spot used the spring lockdown to do some soul searching, build community, and develop and launch a new summer menu–and its owners hope visitors are ready to taste the magic. 
The craft-beer maker, located in the town of Little Current, off Highway 6, has used the spring shutdown to focus on developing new ways to connect with customers and the Manitoulin community—its Indigenous population, in particular. Manitoulin home to the Wiikwemkoong Unceded Reserve, the largest such reserve in Canada and about half the island's population is Indigenous. "There is more willingness for people to come together and learn more about each other so we can improve everyone's ability to recover and continue to resurge," says Nishin Meawasige, who founded the brewery, along with his longtime friend, Blair Hagman, in 2014. "Everyone is in the same boat, so now we're saying 'what are you doing? Maybe there are opportunities to be had.'" 
The brewery is best known for its brews named after local landmarks, such as Swing Bridge Blonde Ale, Bridal Veil Pale Ale, and Cup and Saucer English Ale (which refers to the hiking trail that's part of the Niagara escarpment). But now Meawasige and his partners are looking for ways to elevate its on-site menu by collaborating with the island's Indigenous food purveyors to source ingredients such as whitefish (a mild, flaky local delicacy), venison, vegetables, and more. Enter the whitefish tacos–part of the brewery's new summer menu. 
The aim is to showcase the richness of Indigenous culinary tradition in a way that's fresh and appealing to both members of the community and newcomers. Future plans may include building on staple bread dishes such as bannock or fry bread–well-known to those familiar with First Nations cuisine–and giving it a twist. An approach that "takes a cooler look at bringing Indigenous foods to the masses," says Meawasige. This will extend to the brewery's drinks as well. Meawasige and his partners are currently in talks with the Wikwemikong community, which has been harvesting an abundance of apples, about working together on a cider.`
"There is an opportunity for them to take something that's being grown and underutilized and work with us as a brand and facility that can turn that into a product and put onto the market, while educating folks about where that product came from and talk about the history of the community as well," says Meawasige. "We've had a lot of conversations in the past few months about how we can raise the platform of Indigenous food tourism here." 
Collaborating more closely with Manitoulin's Indigenous community is an natural step for Meawasige, who is Indigenous himself and spent his 15 years prior to starting the brewery working with Whitefish River First Nation, connecting Indigenous nations and governments and the Friendship Centre Movement in Canada. Much of the brewery's staff is made up of local members of the Indigenous community, as well.
"Whether they're from a First Nation or municipality, we've brought staff in, trained them, and provided an opportunity for someone who may never have thought of working on a canning line or kegging beer on Manitoulin Island," says Meawasige.
It's one more way that the brewery can play the role of island ambassador, introducing newcomers to the destination's rich heritage and natural wonders, or reminding those who are familiar with it what they love about visiting.
"We're not only selling beer, but we're educating people about the island and helping them celebrate it—hike the Cup and Saucer then head to Manitoulin Brewing and sit on the patio with a Cup and Saucer English Ale, after you've defeated it," says Meawasige. "It reminds them of their time here in the summer and being here on the island. Things slow down, you relax before you get into the busyness of things."
Plenty of locals and visitors have done just that, and Manitoulin Brewery's offerings are now available at more than a dozen restaurants on the island, proving an ideal complement to the destination's stunning scenery.
But the brand has expanded far beyond the island's border, and is available in more than 200 LCBOs across Ontario and served in dozens of restaurants from Toronto to Sudbury to Thunder Bay. It's not only gotten their signature beers in the hands of a much wider audience, but helped to promote the island itself throughout the region.
Ultimately, this unusual time has given the brewer an opportunity to think more creatively about the business's future, which for Manitoulin Brewery, means finding new ways to connect with what Manitoulin Island has always been about: community. "We are looking at what we can do to draw on the distinctive things we have around us here," says Meawasige. "It's the things that are unique to us, the Indigenous identity of the foods on the island, the memories people have here, and working to bring that to the forefront."
To plan your visit to Manitoulin Brewing and Manitouln Island, and to learn more about where to stay and what to do, check out the island's website.