Discover the Debajehmujig Creation Centre
An Indigenous-owned theatre on the world's largest freshwater island: art, music, improv, traditional teachings, and more await!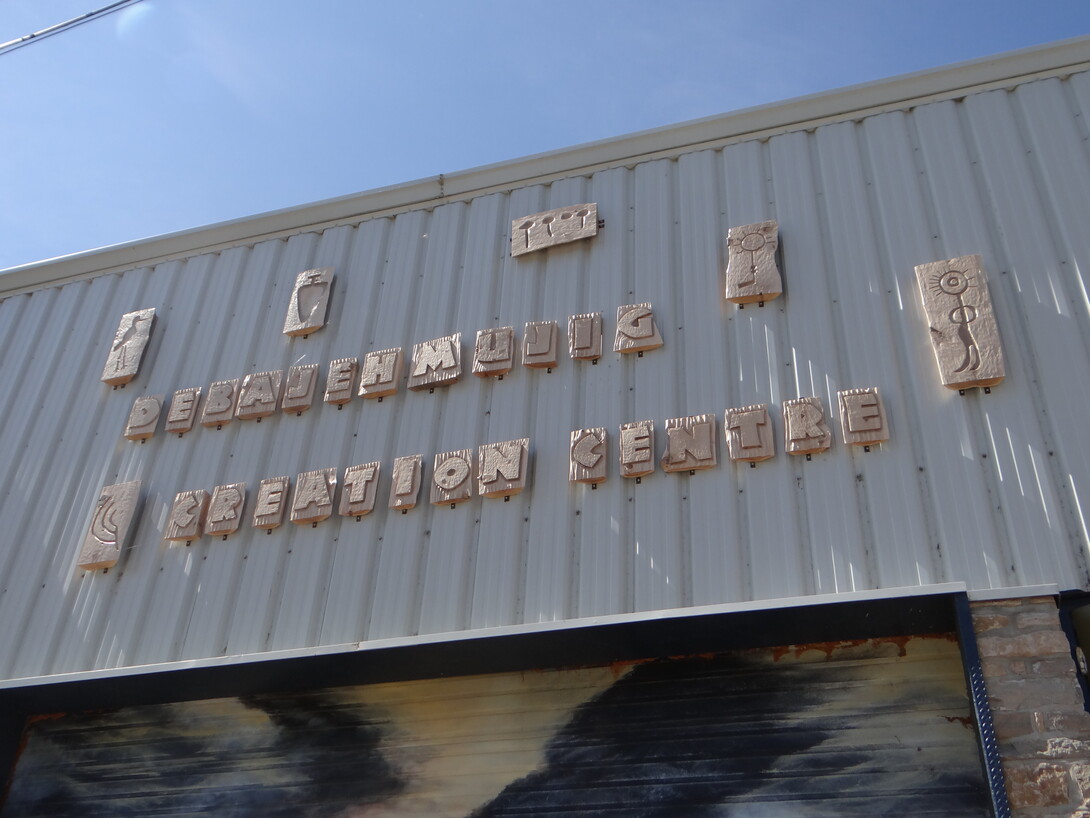 A visit to Manitoulin Island isn't complete without a stop at the coolest theatre in Canada.
Your bucket list adventure begins with a road trip. First, head to Northern Ontario's famous Manitoulin Island, nestled in the waters of Lake Huron. From there, take the 6 to downtown Manitowaning, where you'll enter Wiikwemkoong Unceded Territory. It's here, close to the lighthouse and with a view of the bay, you'll find something unique to Canada and probably the world: the Debajehmujig Creation Centre. 
Headquartered in a repurposed building that originally housed the town's general store, the Debajehmujig theatre is the only Indigenous theatre operating off a reserve, the only theatre owned and operated by an Indigenous group in Canada, and the longest-running Indigenous theatre in North America. In short, there's nothing else quite like it on the planet.
Because of this, theatre lovers, creatives, and curious travellers alike have been flocking to Debajehmujig to see the magic for themselves. Not just for its extensive programming, but to learn about the centre's unique approach to nurturing and promoting Indigenous artists. And its profile is growing. If you haven't heard of it yet, you will soon.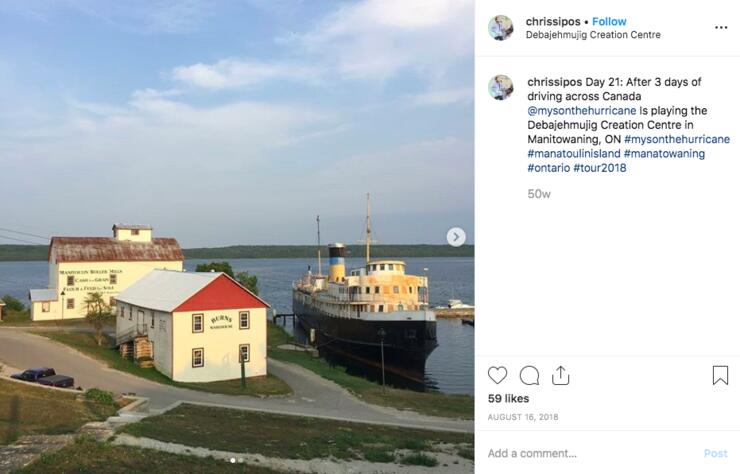 A contemporary Indigenous theatre that looks to the future on Manitoulin Island 
De-ba-jeh-mu-jig means "storytellers" in the Cree and Ojibway languages. Founded by Shirlee Cheechoo, Blake Debassige, and other Indigenous artists in 1984, the goal of the theatre is to create new works, support artistic development, and build bridges between cultures. Since its inception 35 years ago, the centre has been evolving and growing into the nationally renowned arts organization that it is today.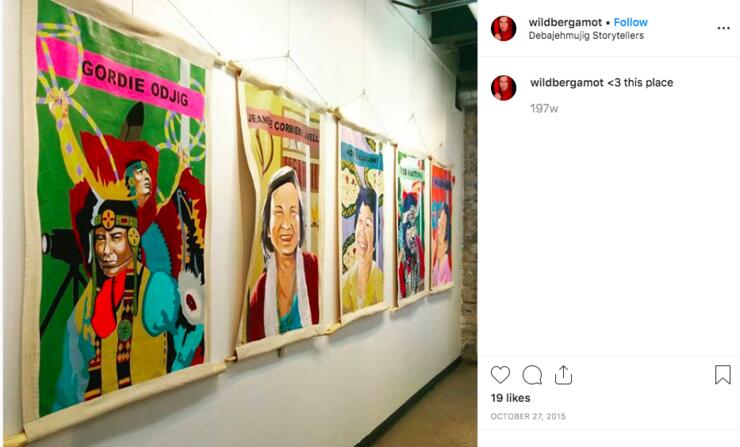 The 125-seat theatre is part of a sprawling arts complex that includes an art gallery, a digital production lab, a sound studio, a number of artist's studios, a green room, workshop, a library, and a gift shop. The centre's headquarters is the result of years of planning, fundraising, and a bit of luck, says Bruce Naokwegijig, the centre's artistic director. He's been involved with the company since 1991, when he auditioned for a role in one of its productions.
"Before, it was a clothing store, a grocery store," he recalls of the renovated theatre's previous life. "Upstairs they had coats and ladies wear. You'd be walking into your small convenience store, and if you went upstairs that's where the clothing department would be. Canned goods, meat freezers, the butcher was back there." Once the store was no longer in business, the empty building seemed like the perfect spot to house the group. The result of the gut-renovation and rebuild about 10 years ago is a state-of-the-art centre that will host visitors and artists for decades to come.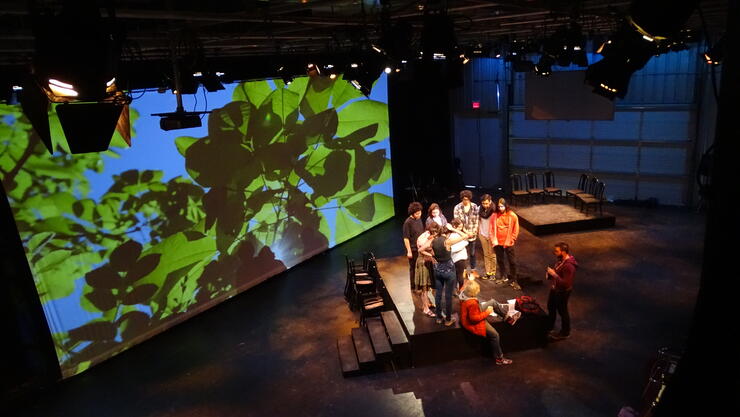 A holistic haven for artists and innovation on Manitoulin Island 
"We're Banff for Northern Ontario," says Joahnna Berti, Director of Outreach and Education and Head of Administration. "We joke about it," she adds of the comparisons to Alberta's Banff Centre for the Arts. But she's quick to note that there are fundamental differences. "We were the first Indigenous organization in Canada to actually own and operate our own space," she says. "To actually have control over the means of production and all of our facilities to make artwork."
Basically, an Indigenous-run theatre is centred around Indigenous teachings and an Indigenous way of working. It operates outside of white, mainstream structures and it's what makes Debajehmujig so special.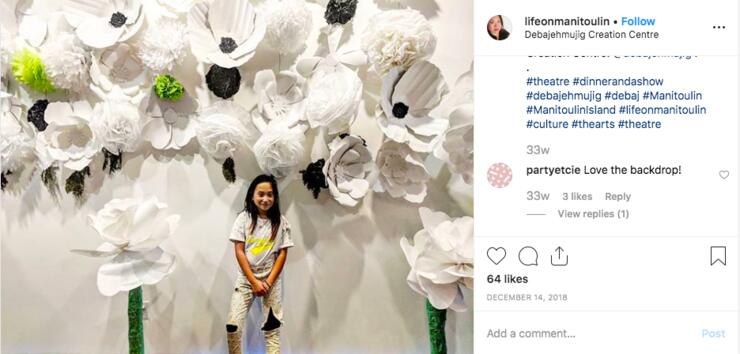 A multidisciplinary space
"When you're working with Indigenous artists, generally, they'll be multidisciplinary," Berti explains. "They tend to want to jump across into other mediums." So while in a mainstream setting, artists are usually encouraged to specialize, that's not the case at Debajehmujig. She notes the centre's theatre is attached to a music studio, a media lab, and a print lab, enabling artists to move with ease between different mediums. Without ever leaving the building, a musician can develop photographs, a painter can work on a monologue, an actor can record a podcast—everything is fluid. "For Indigenous artists, the whole pathway to going to the public is very different, and that multidisciplinary capacity is probably the most recognizable way of working," Berti says.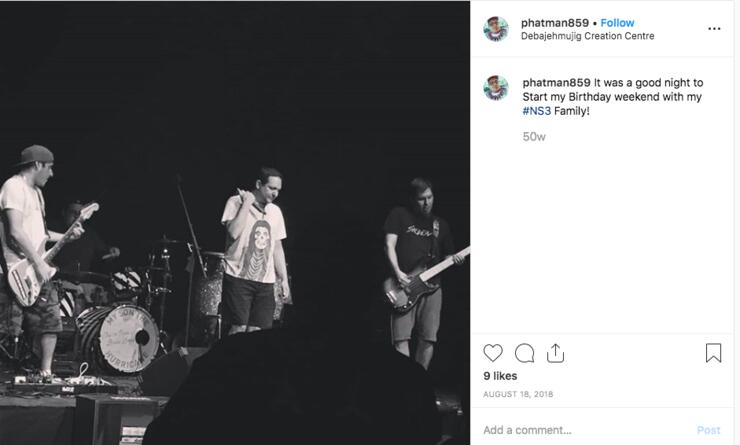 Architect Barbara Bestor has referred to this idea—many arts under one roof and in conversation with one another—as the "mothership model," which was a tenet of the Bauhaus movement. "Textiles, industrial design, architecture, painting are all related," she noted in an interview with Curbed Magazine, "yet, in our contemporary moment, we've become really splintered and specialized and you lose out from not being in constant contact with each other."
In fact, this holistic view is a given at Debajehmujig and is the way Indigenous artists have practiced for centuries. "Stories have been passed down for thousands of years by storytellers, musicians, record keepers and dancers," the group states on its website. "The history and the culture of the people is contained within the bodies of the people, in the muscle memory of the dancer, in the songs of the singers, in the stories of the storytellers."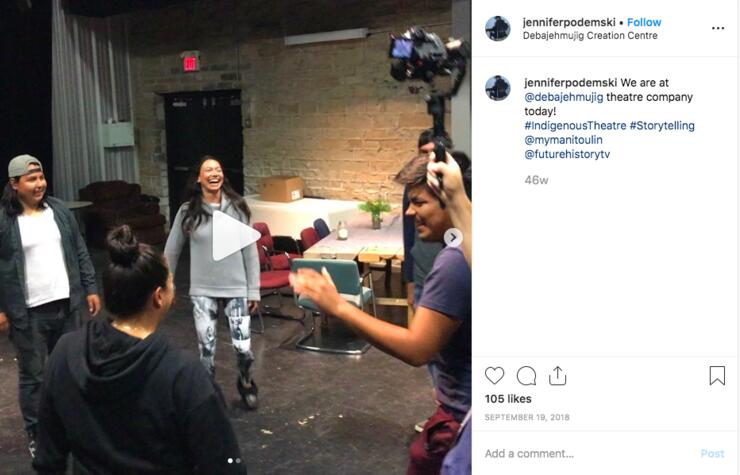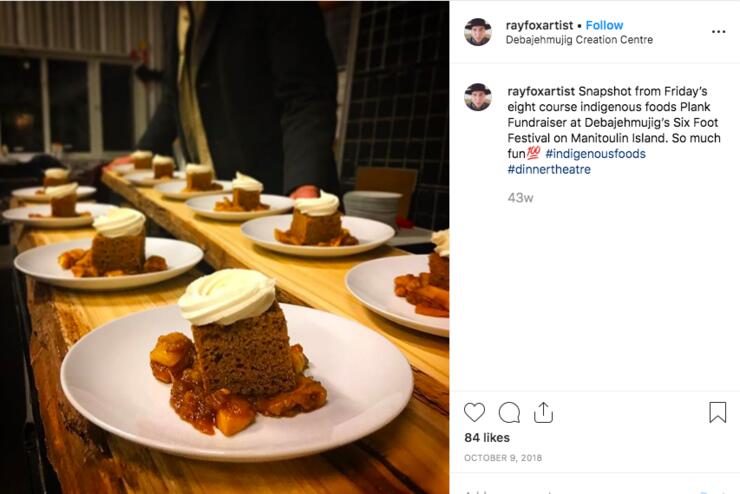 Learning Indigenous history from the Knowledge Keeper 
Another Indigenous aspect to the centre is the presence of a Knowledge Keeper—a teacher whose role is to share the foundation teachings and the history of the area. Barry Beaver, also the centre's visual artist in residence, has just returned from a government and development conference in Niagara Falls.
"I share a history that dates back approximately 18 to 20,000 years," he explains. The foundation teachings are drawn from sacred rock carvings found near Peterborough, now the site of Petroglyphs Provincial Park. These ancient carvings, depicting images of humans, snakes, birds, and turtles, as well as other animals, are the largest collection of Indigenous art in Canada, he tells me. Collectively, they serve as a foundational text for hundreds of First Nations in the area with teachings about everything from love and family to the natural world and death.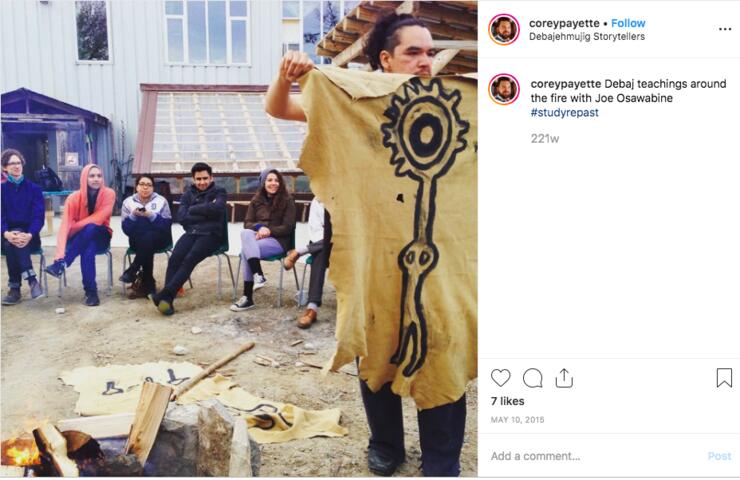 You won't find these particular teachings in any guidebooks, however. "Basically what these teachings are, and what these petroglyphs are, is a message the ancestors left us as to how to live our lives," says Beaver.
I ask about the carvings and what they mean, and he hesitates.
"I won't record this," I volunteer.
He agrees to briefly explain the meaning of the glyphs, noting that there are many nations with their own interpretations and teachings. It takes about an hour—usually a session would be much longer. "They're living teachings," Beaver explains. "You bring life to the teachings by living them. You can't have it on a piece paper. It's a way of life, really." (For this reason, photography and filming at the actual site of the carvings is also prohibited.) If you're lucky, when you visit you'll be able to chat with Beaver and learn a bit of the teachings for yourself. In keeping with the multidisciplinary nature of the centre, Beaver does much more than act as the knowledge keeper. He does stage management and music as well. "I'm working on soundscapes," he says.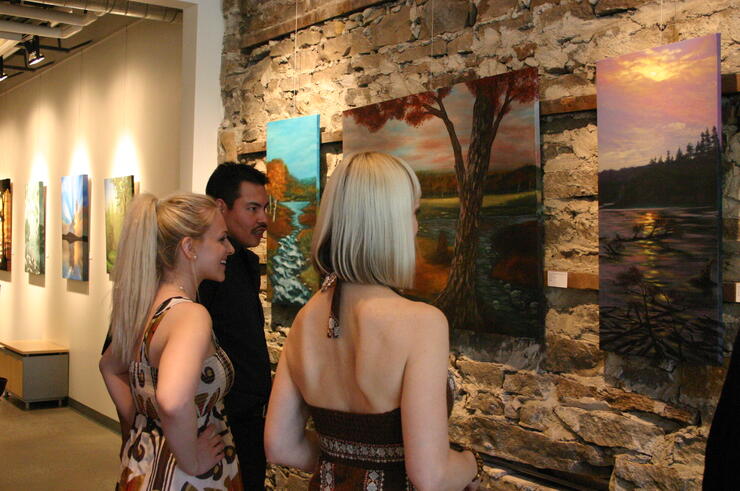 Festivals, theatre, and art openings far and wide—plus corporate events too 
In addition to putting on performances, hosting artist residencies, and running workshops on site, the group travels to communities all over Canada, bringing improv classes, workshops, and Indigenous teachings to the masses. Audiences include everyone from Indigenous communities in Nunavut to corporate groups in Toronto and Calgary.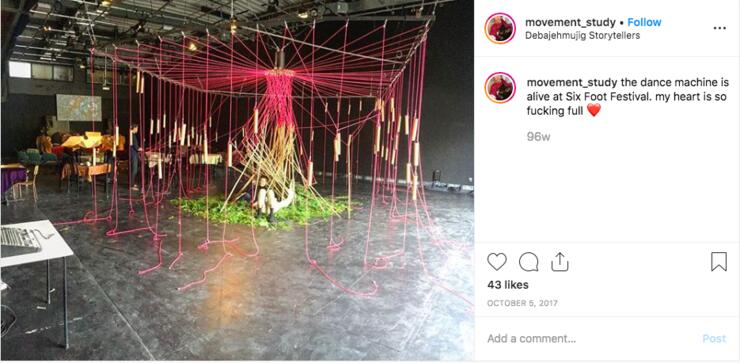 And of course, tourists and residents alike can pop in and catch the latest performance at its home base on Manitoulin Island—with events like improv, theatre, art openings, and festivals there's something for everyone. Events include the annual Wiikwemkoong Arts and Music Festival that takes place in the fall. Admission is free for all. Here you'll find comedy, arts workshops, information sessions, programming for kids, and performances by artists such as Crystal Shawanda, Micki Free, Brothers Wilde, and much more.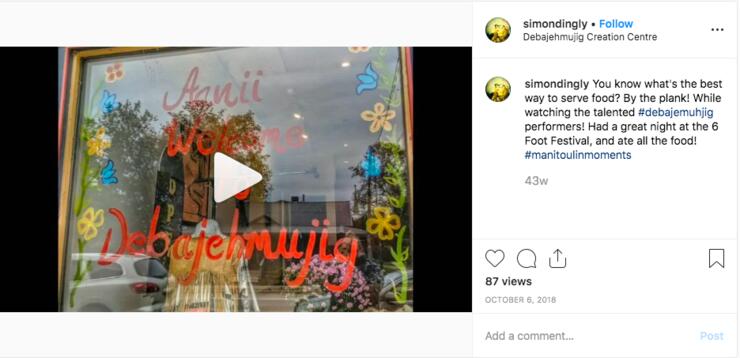 The centre's Christmas-themed production Gulchmuss, directed by John Turner and Bruce Naokwegijig was a popular draw, while the K. B. Reynolds Mastin Gallery hosted The Group of Seven Kweok exhibit including works by artist R. Nikki Manitowabi and Santana Eshkawkogan. Be sure to check their website for upcoming programming, opening hours, and useful info. 
A place of convergence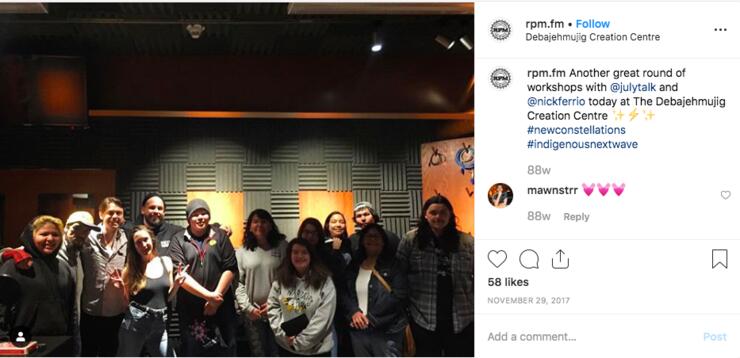 "It's a good piece of infrastructure in Northern Ontario that really privileges Indigenous emerging and established artists, " concludes Berti. "We can continue to be a tool and a place of convergence."
For visitors hoping to converge there for a unique experience you can't get anywhere else in the world, visit the website, Facebook page, or call for more information. And get ready to enjoy one of the best things to do on Manitoulin Island: real Indigenous creations.
43 Queen St, Manitowaning, ON P0P 1N0, Canada
+1 705-859-2317
http://www.debaj.ca/