Rebecca Maracle's Gallery & Gifts
This art studio in the Tyendinaga Mohawk Territory near Belleville is renowned for its creative offerings.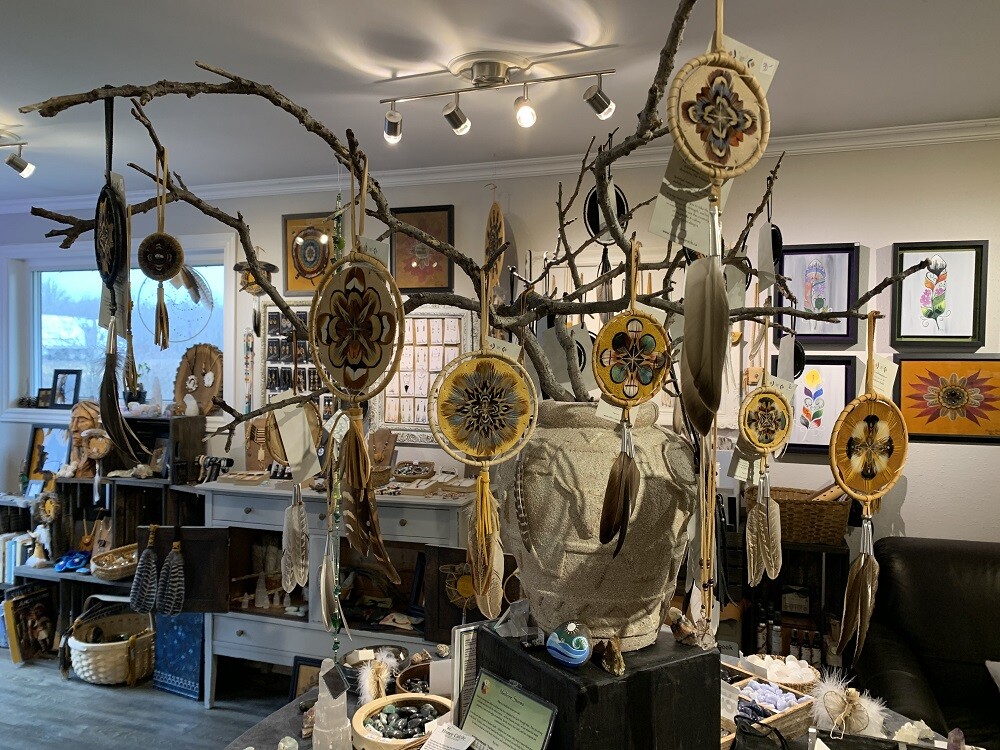 Stepping into Rebecca Maracle's studio gallery, visitors are greeted by a light-filled art space that's designed to elicit feelings of peace and calm. "Before anything was done in the shop, before the floors or walls were put in, I walked around and I put an intention into this space," says Maracle, a Mohawk from the Bear clan and a member of the Haudenosaunee, the Six Nations Iroquois Confederacy. "Leave all your baggage at the door," says Maracle of her outlook. "People come in and just take a big breath or sigh."
The gallery, located at 840 Highway 49, Tyendinaga Mohawk Territory, near Belleville, has become a destination for visitors who come for the handmade gifts and her distinctive feather art.
As an artist and a healer, Maracle intertwines her two gifts and offers them through her studio. "I'm very spirit-driven," she says. "I know I'm here for a purpose—to be a teacher and helper to others. It just happens that I'm also very creative so artwork is my medium."
part of a legacy of artists
Maracle comes from a family of artists, business owners, and healers. Her grandfather opened the first gift shop in the Tyendinaga Mohawk Territory in 1957, and her uncle Thomas Maracle, who is also an artist, owns and operates Native Renaissance, a large gift shop, gallery, and café operating in the territory for more than 40 years. She's continuing that tradition through her own studio gallery on Highway 49, which she opened in 2016. Everything in her shop is Indigenous made, mostly by her, but also by other First Nations artists she supports. 
"Who I am and where I come from isn't about just right now," she explains. "I'm a fourth-generation traditional feather artist. I come from a long line of people who are good at making a living being an artist, and they've really trained me. As soon as I was old enough to put a bead on a string, I was working. I grew up on the Powwow trail with my grandparents and in their shop with my mom and dad. They taught me, 'If you aren't going to do things to the best of your ability, then don't even do it. When we put our heart and soul into something, that's what draws people.'" 
That lesson has formed the foundation for everything Maracle does.
"I try to create positive change not just for me, but for people who come into the shop or that I meet...It's the best way I know how to pay that good medicine forward."
the artistic process is organic and inspired
Maracle's creative process is organic. She starts by looking at her shades of leather and selecting her feathers. "My mind goes to what's happening in my life—who I'm thinking of; the day-to-day ups and downs; whatever is in the moment gets put into the piece. It's about connecting the thread of humanity." Her pieces range from framed featherwork to leather medicine bags and jewelry.
"Sometimes I'll feel a nudge from spirit and I'll see a piece completely made," she says. "Then I know it's for a specific person. When that person comes in, sees that piece and cries, it's a thing of beauty. It solidifies that I'm doing what I'm supposed to do. Every time they look at it, it's a little bit of medicine for them. My art is like lifting the lid off a pressure cooker; you get a little release."
Maracle's art is meant to inspire self-reflection. "It's a way to get [visitors] to have that conversation: who are you and why are you here? It helps them delve deeper and understand themselves a bit more. My artwork acts as a foot in the door. Some of my best conversations and healing moments have been with random people who just stopped in."
Visit and shop Rebecca Maracle Gallery & Gifts
To learn more about Maracle's artwork visit rebeccamaracle.com. Artwork can be purchased online and shipped or picked up. 
Rebecca Maracle Gallery & Gifts is located at 840 Highway 49, Tyendinaga Mohawk Territory, Ontario, Canada.